Steve Graepel worked in partnership with Visit Idaho to create this Travel Tip.
The desert is easily misunderstood. Hot, arid, and desolate … for some, the alpine prairie plays second fiddle to Idaho's frothy rivers and spectacular mountain views. But the Idaho plains are beautiful in their own right, teeming with life and opportunities for adventure. You just need to know where to look.
With hulking towers of sand, ponds flush with lunkers, and a premier observatory to spy on our interstellar neighborhood, Bruneau Dunes State Park is a great place to get acquainted with Idaho's drier side. After an easy hour drive from Boise, my kids eagerly sorted their sleds, shovels and other sand-moving implements, ready to explore it all.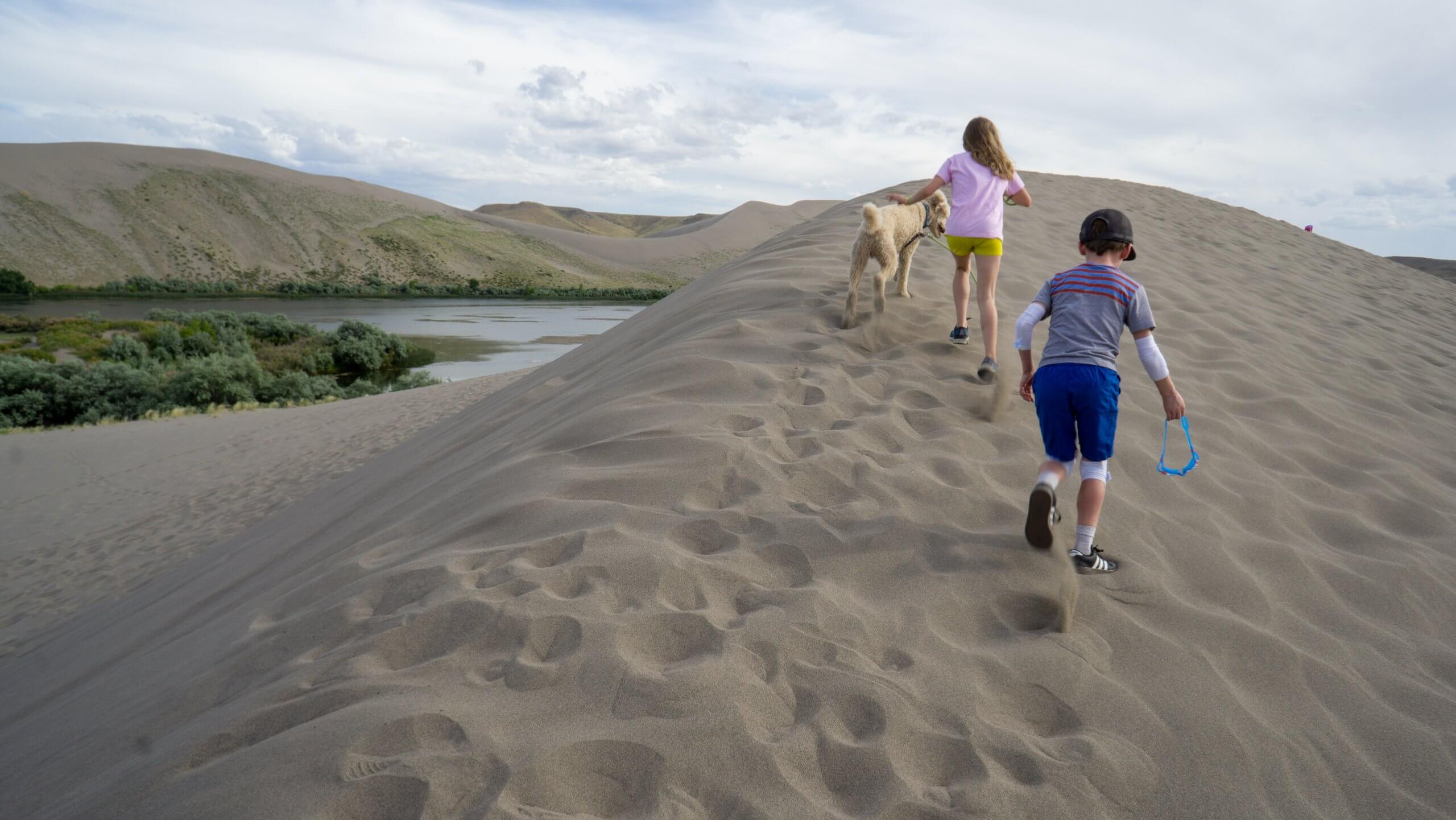 Not 20 minutes after setting up camp, the kids stood perched over the razor-edge crest of the "small dune," a stiff breeze blowing through their hair. The desert wind seems to blow eternally in these parts. It's done so for some 12,000 years in fact and it's precisely these winds that formed the dunes. A steady 10-15mph southern wind has slowly stripped the topsoil off the Owyhee highlands, depositing sand particles in a giant heap at the bottom of the Bruneau basin, forming the largest single-structured dune in North America–soaring some 470 vertical feet over the desert floor.
The tallest dune shoots to the sky behind the main lake and takes a good hour to hike to the top. With daylight waning, we chose to take a more leisurely hike to the "small dune." Though dwarfed by the former, it's still a hearty climb with a "two-steps forward and one slide back" pace. Signs below had warned us about the potential for extreme sand temperatures. Early in the season (and late in the day) we found the dune to be comfortably cooler than down below back at camp.
Snow disc in hand, my son took a deep breath, strapped a pair of swim goggles over his noggin, shifted his weight and launched down the massive drift of sand. In an instant, he shot to the bottom of the hill, sputtering off the sled in an uncontrollable giggle and shouted back up the hill "that was amaaaazing!" We chose to bring sleds from home but if yours are tucked away for summer, sleds and proper "sandboards," which will be familiar if you are a snowboarder, can be rented at the visitor center for $15 a day.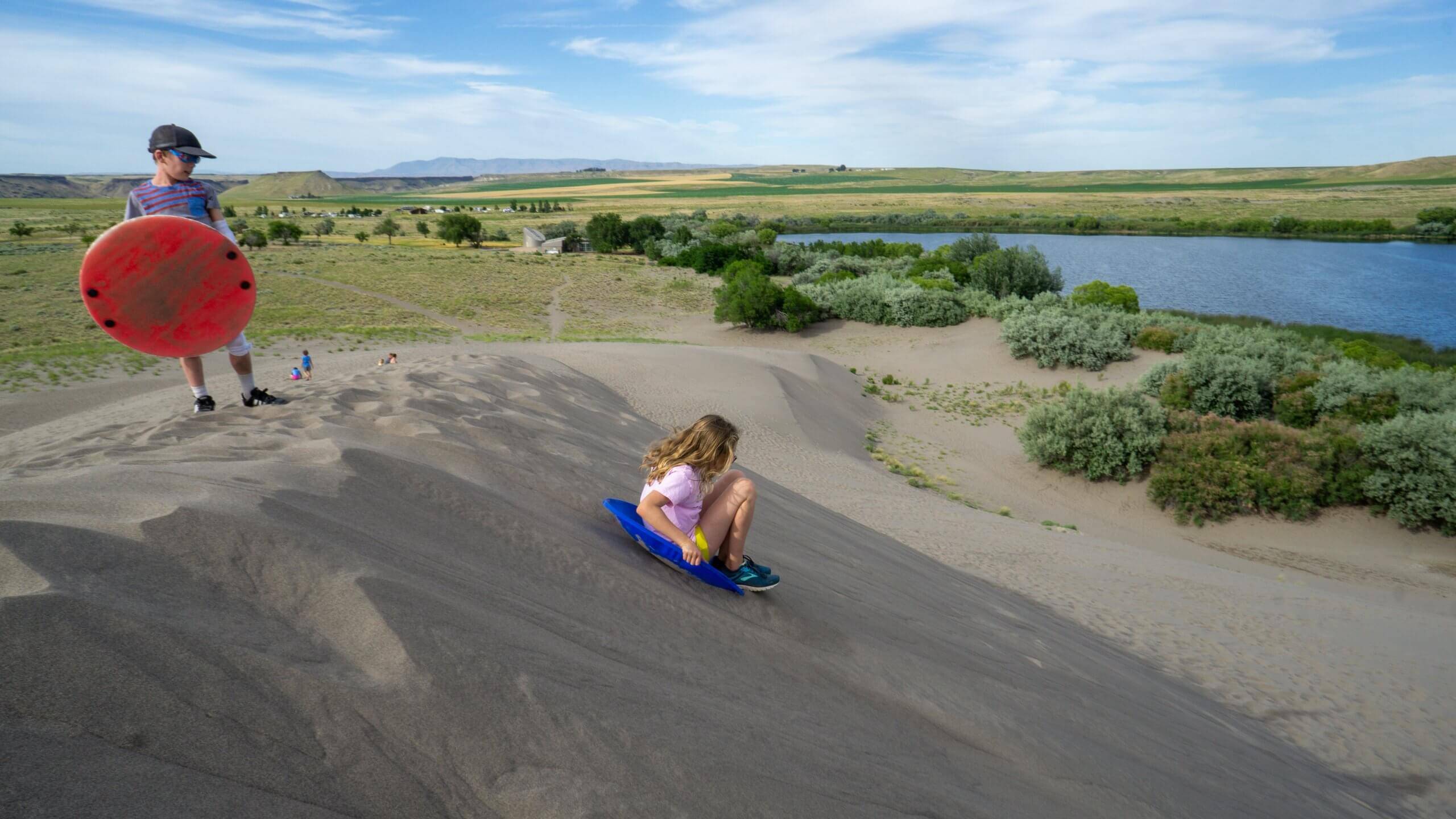 After chasing laps on the dune, the kids took a breather on the crest, inhaling views of the ponds below. "Big Dune Lake" and "Small Dune Lake" formed naturally after C.J. Strike Dam was built. But the lakes have invited throngs of animal life to call the marsh home, including birds and insects (bug spray is highly recommended if exploring the lake). Both lakes are stocked with bluegill and trophy largemouth bass. There's a two-bass limit a day for fish over 20-inches, making it mostly a catch-and-release hole. Trophy bass can be pulled from either lake. Bring your float tubes, paddleboards or canoes, but only electric motors are permitted on the lakes.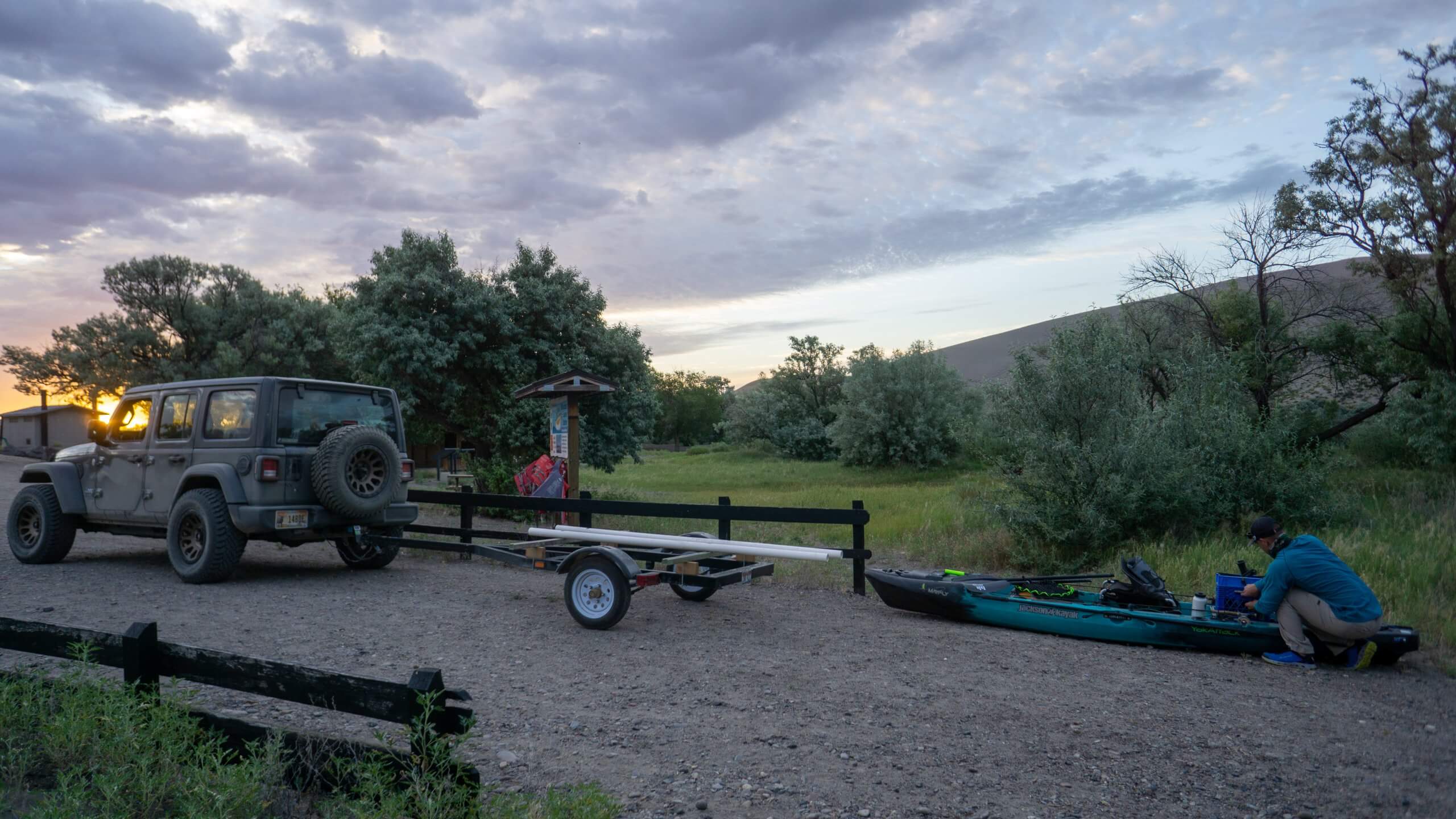 That night after dinner, we rounded up the kids for one more adventure before bed and walked over to the Steele Reese Education Center to check in on our celestial neighborhood. The dry air and remoteness of the desert make the Bruneau Dunes Observatory an ideal place for some sweet stargazing. Unfortunately, the clouds obscured our view that night. So we settled in for a fascinating presentation on Newtonian physics and a tour of the massive telescope housed at this observatory. If you visit the park when the observatory isn't open, don't worry. When the skies are clear the stars appear in full force – no telescope required.
For the undaunted, the observatory recommends bringing black lights to hunt for desert scorpions. The arachnids exoskeleton illuminates a spooky blue-green glow under ultraviolet light. The good news is we didn't find any and they're reputedly not harmful. Still, we zipped our tent uptight that night.
With the kids exhausted from the prior day's activities, I snuck out of camp early the next morning for a solo hike up and over the park with the dog. A six-mile loop starts and ends at the visitor center and teeters along the crest of the dunes and takes about two hours. I followed a trail from camp to the Big Dune for a shorter loop and was transported to a faraway land, lost in an endless sea of sand.
But soon enough it was back to reality in the form of coffee and pancakes before breaking camp. The kids chased bugs and lamented that we should stay longer. Bruneau, you hear that? We are coming back for more. Because it's so close to town and offers year-round activities, there's really no reason not to.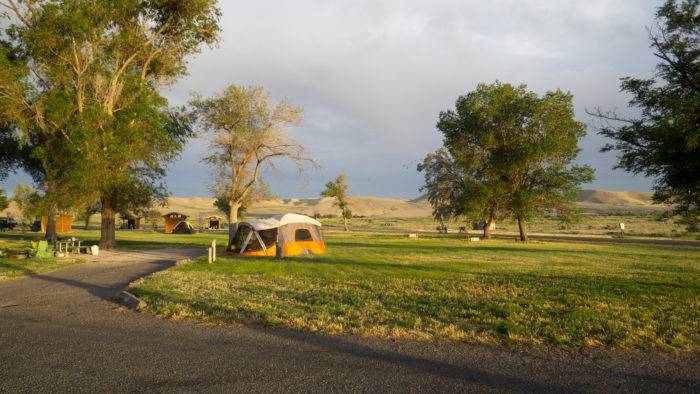 Do It For Yourself
How to Get There
Bruneau Dunes State Park is located approximately 18 miles south of Mountain Home. Departing from Boise, take I-84 east to exit 90 and follow Highway 51 over the Snake River. After crossing the Snake, take the first left on Highway 78 towards Hammett. The park is about two miles from this point, on the righthand side. The park entrance fee is $5 per vehicle.
When to Go
The park is open year-round. The peak season runs from the middle of March to the middle of October, but summer can be downright hot. For a more enjoyable experience, plan your visit during spring or fall. Reservations can be made online through Reserve America.
The cabins are available year-round but can be competitive over weekends. Plan a cabin stay at least six months in advance.
Where to Stay
Eagle Cove campsites: 50 pull-in spots, each serviced with water and electric are available for $33 per night / $231.00 per week.
Cabins at Bruneau: Two cabins are available at this location and include heating and air conditioning. Rates range from $67-72 a night.
Broken Wheel campsites: 48 spots with a central bathroom with flush toilets and showers.
Sites 1- 32 sites are serviced with water and electric and are available for $33 per night/ $231.00 per week.
Sites 33 – 48 have access to central water and are available for $21 per night/ $147.00 per week.
The $5 park entry fee is included in all Reserve America reservations. Each additional car will need to pay the $5 entry fee.
Equestrian Campsites: 19 spots are available for walk-up only and are serviced with central water and a vault toilet. A central shelter with picnic tables provides shade. Sites are available first-come, first-serve for $21 per night plus a $5 per vehicle entry fee.
Stargazing
If you've come all this way, do your family a favor, keep the kids up a little later and make a point to check out the observatory. The Bruneau Dunes Observatory is open Friday and Saturday nights, with hours of operations dependent on the season. Check out a 30-minute star presentation followed by a hands-on viewing at the observatory telescope, which costs $5 per person with a $20 cap on families (senior and child discounts are available). Cash and check are accepted, at this time debit and credit cards are not accepted.
Supplies
Forgot your bug spray, sunblock or water bottle (and we recommend you bring all!)? Sundries and limited supplies can be purchased at the visitor center, which is open daily between 9 a.m and 5 p.m. (6 p.m. on Friday and Saturday). The visitor center also rents out sandboards and sleds for $15 a day (or 2 for $25). It's best to get there early to snag a board before it gets too hot.
For supply needs more than mentioned above, Mountain Home is a better bet.​​​​​​​​​​​​​​​​​​​​​​​​​​​​
Feature image credited to Steve Graepel.
​​​​​​​​​​Steve and his wife Kelly live in Boise, Idaho with their two children, Chloe and Ethan.

Published on July 30, 2019