Alexandra Baackes worked in partnership to create this Travel Tip.
When I mused that my delayed trip to Idaho would be worth the wait, I was right – but I had no idea just how right I'd be. While pouring over the details of my postponed adventure, I learned a fun tidbit: Idaho is the Gem State. I can't think of a more apt nickname for a place that I truly felt was a hidden gem, one I couldn't believe I so often had all to myself on my road trip around it.
Kicking Things Off at The Big Idaho Potato Hotel
The unofficial nickname I knew Idaho as was The Spud State, which is what prompted my first adventure upon arrival – a stay at the Big Idaho Potato Hotel. As a super-fan of all types of quirky accommodation, I've clocked a stay in a giant seashell in Mexico, an underwater hotel in the Florida Keys, an urban treehouse in Thailand, and beyond. Spending my first night in Idaho in a giant spud? Unforgettable!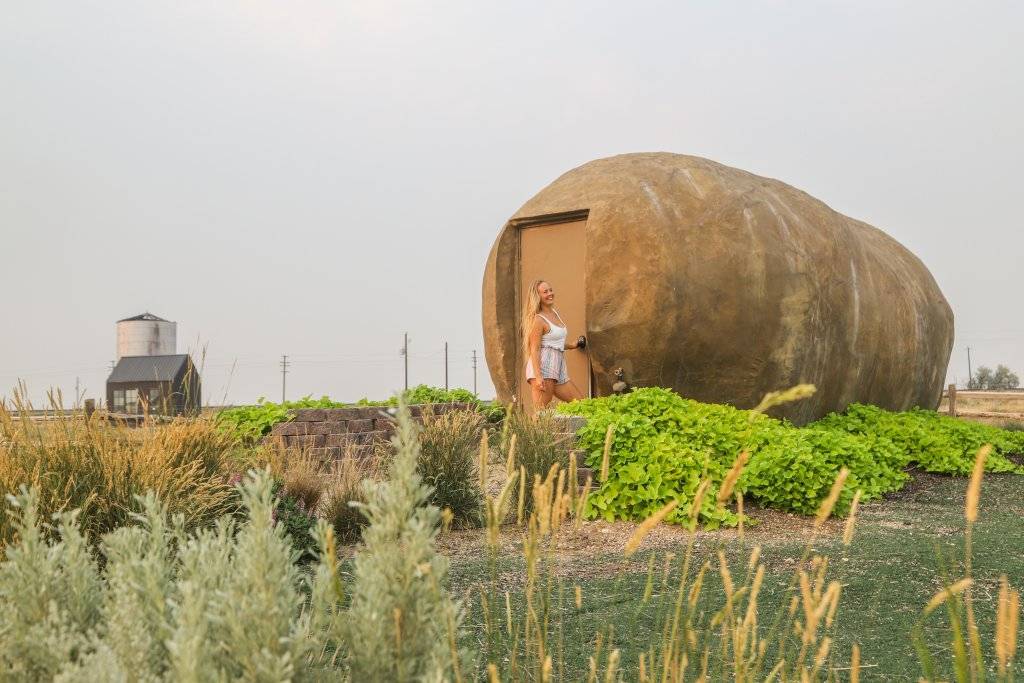 This place is so much more than a gimmick, though. Idaho, which supplies nearly one third of the US potato supply, is proud of its famous export. In 2012, the state Potato Commission celebrated its 75th anniversary by sending a 28-by-12 foot hollow potato sculpture on a year-long tour that was such a hit it was extended to seven. Kristie Wolfe, one of the Commission's employees – and a tiny home enthusiast – had a dream for giving the tater new life on her 400 acre farm.
While I laughed upon first laying eyes on the unassuming potato, plopped into the middle of nowhere a 30-minute drive from the Boise Airport, my jaw dropped when I entered the door code and walked into the meticulously designed interior.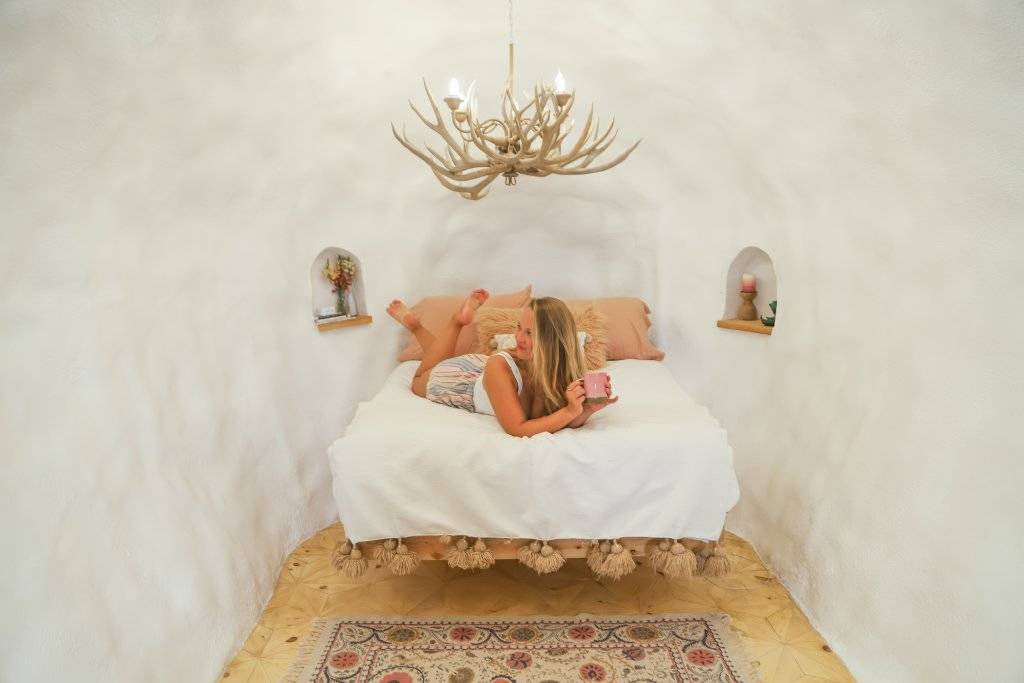 My friend Katie, an Idaho native who now calls Boise home, met me there and had a similar reaction upon arrival. With an onsite cow named Dolly, a grain silo converted into a luxury bath house complete with a scented bath salts bar, a working record player and Taylor Swift and Kacey Musgraves albums on offer, it felt like every detail of our stay had been planned by the consummate host.
While the potato has no kitchen, a small sink and a mini-fridge were all we needed to feast on a picnic of fresh local goodies from Boise Co-Op, and toast to the start of our trip with Idaho wine.
Awe-Inspiring Experiences
The next morning, after a final spin around the spud, we set off for Bruneau Dunes State Park, the perfect halfway point on our journey to Twin Falls. I was impressed from the moment we pulled into the park to learn that the entrance fee to all of Idaho's beautiful state parks is an accessible $5 per car.
We were there to ogle the tallest freestanding sand dune in all of North America, reaching a height of 470-feet. As we huffed our way to the top I had to do a few double takes to make sure I hadn't been magically transported to Peru or Namibia – nope, still in Idaho, still surrounded by incredible beauty.
While sandboard rentals were suspended during our visit, we didn't let that stop us – after a few snaps at the top, I entertained Katie by log-rolling myself back down. As we pulled out of the park, I made a mental note to return someday for the popular stargazing programs held at the observatory.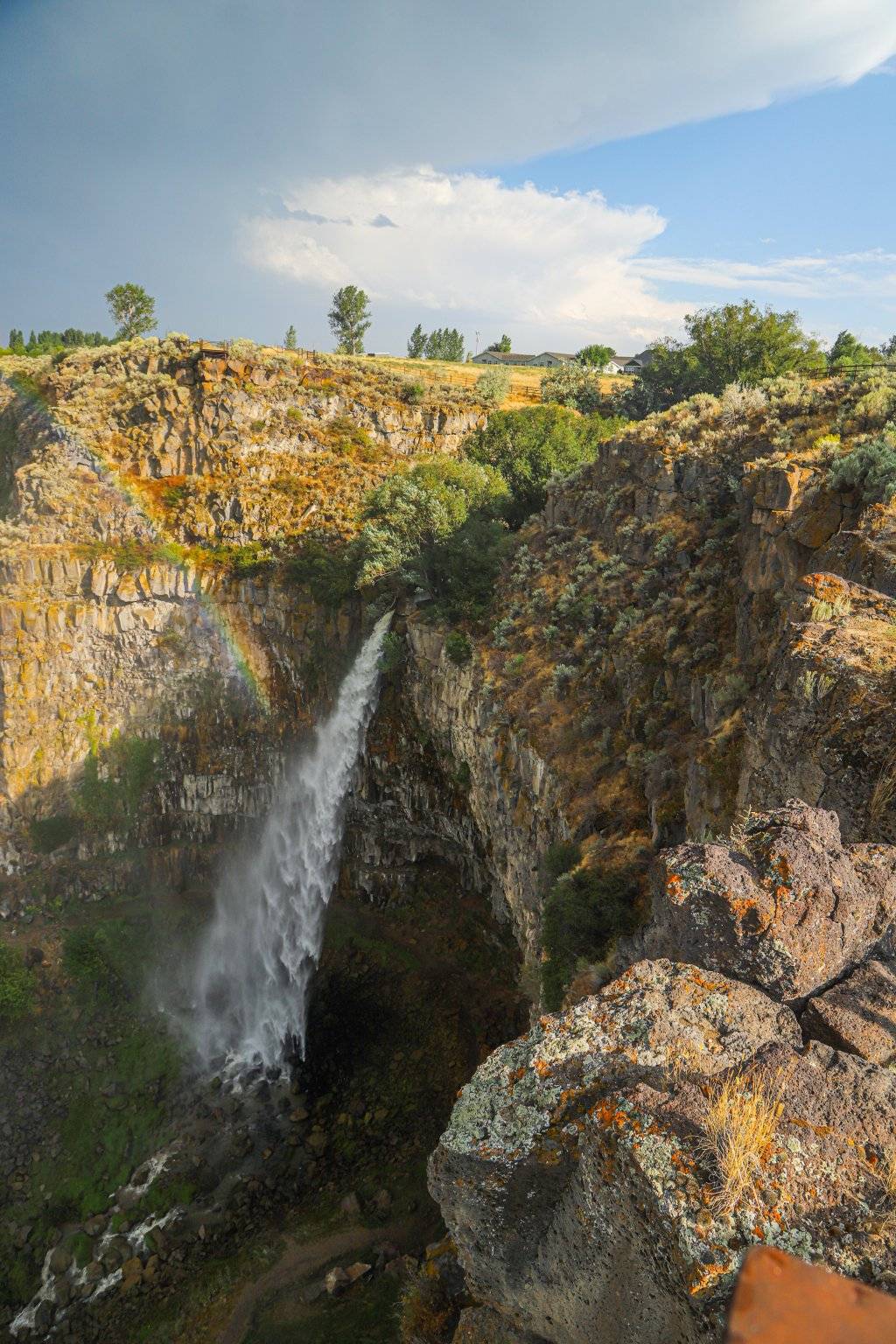 Pulling into Twin Falls, we rounded out our day with a hip-circling Buti yoga class at Hive Hot Yoga. The sweaty class was a blast, and the owner of the modern studio gave us a personal tour after, inviting us to stick around for yin in the garden after and, when we couldn't take her up on it, insisting we at least take a few fresh tomatoes plucked straight from the plant.
One reason we couldn't stay? An early morning date with Snake River Canyon. We watched the sun rise at the Perrine Memorial Bridge, scrambled up behind Perrine Coulee Falls, and were waiting outside of the truly fabulous 4 Roots Juice Bar at opening to fuel up for a big day ahead.
And then we headed down Centennial Waterfront Park to link up with AWOL Adventure Sports (who also run a dive shop and a zipline in the area, how cool is that?) for the aspect of my trip I was perhaps most looking forward to ahead of my arrival.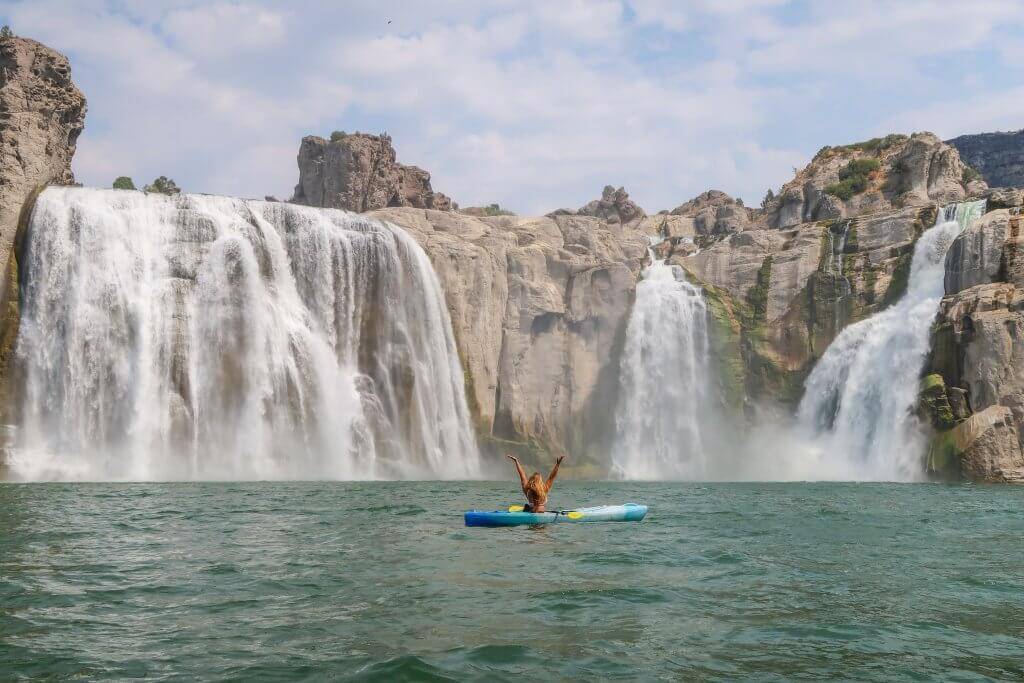 Katie and I were about to tackle the eight-mile round trip kayak journey up the Snake River to Shoshone Falls, hailed as the "Niagara of the West." We cheered with a paddle slap as we hit every milestone: first the Perrine Bridge from below, next portaging the kayaks over Pillar Falls – the greatest physical challenge of the trip – and finally, approaching the thundering Shoshone Falls themselves. Water cascaded over a 212-foot drop – 36 feet higher than Niagara! – and met the river with a humbling force. We made it back to AWOL five and half hours later, having gotten the arm workout – and views — of a lifetime.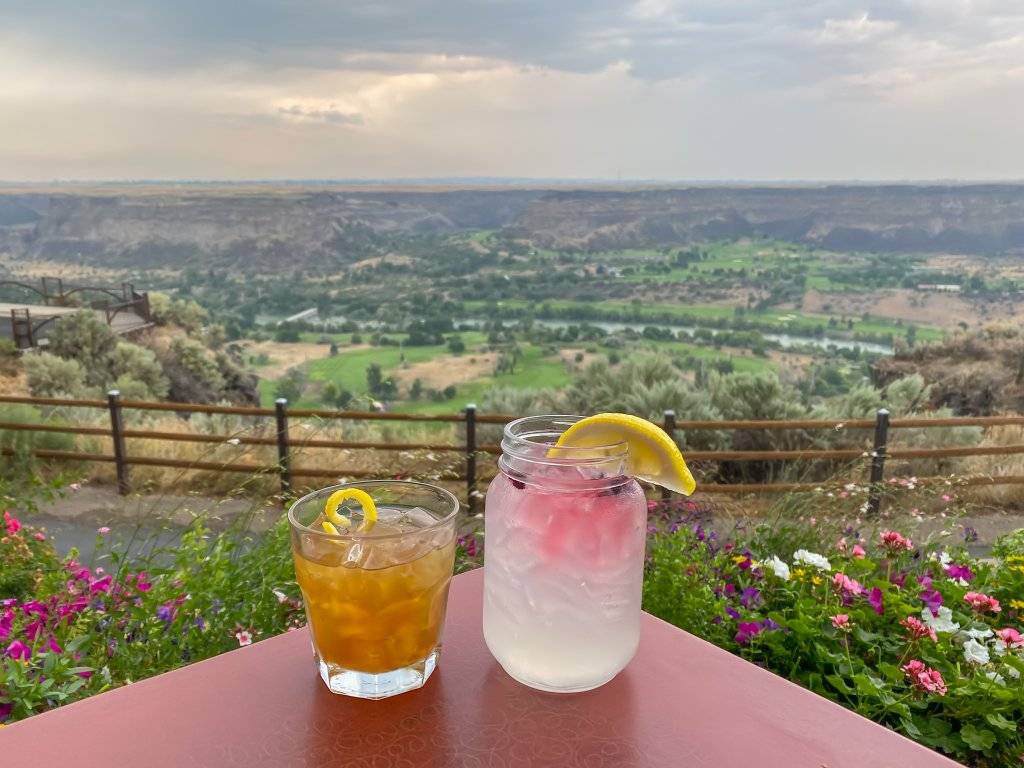 As we drove out of town we took one last look at the canyon, this time from the top. We toasted to our expedition with a drink on the deck at Elevation 486 overlooking the river from above, I caught a perfect rainbow from Perrine Coulee Falls overlook, just a short stroll from the spacious and modern Airbnb where we'd spent the night, and then we carried on to the Shoshone Falls Overlook, where we congratulated ourselves on having been able to appreciate such a unique perspective on these famous falls.
Soaking up Summer Wellness in Sun Valley and Stanley
Sun Valley was the perfect next stop for soothing our sore bodies. I stretched out at a "Journey Through The Elements" workshop from Gather Yoga at the Sawtooth Botanical Gardens, recharged with a yin class and a hot tub soak at Zenergy Spa, and took it easy on a simple hike around White Cloud Nine, providing Insta-worthy sunset views over downtown Ketchum.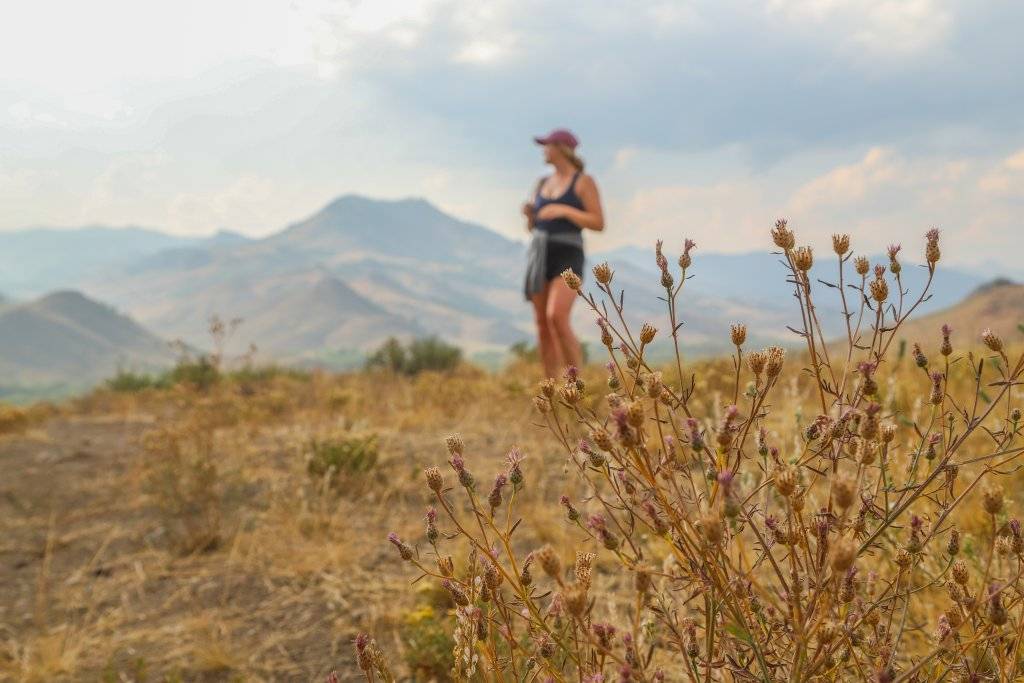 Hotel Ketchum was the perfect base for all of it, a charming and uniquely Idaho-inspired boutique hotel in the heart of this sweet mountain town. Bold and bright murals from local artists popped up in unexpected corners, and the playful vibe carried into Barrio 75, the delicious onsite taco and tequila lounge.
We rounded out our time in Sun Valley with a meal at The Covey, which felt like we were eating inside a chic red barn. Homemade pastas featuring local ingredients graced the table while a selection, from what we learned is a rotating art collection courtesy of a local gallery, graced the walls, a perfect combination.
The next morning we were up early for a drive through the "don't blink because you don't want to miss a second of the views" Sawtooth Mountains towards Stanley. We arrived just in time for a soak in the famous, yet amazingly crowd-free Boatbox hot springs as the sun lifted over the mountains. After, we realized where everyone was – having brunch at the excellent Stanley Baking Co, we also ventured there for beautiful homemade meals in the garden of the log-cabin local fave.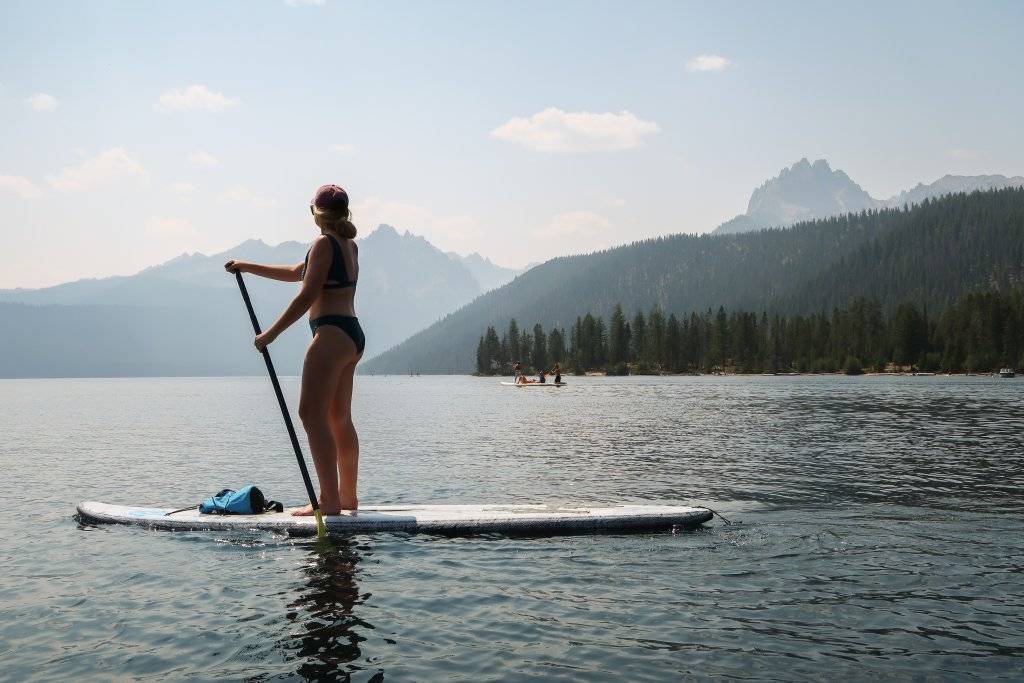 That afternoon, we circled back to Redfish Lake, where Katie vetoed my idea of renting sparkly paddleboats, and so we settled on more dignified stand-up paddle boards instead to meander around the alpine lake, soaking up the Sawtooth views and marveling at the fish darting around under our boards. Fueling up for the drive back to Boise, we stopped by the adorable Peaks and Perks coffee truck, where Katie grabbed an Americano and I tried both a scoop of huckleberry ice cream (the state fruit of Idaho; I had to!) and something called a Golden Latte, made from ground cricket – yup, you read that right – turmeric, ginger, and chai.
Feeling at Home in Boise
Finally, we pulled back into Boise. Hailing too from a state capital – New York's Albany – I immediately felt at home in this mid-sized, up-and-coming city. We spent our days café hopping with our laptops, and our evenings' brewery hopping with our appetites. As a non-beer drinker, I wasn't sure the scene would be my style – but local faves like Meriwether Cider House, where we had flights of local ciders, and The Stil, where we had a pairing flight of local wine and ice cream, proved there's a craft beverage for everyone in Boise.​​​​​​​​​​​​​​​​​​​​​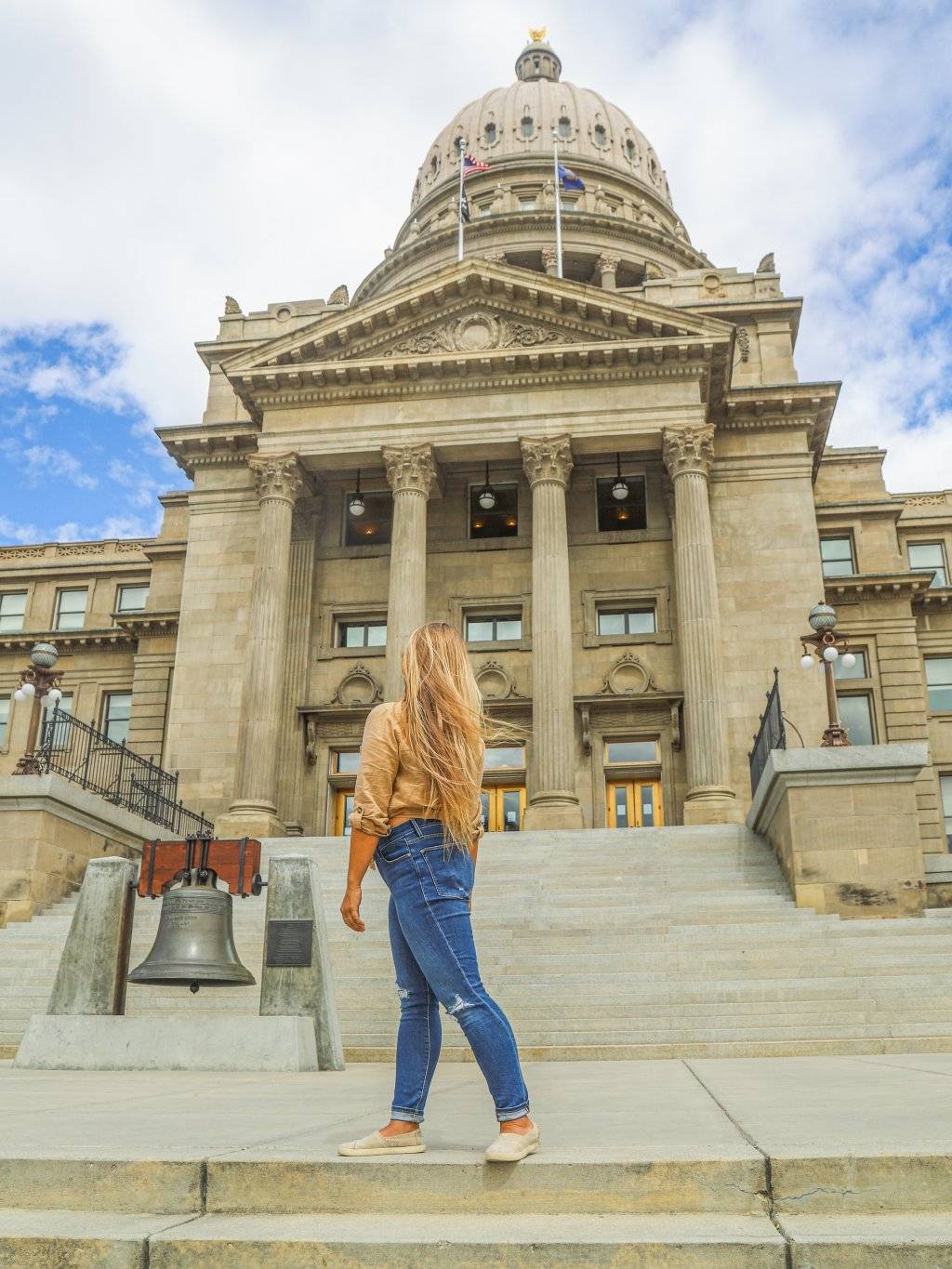 My favorite local specialty however came in the form of an indie movie theater, The Flicks. Think beyond popcorn, here – homemade meals, desserts, and craft cocktails are served to a backdrop of foreign and small run films, or you can rent an old-fashioned DVD to take home with you.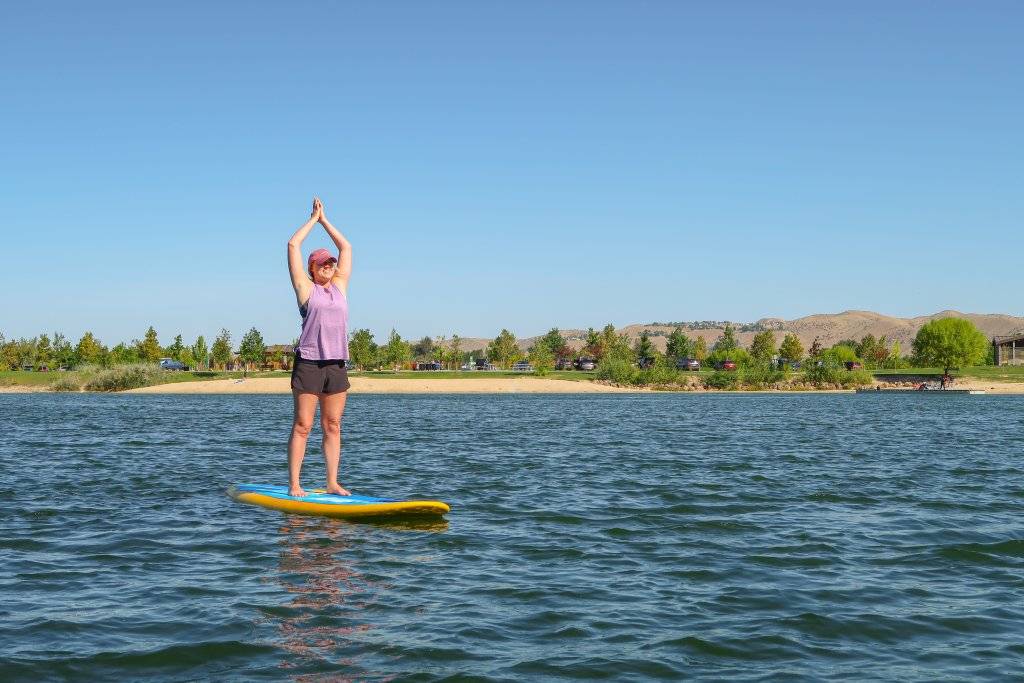 For my final goodbye to Boise, we returned to Idaho's specialty – the great outdoors. At a SUP yoga class on Quinn's Pond followed by a lazy Sunday strolling the Boise River Greenbelt and checking out the surfers on the wave at the Boise Whitewater Park, I set my intention on one idea: this was my first trip to Idaho, but it wouldn't be my last.
I can't wait to return, and see what new hidden gems the Gem State has for me to uncover.
Feature image credited to Alexandra Baackes.​​​​​​​​​​​​​​
Alexandra Baackes is a digital entrepreneur and globetrotter whose travel, sustainability, and adventure content has been charming followers for over ten years. Through her Instagram and blog, Alex has hooked readers on her intimate style of writing covering her escapades abroad, whether that be scuba diving, aerial yoga, or working to green her life and the planet. She's collaborated with brands such as Capital One, KAYAK, Kind Bars, PADI, and numerous tourism boards and hospitality brands, domestic and international. Most recently, her loyal followers have been able to join Alex to travel to destinations near to her heart as part of her women's travel company, Wander Women Retreats.

Published on April 13, 2021