Reach for new heights – literally – with a trek up Idaho's tallest mountain. Jutting forth from the sagebrush in the central part of the state rests Borah Peak, or as us Idahoans call it, Mt. Borah. Planting a flag atop her rigid summit is no easy task.

Having never climbed a mountain before, I set out to conquer this massive rock in late July. I knew it would be a strenuous climb, because I'd heard many stories from friends who were proud to say that they had conquered it before. Yet, I was not expecting the level of difficulty and beauty that I encountered. Whether you're a mountaineer looking to check Mt. Borah off of your list or an armchair tourist ready for your first taste of adventure, read on for a first-hand account of how humbling the power of Mother Nature can be.
Mountain Stats
Elevation: 12,662
State: Idaho
County: Custer
Mountain Range: Lost River
Latitude: 44.137ºN
Longitude: 113.779ºW
Route Information
I hiked the Southwest ridge on my first attempt; it is the recommended and most traveled route for first-timers.
Popular Routes: Southwest Ridge, North Face
Southwest Ridge Mileage: 7 miles round trip
Southwest Ridge Elevation Gain: 5,500 feet
Southwest Ridge Class: 3
To get to the Southwest ridge trailhead, leave Arco and drive roughly 45 miles north on US 93. You will then turn right onto Birch Springs Road. Follow the gravel road to its end. You will drive over the earthquake fault from 1983 and come to a parking lot (after 3.5 miles). There is a restroom next to the parking lot and trailhead, as well as RV pullouts.
What To Bring
Before you venture up the mountain, be sure to notify family or friends of your plans and estimated arrival time home in case of an emergency. The essential gear required for this climb varies depending on the season. If you are attempting to climb during the peak time from June 15th to September 15th, you will need the following:
Good hiking shoes
High energy foods such as granola, gel packs, protein bars, jerky, etc.
Water repellent jacket
Light pack or backpack
Camera (so you have proof when bragging to friends)
Water and Gatorade. Sugar is essential for long strenuous hikes and runs. Gatorade provides a quick boost and restores electrolytes.
Trekking pole (for stabilizing your decent down). Trust me, your legs will thank you.
My First Attempt
As I left Arco, I was stunned by how beautiful the scenery was. My entire family resides in Bozeman, Montana while I live in Boise, so I have made the drive through Arco many times. Yet, I had never followed US 93 to the north before, it's safe to say I have been missing out. In the short 45-minute drive from Arco to the base of the mountain, you pass through two classic Idaho small towns, Moore and Mackay. Once you're outside of Mackay you come across Mackay Reservoir and several small rivers, creeks, and streams. It's simply amazing how much life one steady flow of water can inject into a seemingly lifeless desert. The water in the area has managed to support thousands of trees throughout the valley providing a warm green landscape that stretches from the reservoir for several miles. After passing through some breathtaking scenery, you begin to approach the base of the mountain, where you can leave your car and camping equipment.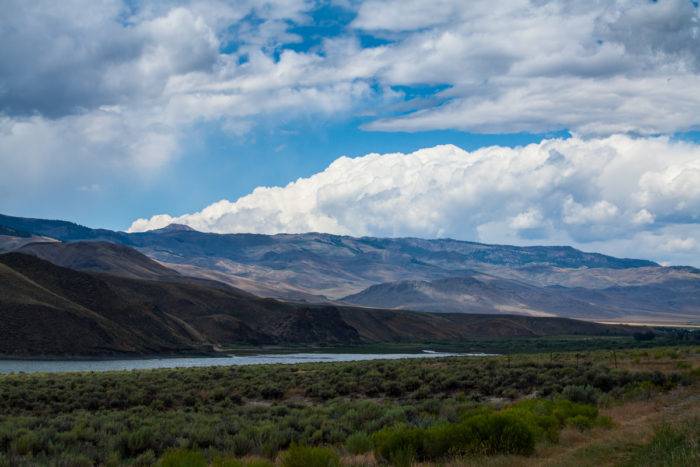 For my first attempt up Mt. Borah, I decided to take the most traveled route because it was my first time and I didn't want to overdo it and risk getting injured. I brought my friend David along so I wouldn't have to hike alone. Safety in numbers, right? We began our hike at roughly nine in the morning. Words can't express the impressive scenery I encountered when I drove up the gravel road to the base of the mountain. The sun was just breaking the horizon, the mountain was draped in fluffy white clouds, and several deer and antelope were grazing peacefully in the warmth of the morning light.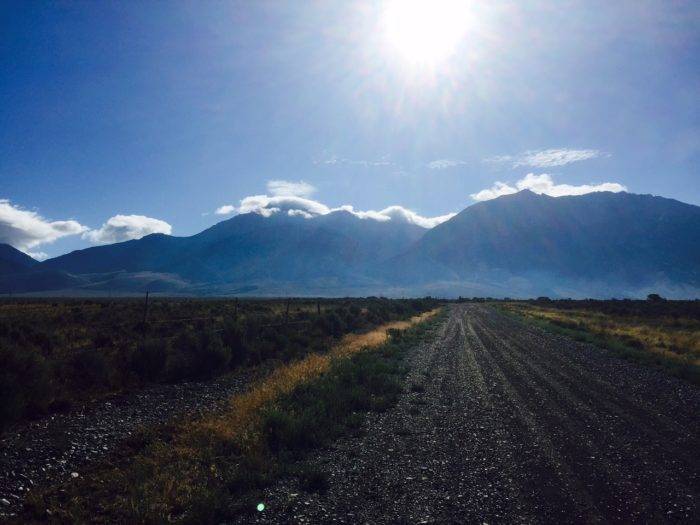 From the research I had done, the Southwest ridge route took about eight to nine hours for the average to the below-average hiker. The lengthy time for such a short trail is due to the 5,300-foot elevation climb you'll traverse in just four miles.

We set out at a steady pace. The first mile was pretty cruel, to be honest. I had not warmed up or stretched prior to beginning our hike and I quickly felt the repercussions. Trying to keep pace with David only added to the burning sensation in my legs. I felt comfortable and at ease bringing my buddy because he hiked mountains like these all the time and I thought, who better than to bring an expert? What I didn't think about was the amount of conditioning he regularly did, and the pace he was used to. I soon realized that bringing my camera along to take pictures for this article was a blessing in disguise; it gave me an excuse to stop every 10 minutes and take a breather.

Aside from the stiffness in my legs, the conditions during the first half of the hike were wonderful. The sun was out, the temperature was sitting at a cool 77 degrees, the scenery was out of this world, and there was a well-worn, dry trail to hike on (with minimal switchbacks), all in all, I couldn't complain. Every time we came to a stop I was amazed with the striking scenery. The experience was very similar to peering out the window of a plane. The valley floor seemed so far away and looked vibrant and smooth, as if it were painted. A few streams carved their way through the valley floor too, along with the scar that was created by an earthquake in 1983.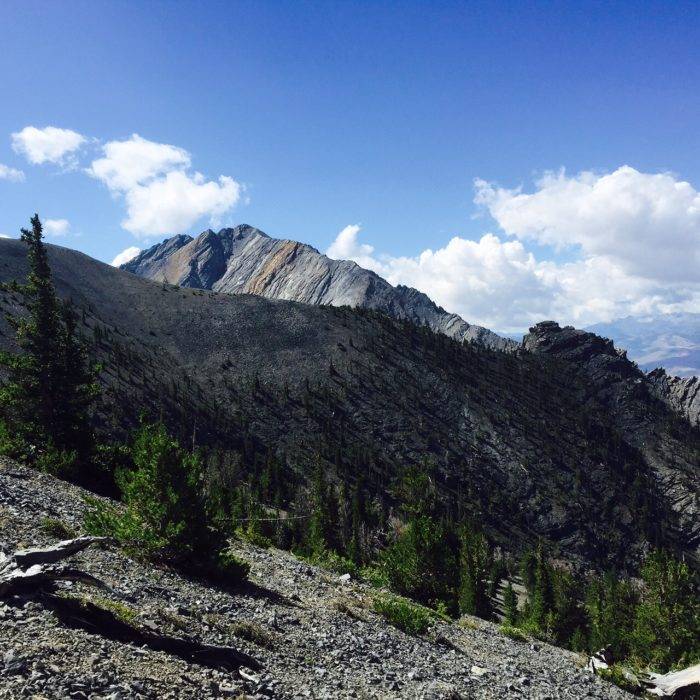 We eventually came to the tree line around noon (about 10,000-feet in elevation). That's when I became aware of a little thing called altitude sickness. It was more than likely a mix of altitude sickness and vertigo, given that I had never hiked that high before. I powered through it until we were sitting roughly 1,000-feet below the summit. I couldn't stand, and when I did, I struggled to find balance, so I sat down to catch my breath and regroup while David trekked ahead to scout out the route.

The view from 11,500-feet was astounding. Looking around I could see the tops of the other mountains of the Lost River Range. I felt like I was looking at a painting, the landscape was a mix of greens, browns, blues, and yellows, all blending together to make for a breathtaking view. It was magnificent, no doubt, but concern began to creep into my mind. Splattered across my colorful portrait was a dark grey in the form of a killer storm cloud brewing in the valley. David was already out of my line of sight, so I had to go with my gut and begin descending, in hopes that he too would see the cloud and decide to head down the mountain.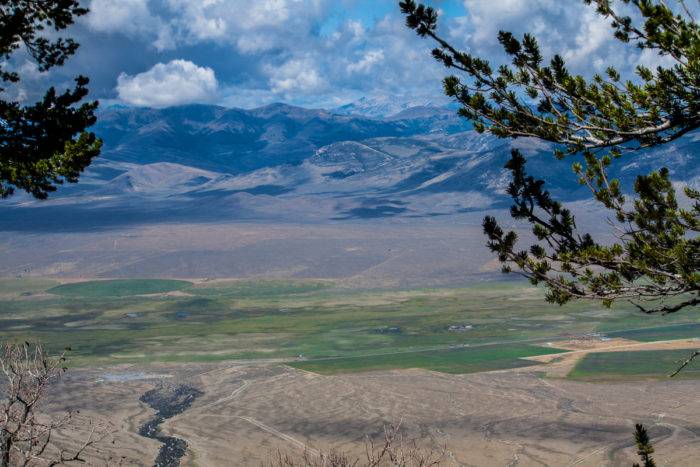 When it came to getting off the mountain as quickly as possible, my mental and physical strength was put to the test. I've read countless stories about people being struck by lightning and I didn't want to be one of those statistics. Once you break the tree line you are completely exposed up on the mountain, accompanied only by rocks, rocks, and more rocks. So I began to walk down towards the trees where I could see the storm cloud getting darker and darker. The shadow it cast on the valley floor grew closer and closer to where I was, so I began to book it downhill.
Once I descended below the tree line I stopped next to a boulder to eat a granola bar and chug some water. No more than five minutes passed by when David came ripping around the corner in a panic saying, "We need to get off this mountain!" The storm had gained a tremendous amount of ground and was nearly right on top of us, around 10,000-feet in elevation. So I jumped up and together we barreled down the side of the mountain.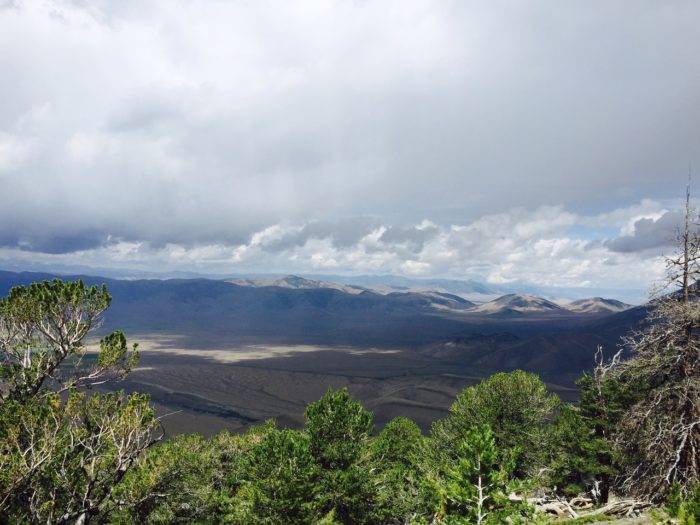 It began to rain within five minutes of running, and within another 15 minutes it began to hail profusely. The storm was relentless and the hail doubled in size after a short while forcing us to seek shelter under trees every 50 yards. The trail had turned into a stream, gathering momentum and speed the longer it rained. We eventually came to the less strenuous part of the hike, where the steepness of the trail had leveled out a small degree. That's when lightning struck – literally. We had come to a wider opening in the trail and were beginning to slow down to catch our breath when I thought the Earth cracked opened no more than 100-yards to our right. The sky illuminated for a split second and the ground trembled beneath our feet. I had never been that close to a lightning strike before, and I wish to never come that close again.
This was motivation for us to get down the last part of the mountain as quickly as possible. From that point, we nearly sprinted the rest of the trail until we reached the safety of my car.
The moral of the story is to always be prepared. Be open to altering expectations and adapting to unfortunate circumstances. We had checked the weather report before hiking and it said that no storms were expected until later that night. It was around one in the afternoon when the storm began to pelt the mountainside. I also was not prepared for the type of conditioning that was required, both endurance-wise and in adjusting to high elevation. I would suggest hiking many mountains and getting used to the elevation before tackling a hike as large as this. When you do decide to hike Borah Peak, don't be discouraged if you fail on the first attempt, you are awesome for trying.
Even though I had a few close calls during my trek, I would do it all over again. The beauty of the hike, the thrill of a new experience, and the accomplished feeling that overwhelms you once you make it back down is unrivaled. Taking on new challenges and conquering mountains, whether they are real or metaphorical, is what keeps you hungry for more. So get out there and conquer your next challenge!
If you are lucky enough to make the summit, enjoy it, take lots of pictures, and relish the memories for years to come. As for me, I'll be back for another attempt at conquering the tallest peak in Idaho.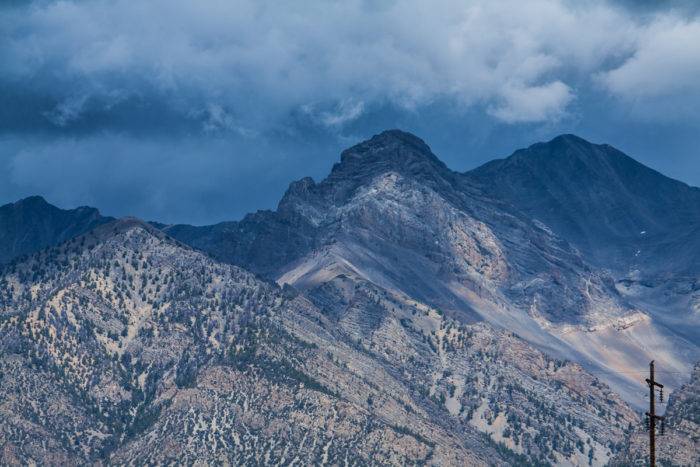 "Thousands of tired, nerve-shaken, over-civilized people are beginning to find out that going to the mountains is going home; that wildness is a necessity"
– John Muir
Top 3 Takeaways
Stay hydrated and know the signs of hypothermia, altitude sickness, exhaustion, and oxygen deprivation. The cooler climate has a way of tricking people into thinking they're not thirsty. Maintaining your liquids through high levels of activity and lower temperatures are essential.
Climb with a partner, preferably with someone who is experienced. Again, avoid climbing alone, I can't stress this enough.
Always place caution before pride or ambition. This may be the most important takeaway from my entire trip. Know when it is time to turn around and try again at a later time.
This author is a paid content writer for Idaho Tourism.

Published on October 28, 2015