From a geological perspective, Idaho is like a jambalaya, a big pot of mixed ingredients, all coming together to provide a feast of history and diversity that can be seen in the landscape. Sitting on the western edge of the continental divide, the state has had quite the tumultuous past of volcanic and tectonic activity that has created the beautiful, rugged geography we see today.
The result? All kinds of rock in every shape, size, and color. Idaho's nickname as "The Gem State" has some merit behind it – some of the world's rarest minerals can be found at a myriad of locations around the state. This also means amazing access to the jagged landscape that is virtually an endless playground for climbers. From easy sport routes and bouldering problems to multi-day climbs in the wilderness, the rock climbing options in Idaho are as varied as the topography.
Here is a rundown of some of my favorite spots around Idaho. Each area brings something unique to the equation, so if you have the time and resources to try them all, you will not be disappointed.
City of Rocks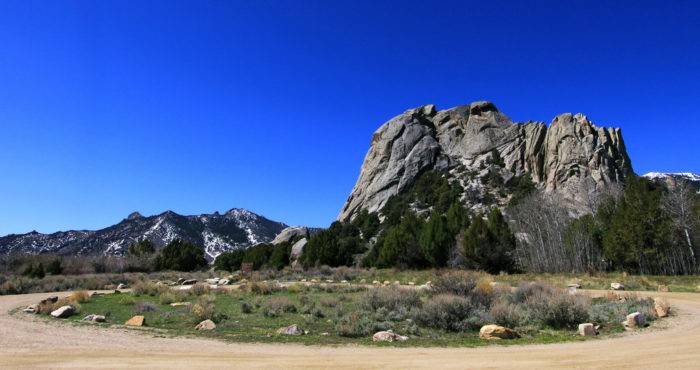 In the southern portion of the state, near the Utah border is a landscape that often times seems like it should be from a different planet. Thousands of rock formations rise out of the ground earning the area the appropriate name of "City of Rocks". This national reserve (managed by the U.S. National Park Service) houses some of the oldest rock in the lower 48 states, with granite dating back 2.5 billion years! The routes here are varied in difficulty, but definitely favor those with some experience behind them. If you have knowledge of Traditional (Trad) climbing, the options will keep you busy for days.
To Get Here: Take I-84 to Burley. From Burley, take Hwy 27 south for 41 miles until you reach the City of Rocks National Reserve.
Castle Rocks State Park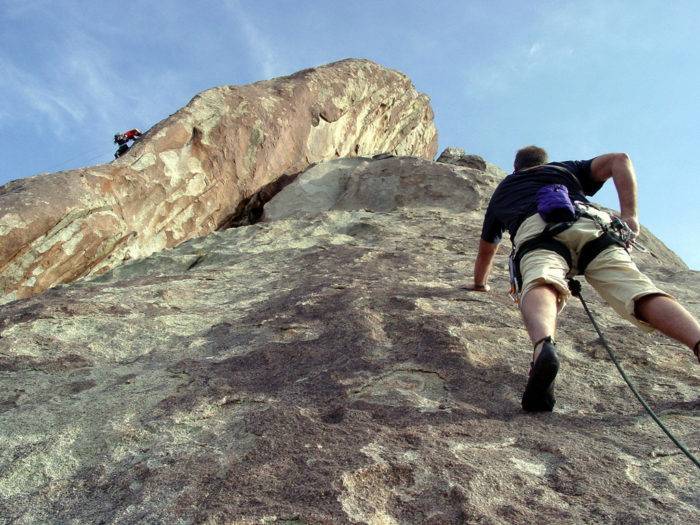 This area is adjacent to City of Rocks, but access is from the other side so it is better to save this area for a different trip altogether. You will find much of the same terrain as it's more well-known neighbor, but far fewer people. This means more routes that you and your friends will have all to yourselves.
To Get Here: Take exit 216 on I-84, just east of Burley. Take Hwy 77 south for 39 miles until you reach Castle Rocks State Park.
Sawtooth Range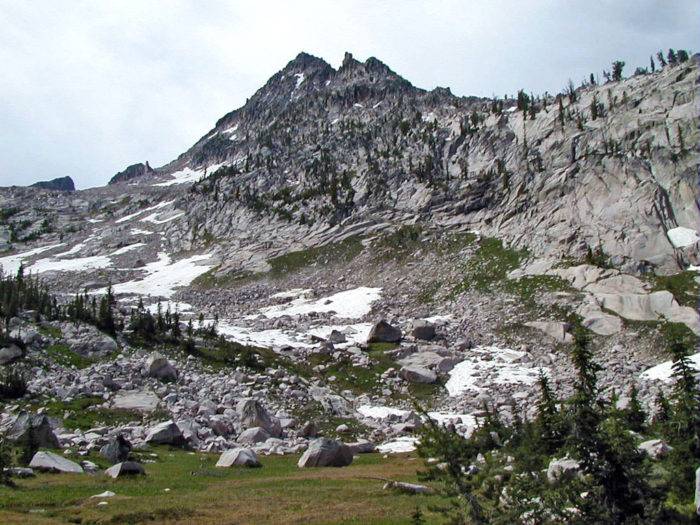 The fact that more people don't know about this area is both astounding and a breath of fresh air to those who come to play in the Sawtooths. This national recreation area is home to unmatched beauty and accessibility, even earning the distinction of cleanest air in the lower 48. There are family-friendly boulders and multi day expedition-grade routes to explore throughout the Sawtooths. To find out where to go, set your destination for the town of Stanley. It serves as the main launch point for adventuring in the Sawtooths.
To Get Here: There are two main routes to get to Stanley. One is via I-84 near Twin Falls. Take exit 173 and follow US 93 north. At Shoshone the highway turns to ID-75 north. Follow that through Sun Valley and Galena Summit through the pass.
From Boise: For a more scenic route, take ID-55 north towards Banks. From Banks turn onto ID-17 to Lowman. At Lowman continue on ID-21 north as you wind through the mountains until you reach Stanley.
Black Cliffs
Although technically just outside the city limits, the Black Cliffs near Lucky Peak might as well be considered part of Boise's many amenities that helped it earn distinction as one of Outside Magazine's best towns. Just a 20 minute drive from downtown, these cliffs offer a variety of sport routes that serve as Boise climbers' go-to option for a quick climb.
To Get Here: From I-84, take exit 57 for ID-21. Take ID-21 north toward Idaho City. The Black Cliffs will be just before Lucky Peak dam. From downtown Boise, take Warm Springs Road east for 10 miles. The Black Cliffs will be on the left.
Little Lake Boulders at Ponderosa State Park
If you are staying in or near McCall, you will want to venture to Little Ponderosa Lake just outside of town where you'll find a multitude of roadside boulders just waiting to be climbed. There are problems of all grades here from V0 to V4, so everyone in your crew should be able to find something of worthy challenge.
To Get Here: From McCall, drive toward Ponderosa State Park, then turn right on Lick Creek Road. Keep right at the Y, heading toward Little Lake and beyond. You'll see the boulders along the road.
Jughandle Mountain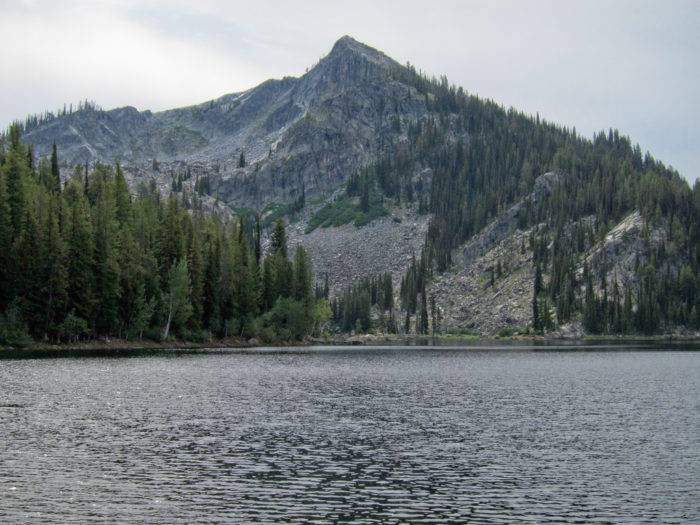 If you seek more than bouldering in McCall, you will want to find yourself at Jughandle Mountain. This appropriately named peak looks like an old-fashioned jug laid on its side. The "handle" section is home to a variety of Trad routes, with a few bolted routes as well. The approach is not too difficult, although a bit of a hike at 3 miles, so keep that in mind for daylight at the end of the day. If there are people in your group who don't climb, this area can be a great compromise as the surrounding alpine beauty at the end of the hike is a destination in itself. But the climbers will be rewarded with some classic routes and a panoramic view that you won't forget anytime soon.
To Get Here: From McCall, head south on Hwy 55 to Elo Rd. Head east on this road (which becomes Farm-Market Road) for approximately 7.5 miles to the trailhead.
Q'emilin Park
North Idaho's top climbing destination is also one of the most ideal crag spots in the entire northwest. Located in Post Falls along the Spokane River, Q'emilin Park offers a variety of sport routes with easy access from hiking trails throughout the park. While the vertical here isn't enormous, the majority of routes are within 50-70 feet, meaning you can check off several in an afternoon and still have time for happy hour anywhere from Spokane to Coeur d'Alene.
To Get Here: Take I-90 Exit 5 in Post Falls. Head on south on Spokane St. across the river. Parking for Q'emiln Park will be on the right.
Chimney Rock
For the more adventurous sort in North Idaho, Chimney Rock can deliver the goods. This massive granite spire is visible from Priest Lake, a picturesque getaway found in the panhandle's Selkirk range. Numerous Trad routes of varied difficulty will get you to the summit, but you will need some technical rope skills to make it to the top. Those who summit Chimney Rock will get an impressive lay of the land, viewing neighboring ranges in Washington, Montana, and even Canada.
To Get Here: From I-90, take Hwy. 95 N from Coeur d'Alene past Sandpoint. In the town of Samuels, turn left (West) onto the Pack River Road. From there you'll drive 17 miles down a dirt road to the trailhead, the turn-off will be on the left side.
Steve Andrews uses multiple mediums to share stories, whether through written or spoken word, or visual imagery. Steve enjoys exploring the world while interacting with nature and exploring diverse lands. He loves Idaho for its world class outdoor activities, friendly people, and easy-going lifestyle. You can find more of his tales at whererusteve.com or on Instagram @whererusteve.
This is a sponsored post.

Published on March 24, 2016