This is a sponsosred post.
Dust off your dirndl and brush off your lederhosen, it's officially Oktoberfest season and Boise can hoist a Hoffbrau with the best of them. Oktoberfest—a beer-soaked festival that started in 1810 to memorialize the marriage of Therese of Saxe-Hildburghausen to Crown Prince Ludwig I of Bavaria—runs this year in Munich, Germany from September 16th through October 3rd. And satellite cities around the globe are getting in on the sudsy fun with spin-off events filled with piles of salty pretzels, plump bratwurst and 1 Liter steins frothing over with German beer. If you can't make it to any Oktoberfest celebrations in Boise this year, you can still get your fill of sausage and sauerkraut year-round at these five German grub hubs.
Das Alpenhaus Delikatessen, Boise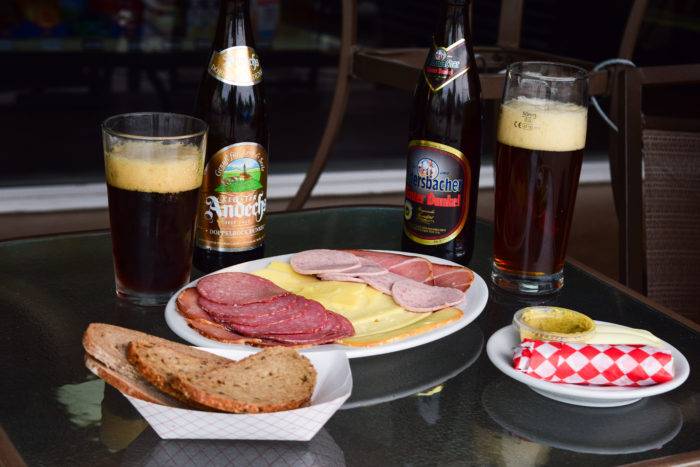 Fans of German deli meats—everything from smoky Westphalian Ham to Bavarian Liver Sausage and Braunschweiger—will be in protein paradise at Das Alpenhaus Delikatessen on Vista Avenue. The luncheonette, opened by Jamie Webster and Greg Hanson in 2016, specializes in all manner of German meats, cheeses, and dense, dark breads. They also serve a single daily hot special beginning at 11 a.m., which ranges from Käsespätzle to Wiener Schnitzel. If you miss out on the hot fare, you can still snag a pre-made charcuterie platter with pickles and mustard, or pick out a few of your favorites from the deli case. The snacks pair perfectly with one of the deli's many imported German beers, most of which are served in their proper branded glasses.
Plan Ahead for Oktoberfest:
Das Alpenhaus is hosting an Oktoberfest celebration on Friday, Sept. 29 and Saturday, Sept. 30 from 3 p.m.-10 p.m. in the parking lot. The celebration will feature eight different Festbiers, a Radler and a Weissbier, all served in traditional 1L mugs, along with an assortment of German snacks and Oompah bands.
Bier:Thirty, Boise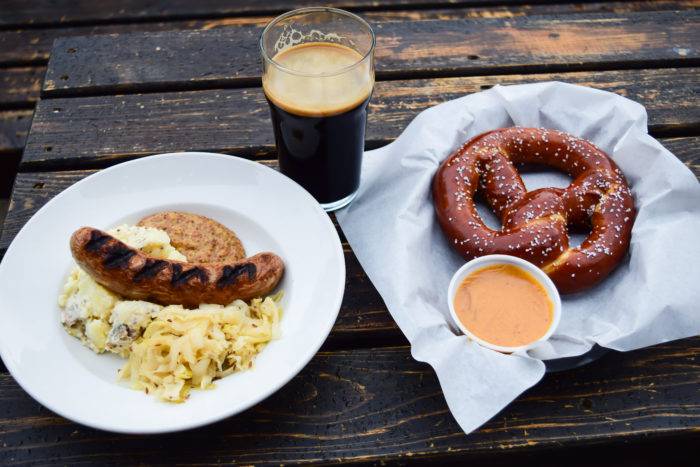 While Bier:Thirty is not technically a German restaurant, the Bown Crossing craft beer bar does serve an assortment of German specialties to pair with its selection of more than 400 bottles and 10 constantly rotating taps. Whether you're craving a warm Bavarian-style soft pretzel sprinkled with salt crystals and served with a decadent cheese sauce or a plate of seared Bratwurst accompanied by caraway-laced sauerkraut and mustard-seed studded potato salad, Bier:Thirty has your back.
Plan Ahead for Oktoberfest:
Bier:Thirty is hosting an Oktoberfest Steinhoisting Movie Night on Tuesday, Oct. 3 at 6 p.m. The event will feature a screening of Beerfest with giveaways, games and costume prizes, along with Oktoberfest brews from Sam Adams, Sierra Nevada and Payette Brewing Co.
Prost! Boise, Boise
Named after the German word for "Cheers!", Prost German Pubs is a small Northwest chain with outposts in Seattle, Portland and Boise. Located on Boise's bustling Eighth Street, Prost! Boise is a small pub with warm wood tables and an outside patio perfect for people watching in the warmer months. The restaurant serves a limited menu of mostly cold items, including Landjaeger, a German smoked sausage served cold with German mustard and rye, or the Braunschweiger BLT, with bacon, spring greens, tomato and horseradish mayo served on Acme sourdough. The pub also features a rotating selection of German brews and a popular stein club for it's suds-loving regulars.
Plan Ahead for Oktoberfest:
Prost! Boise is hosting its third annual Oktoberfest Street Party on Friday, Oct. 6 and Saturday, Oct. 7. The event will feature a giant beer garden and block party on Eighth Street with German fest biers from breweries like Hofbräu, Ayinger, Warsteiner and Paulaner. Prost! will grill up bratwurst, currywurst, döner kebobs and giant pretzels. The Edelweiss band performs on Friday and Saturday evenings and rock cover band Hammerschlagen will close out the party on Saturday night at 8:45 p.m.
Tres Bonne Cuisine, Boise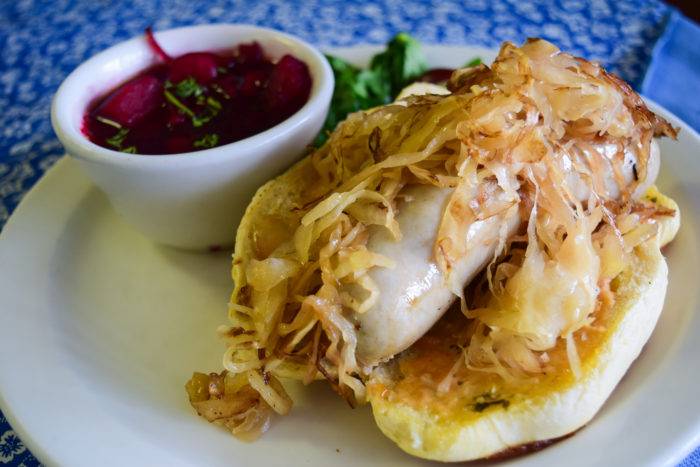 This eclectic mom and pop shop has been celebrating the best of Central and Eastern European cuisine since it opened in 2005. Run by Barbara and Tom Haines, Tres Bonne Cuisine specializes in imported foodstuffs—everything from Bechtle German Egg Noodle Pasta to Lingonberry Jam to Kinder Chocolates. In addition to serving hot breakfast and lunch daily, the quaint cafe also boasts a sizeable cellar filled with assorted imported beers and wines. And on Fridays and Saturdays, Tres Bonne offers rotating themed dinners, focusing on a different European country each weekend.
Plan Ahead for Oktoberfest:
Tres Bonne Cuisine will host its 12th annual Oktoberfest celebration on Friday, Sept. 22 and Saturday, Sept. 23 from 6 p.m.-10 p.m. The cafe will grill up Weisswurst and Bratwurst, along with Hot German Potato Salad, Potato Pancakes and Apple Strudel. The event will also feature live music from Wolfie and the Bavarians.
Schnitzel Garten, Eagle
If you're looking for the Bavarian beer hall vibe—with long wood tables, a patio garden and waitresses decked out in dirndl—Schnitzel Garten is the spot to be. Opened five years ago in downtown Eagle, the restaurant offers a menu peppered with traditional German fare, including Jäger Spätzle, Currywurst and its namesake, Schnitzel. Made from pork, chicken or veal, Schnitzel is pounded thin, breaded, fried and topped with an assortment of sauces, like bell pepper and paprika or creamy mushroom. And don't forget to wash that Schnitzel back with a mug of crisp Bitburger Pilsner or malty Spaten Optimator.
Plan Ahead for Oktoberfest:
Schnitzel Garten is celebrating it's fifth annual German Oktoberfest Saturday, Sept. 16-Sunday, Oct. 1 with live music, a special Oktoberfest menu and a selection of imported Oktoberfest beers. Parties of two or more are recommended to make reservations.
Feature image credited to Tara Morgan.
Tara Morgan is a freelance food and booze writer. She's an Editor at Edible Idaho Magazine, writes for publications like VIA Magazine and SIP Northwest and runs the website Boise Feed. She loves an epic dinner party, good design, bad puns and pretty much every French rosé ever made.

Published on September 21, 2017