The end of the year is fast approaching, and we want to make sure you know exactly where to go to toast 2017. There are celebrations taking place across the state, so pick your favorite and get ready to welcome the New Year, Idaho style.

North
Coeur d'Alene: If you pick this lakeside city to celebrate all that 2016 has been, your options are plentiful and include a masquerade ball, dessert cruise, party cruise, and a fabulous fireworks show. We'll take the dessert cruise, thank-you-very-much. http://www.cdaresort.com/discover/activities/new_years
Sandpoint: Sandpoint is hosting the third annual New Year's Eve Ball at The Hive which includes live music, confetti, and a balloon drop. What's even better? The next day as you're pulling confetti from your hair you can feel good knowing it all went to a good cause. A portion of each ticket sold goes towards local non-profit Angels Over Sandpoint. Buy tickets here: http://www.livefromthehive.com/
Schweitzer Mountain Resort: This ski resort takes care of the whole family. For those of you over the ripe old age of 21, Schweitzer has an adults-only celebration complete with live music, drink specials, free late-night snacks and party favors that are guaranteed to make you "dance your socks off!" There's a 'Tween Party for those 6-11, a Tubing Party for all ages, and a Midnight Celebration at the clock tower. http://www.schweitzer.com/event/new-years-eve-parties/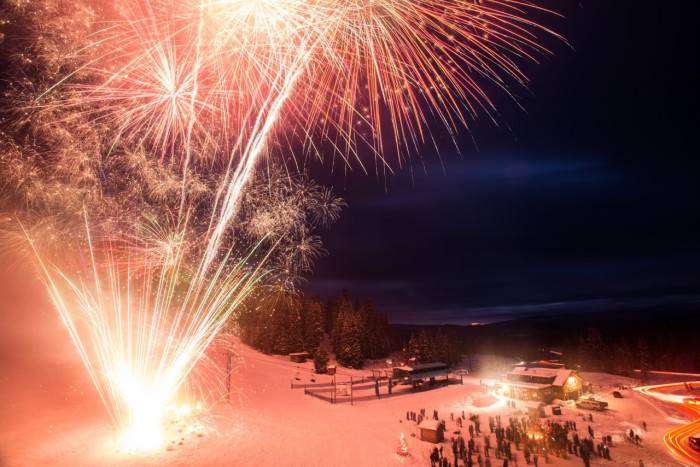 Southwest
Boise: Be honest. You love all things potato. Here is just one more reason to add to the list. The annual Idaho Potato Drop is in its fourth year running and is promised to be bigger and better than ever. With a new location, fireworks show, live music, games, and more, this is one spud you won't want to turn down. For all the details, head here: http://idahopotatodrop.com/
McCall: Were you a flapper in another life or perhaps a flapper at heart? Then the New Year's Eve Celebration at the Shore Lodge is meant for you. The Great Gatsby-themed affair includes music, food, and party favors all themed around Leonardo DiCaprio's incredibly classy 1920's character portrayal. Purchase tickets: https://www.evensi.us/great-gatsby-new-years-eve-party-in-mccall-idaho-shore/191634347
Caldwell: If watching cowboys challenge themselves from atop a bucking bull or bronco is your idea of a great time, then head to the Canyon County Fairgrounds for its Bulls and Broncs New Year's Eve Bash. Starting at 8 pm with bull riding, the action moves from the bulls to the arena floor around 10 pm. Kick up those cowboy boots and celebrate 2017 with a live local band and plenty of good friends. http://www.nampa.com/events/details/new-year-s-eve-lock-in-for-kids-12-31-2016-9252 & http://www.nampa.com/events/details/bulls-and-broncs-new-years-eve-bash-9454
Meridian: We love bowling just as much as the next person, and at Big Al's in Meridian, you can bowl in the New Year with your crew amid a balloon drop and champagne toast. Visit the website to save your spot: http://www.ilovebigals.com/blog/celebrate-new-years-eve-at-big-als
Emmett: Who wrote the law that says everything on New Year's Eve needs to drop? The second annual cherry rise in historic downtown Emmett refuses to conform to the norm. Prior to the rise, make sure to stay warm watching a movie at Frontier Cinema, which will conclude right before midnight—just in time to celebrate the New Year. https://www.facebook.com/events/448910125309847/
Brundage Mountain Resort: Fire pits, Family Zone, fireworks show, and a Torchlight Parade are just a few of the many activities that Brundage has happening on the mountainside to ring in 2017. Choose your activity, stay warm, and, as Katy Perry says, "Ignite the night!" https://brundage.com/event/light-night-new-years-eve/.
Tamarack Resort-Cascade/Donnelly: Tamarack Resort is hosting a torchlight parade, bonfire, and fireworks show at the base of the mountain, while the Canoe Patio Grill will host a family-friendly dance party to ensure you stay warm while dancing your way into 2017. http://tamarackidaho.com/event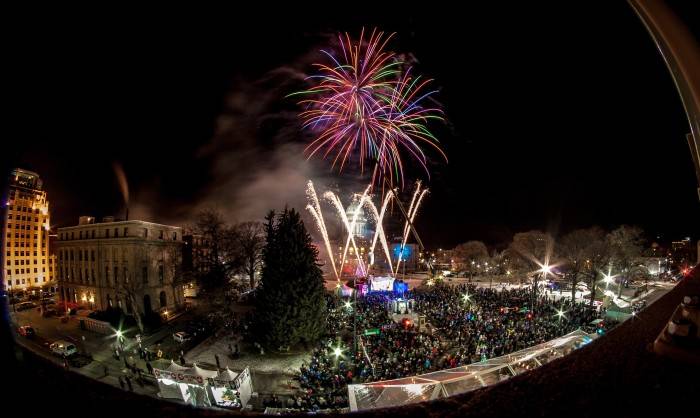 North Central
Kamiah/Kooskia: Kamiah is staying close to its Native American roots with a New Year's Eve Pow Wow. For details, call: 208.935.2290
Moscow: The Best Western University Inn & Suites is hosting a New Year's Eve Dance with door prizes and a grand prize trip for two to Las Vegas! Grab a room at the Inn for the night to complete the package. http://www.moscowchamber.com/events/details/new-year-s-eve-at-the-university-inn-20174
Central
Sun Valley: Dance the night away listening to a live band at the Duchin Lounge, or bring the family and bowl the night away at the Sun Valley Lodge's newly upgraded bowling alley and game room. https://www.sunvalley.com/things-to-do/holidays
Stanley: Ring in the New Year with dancing, champagne, and a fireworks show at the Mountain Village Saloon. http://www.mountainvillage.com/event/new-years-eve-party-live-music-swillbilly/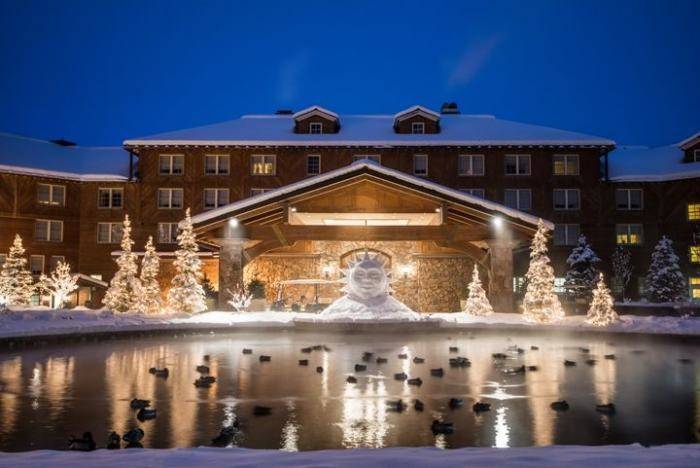 South Central
Twin Falls – Canyon Crest Dining & Event Center will be hosting a New Year's Eve Buffet. Reservations can be made here: http://canyoncrestdining.com/new-years-eve-buffet/
Twin Falls: The Roaring 20's are making a comeback this year! Elevation 486 is hosting a 1920's themed bash with food, fun, and prizes for best costume. http://elevation486.com/new-years-eve
Shoshone: Some folks wish the 80's had never ended. If that includes you, rock your big hair and neon colors and head to Shoshone. Both Great White and Vixen are playing at The Shoshone-Bannock Hotel & Event Center and will be rocking their way into 2017. https://www.facebook.com/events/312276709148341/
Southeast
Lava Hot Springs: Lava Hot Springs has teamed up with Greystone Manor to host a friendly, local celebration to welcome the New Year. Recycled Rock will perform live, and guests are encouraged to bring a dish of their favorite finger food. Admission is free. http://www.lavahotsprings.org/event/new-years-eve-1.html
Pocatello: Idaho State University will host a New Year's Eve Gala "Le Salon des Artistes." Enjoy an elegant evening of French décor, cuisine, and entertainment. For details and tickets: http://www.isu.edu/calgala
Downey: Downata Hot Springs will light up the night with fireworks at midnight and a New Year's Eve Party. Call 208.897.5736 for details, www.downatahotsprings.com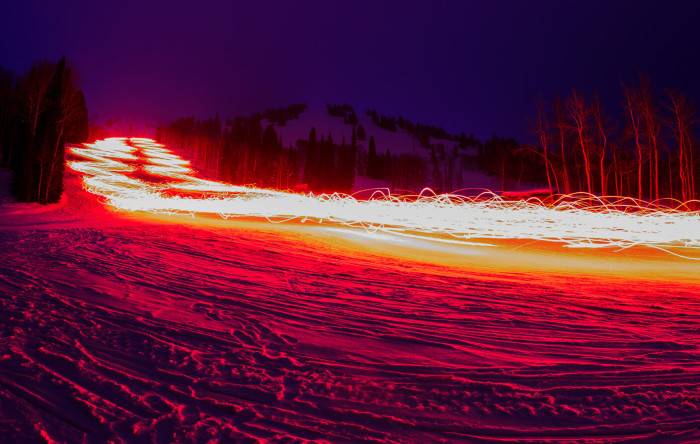 East
Grand Targhee Resort: Grand Targhee Resort is hosting a torchlight parade and fireworks with dining and live entertainment at The Trap. Join in the parade, or watch and relax from indoors with a glass of wine. Either way, it's a beautiful way to say goodbye to 2016. http://www.grandtarghee.com/event/new-years-eve-torchlight-parade-and-fireworks/
Stay safe out there, friends! We wish you all the best in 2017!

Published on December 29, 2016