Tara Morgan worked in partnership with Visit Idaho to create this Travel Tip.
With spud farms and cattle ranches scattered across much of the state, it's no surprise that Idahoans have a penchant for meat and potatoes. And nowhere is that more apparent than the capital city, where you'll find an abundance of white-tablecloth-clad steakhouses serving up petite fillets and sizzling T-bones in low-lit leather booths.
But there are plenty of other laid-back spots in Boise to score a perfectly cooked steak sans sport coat. From French brasseries to oyster bars to farm-to-table bistros, here are four of my favorite steak and potato restaurants in Boise.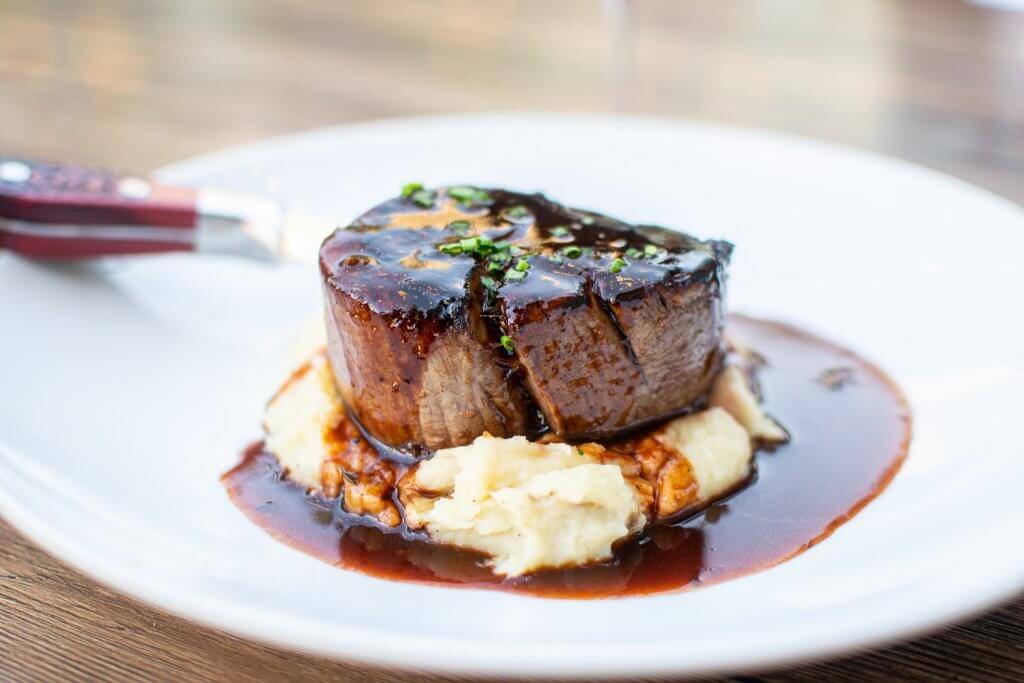 Fork Restaurant
Located on the busiest corner of downtown Boise's bustling restaurant block, Fork offers prime people-watching on its newly expanded outdoor patio. With a menu including pan-seared Alaskan salmon with sugar snap peas and sauteed mushrooms on crispy polenta, Fork focuses on regional ingredients, wines and beers.
Make no mistake about it, Fork is one of the top steak and potato restaurants in Boise. The restaurant's Northwest Filet features a grilled eight-ounce tenderloin served over brown butter mashed Idaho potatoes. Drizzled with a silky roasted beet demi-glace and a sprinkle of chives, the tender fillet can be bulked up with a side order of grilled asparagus or deep-fried asparagus with ranch if you're feeling extra.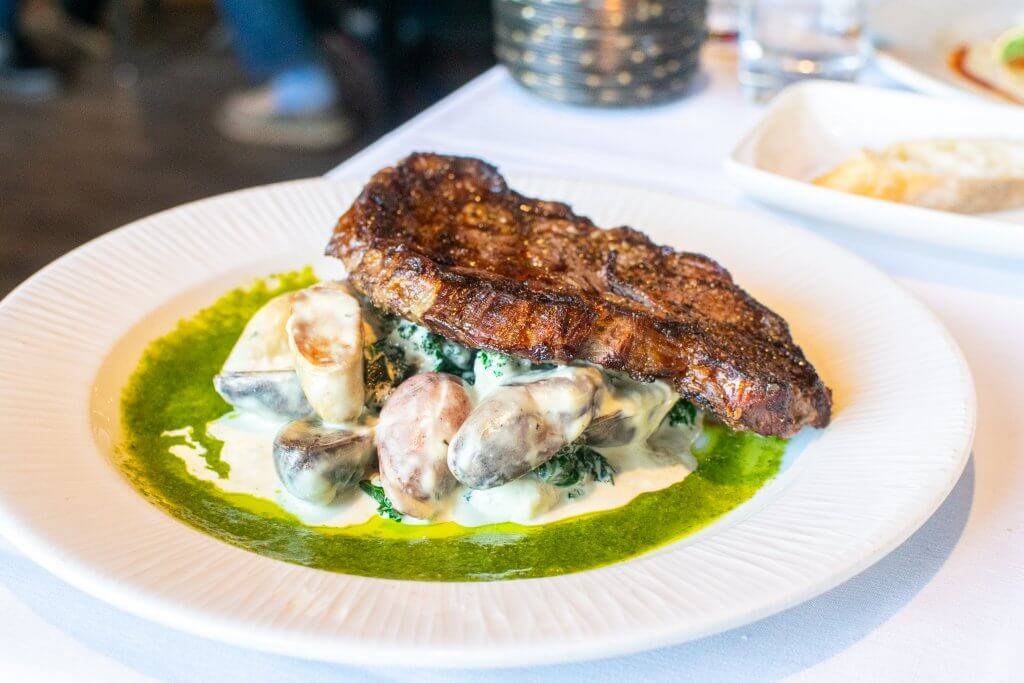 Richard's Restaurant & Bar
Chef Richard Langston's namesake restaurant occupies the ground floor of the boutique Inn at 500 Capitol. The space—which features a bar/lounge, a formal dining room, and a second-floor patio—serves up Italian-influenced dishes ranging from housemade pasta to fresh seafood and braised meats. Richard's flavorful 12-ounce ribeye is grilled to temp and served with wilted greens and fingerling potatoes tossed in a gorgonzola cream sauce. Wash it back old-school-style with a Richard's Martini, made with Tito's vodka, carpano dry vermouth and an olive, served up.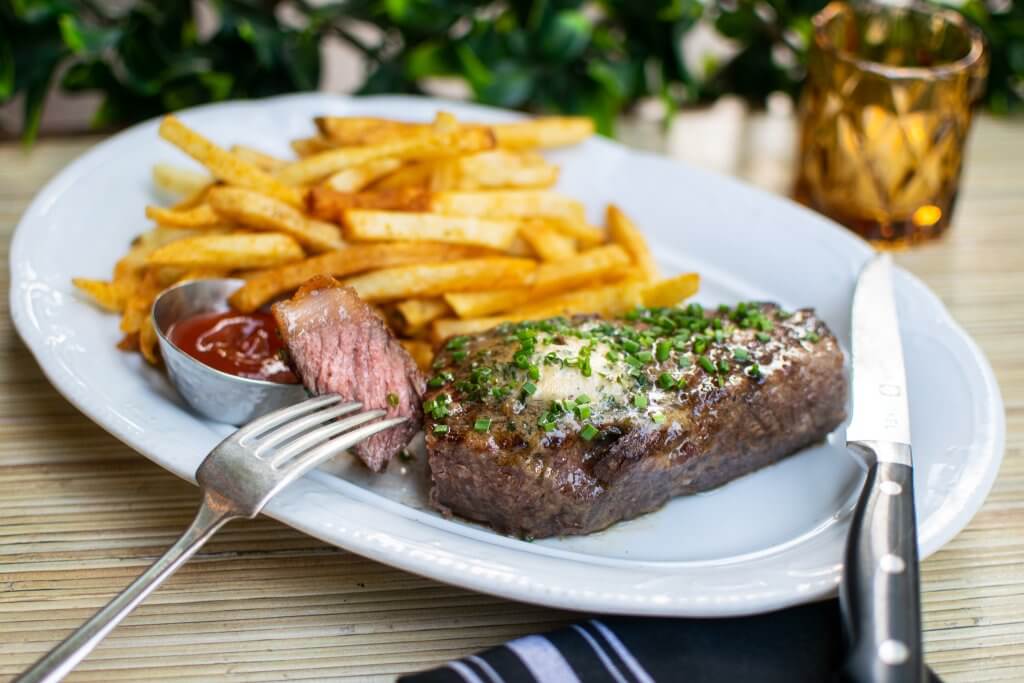 Little Pearl Oyster Bar
If you think Boise is too far inland for fresh oysters, let Little Pearl prove you wrong. The intimate French bistro—which feels secluded even though it's situated just steps off Eighth Street—boasts a rotating line-up of East Coast and West Coast oysters shucked fresh and served simply with mignonette and lemon wedges.
That same ingredient-driven simplicity drives the rest of Chef Cal Elliott's menu, as well—from Maine lobster rolls on Acme brioche buns to gently poached shrimp served with a house cocktail sauce flecked with fresh horseradish. And the Steak au Poivre follows suit. Elliott serves his 12-ounce Snake River Farms Wagyu NY Strip with a house green peppercorn sauce enriched with 40-hour veal stock and a side of fries—which you can order tossed with Old Bay seasoning on request.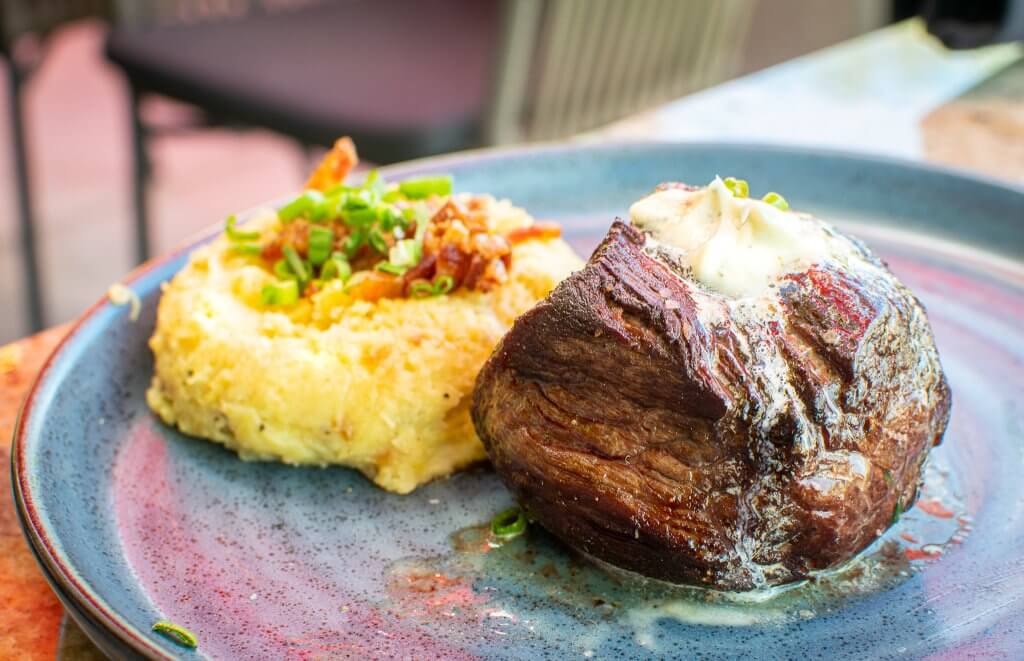 Crave Kitchen and Bar
Perched next to a verdant pond in a new development off Eagle Road, Crave Kitchen and Bar is a sprawling modern space with an assortment of seating options—from leather banquettes to barstools to ground-floor and rooftop patio tables. The menu ranges from raw starters like tuna tartare guacamole and truffle sashimi to heartier entrées like whiskey-braised short ribs and seared Alaskan halibut.
But it certainly has a well-earned reputation as one of the best steak restaurants near Boise as well. The Double R Ranch Filet Mignon is served with a melting slab of bone marrow butter and a scoop of loaded smashed potatoes topped with crispy bacon and chives. While the wine list leans heavily on West Coast selections, the craft cocktail menu incorporates unique fruity liquors and fresh juices.
Hungry yet?
Feature image credited to Tara Morgan.
Tara Morgan is a freelance food + booze writer and co-owner of the company Wild Plum Events. She loves an epic dinner party, good design, bad puns and pretty much every French rosé ever made.
Updated on August 10, 2022
Published on September 7, 2021