Steve Graepel worked in partnership with Visit Idaho to create this Travel Tip.
The high-desert landscape takes on a hue of blue as the sun sets behind the Albion Mountains. A distant truck rambles down a lonesome desert road kicking up an orange plume of dust that hangs in the air. We've purposely traveled 200 miles into nowhere to get to our final destination. My family and I came to spend a long weekend at the City of Rocks, a martian-like landscape where rocks appear to bubble up out of the desert sage.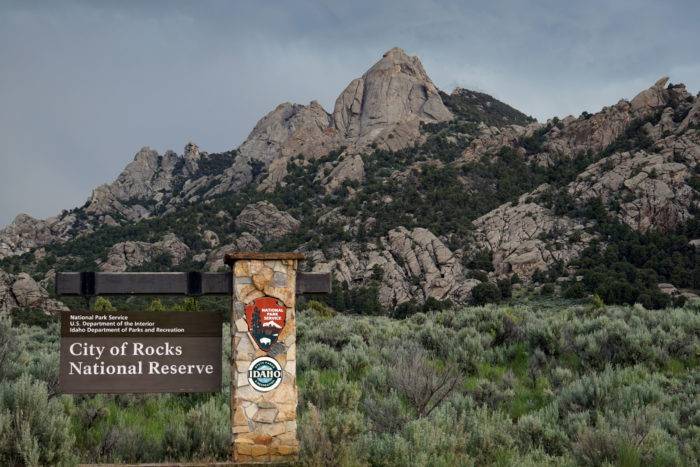 Named for the prominent granite fins that protrude from the desert, the Silent City of Rocks was a milestone for emigrants traveling west in search of a new start, or fortunes via the California Trail. Nowadays, the wagon of choice is more Subaru than Conestoga. Still, throngs of visitors are still captivated by this polylithic city of stone.
At the outskirts of the "City", we stop at the quaint township of Almo to stock up on ice. Not much has changed here in the last 150 years. Literally perched at the end of the pavement, Almo hasn't been gussied up like so many towns of the Old West. Rather, it embraces its traditional ranching roots. The Tracy General Store claims to be the longest continuously run mercantile in the state, where the biggest change might be the addition of climbing chalk in the bin next to tack supplies.
But the end of the road is where the adventure begins, and that's why my family has packed our bags to make our fourth trip to the City of Rocks. Truck loaded with bikes, hiking shoes and a weekend's worth of rations, we make our way to the "Silent City".
Climbing
After the pioneers of yesteryear, climbing is what put the City of Rocks on the modern topographical map, and I would be remiss not to mention it. The two adjacent valleys, City of Rocks and Castle Rocks, have superior granite—drawing climbers from around the world to tackle the region's 1,000 or so routes.
Climbs range from easy scrambling to the top-of-the-game, 5.14 routes. Most routes top out on silo-like features, requiring a climber to lead to the top to set up a top rope for others to follow.
The region is a patchwork of public and private lands, so it's important to be mindful of where you can and cannot climb. Most private property is well marked however, and guidebooks can introduce you to the proper route information.
We set up a rope on an isolated stone in Castle Rock State Park and let the kids take protected round trips up and down the casual slope. My six-year-old struggles to get started, then figures out a rhythm, finding holds for his hands and feet. Before he knows it, he's at the top. He flashes a grin and asks to be let down.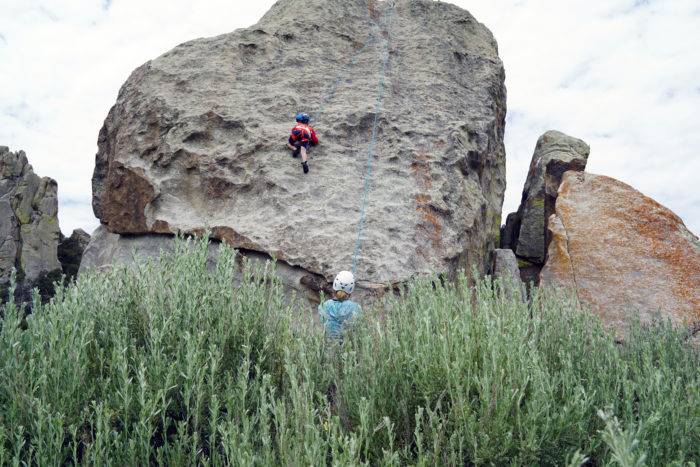 For those interested in getting a taste of the vertical under guided supervision, the park offers a Climbing Experience Program. There are also a handful of authorized guides who lead guided climbing trips in both the City of Rocks and Castle Rocks.
Hiking
You don't have to be a hard-core climber to enjoy all the advantages of big "City" life. With over 20 miles of trails, there's more than enough trail to fill a weekend of hiking.
We park the car and make the 300-foot walk to Window Arch. The kids scramble over and through the rock, while my wife surveys the spires that make up the "inner city" sanctuary. The trail sloughs off into the valley and serpentines between the rock spires to provide access to more technical climbs.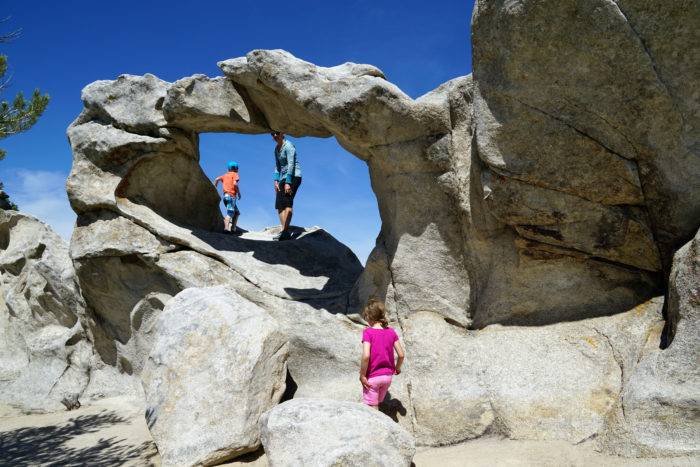 For a little more tread time, head over to Castle Rocks Trail for a spectacular 5-mile loop that encircles the park's cinnamon-hued hoodoo spires.
Biking
After filling up on camp food, my son and I scope out the local trails and find a horse camp across from the Smoky Mountain Campground.
Many trails permit access for cyclists and horses alike. The 1.5-mile single track is one such trail, and leads us to the Tracy homestead ruins—making for a great first mountain bike ride for my little shredders.
Yes, we shared the trail with a few local horses, but folks around here are accustomed to multi-use. Just practice a little courtesy, tip your hat and yield to the gentle giants.
Walk back in time
Back in the day, Almo Valley and the City of Rocks served as a waypoint for westbound emigrants pursuing manifest destiny. It's said that over 250,000 people rolled through the area between 1840s-1870s along the California Trail. They often marked their passage in axle grease, writing their names on the rock walls. Fifty or so names still stain the walls, which can be seen on both Register and Camp Rock.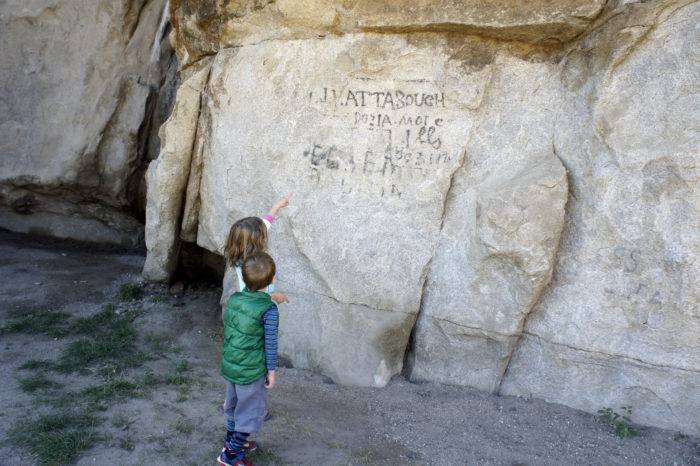 Back in Almo, my kids ogle a pair of wooden replica wagons, imagining what it would be like to travel together for months on end. My daughter raises an eyebrow at the thought and lets out an audible, "Humph."
Modern day travelers can get a little taste of what life was like on the trail by driving the 50-mile City of Rocks Back Country Byway, a route you'll most certainly take as you travel to the City. Starting in Albion, the route encircles the Albion mountain range, cuts across the City of Rocks and closes the loop northward at the historic town of Oakley, which hosts the largest concentration of old stone and wood-framed structures in Idaho.
Chuckwagon
A hard day of play can work up an appetite. If you are looking for something to liven up stale camp provisions, Almo offers a small handful of options.
Rock City is a friendly mom-and-pop shop where you can call in for pizza to take back to camp, or dine under the outdoor pavilion. They offer a nice selection of 22oz microbrews and, you guessed it, climbing chalk.
The Tracy General Store sells odds and ends to cover what you might have left at home. Swing by to stock up on cookies, sandwiches or ice cream bars—a refreshing treat after a hot afternoon of climbing.
Making camp
If you're going to make the trip, plan to stick around for a little while. Two campgrounds are available through Reserve America's website to accommodate nearly every level of comfort. Within the City of Rocks, there are several drive-up sites nestled between the rock formations—providing an immersive camping experience.
Traveling with a trailer? Head to the nearby Smoky Mountain Campground. Located 5-miles away from the park, the campground has flush toilets, electricity, showers and running water at each site.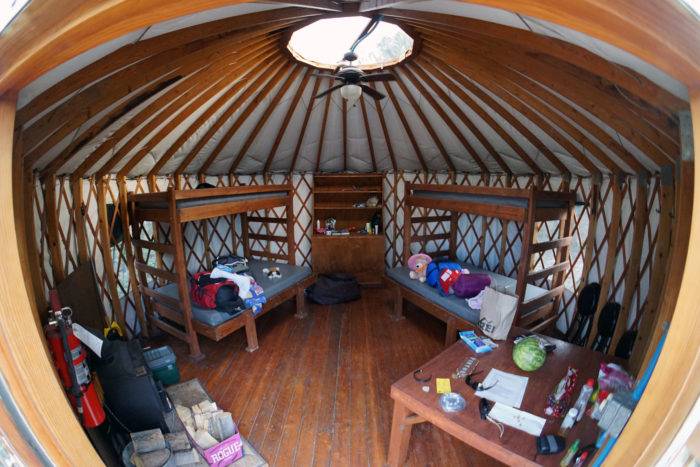 Don't have a camper (or traveling with non-campers)? We opted for the Willow Glamping Yurt, bridging the gap between tent camping and formal lodging. The yurt has electricity, both a king size bed and futon, a microwave, mini fridge, fan and a stove for those cooler nights.
If you're only planning to stay overnight, The Lodge is a great option. The converted ranch house sports three beds plus a pull out, a single bath and a fully equipped kitchen—enough to accommodate up to 8 people. Immediately next door to The Lodge is a 12-bed bunkhouse, perfect for larger groups.
Camping season starts in May and peaks in June, followed by a lull during the heat of the summer. Things pick back up again around September after the heat subsides. City of Rocks is closed in winter (snow typically buries the road after October), though The Lodge at Castle Rocks remains open year-round. Campers should plan to get online and snag the highly coveted weekend slots at least 6-months in advance.
An oasis in the desert
After a weekend of adventure, close out your trip and rest your weary body with a soak at Durfee Hot Springs. Natural springs bubble up to feed Durfee Hot Springs just north of Almo. Three pools allow visitors to swim and soak at a soothing 104˚F.
Hesitant to leave, my kids chase lizards as I load up the truck. I hoist up a bag that weighs three times what it should, unzip the pockets and find a stack of rocks buried between the toothbrushes and stuffies. "We want to build our own City of Rocks back at home!" my kids say excitedly.
City life has that kind of effect—you leave always wanting a little more. True enough, three days have passed and we're already talking about returning for our fifth trip in the fall.
All photos, including feature image, are credited to Steve Graepel.
Artist, writer, adventurer, father of two, Steve Graepel is in constant pursuit of a balanced life. Living in Idaho, he can pursue it with gusto. Steve's work has appeared in National Geographic Adventure, Patagonia's The Cleanest Line and Gearjunkie.com.
Steve and his wife Kelly live in Boise, Idaho with their two children, Chloe and Ethan.

Published on June 23, 2016