Scott Kranz worked in partnership with Visit Idaho to create this Travel Tip.
If you imagine Idaho as a mostly flat, agricultural expanse, then you may be surprised to find a magical landscape full of granite spires in the heart of southern Idaho, just a three-hour drive from either Boise or Salt Lake City. The City of Rocks National Reserve, or "The City" as some call it, emerges from the region's rolling hills, valleys, and scattered mountains.​​​​​​​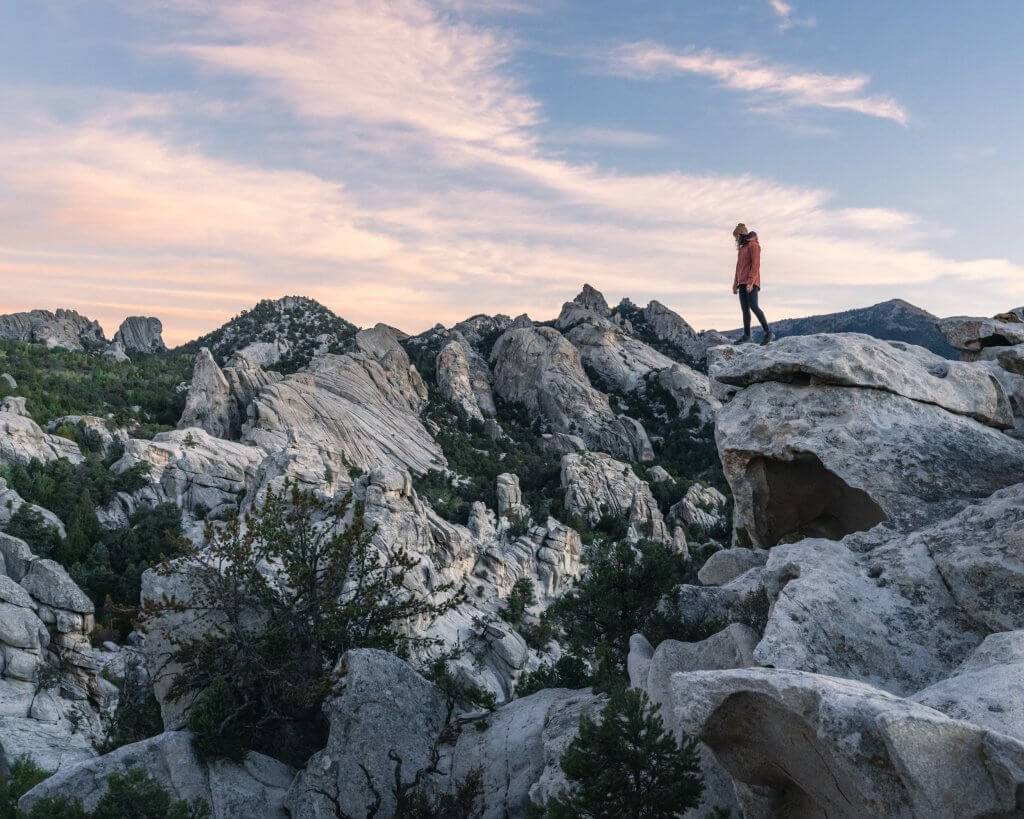 As a Midwest-bred, Seattleite transplant who's visited the great State of Idaho for virtually every year since 2014, I've had the distinct pleasure of visiting the City of Rocks in years past. While it has robust options for hiking, camping, and other outdoor activities, it stands out as a world-class rock-climbing destination, with over 600 climbing routes, both traditional and sport, varying from 30-600 feet, and rated from easy 5.6 to 5.14. My most recent visit to the City in the fall of 2021 – joined by friends from Washington state, Oregon, and Colorado – was dedicated to its renowned climbing.
Once you turn off I-84 and drive south of the Snake River plains, there are two main entrances into the City of Rocks: from the east through the small town of Almo, which has a visitor's center, or from the west through Oakley.​​​​​​​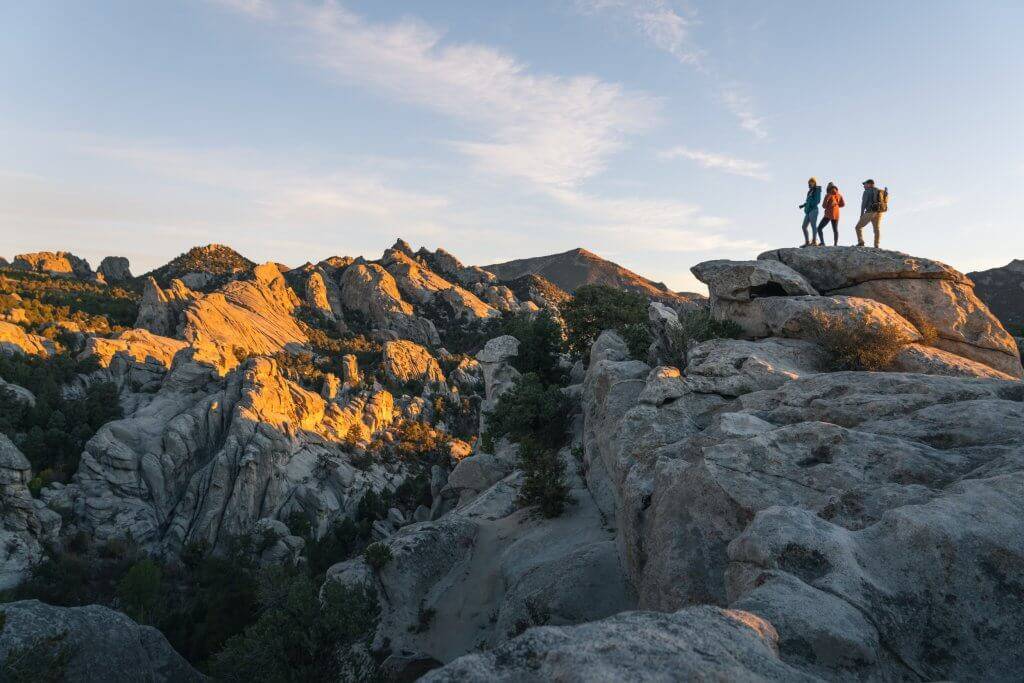 As we approached, the area's rangeland transformed into rolling hills of bunch grass and sagebrush, and soon the City's imposing granite spires came into view.
With a plethora of route options, choosing where to start climbing in the City can be a tough decision. Our group doesn't consider ourselves professional climbers, so we started on a wall with easier routes: Practice Rock. Situated in the center of the park, Practice Rock offers several approachable top-rope options good for beginners and intermediates, including three 5.7 routes called Far Left, New Left, and Original Left.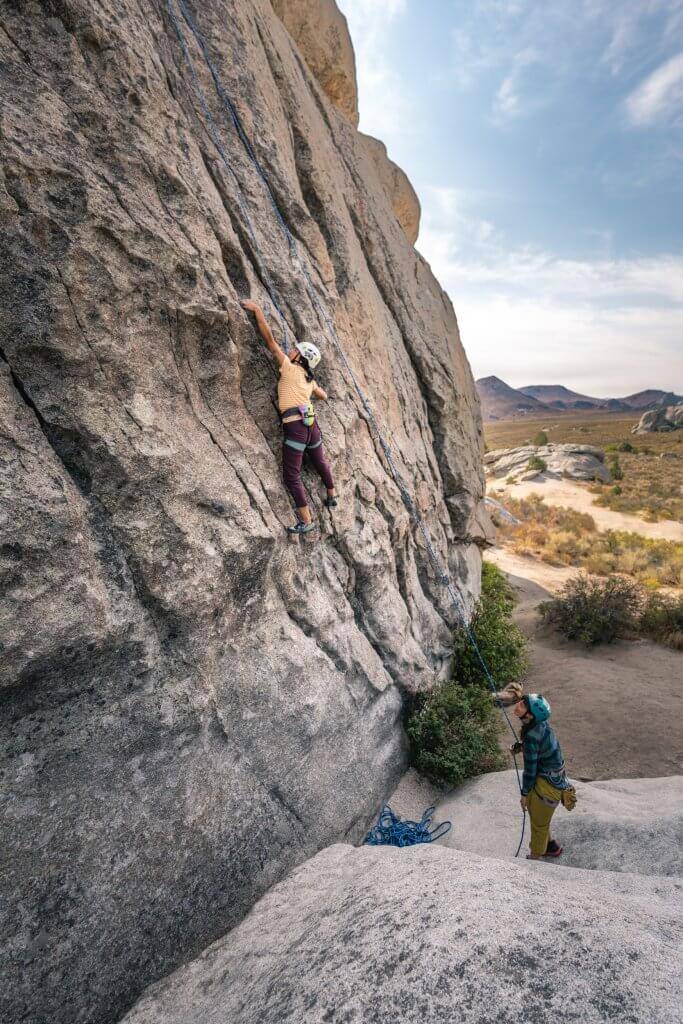 After a day of warming up on Practice Rock, we felt ready to branch out to longer climbs and harder routes. Bread Loaves, which really does look like a stack of sliced bread, boasts several wall options, including Upper Bread Loaves wall and Bloody Fingers wall, situated on the northeast side of Lower Bread Loaves.
The Bloody Fingers wall looms high overhead, often requiring a 70-meter rope and a lead climber to ascend the wall before setting up the top rope. On that wall, we tackled the classic 5.7 sport route called Mystery Achievement, topping out at a chained anchor 115 feet overhead.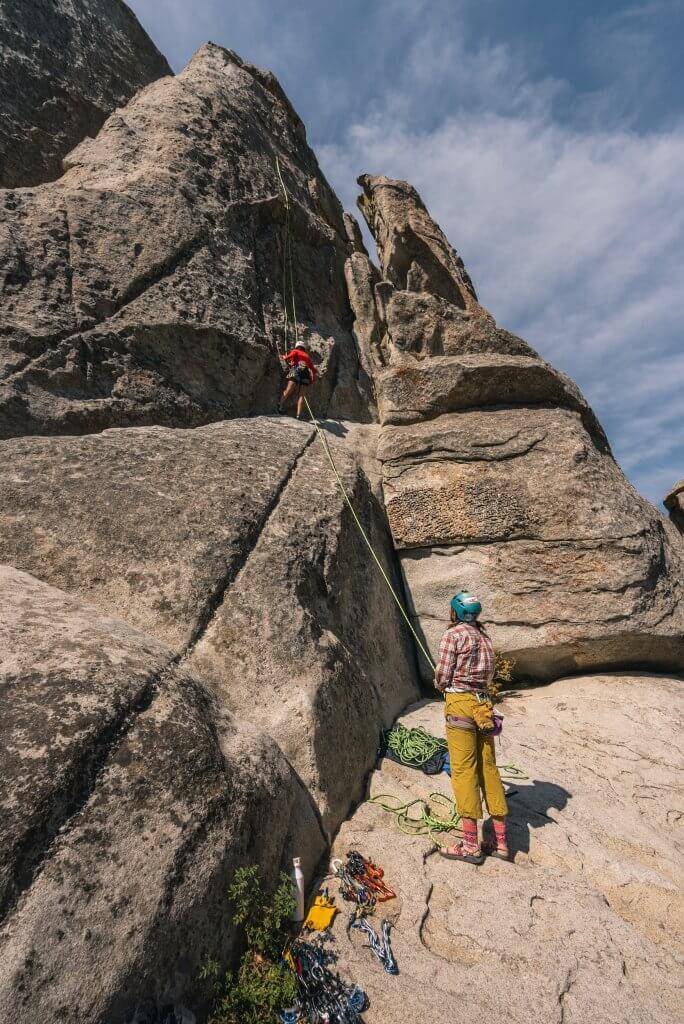 Nearby, we climbed fun sport routes on Upper Bread Loaves West, including a 5.8 called Muffin Top, which had us moving up angled slabs to a mid-route crux up and over a bulge in the rock wall. Just around the corner to the left is the famed 5.11a crack route known as Interceptor, which we didn't tackle on this trip, but I hope to do it someday!
While climbing in the Bread Loaves, we connected with several groups of friendly climbers, some of whom were from Western Washington state. Regardless of where you are from or what you were climbing, the fellow visitors created a welcoming environment defined by the comradery and mutual respect for this amazing landscape.
Notably, the City is also home to numerous reservable campsites, many of which are near the base of popular climbing walls. Our group lucked out with a beautiful camp in the Bread Loaves area, which meant we only had a very short casual walk from our camp to the Upper Bread Loaves and Bloody Fingers walls.
Other scenic spots and hiking trails were only a few minutes' drive from our camp, including Window Arch, which we enjoyed at sunrise. Window Arch can be enjoyed after a very short hike from a trailhead in the park's center with no climbing required.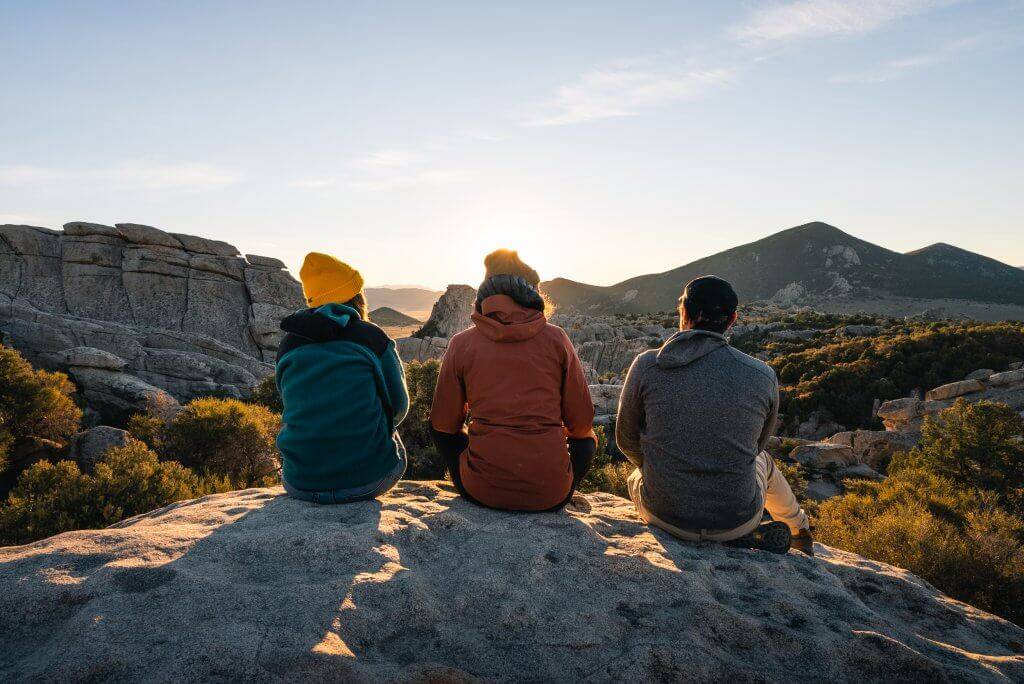 Between climbing, hiking, camping, and admiring the beautiful landscape, our time at the City of Rocks was a treat. I left with a satisfying sense of adventure, but an ache in my heart to have to leave such a magical place. Driving north of Almo, en route to I-84 back to Seattle, I spotted a pair of deer crossing the road. They reminded me that these wild places will be here when I return. They're not going anywhere – they're here for you and me for when our next adventure is needed.
Feature image credited to Scott Kranz.​​​​​​​
Scott Kranz (@scott_kranz) is a full-time photographer based in Seattle, Washington, specializing in outdoor sports, lifestyle, landscapes, and travel photography and storytelling. Partnering with the world's leading outdoor brands and destinations, Scott's professional work includes hiking and alpine climbing in the Cascade, Sierra, Sawtooth, and Rocky mountain ranges; trekking in both the European and New Zealand Alps; canyoneering and mountain bike expeditions in the Southwest desert; and backcountry skiing among the active volcanoes of Japan.

Published on October 26, 2021