This is a sponsored post.
The sweltering summer heat was in full effect causing me to run for the hills to find a little reprieve in the mountains. I set my sights for McCall, but being the height of summer, the busy tourist atmosphere of the town did not appeal to my thirst for nature. I wanted an escape, but a busy schedule back home didn't allow for a big excursion into the wilderness, at least not this time around. So I set northward on ID-55 for some cool mountain air and a bit of adrenaline. Was I crazy to think I could take a day trip to McCall and not be surrounded by others? Not with the hospitality found at Jug Mountain Ranch.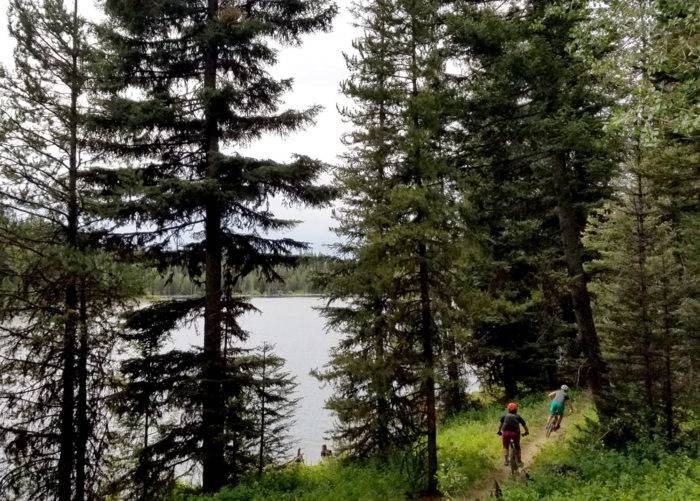 Jug Mountain Ranch is a 1,400-acre private estate that has become an ideal spot to enjoy a mountain lifestyle while still within arm's reach of McCall. Just a 10 minute drive from town, the ranch is adjacent to Jughandle Mountain and the immense wilderness that lies behind it. For those who value time in the outdoors, it should be high on your list as a place to spend a day.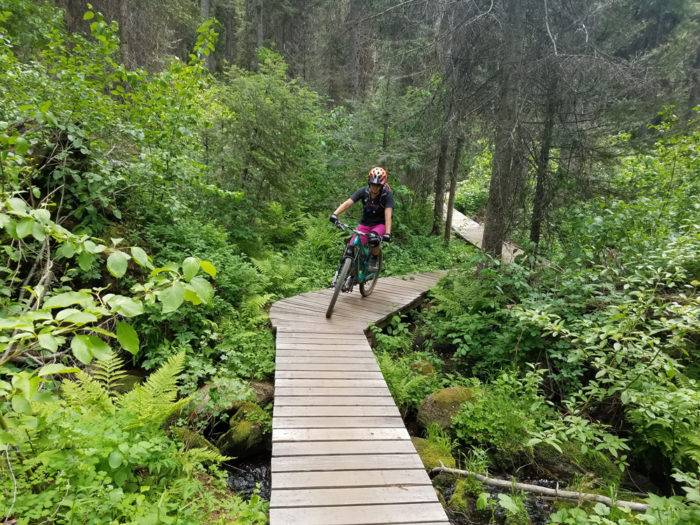 The golf here is first-rate but it was the mountain bike trails that piqued my interest. I had heard about the riding here through the grapevine; that the trails at Jug Mountain Ranch rivaled anything else in Idaho for difficulty, variety, and sheer fun factor. Add in the fact that on weekends you can enjoy the shuttle service via vintage army people movers for only $20 for three hours, and I knew I had to try it out. To my pleasant surprise, I stumbled upon a small gem when I realized how good it actually was.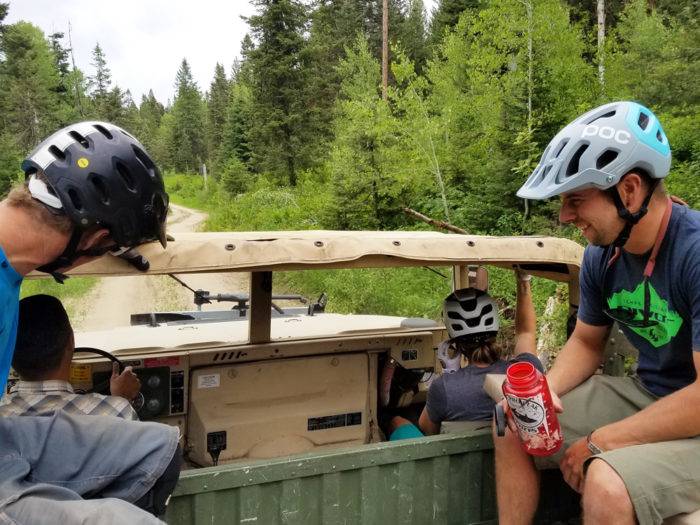 Incidentally, my trip coincided with a demo event hosted by Pivot bikes, allowing me to test the latest and greatest of their 2016 line. But even on the days when the Pivot crew aren't there, the ranch has a small fleet of Pivot available to rent. It was my first time on one of these bikes, and it absolutely flew. Even the local staff who joined me for a lap at the end of the day were commenting on the speed and ease of which these bikes would hold the tight turns.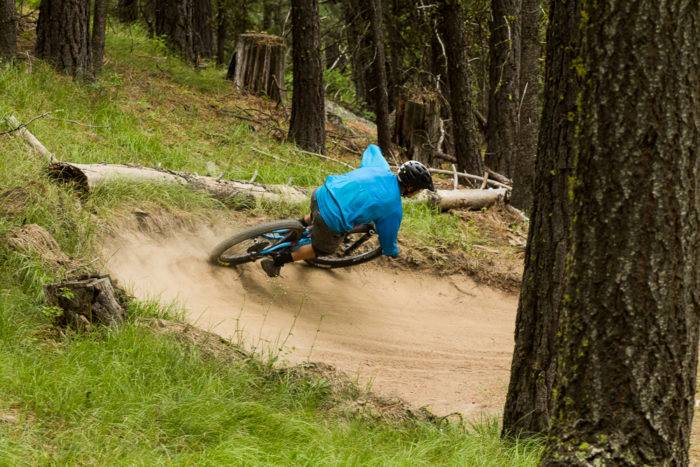 At the top of the hill where the shuttle drops you off, there are several main trail off-shoots, each with a good mile or so length back to the bottom. The options reminded me of a day at the waterslide park, where one central start point led to different branches of routes waiting to be explored. The most popular trail is "Berm and Ernie", a blue run that has over 70 banked corners (or 'berms') that allow you to hold your speed through the turn. There were also multiple steep drops where you can go fast enough to catch a bit of air, or simply roll down through the rock garden without your wheels leaving the ground. On the first run I was cautious not knowing what to expect, but by the second time I let off the brakes a bit and really enjoyed the flow of the run.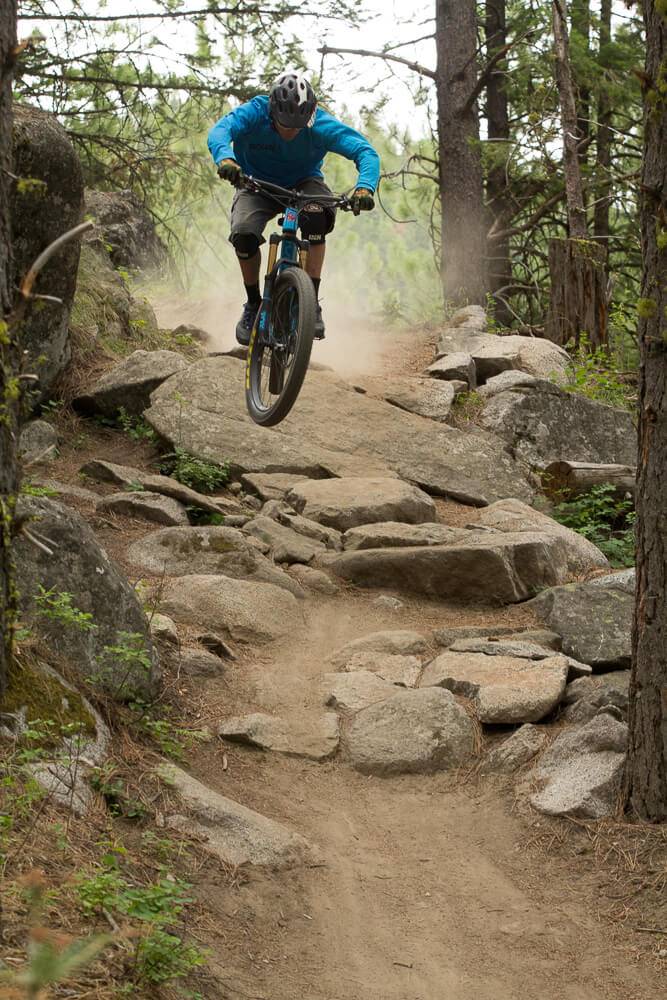 In addition to the shuttle-accessed downhill style runs, there are also many cross-country trails that extend throughout the property, as well as provide access to even more options in the backcountry on state land. One of these trails is the Shoreline Trail, a loop that circles the perimeter of a high-altitude reservoir that provided some much-welcome cool alpine air.
At one end of the reservoir was an inspiring surprise – a cabin made from an old shipping container. I had a quick chance to check it out which was enough to make me wish I had booked a night out here to really enjoy the amazing mountain view, crisp air, and tranquility of the water. And with prices beyond reasonable, from $80-100 per night, this was an affordable way to get some quiet time in the mountains with the shelter and security of a sturdy cabin. I will definitely be back.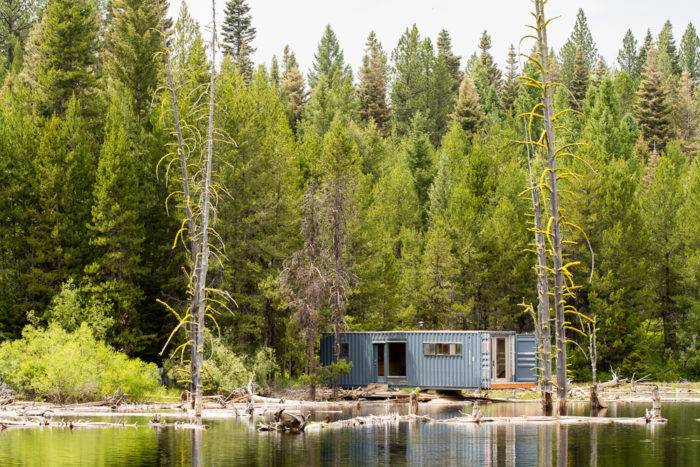 Finally, when the arms were sore from the downhill riding and the face sore from a constant ear-to-ear grin, we made our way to the Clubhouse Restaurant for some dinner and beverages. This is what really sets Jug Mountain Ranch apart from anything else. It's true that there are many amazing trails throughout Idaho where one can choose to ride their bike; however no other network has the type of post-ride atmosphere that is so accessible yet so tranquil. The family-owned vibe of the property shines through in every detail; not the least of which that the owner, David Carey, was on hand to help out any way he could – whether driving bikers in the Humvee or polishing glasses in the restaurant. That type of pride in an operation results in a level of hospitality that makes you feel like part of the family instead of just another customer.
For those who want to escape to the mountains yet don't have the time and budget to get too far out of civilization, you can't go wrong with some time at Jug Mountain Ranch. All levels of mountain bikers will find a trail to help them progress their riding and test their fortitude. Whether you go for just a day trip or a multi-day adventure with the alpine cabin as your base camp, your group will be thankful for the love put into this unique piece of Idaho.
All photos, including the feature image, are credited to Steven Andrews.
Steven Andrews uses multiple mediums to share stories, whether through written or spoken word, or visual imagery. Steve enjoys exploring the world while interacting with nature and exploring diverse lands. He loves Idaho for its world class outdoor activities, friendly people, and easy-going lifestyle. You can find more of his tales at whererusteve.com or on Instagram@whererusteve.

Published on August 2, 2016