This is a sponsored post.
One of the most amazing things about Boise is just how close nature really is. The foothills of the Boise Front overlook the city and provide enough recreational opportunities to keep anyone busy, especially if your idea of healthy fun is interacting with nature on foot or astride a mountain bike. One can spend days exploring the trails and never cover the same ground twice, with the added benefit of finishing your explorations in town with a delicious meal or local craft beer.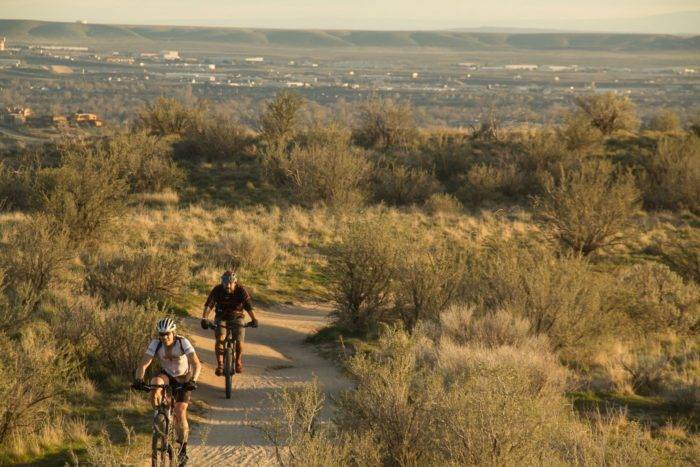 The Ridge to Rivers trail system has a total of 190 miles to challenge you. With so much to choose from, it may seem a bit daunting to pick a starting point so I compiled a list of some of my favorite routes to help you make a game plan.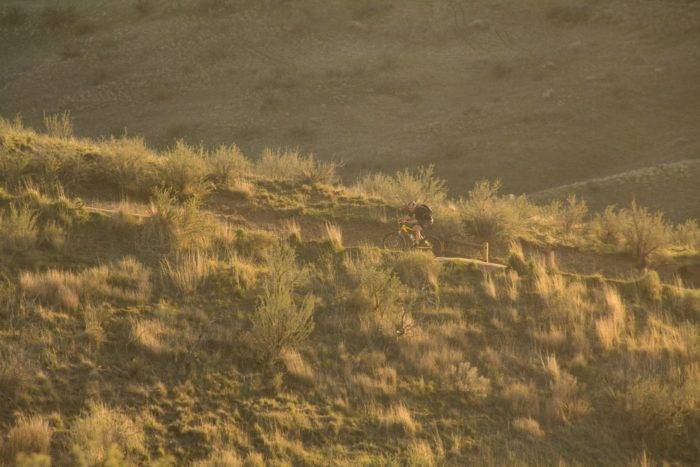 Polecat Loop: 5.9 miles, moderate
Polecat Loop is a perfect trail for those with not much time but who still want a hefty workout with some downhill sections. The trail can be run in both directions. There are also several other trails that run off the loop to allow for even more variety over multiple laps.
One of my favorite parts about this ride is a local resident: an albino deer. This rare animal is a bit unpredictable, as every time I brought my camera to try and take a picture, he/she would not be there. But sure enough, every time I didn't have the camera there it would be… adding even more to the mystery of this creature, but you'll just have to see for yourself.
To get to Polecat Gulch, take Collister Road until it dead ends in a parking lot. Keep in mind that the parking lot gate closes at dusk, so it's wise to give yourself plenty of time to get back to your car. Polecat Gulch is also accessible from the other side via Pierce Park Lane if you are coming from the Hidden Springs area.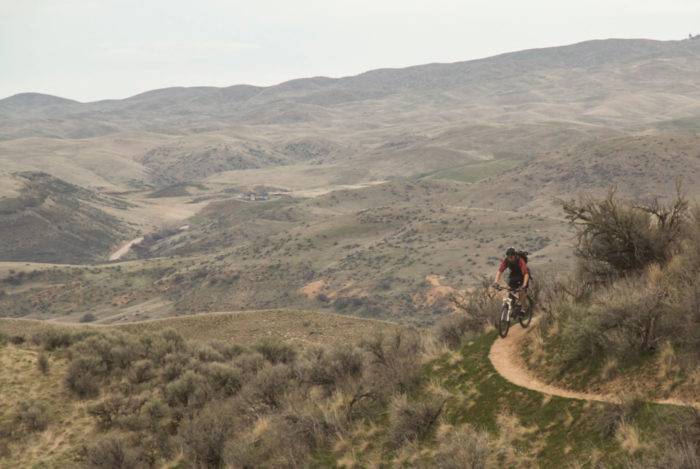 Shafer Butte Trails
Sixteen miles up Bogus Basin Road is the Bogus Basin Mountain Recreation Area. Just past the lodge, you'll find the start of the Shafer Butte trail system. This is the fun stuff. The drive to get here will take you about 45 minutes, but this is easily a day trip if you're looking for a new place to play. Plus, it's always nice to get out of town and away from cell phone reception for a bit, if only for a couple hours.
There are over 36 miles of multi-use trails here, with an additional 10 miles of winter cat tracks that serve as access in the summer. A good starting point is the Around the Mountain trail, a 6.4 mile loop that starts at the Pioneer Lodge base area and provides stunning views of both Boise and the foothills in one direction, and the Boise National Forest in the other direction. If you like that and want gravity to do much of the work down to the valley try Thunder Monkey, a 17 mile epic that connects Around the Mountain with Mahalo and the Dry Creek Trail down over 4,500 feet into the valley.
Then, if you feel like another long ride down to the valley, you can take the east side trail to Sweet Connie and then Peggy's toward Polecat Gulch, which will provide over 20 miles of mostly downhill singletrack, and some of the best sunset views of the Treasure Valley.
To get here, take Bogus Basin Road from Harrison Boulevard, up 16 miles to the ski area. If you would prefer to do a long ride down without coming back up to get a car, Pedal Idaho offers shuttles for most of the summer. Check their website for more details.
Hulls Gulch/Camel's Back Park Trails
The North End is one of Boise's first and most popular neighborhoods. This area is sandwiched between downtown and the foothills, with classic heritage homes lining the streets and happy residents enjoying the bars and cafes of Hyde Park. Close to Hyde Park is Camel's Back Park, a local favorite for active folks who don't want to travel out of town for some outdoor adventure.
Behind the park is the Hull's Gulch Reserve trails, a large area that climbs into the foothills with a great variety of trails. The easy access makes this a popular area which can get busy, so if you are someone who prefers more solitude on your ride you will want to plan for times that are less busy. But if you want easy access to the city as well as great views, you will find a fun, well-maintained trail network for all ability levels.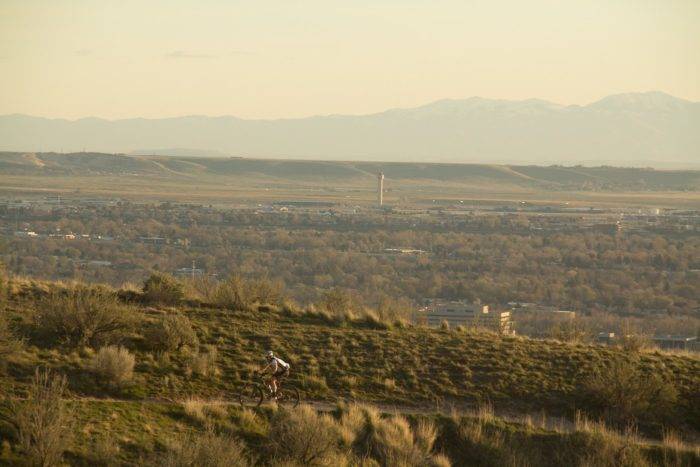 While these trails will provide more than enough trail time to keep you busy for weeks, it is just the tip of the iceberg in the Ridge to Rivers system. More trails are being built as you read this, and the community support is not slowing down, meaning many more trails will be added over the coming years.
For a city as large as Boise, there are few places that can compare to the trail infrastructure within the Ridge to Rivers system.
All photos, including feature image, provided by Steven Andrews.
Steven Andrews uses multiple mediums to share stories, whether through written or spoken word, or visual imagery. Steve enjoys exploring the world while interacting with nature and exploring diverse lands. He loves Idaho for its world class outdoor activities, friendly people, and easy-going lifestyle. You can find more of his tales at whererusteve.com or on Instagram@whererusteve.

Published on May 26, 2016