Love at First Flight worked in partnership with Visit Idaho to create this Travel Tip.
For many people, winter weather is never something easily embraced. But after visiting Idaho during the height of winter, we quickly learned that the best way to truly enjoy the snow is to be in it. Here's a complete itinerary to show you how to make the best out of a 6-day winter trip to Idaho.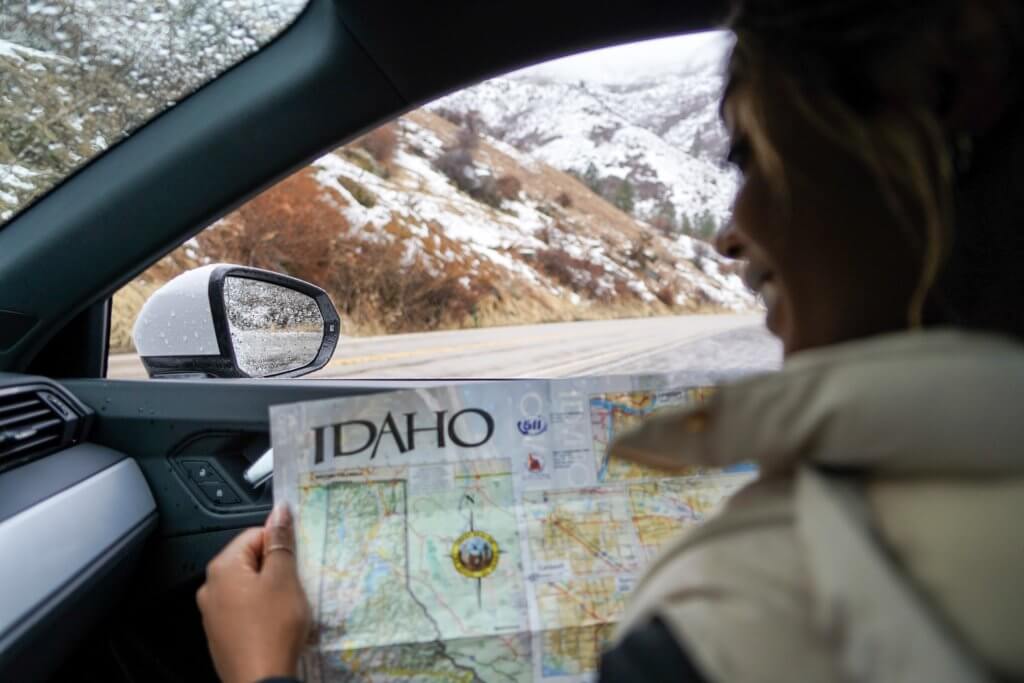 Day 1: Boise and Caldwell
To get to Idaho, the most practical place to fly into is Boise Airport (BOI), located in the capital city of Boise. It's the most centrally located city that is near the other winter destinations you will visit on this trip. Because our itinerary requires driving to other cities to make the most of your time in Idaho, it's best to pick up a rental car, which can be done at the airport. Be sure to select a vehicle with 4-wheel drive as winter terrain can vary.
Where to Stay
There are a variety of hotel options for every type of traveler, but we highly recommend booking a stay at the Inn at 500 Capitol hotel. The Inn at 500 is Boise's premier 4-diamond boutique hotel in the heart of downtown Boise. The hotel features spacious guest rooms & uniquely stylish suites that make it the perfect place to unwind. Not only that, but the Inn at 500 is extremely close to a wide range of things to explore within walking distance in the downtown area.
Things to do in Caldwell
While there are many things to do in Boise, we decided to take a quick 30-minute drive to Caldwell to visit Indian Creek Plaza. Home to the Winter Wonderland lights, an ice skating ribbon, shops and eateries, Indian Creek Plaza has a lot to offer.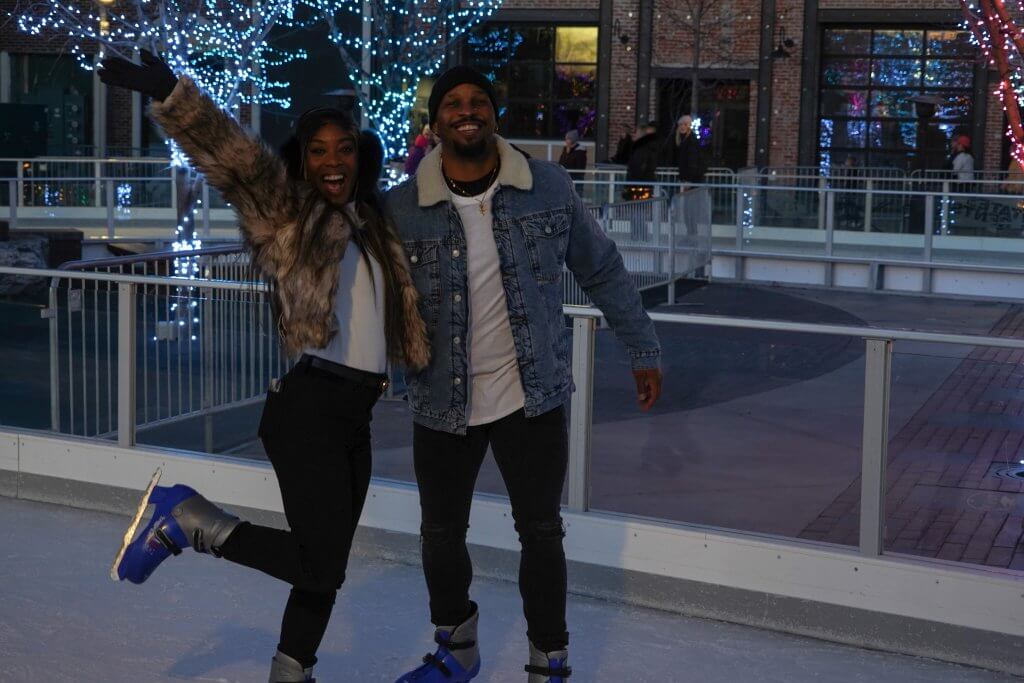 We couldn't pass up the opportunity to rent a pair of skates and hit the ice together. Admission is only $10 per person and includes the skate rental for an hour session. Since the ice skating ribbon is outdoors, you'll want to make sure to wear heavy coats, hats, and all your coziest winter gear.
If you get too cold, you can snuggle up by one of the many fire pits nearby with a hot chocolate from the Good Spoon located nearby.
Where to Eat in Caldwell
After you've worked up an appetite while ice skating, you'll want to head across the street for a delicious dinner at Grit 2C. The restaurant serves traditional American cuisine and is best known for their delicious 2C burger. One of the servers recommended we also try the spicy Nashville chicken sandwich, and it was absolutely to die for.
Day 2-5: McCall
The drive to McCall usually takes about two hours from Boise. The most direct route will take you along Idaho Highway 55, also known as the Payette River Scenic Byway, which offers some of the most beautiful scenery you'll ever see.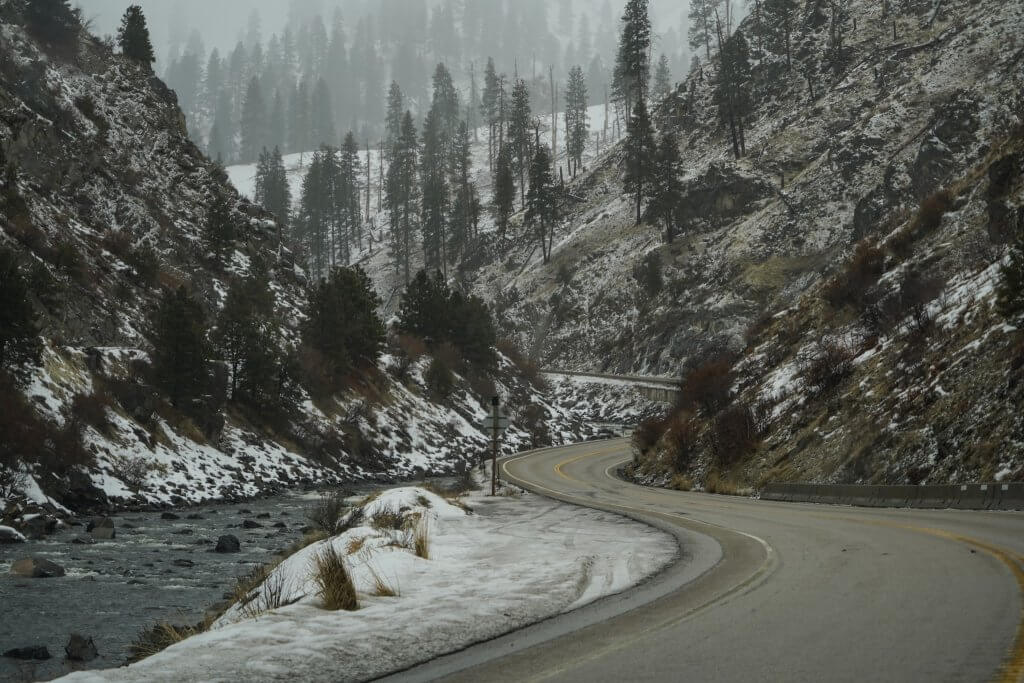 Where to Stay
A trip to McCall would be incomplete without a stay at the beautiful Shore Lodge. This 77-suite hotel is the perfect place to stay when you're ready to head indoors but not leave the elements behind. From a movie theatre to heated pools, the resort has a little bit of everything for everyone. We stayed in a fireside suite that offered a cozy fireplace, a dining area, and an outdoor terrace that gave an incredible view of the Payette Lake.
What to do in McCall
Skiing at Brundage: One of the best ways to spend a winter day in Idaho is skiing! Brundage Mountain Resort offers lift-served slopes with a lowkey vibe that appeals to both ski experts and those exploring the mountain for the first time, like us. We opted for a three-hour beginner lesson to get acclimated with the skis. We were able to snag all our rental gear at Brundage. After a few hours of practice, we grabbed a quick lunch at Smoky's Bar & Grill located on the mountain (you can also visit Upper Lot which is adults only), and then practiced our skills until the resort closed for the day.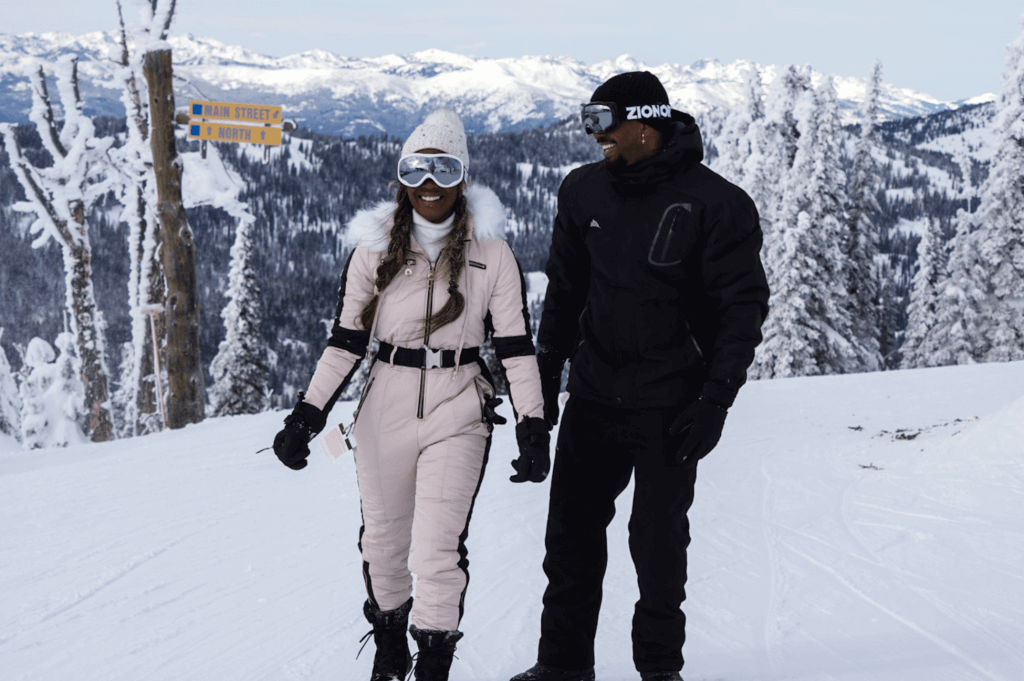 Backcountry Snowmobile Tour: Perhaps the most thrilling way we were able to experience the wintery goodness of Idaho was on our guided snowmobile trail tour with CM Backcountry Rentals. Riding through the snow-covered pine trees with the mountain backdrop truly left us in awe. It also helps that we had the best guide, Fred, who made sure to take us to all of his favorite overlooks and viewpoints in the mountains during this full day excursion. He introduced us to a little hole in the wall, Secesh Stage Stop, with delicious hamburgers you just have to try. It's money-lined walls and friendly regulars will give you a true sense of McCall's local charm.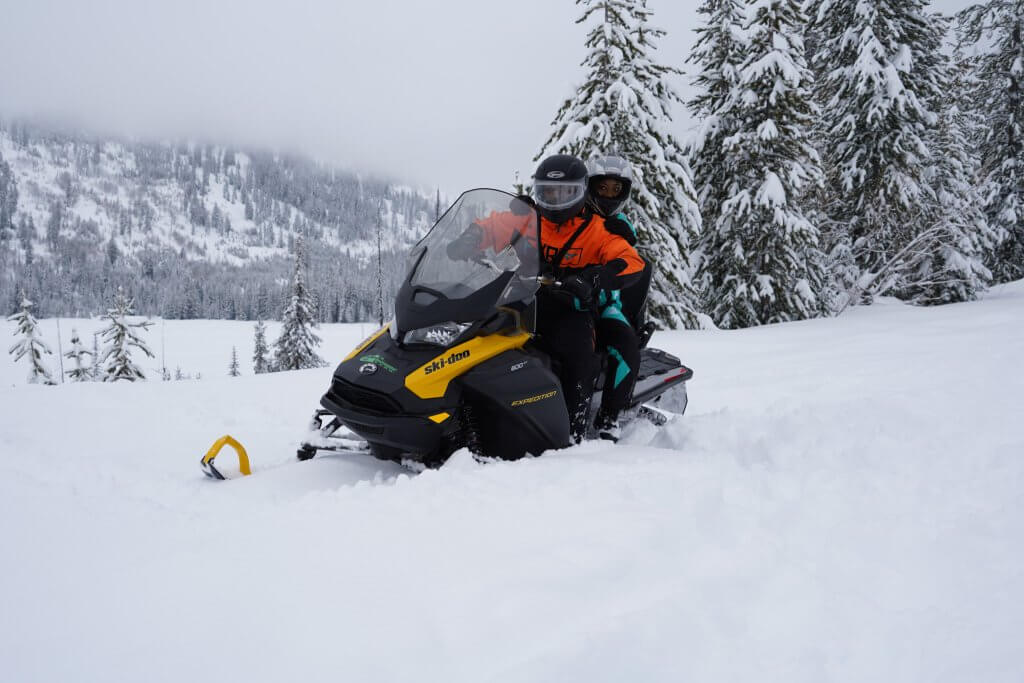 Hot Spring Soak: Burgdorf Hot Springs is a magical experience you don't want to miss on a winter trip to Idaho. You'll want to visit the thermal pools while on your backcountry snowmobile tour since these hot pools are only accessible by snowmobile during the winter. A day soak pass costs $20 and will allow you to soak for a two-hour window in the pools with temperatures ranging from 96F to 118F.
There are changing rooms on property for you to change in and out of your swimwear before getting back to your snowmobile tour and remember a towel!
Planning note: If you'd like to try Burgdorf during a snowmobile tour with CM Backcountry, you'll need to purchase your own pass and notify the CM Backcountry staff. Give the CM Backcountry crew a call if you have any questions.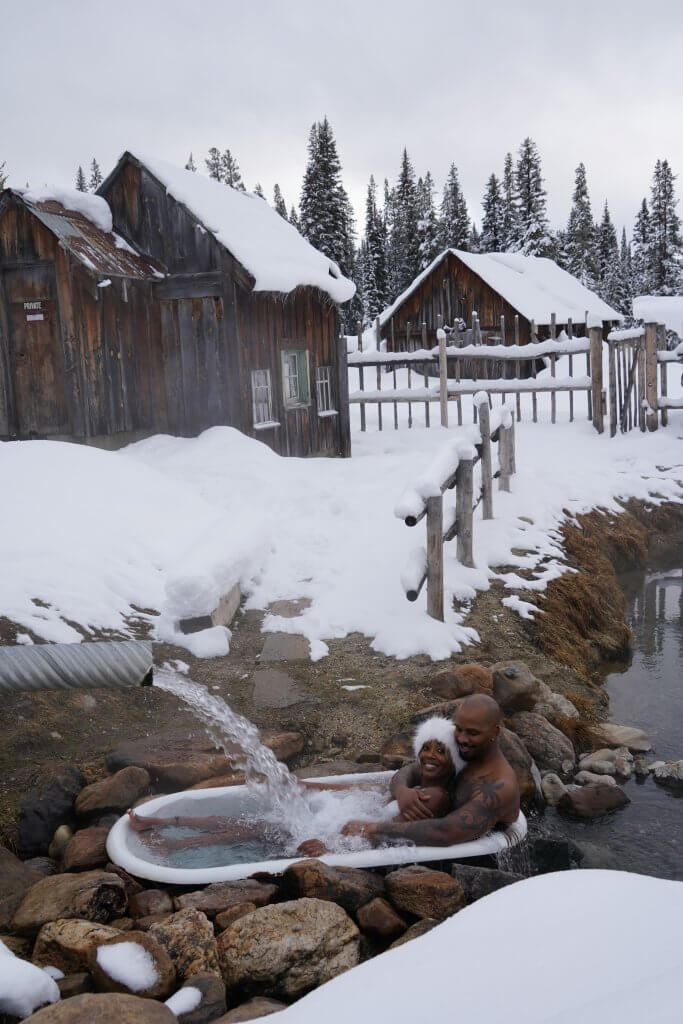 Blue Moon Yurt dinner: Idaho in the winter is all about exciting outdoor activities and good food and The Blue Moon Yurt Experience is an excellent combination of the two. It's a dining experience like no other, with a rustically romantic setting and a thoughtfully prepared five-course meal.
The yurt is located off the grid, tucked into the mountains, so the only way to access it is by either snowshoes or cross-country skies. We rented snowshoes for the day from Gravity Sports in McCall for only $24 per person and made our way to Jug Mountain Ranch (about a 20-minute drive from McCall). Once you're in the parking lot, the hike is about three-quarters of a mile down a tiki torch-lit trail before you reach the cozy yurt.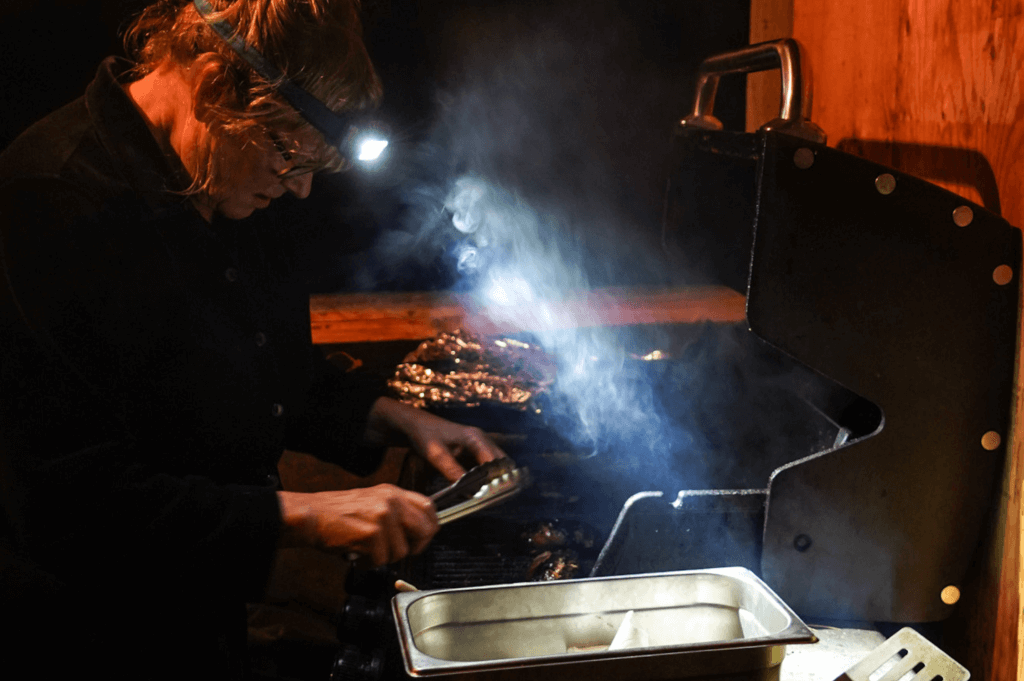 There are no words for the feeling you get when walking into the yurt and are greeted with hot cider by Lisa (the owner and chef) and her awesome team. The crew really embraces being off the grid and togetherness by seating you at tables with other yurt-goers. You walk in as strangers, but quickly become friends with the others in the yurt, which is a feeling of community that we could all use a little more of.
Spa Day: After an exhilarating few days in the snow, what better way to bring yourself back down to earth than treating yourself to a massage or facial at The Cove Spa at Shore Lodge. Be sure to bring a swimsuit with you to soak in one of the two dreamy saltwater immersion pools after your treatment.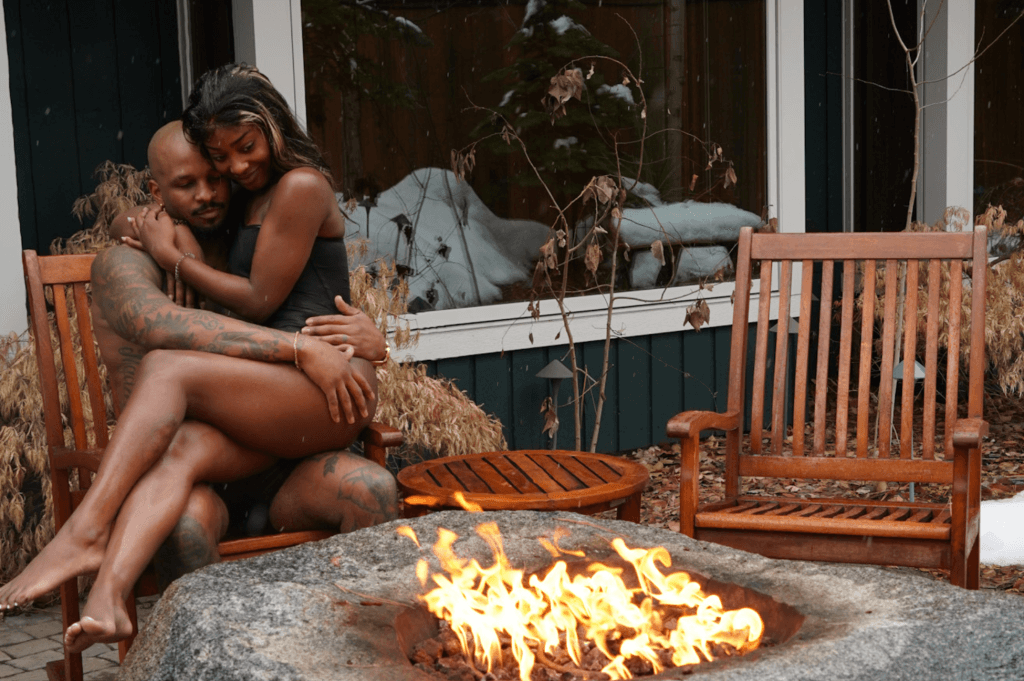 Other Places to Eat in McCall
Brunchette on the Lake: For arguably the best breakfast you'll ever have in all of Idaho, you definitely can't pass up a morning at Brunchette on the Lake. The service, the views, and the chic décor won us over, but the French toast alone is what made is go more than once.
The Cutwater on Payette Lake: Located inside of Shore Lodge, this casual restaurant is the perfect place for a quick lunch or early dinner.
Day 6: Back to Boise
For your last full day in Idaho, drive back to Boise to enjoy some time in this city before your departure flight. If you are a fan of unique stays, don't miss the chance to stay inside of a giant potato. That's right, The Big Idaho Potato Hotel offers you the once in a lifetime chance to stay inside of a cozy, 6-ton spud that rests on 400 acres of farmland south of downtown Boise. The best part about this stay, is that it comes with the cutest Jersey cow name Dolly, who will likely greet you with a loud 'Moo' as you arrive.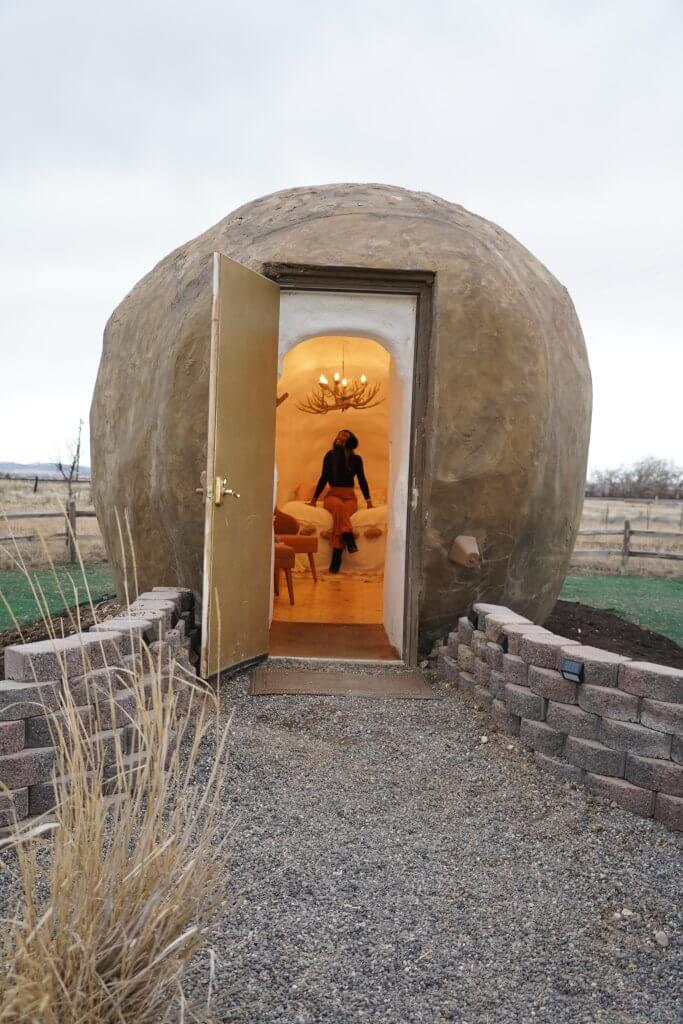 What to do in Boise
To toast to a great week well spent, head to Thick as Thieves speakeasy in downtown Boise. Although it's a speakeasy, it's a well-known secret, so make sure you make a reservation in advance. You'll arrive at a parking lot where you'll see a door with two thieving birds on it. Once you enter the door and walk up the stairs, you dial a secret number on the telephone. After you confirm your reservation name, the wall opens up to a dark and moody bar with excellently crafted cocktails and unique vibes.
Where to Eat

in Boise
Since the bar only serves cheese boards, you'll need to grab dinner before or after you go. Located walking distance from the speakeasy is a great restaurant called Fork that we recommend trying for dinner. This locally-loved spot sources most of its food and beverages straight from Boise and Northwest farmers and distillers. We both really enjoyed our meals and the excellent customer service!
All in all, we truly enjoyed our time in Idaho. We made unforgettable memories that we will cherish forever from snowshoeing to dinner to soaking in snow-dusted hot springs. Hopefully this itinerary will help you make the best out of your winter trip to Idaho!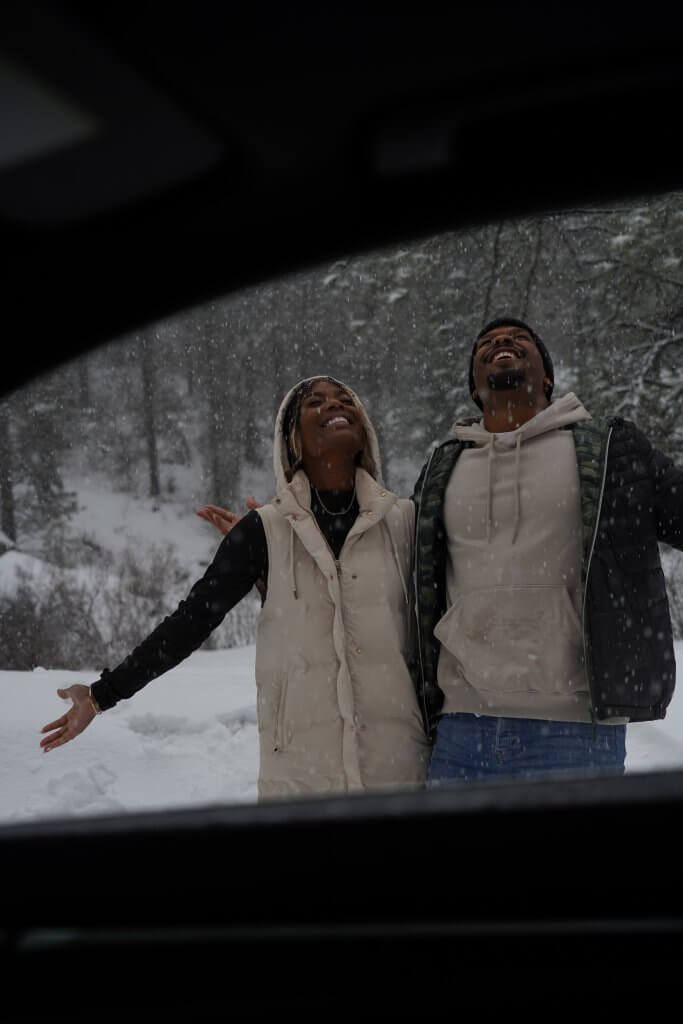 Feature image credited to Love at First Flight.
Our names are Lanaiza & Mahdi. We are from New Orleans, Louisiana and met while working in corporate America doing sales for a big travel company. After a couple of months of office banter, we finally admitted our romantic interest in one another and the rest was history. It wasn't long before we took our first trip together to Puerto Rico which made us really believe in the power of travel. A few years later, here we are, traveling the world creating incredible memories that will last us long beyond any materialistic item.

Published on February 6, 2023