Kita Roberts worked in partnership with Visit Idaho to create this Travel Tip.
Part of any wild adventure is discovering amazing eats along the way. From local gems to over the top creative menus, exploring the vibrant food culture in any area is always a highlight of my trips and Coeur d'Alene, Idaho has a lot of choices.
In northern Idaho's panhandle, restaurants and food trucks all over the city of Coeur d'Alene are proudly celebrating local farms and produce with a down-to-earth approach for everything from fusion food trucks to craft cocktails. With a just a quick few days running through Coeur d'Alene, here were my top stops for food to refuel between the watersports and scenic hikes.
Honey Eatery
Get a little southern fried at Honey Eatery and Social Club. Featuring a menu showcasing local ingredients pulling from traditional southern eats like fried chicken and chorizo deviled eggs, it's comfort food with an upscale twist. With over five restaurants in the region, the Eat Good Restaurant group knows a thing or two about supporting local and showcasing award-winning chef Adam Hegsted's ideas from start to finish.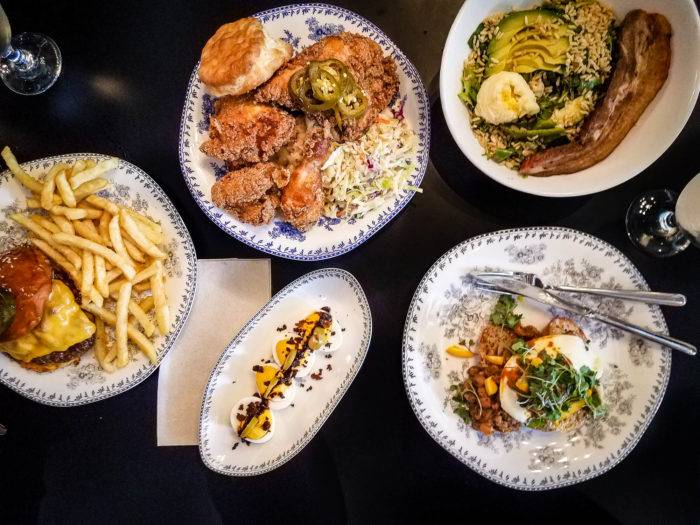 Come in hungry and order a platter of the Honey Fried Chicken, try the light Olive Oil Fried Egg Toast and the Chop Chop Salad to round things out. Be sure to sip on a signature cocktail or venture downstairs after dark to the Social Club.
The Wellness Bar
If you are searching out a colorful, healthy meal to get the day started, stop into The Wellness Bar for its loaded acai bowls. The mission of the crew at The Wellness Bar is to use the best raw ingredients to create delicious, healthy options for busy people. From fresh pressed juices to over the top, on the go acai bowls, The Wellness Bar is nailing it for the on-the-go crowd. The Chunky Monkey serves up all that acai bowl goodness blended with a bit of cocoa and topped with granola, peanut butter, sliced bananas and a drizzle of dark chocolate and hemp hearts. If that's not enough color for you, try The.Bomb.Com bowl for a splash of bright, fresh berries.
Not feeling the acai bowls? Check out some of the delicious toasts, juices, and smooth local coffee as well.
Ten/6
Have a Mad Hatter Tea Party on a Tuesday just because you can at the whimsical Ten/6. With a menu pulled from trips to Louisiana, the Cajun flare rings through from Beignets to pickled collard greens over a zesty gumbo topped hash. Yeah, pickled collard greens. Everything about the mother-daughter managed Ten/6 is blasting with personality and fun, down to the details in the bathrooms (trust us on this one). Bonus: if you stop in on the weekends, the staff may even be embracing their playful side and serving you as a costumed cast member from your favorite childhood stories.
Hudsons Hamburgers
There's a line for a reason. And like all good things, this old school burger joint that's been slinging made to order burgers on the main drag on Sherman Ave. in Coeur d'Alene since 1907, is still worth the wait. Be ready when you saddle up to your stool at the little high top counter because they are coming by quick to take your order.
It's a burger, with onion, pickles, and cheese or without. Order two. They are the perfect diner burger. But be sure to save room for pie, because their meringue and coconut topped creations are worth every calorie.
Capone's Pub & Grill
Grab a slice like a local at Capone's where the homemade bread baked in-house every day is the show winner at this unassuming local pub. The variety of drool-worthy pizzas and grinders makes it hard to narrow down the options, but you can't go wrong sitting on the patio enjoying a drink special and the classics. This local favorite is perfect for kicking back or catching a game with a casual meal.
Beverly's
No one comes to Coeur d'Alene without enjoying impressive lake views. So why not do it in style from the 7th story cocktail bar sitting in the heart of the Coeur d'Alene Resort. The bar offers an entire wall of windows with the best view in town overlooking the impressive lake along with a seasonal cocktail menu perfect for an afternoon pause. If you are in the mood for something special, take a look at their outstanding menu and the impressive inventory in their wine cellar.
Evans Brothers Local Grind
Start the day off right with a strong cup of locally roasted Headwall Espresso, a spicy turmeric chai, or slow down and enjoy a pour over right at your seat with a bite of locally made pastries. Chat things up with the friendly crew behind the counter and learn about the brothers who started this business in Sandpoint, Idaho and their passion for keeping things honest and down to earth. Be sure to grab a bag of beans to take home and share with friends.
Street Treat
Tucked into the corner of a parking lot between a taco truck and a sushi truck (both worth trying as well), is the unassuming over-the-top Street Treat Ice Cream truck where each flavor is made daily and frozen right in front of you with liquid nitrogen.
With fun flavors like blueberry lemon curd, brown sugar banana, and a serious coffee ice cream made from cold brew, it's hard to pick. But it doesn't stop there, because they have milkshakes, Sundaes and even s'mores treats ice cream sandwiches to cool you off. Go with a friend; you are going to need to taste test a few options.
Venture out of the city and be sure to try:
Smokehouse Barbecue and Saloon: Wallace, ID
Wallace Coffee House: Wallace, ID
Blackboard Cafe: Wallace, ID
The Porch: Hayden, ID
Feature image credited to Kita Roberts.
Kita Roberts is a world traveled adventure junkie, food loving, freelance photographer, and writer. When she isn't behind the lens, Kita can be found backpacking or on her mountain bike. See her work at GirlCarnivore.com, PasstheSushi.com, and Matador Network.

Published on September 11, 2018