Kristen Pope worked in partnership with Visit Idaho to create this Travel Tip.
Less than one percent of Idaho's river miles are classified as "Wild & Scenic Rivers," a designation that helps protect these free-flowing waterways. The Wild & Scenic Rivers Act was signed into law in 1968 in order to protect these rivers, and the Act is turning 50 this year. Originally, just eight rivers received this special designation, and one of them was the Middle Fork of the Salmon.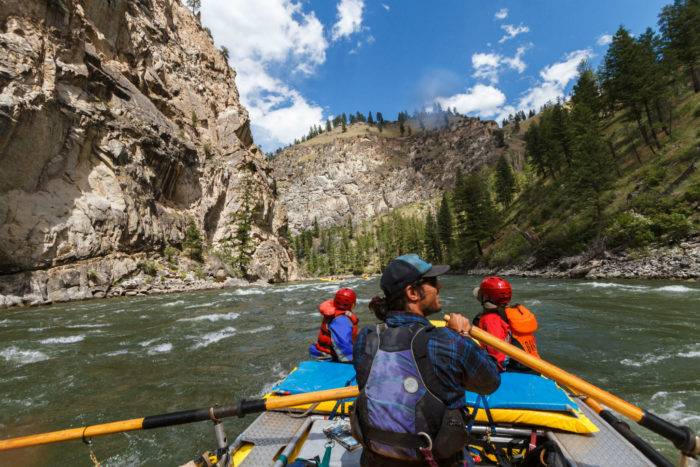 Over the ensuing decades, many more rivers have joined this list of protected waterways and today, 891 miles of Idaho rivers have this special designation. Summer is a great time to get out and enjoy them in a variety of ways. And you don't even have to get wet. Go for a hike near the rivers, take in scenic overlooks, stop for a picnic, or practice your photography. Or, for a different kind of adventure, sign up with an outfitter to go for a thrilling rafting trip.
No matter how you choose to enjoy these rivers, be sure you have the appropriate skills, equipment, knowledge, and experience to safely recreate in the outdoors in or near water. Be aware of dangerous conditions and the hazards inherent in outdoor river-based recreation, including dangerous water conditions, weather, wildlife, and many other potential concerns. Here are just a few ways to get outside and enjoy Idaho's Wild & Scenic Rivers.
Rafting the Middle Fork of the Salmon River
When the Wild & Scenic Rivers Act was signed in 1968, it designated just eight of the nation's rivers as "Wild & Scenic." The Middle Fork of the Salmon was one of these original eight. Located in the Frank Church River of No Return Wilderness, this 104-mile section is packed with stunning scenery and bountiful wildlife, including bears, cougars, and bighorn sheep, among other critters.
But the Middle Fork is best known for its whitewater. Much of this stretch is Class III-IV+ and rafters can either join a local outfitter for a trip or, if they're experienced and have the appropriate gear, they can obtain their own permits for a self-guided excursion. Since around 10,000 people float this stretch each year, permits are required, and a lottery system is in place for peak season. A variety of rules and regulations help protect this stretch of river and preserve its wild nature, so brush up on the rules before heading out.
This river is also known for its world-class fly-fishing, so be sure to bring your fly rod. Obtain a current fishing license and familiarize yourself with the fishing regulations before casting.
To raft the Middle Fork: Check out the Salmon River Outfitters Association list of outfitters for a guided experience or check with the Forest Service to obtain a river permit.
Photographing the Scenic Bruneau Canyon Overlook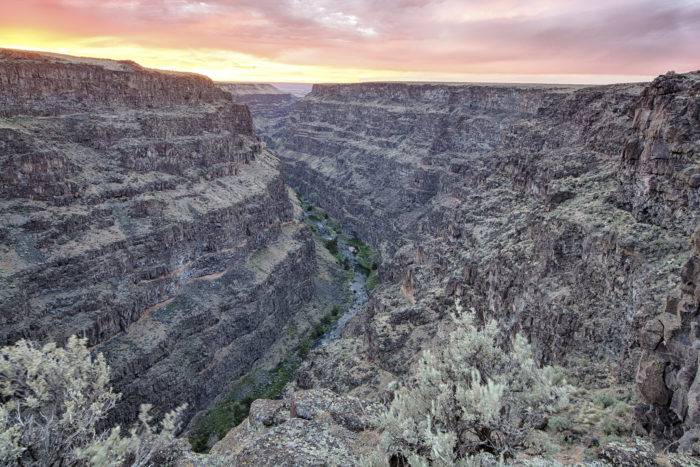 The Bureau of Land Management calls Bruneau Canyon "The Grand Canyon of Southwest Idaho." To take in the stunning views, walk to the Bruneau Canyon Overlook and peer down 800 feet at the river below, reveling in the views and soaking in the quiet and peaceful space. Enjoy the scenery from the recently updated viewing platform and the ADA-accessible trail.
The overlook provides excellent views and opportunities for photography, relaxation, and meditation. Beware of the edge while contemplating the complex geology and fascinating topography. Pack a lunch, bring a camp chair and book, and relax and take in this scenic wonder.
Getting there: From Bruneau, go east on Hot Springs Road (by One Stop Cafe), and travel 18.7 miles, turning southwest at the sign to the parking area.
Hiking or Backpacking the Snake River National Recreation Trail (#102)
If long hikes in remote stretches of wilderness are your thing, check out the Snake River National Recreation Trail #102, located deep within the deepest river gorge in North America in the Hells Canyon National Recreation Area. The trail follows alongside the Wild & Scenic Snake River, which divides Idaho and Oregon.
This trail is located on the Idaho side of the river and offers plenty of opportunities for exploration. A variety of options are available ranging from short day hikes to extended multi-day backpacking trips. Check with the Forest Service for up-to-date information about options and trail conditions. Some hikers even opt to hire a jet boat to take them partway along the river and drop them off by the trail.
Keep in mind the hazards along this route are numerous, including rattlesnakes and poison ivy, among many others. Water can be difficult to find and must be properly treated in order to avoid illness. The trail can be in rough shape from time to time and travel can be challenging, with rough trail conditions and steep and hazardous sections. However, if you thrive on these types of challenging adventures, and you're prepared with the skills, knowledge, experience, and equipment you need to safely explore, you'll likely enjoy this unique way to experience a Wild & Scenic river.
Note: Check with the Forest Service for current conditions.
Getting there: The trailhead is located 19 miles from White Bird, and detailed directions are available on the Forest Service website.
These adventures are only a small fraction of the Wild & Scenic River exploration available in Idaho. To learn more about these rivers, see the Idaho page on the Wild & Scenic Rivers website.
Feature image credited to Bob Wick/BLM.
Kristen Pope is a Jackson, Wyoming-based freelance writer and editor who writes about outdoor adventure, science, conservation, and travel for NationalGeographic.com, Backpacker, Audubon.com, Western Confluence, and Discover, just to name a few. Visit her at www.kepope.com.

Published on July 26, 2018