Silvia Lawrence worked in partnership with Visit Idaho to create this Travel Tip.
You'll find a huge range of sights and activities in Idaho, and if you want to cover a lot of ground in a short time there's no better way to explore Idaho than with a road trip! While you could easily spend weeks discovering the wonders of the state, here is a four-day road trip itinerary that will show you a great deal in a short amount of time – with plenty of opportunities to relax thrown in.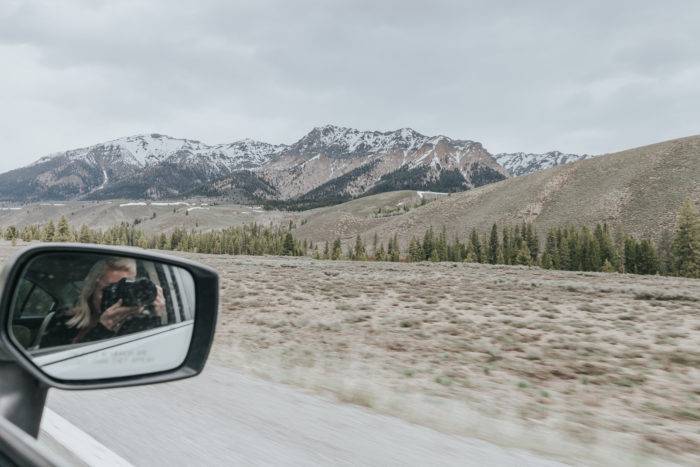 My friend Anna and I took this road trip in the middle of May and it was a beautiful time to visit the state. Spring had sprung, but the summer season hadn't quite started up yet so Idaho felt very quiet and peaceful. Of course, if you're looking for more action, in the summertime you'll find Idaho particularly lively with visitors and special summer events.
Regardless of when you come, I'd be shocked if you didn't fall in love with the state like I did.
Day 1: Soda Springs, Chesterfield, Lava Hot Springs, & McCammon
If you want to start off your time in Idaho with a bang, head to Geyser Park in Soda Springs to watch its famous geyser erupt. It shoots 100 feet into the sky at the top of each hour, so try to plan accordingly, otherwise, you might end up waiting around for a little bit.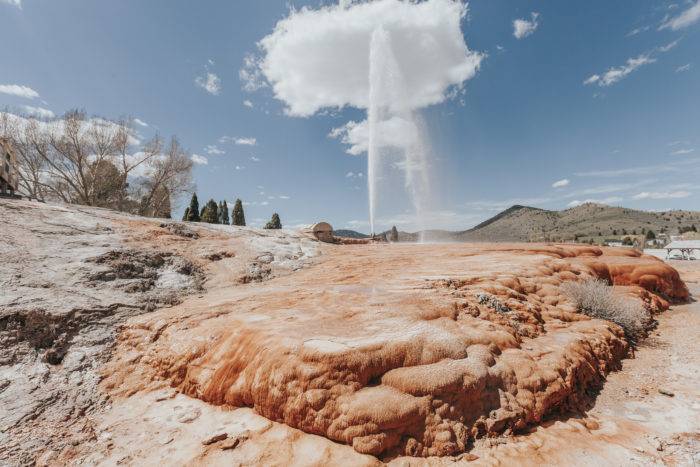 Soda Springs itself has a lot of history, as it was a stop on a shortcut Oregon Trail route.
If you want even more history, head up to historic Chesterfield. Chesterfield was settled in 1860 but then abandoned by the 1930s, so today it's a ghost town. But it isn't a spooky feeling ghost town by any means. In fact, family members of those who originally settled Chesterfield were so determined to preserve the town even after it was abandoned that it's now one of the best preserved historic ghost towns in the U.S. with twenty of the original homes still standing.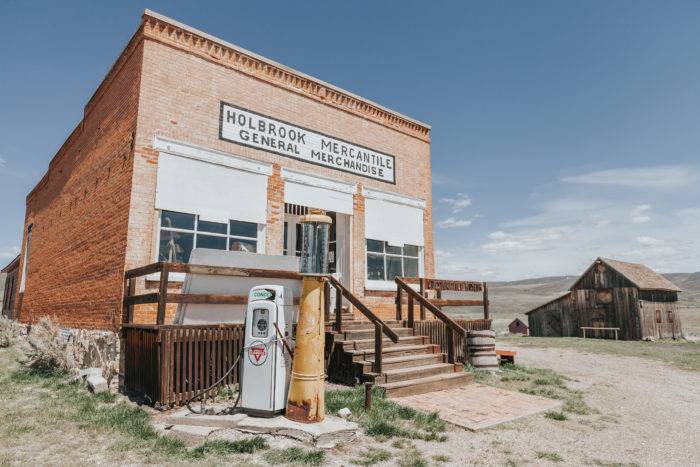 After Chesterfield, take the scenic drive over to the town of Lava Hot Springs.
The world famous hot pools in this quaint town are a great place to relax, and many even believe the minerals in the water are healing. Plus the views are beautiful!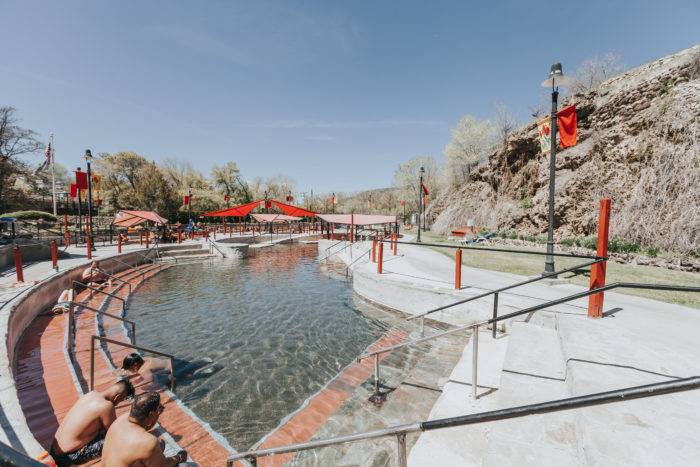 Stay here for dinner, and then if you really want a treat, spend the night at the Harkness Hotel in nearby McCammon.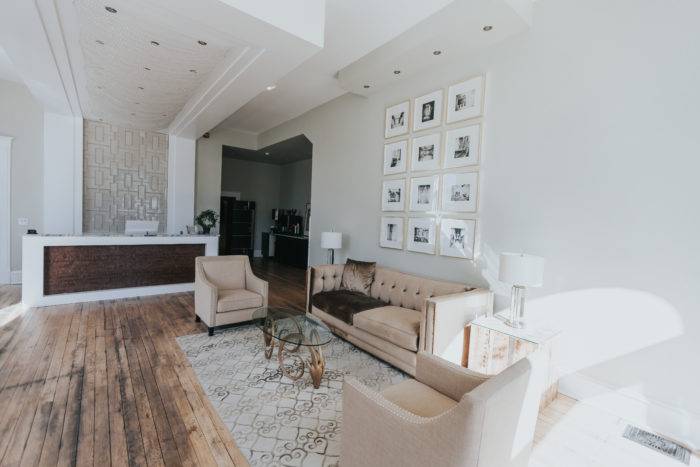 The Harkness Hotel is a family-run boutique hotel housed in the old McCammon State Bank building, originally built in 1906. You'll find lots of historic touches in this beautifully renovated luxury hotel, making it the perfect compliment to your day reliving some of Idaho's history.
Day 2: Twin Falls & Miracle Hot Springs
On this day we're bringing things back to modern day Idaho with a trip in the Snake River Canyon! Now, how you want to explore the canyon is totally up to you.
Twin Falls is about two and a half hours from McCammon. Once here you'll find a plethora of adventure activities available from AWOL Adventure Sports, including zip-lining, SUPing, and kayaking through Snake River Canyon. The scenery is beautiful, and it's the perfect way to get out and enjoy Idaho's natural beauty.
Personally, I opted for kayaking and with the river so calm it served as the perfect introduction for a beginner kayaker like myself.
At the end of the day, I recommend driving to Buhl to relax at Miracle Hot Springs. You'll find both public and private hot spring pools, and you can also spend the night here. I went for the private hot spring soak and it was pure bliss after a busy day outside exploring.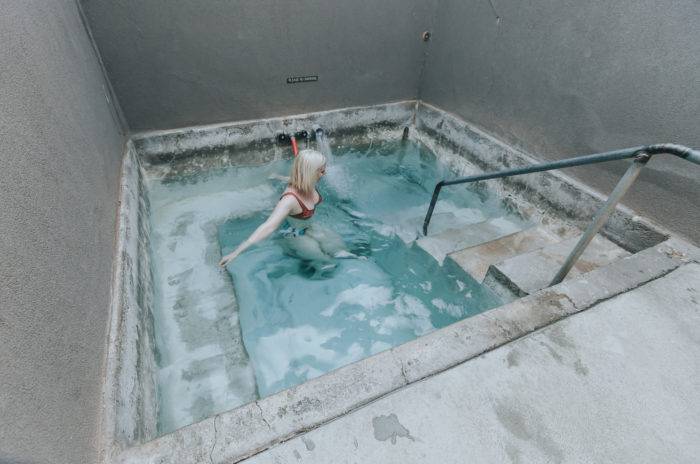 Day 3: Shoshone Falls, Box Canyon & Ketchum
Before you leave the Twin Falls area, be sure to check out Shoshone Falls, which is known as the "Niagara of the West."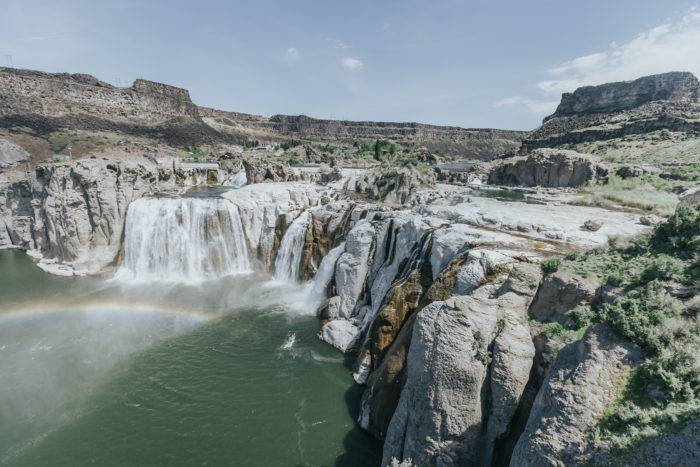 Then carry on to Box Canyon, which is just one of the units that make up Thousand Springs State Park. You can hike down to see the waterfalls here, or just walk about ten minutes from the trailhead parking lot to see the edge of this impressive canyon, with its bright turquoise waters.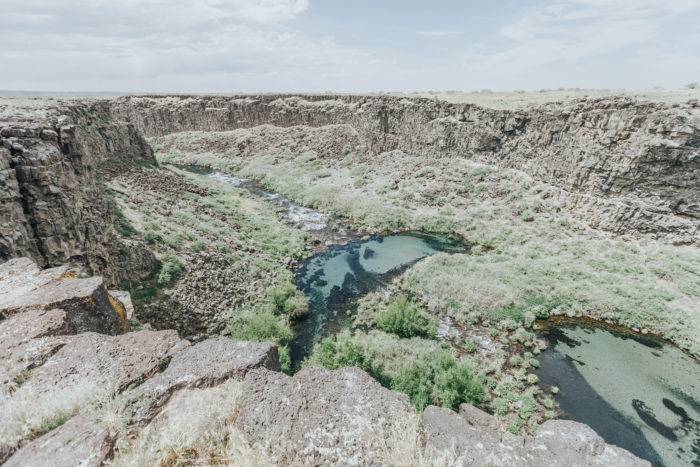 Then it's on to Ketchum! It's just about a two-hour drive through mountains to arrive at this destination.
Ketchum is a well-known winter destination, but it's also beautiful in the summertime, offering lots of hikes and gorgeous viewpoints.
There are many hikes from Ketchum, many of which you'll find here, but personally, I would recommend the Proctor Mountain loop. It's only about three miles but really delivers some incredible views over Ketchum.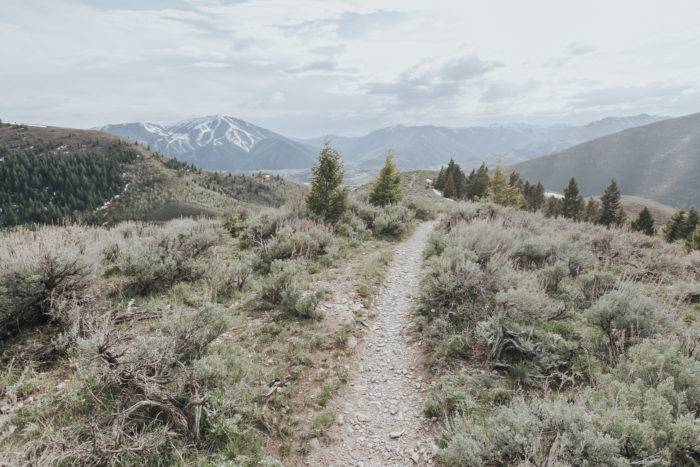 Suggested accommodation: the Limelight Hotel Ketchum offers beautiful, modern rooms in the heart of downtown Ketchum with a delicious breakfast buffet in the mornings.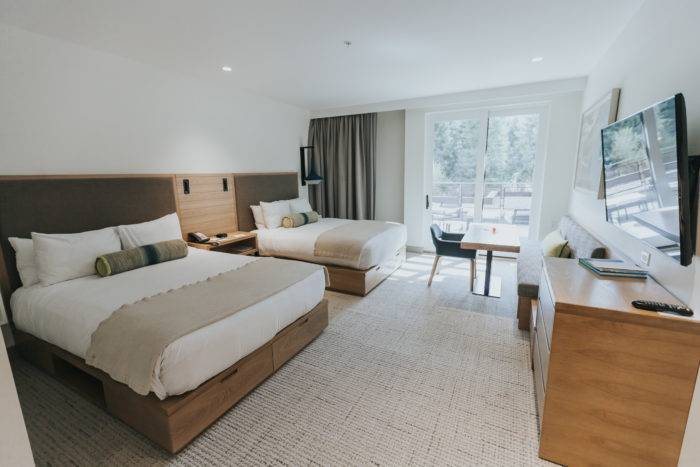 Day 4: Ketchum & Stanley
On your last day you can either hang out in Ketchum, or if you want to explore more of the surrounding mountains, take the scenic drive to Stanley.
Stanley lies at the foot of the Sawtooth Mountains, so you'll find a multitude of hiking options here (you can check out this guide for some inspiration).
Last but not least, part of the magic of Idaho is experiencing the hot springs! Locals are very protective of these, so you'll need to ask someone for specific directions, but you'll find lots of hot springs both around Ketchum and along the Salmon River on your way to Stanley. A few to ask around about include Frenchman's Bend, Boat Box, and Elkhorn Hot Springs.
In the evening return to Ketchum to relax at your hotel. If you're looking for dinner options, I can highly recommend Warfield Distillery & Brewery, which has delicious food and locally made beers and spirits. In the summer you can take advantage of the rooftop deck with great views of Ketchum.
And that's it! Unless of course, you fall so in love with Idaho that you can't leave, in which case you'll find plenty more to explore.
Feature image credited to Silvia Lawrence.
Silvia Lawrence has been blogging since 2013 at HeartMyBackpack.com about her travels through over 80 countries. She has a soft spot for mountains, anywhere she can practice her Russian, and venturing off the tourist trail.

Published on July 18, 2019