During the peak of the westward migration, from about 1840 to 1869, more than 300,000 determined emigrants traveled the Oregon Trail to claim their own piece of the West.
The 2,000-mile trail stretched from Missouri to the Oregon Territory, passing 500 miles through Idaho, where travelers faced harsh desert landscapes and hazardous river crossings.
The route largely followed the Bear River Valley and the Snake River in southern Idaho before heading north through what is now the Boise area and into Oregon. Many Idaho locales reflect this time in history: the city of Pocatello is named for the Northwestern Shoshone chief; the town of Fort Hall bears the name of an important trading post, and the town of Glenns Ferry developed around the site of a ferry launch that helped pioneers cross the Snake River.
You can learn about the experiences of Oregon Trail travelers and the area's native inhabitants at many points throughout the state, from historical markers to interpretive centers. Many sites are along or near U.S. Highway 30. Check out the list below to get your Oregon Trail adventures started.
Big Hill​​​​​​​​​​​​​​ |East of Montpelier
As pioneers entered present-day Idaho, they immediately came up Big Hill, a tough ascent for tired oxen and pioneers who had just crossed the Wyoming desert. What lay over the top, however, was even worse. The descent was so steep that the Oregon Trail travelers tied their wagon wheels together, locking them to keep the wagons from hitting the back of the oxen on the way down.
You can still see the wagon-wheel ruts at the roadside pullouts on U.S. Highway 30, east of Montpelier (mileposts 440.1, 441.7 and 454.5).
National Oregon/California Trail Center​​​​​​​​​​​​​​​​​​​​​​​​​​​​​​​​​​​​​​​​​​​​​​​​​ | Montpelier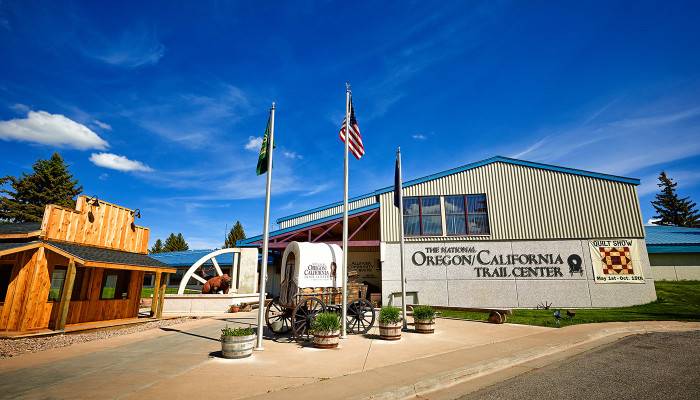 Set out on your own Oregon Trail adventure in a simulated wagon train experience. The center's guides lead you westward in a covered wagon, as a live cast of "pioneers" tells stories that bring the journey to life. Re-enacted entirely within the center, this interpretive exhibit features historically accurate scenarios, leading you back in time to shop in a mercantile and gather 'round a wagon train campfire.
The center sits on the site of the historic Clover Creek Encampment, where travelers would stop to rest and stock up on the food and water.
Fort Hall Replica Museum​​​​​​​​​​​​​​​​​​​​​​​​​​​​​​​​​ ​​​​​​​​​​​​​​​​​​​​​| Pocatello ​​​​​​​​​​​​​​​​​
This full-size replica of the original Fort Hall trading post offers a glimpse into life at one of the trail's busiest and most important landmarks. Originally built in 1834 by American Nathaniel Wyeth and later purchased by Great Britain's Hudson Bay Company, the post served as a critical stop for gathering supplies before travelers continued westward into the desert.
Massacre Rocks State Park | American Falls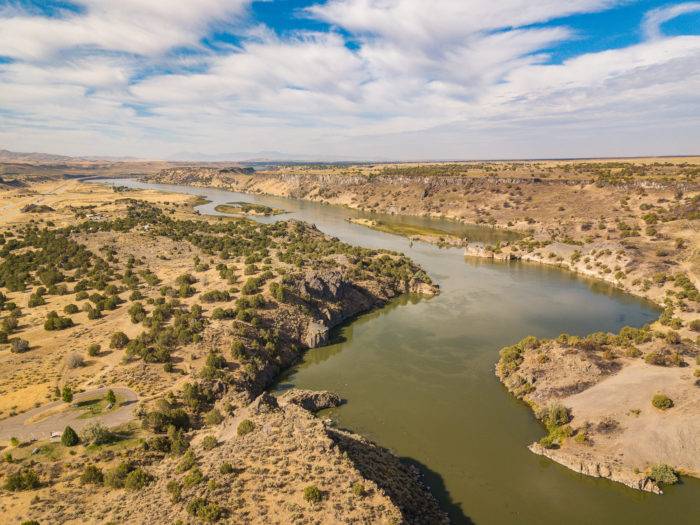 Massacre Rocks, named for a battle that took place nearby, is home to a visitor center where you can learn about life along the Oregon Trail. Walk a short trail to view wagon ruts, and visit Register Rock, a large boulder on which travelers etched their names as they passed through the area.
City of Rocks National Reserve | Almo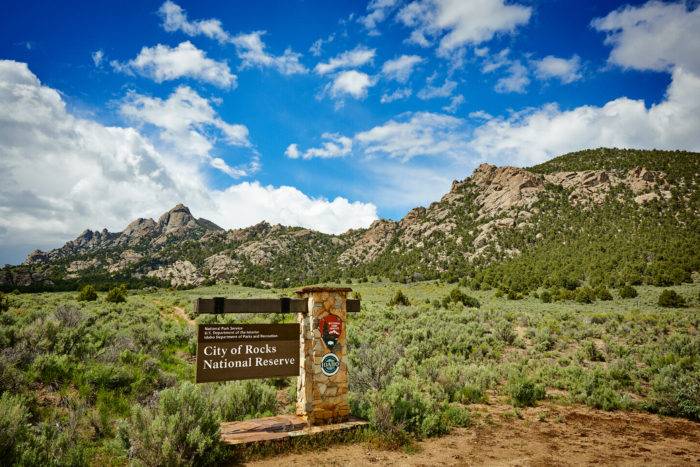 Many migrations split from the Oregon Trail and followed the California Trail into this area of Idaho. Once in City of Rocks, travelers found themselves surrounded by magnificent granite rock formations that spiraled and balanced around them. In the City of Rocks, make your way to Camp Rock where you can see the signatures these travelers left behind in axle grease and view interpretive signage.
Three Island Crossing State Park | Glenns Ferry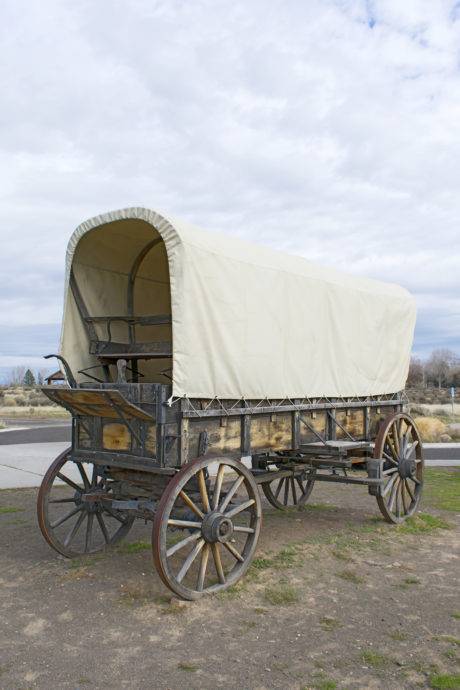 At Three Island Crossing, near what's now Glenns Ferry, pioneers either had to cross the Snake River or take a longer, drier, and more desolate route south along the Snake. Those who attempted the crossing faced deep, fast-flowing water and holes known to overturn wagons. The Three Island Ford was used by pioneer travelers until 1869 when Gus Glenn constructed a ferry about two miles upstream.
Take a self-guided tour of the Oregon Trail History and Education Center, where you can view wagon ruts, sit in Conestoga wagon replicas, and learn more about pioneers, early settlers, and Native American history. Camping is available in this park.
Oregon Trail Reserve | Boise
This 77-acre site in southeast Boise features a scenic view of the Boise Front and preserves remnants of the Oregon Trail. Interpretive signage speaks to the challenges and experiences travelers faced in this area, and you can view wagon ruts that were carved into the landscape between 1843 and 1867.
Where will you go? Share your #VisitIdaho adventures with us on Facebook, Instagram and Twitter.
Updated on December 09, 2021
Published on September 10, 2020