Elisabeth Brentano worked in partnership with Visit Idaho to create this Travel Tip.
After staying at several Idaho fire lookouts for the first time in 2020, I returned to northern Idaho to visit a few new lookouts — and to explore more in the Panhandle region of the state. From pristine alpine lakes to spectacular waterfalls, we found natural wonders in between every fire lookout on our route.
If you're searching for summer road trip ideas, below is a summary of our week-long adventure, with notes on everything from local eateries to hiking trails.
Day 1: Serenity at Stevens Lakes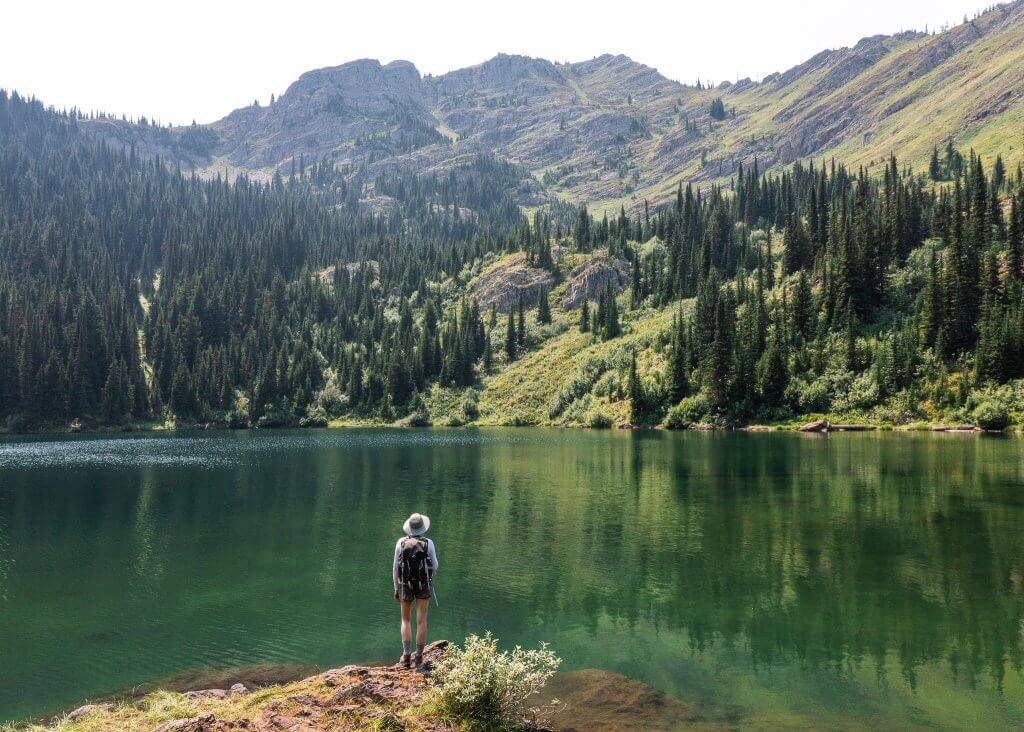 Our original trip was supposed to begin with two nights at Little Guard Lookout and a day hike on the nearby Shoshone Ridge Trail #81, a seven-mile out-and-back with 1,400 feet of gain. However, with a wildfire advancing on both sides of the road to the lookout, we abandoned that plan. Instead, we camped in a safe spot off a forest road near Wallace, and after checking fire updates in the morning, we settled on the Stevens Lakes Trail, a five-mile out-and-back with just over 1,800 feet of gain. We only crossed paths with four other hikers, and we didn't see anyone at the upper or lower lakes. Having these gorgeous alpine lakes all to ourselves was a treat, and we were thrilled to find two impressive waterfalls right next to the trail.
Day 2: Waterfalls and Historic Wallace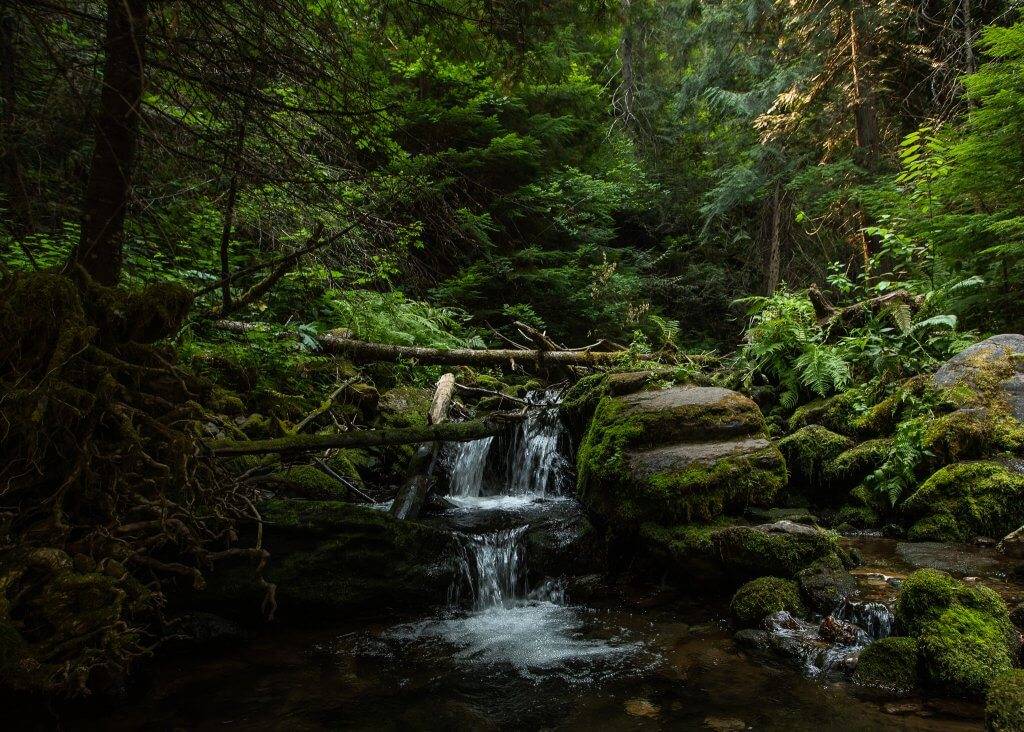 After heading into Wallace and grabbing a latte and a pastry at 6th and Cedar Espresso Bar, we hit the Pulaski Tunnel Trail. This four-mile hike has about 750 feet of gain, and the trailhead is just five minutes from town. The trail follows part of the route firefighter Edward Pulaski took when he led his crew to safety in the Nicholson mine during the devastating fires of 1910. All but six of Pulaski's 45-man crew survived, and the end of the trail overlooks the mine entry. The path is clearly marked and well-maintained, and it runs alongside a creek with several small waterfalls.
With gas stations, restaurants, and several hotels, Wallace is an ideal rest stop for those traveling across northern Idaho on Interstate 90. Established in 1884, the mining town is the largest producer of silver in the world, and the entire town is listed on the National Register of Historic Places. After freshening up at the Wallace Inn, we enjoyed an exceptional dinner at the Blackboard Cafe. My friend and I split the ahi tuna appetizer and ordered pasta entrees, which we raved about for several weeks afterward. It's safe to say we'd go back to Wallace just to dine here again. The eatery also has fare like deli sandwiches and coffee available inside at the Blackboard Marketplace.
Day 3: Rustic Luxury at Crystal Peak Lookout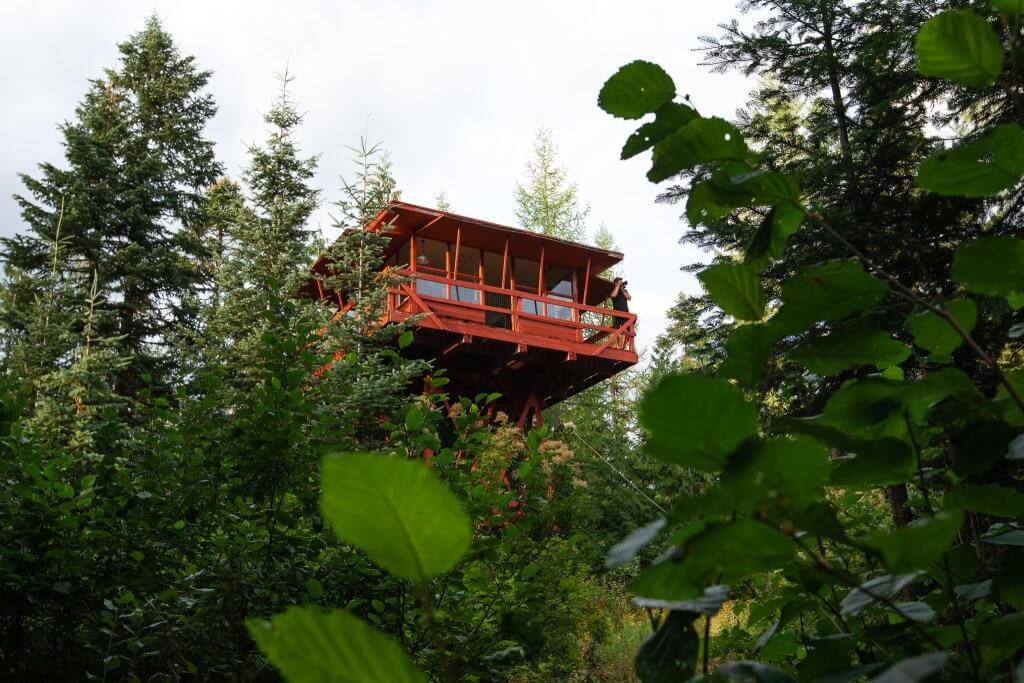 On our third day, we planned to head south towards the eastern section of the St. Joe River Scenic Byway (NF-50) to secure a campsite at Conrad Crossing Campground​​​​​​​ and then continue on to Avery and our next lookout.​​​​​​​​​​​​​​ Unfortunately, a wildfire in the area had other plans and we were forced to reroute the trip about a month before arrival.
When I explained my predicament to a friend, she suggested Crystal Peak Lookout, a privately-owned lookout available via Airbnb. It was near our new route on the other side of NF-50, and the date I wanted was available. It's significantly more expensive than a U.S. Forest Service lookout, but it's much easier to reserve and you get what you pay for. The lookout boasts amenities like a wood-burning sauna, an outdoor shower, a pump sink, and there's even a coffee grinder built right into the wall. Snacks and cozy bedding are provided, and quite simply, it feels like home. The only challenge is getting up the last quarter-mile stretch of road to the lookout, as a 4×4 vehicle is necessary to navigate the rocky, sandy, rutted terrain.
Day 4: A Wild Sunset at Bald Mountain Lookout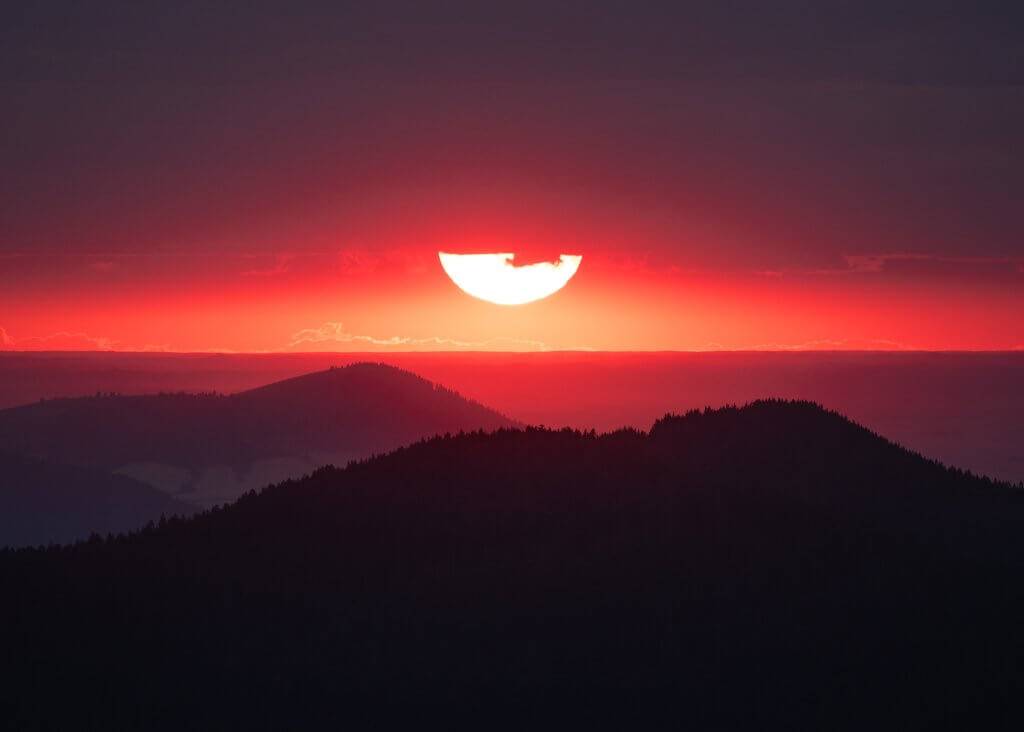 Despite switching things around the first few days of our trip, we were back on track by the fourth day and headed to Bald Mountain Lookout. Per the U.S. Forest Service, the single-lane dirt road to the lookout is "rarely graded and slippery when wet," and we encountered several patches of deep sand around the three-and-a-half mile mark. We were grateful to be in a 4×4 truck, and while the road was narrow, it was relatively smooth sailing after that.
Hauling overnight bags, bedding and groceries up four flights of stairs is a workout, especially at 5,300 feet, but the views are always worth it. Bald Mountain Lookout sits 50 feet above the ground, and the tower has a futon with a full-size mattress, plus a cot. Even after moving the table to the center of the room, it was quite spacious inside, and we were delighted to discover that someone had installed a pump sink. After marveling at the fiery sunset, my friend put on a classical guitar playlist and we got to work on dinner. As I savored the last few bites of my burger, I sat back and looked at the purple glow still visible on the horizon. Before I knew about fire lookout rentals, I never imagined I'd enjoy a home-cooked meal in a cabin perched high above a sea of pine trees. It's truly the perfect mix between camping and renting a cabin, and an adventure I now look forward to every summer.​​​​​​​
U.S. Forest Service fire lookouts are booked on a six-month rolling reservation system via the recreation.gov website. For more fire lookout travel tips, check out "10 Amazing Idaho Fire Lookouts You Can Rent for the Night"
Day 5: Exploring Elk Creek Falls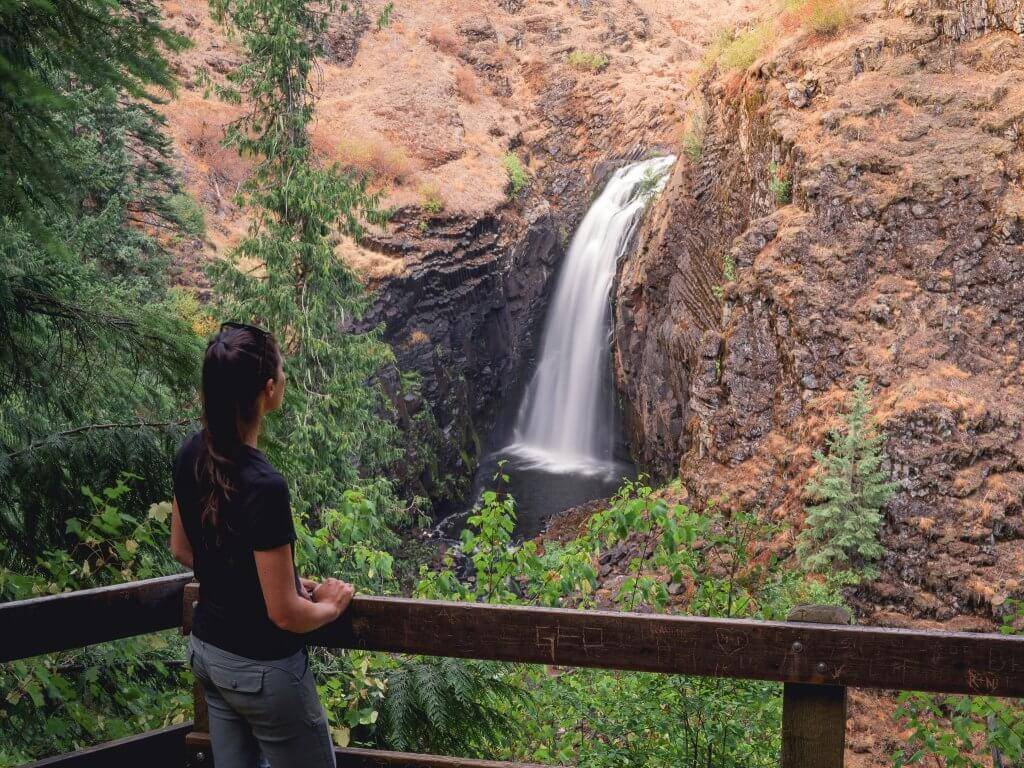 While searching for points of interest along our route, I noticed Dworshak State Park and Elk Creek Falls Recreation Area, the latter of which was an easy two-hour drive from the Bald Mountain Lookout. With a wealth of campgrounds and hiking trails, this was an excellent area to break up our stays in fire lookouts.
The trail is just under three miles with 650 feet of gain, and it's a well-maintained and clearly marked loop with spurs to each of the three viewpoints. There are benches at the viewpoints and along the trail, plus picnic tables at the trailhead, which has ample parking. When we went in early August, we only ran into a few other groups, and we even spotted a moose on the way out.
We spent the night at Little Boulder Campground, which was about 30 minutes down the road near the town of Deary. The U.S. Forest Service campground is open from late May through late October, and it has 17 developed sites available on a first-come, first-serve basis.
Day 6: High Above the Pines at Lookout Butte Lookout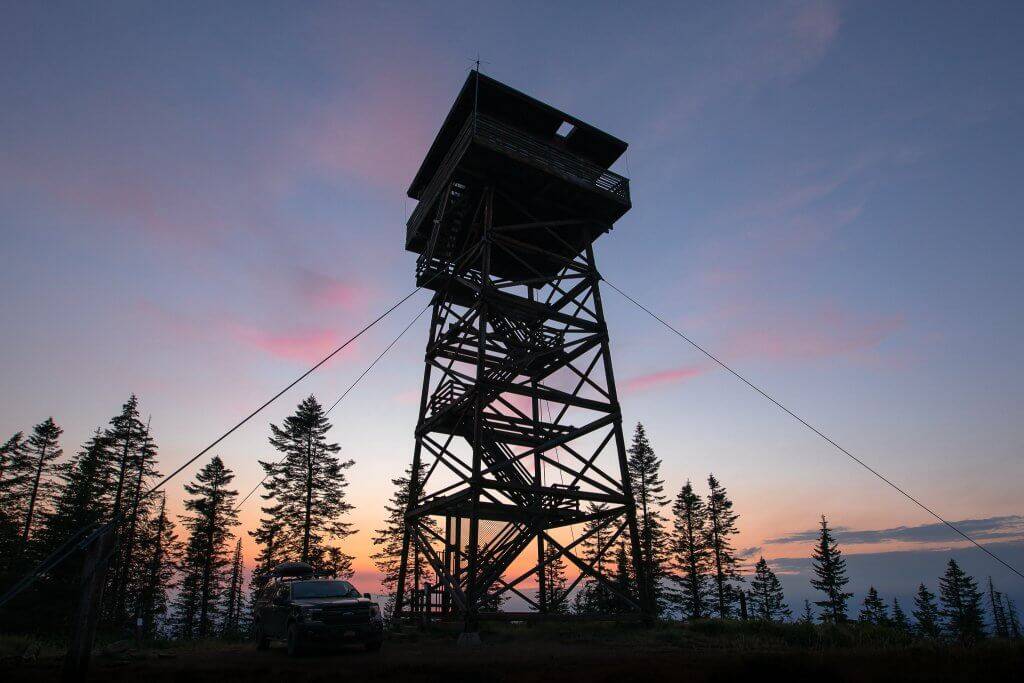 I spent a solo night at Lookout Butte Lookout in 2020 after snagging a last-minute cancellation, and I liked it so much, I returned. The lookout sits 60 feet above the ground and the deck has a trap door, so I felt very safe when I stayed here by myself. The lookout's three twin mattresses are all in excellent shape, and several of the windows have screens, which is crucial during the buggy, summer months. The road to the lookout is well-maintained, and while 4×4 is not necessary, a high-clearance vehicle is recommended for the last half-mile.
Every fire lookout has a logbook, and I enjoy reading entries from over the years. Some visitors share details of wildlife encounters, others tell deeply personal stories, and a few perfectly summarize why visiting fire lookouts is such a special experience. Before I put pen to paper on the last morning of our trip, I flipped through the pages and found a note that was pure logbook gold. In an entry from September 2018, Robert from Denver, Colorado wrote:
"My first trip to Lookout Butte was in early June, 1965. I came then, of course, to man the tower as a fire lookout. That was one of the best summers and best jobs I've ever had and I've always looked back on it with fond memories. I could hardly believe it when I learned last year that the U.S.F.S. was now renting the tower out for overnight stays. So, here I am back, 53 years later with a wife who has heard stories about this place for almost 50 years. It did not disappoint! The views, the sunsets, the sunrises, the wildlife, they were all still here, all 360 degrees of it."
These parting words were filled with so much sentimentality, I got chills when I read them. While everyone seeks time in the wilderness for different reasons, I've found that fire lookouts tend to attract a certain kind of individual. Adventurers with a sense of romanticism, who are drawn to the last remaining patches of the wild west. Adventurers just like me, and maybe even you. I just hope I can visit some of these same fire lookouts fifty years from now, and with the same level of wonderment.

Planning note: Make a list of alternate locations while planning your trip. Wildfires are always a risk during the summer months, so having a handful of backup options can help you reschedule quickly should the need arise.
Feature image credited to Elisabeth Brentano.
Elisabeth Brentano is a writer and photographer based in California but her passion for nature takes her all over the world to produce travel and environmental content. You can follow her at @elisabethontheroad on Instagram.

Published on January 25, 2022