This is a sponsored post.
Put down that knife and fork. It's time to get your fingers good and greasy with a mound of fried chicken. Whether you like it hot from the fryer with a side of pickles, sandwiched between two fluffy biscuits or perched on a buttery waffle and lacquered with maple syrup, Boise and the surrounding areas have a handful of spots that serve up an awesomely crispy deep-fried bird. So saddle up to a table at one of these joints, take a hearty pull on a glass of iced tea and sink your teeth into a piece of epically juicy fried chicken.
Fork
Since it opened in 2011, Fork has lured in hungry hordes on Tuesday nights for its popular Cast Iron Buttermilk Fried Chicken & Cheddar Waffle. Drizzled with balsamic-infused maple syrup and local Ahaus honey butter, Fork's fried chicken is only offered only on Tuesdays until it's gone, which keeps fried chicken fanatics clamoring for more. But those looking for a taste of the good stuff on the weekends are in luck: You can order Fried Chicken & Ballard Cheddar Waffle "Sliders" at brunch, topped with tangy shards of local cheddar and ladled with wild berry maple syrup during the summer months.
Grit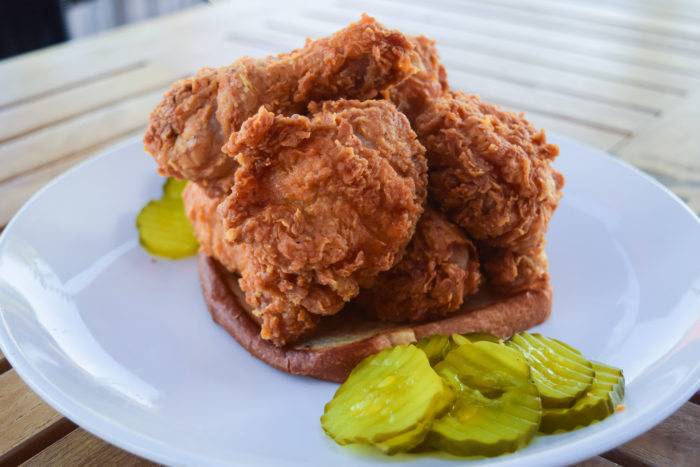 Situated in a strip mall just shielded from bustling State Street in Eagle, Grit American Cuisine boasts an eclectic menu strewn with everything from steamed clams with coconut milk and spicy honey peanut butter to apricot pizza with caramelized shallots, bleu cheese and spiced pecans. Chef Paul Faucher also makes a mighty fine fried chicken, which he brines in lemon and spices for 6-12 hours before dredging it in buttermilk and Crystal hot sauce and deep frying it. The juicy dark meat chicken is served simply on a piece of white bread with a pile of tart pickles on the side. If you like things spicy, order your bird "Nashville-style" for a cayenne-licked kiss of heat.
Juniper
Wanna show brunch who's boss? Grab a table under the exposed red brick at Eighth Street gin joint Juniper, and order the monstrous Chicken in a Biscuit. This leaning tower of breakfast features a thick biscuit sandwiching cage-free fried chicken, a couple of crisscrossed strips of bacon, a free-range fried egg, Ballard Family Farms cheddar and an oozing ladle of sausage gravy. This caloric beast comes with a steak knife to adequately slay it and is almost guaranteed to conquer your hangover (alongside a stiff Bloody Mary).
Solid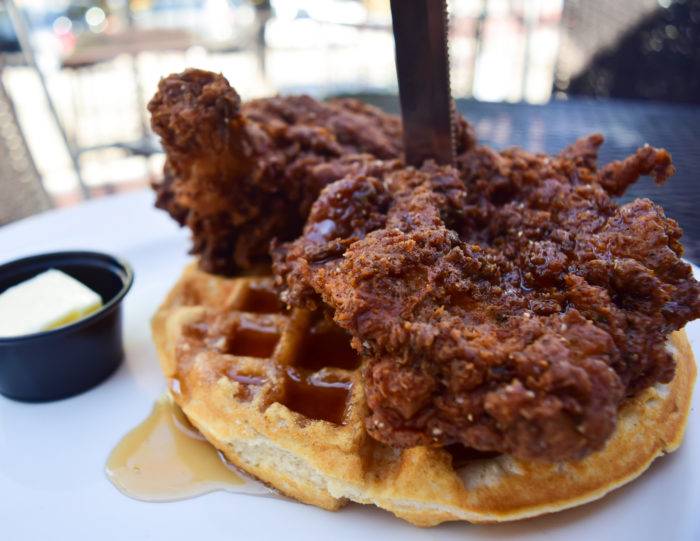 A longtime favorite of late-night revelers, Solid serves its massive plate of Chicken and Waffles until 2 a.m. on the weekends. To make this signature dish, the BODO restaurant dusts a half of a chicken in seasoned flour and fries it until it's a deep, chestnut brown. Served on a giant Belgian waffle with a side of warm maple syrup and a couple of pats of butter, this simple-yet-classic dish hits all the right notes, whether you enjoy it with a mason jar of cucumber water at lunch or with a velvety glass of dark beer at night.
The Lift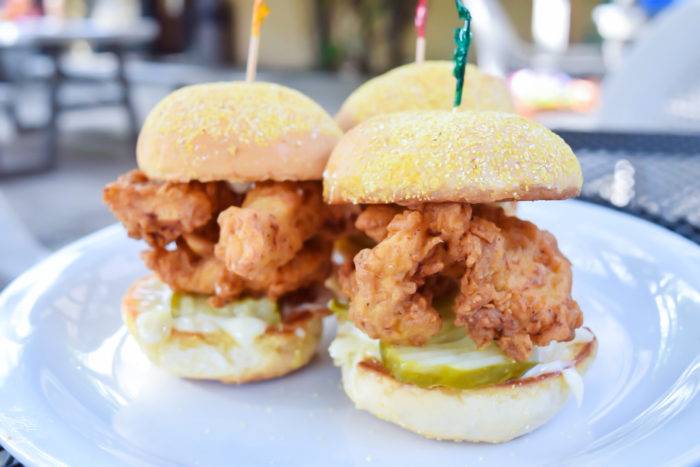 Patio loungers flock to this State Street sports pub for its epic, vine-shrouded patio and famous, pineapple-studded fish tacos. But the Buttermilk Chicken Sliders should be added to The Lift's list of alluring attributes, as well. Three hand-breaded chicken tenderloins are fried to a salty crisp and served on adorable mini cornmeal buns with a smear of mayo and a couple of pickle rounds. It's a great share plate, if you're a generous person, or an excellent meal if you prefer to hoard all of the delicious fried chicken for yourself.
Tara Morgan is a freelance food and booze writer. She's an Editor at Edible Idaho Magazine, writes for publications like VIA Magazine and SIP Northwest and runs the website Boise Feed. She loves an epic dinner party, good design, bad puns and pretty much every French rosé ever made.

Published on October 10, 2017