Melynda Harrison worked in partnership with Visit Idaho to create this Travel Tip.
Imagine gliding across the snow through Ponderosa pines next to a sparkling lake. Or swishing beside a river filled with wintering swans. Imagine chatting with your family as you kick and glide on groomed trails breathing in the fresh winter air. These are the experiences you can have cross-country skiing in Idaho​​​​.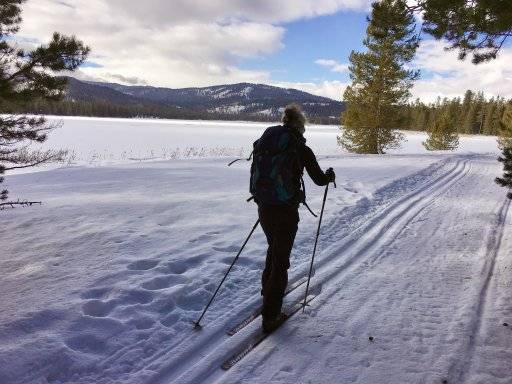 Figuring out how to start cross-country skiing (or Nordic skiing) might pose some initial logistical challenges, but once you understand the gear, where to go, and a few basic maneuvers, your skis can take you almost anywhere there is snow.
To get started cross-country skiing with your family, I recommend taking a lesson. I skied for years without lessons and struggled. I loved being outside in the snow, but it was hard to make my skis go where I wanted them to. And don't even talk to me about hills. After one lesson, I had the form to ski efficiently. It made cross-country skiing even more fun.
There are a bunch of Nordic centers in Idaho where you can take a lesson and rent the skis, boots, and poles you need to get started. Then you can expand your range and explore on your own.
Gear
One thing I discovered after becoming a cross-country ski instructor is that people coming from downhill skiing often had a little more trouble getting used to Nordic equipment than people who had never skied before. But don't let that stop you; just know the skis are lighter, move around more, and don't turn as easily as alpine skis.
Cross-country skis are longer than alpine skis, though not as long as they used to be. You fit your skis based on your weight and the width of the skis. You can find a size chart online, but if you are renting, which you absolutely should the first time you try it out, ask the rental shop staff to help size the the skis for you.​​​​​​​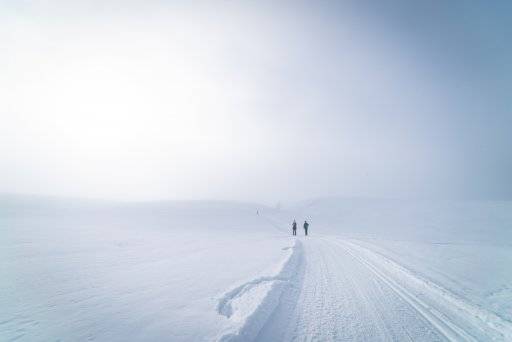 Cross-country ski boots are downright comfortable. They feel like an insulated hiking boot or shoe. Wear them with wool or synthetic socks for warmth (no cotton!). Unlike alpine boots, they do not clip down in the binding in the back, that's why it's sometimes called "free heel skiing."
The poles used for cross-country skiing should come to somewhere between your armpit and the top of your shoulder.
You will likely stay pretty warm while you are skiing and then cool down as soon as you stop for a hot chocolate break. Wear a base layer (long underwear) made from synthetic fabric or wool. Over that a mid-weight layer, and atop that a soft shell jacket and pants. You can absolutely wear your downhill gear, but you might find it a little toasty.
Finish the ensemble with a lightweight hat and gloves. Gaiters can be nice for keeping snow out of your boots, but you don't really need them on a well-groomed track. Don't forget sunglasses and sunscreen.
How to Ski
I still recommend a lesson to get you started, however if you'd like to try it on your own, rent some skis and head out to somewhere flat. Make sure you learn how to put on and take off the skis before leaving the rental shop.
You'll hear that cross-country skiing is just like walking, but I don't think that's true. If you are doing it right, it's more like gliding. Starting on groomed trails somewhere flat — save the hills for later— clip into your skis and shuffle along. I recommend not using your poles at first and perfecting your balance.
Once you've shuffled, try to get a little glide going. Put almost all your weight over the ball of your forward foot as you kick off with the other foot. Then do the same thing on the other side. Kick and glide, kick and glide. Look forward, not at your feet to keep an upright posture. Keep moving your weight forward, not side to side.
Since you are starting at a groomed area, get your skis into the carved tracks. As long as you stay in the tracks, you won't wind up in the woods or a river. The tracks will keep your skis inline so all you have to worry about is moving forward.
Where to Ski
East Fork Mink Creek Nordic Center
There are about 20 kilometers of groomed classic and skate cross-country ski trails, snowshoe trails, a sledding hill, a warming yurt, plus ski and snowshoe rentals and lessons to take advantage of here. Beginners may want to start with the flat trails along the creek.
East Fork Mink Creek Nordic Center is outside of Pocatello. It offers equipment rental and ski lessons by reservation as well as a lesson series.​​​​​​​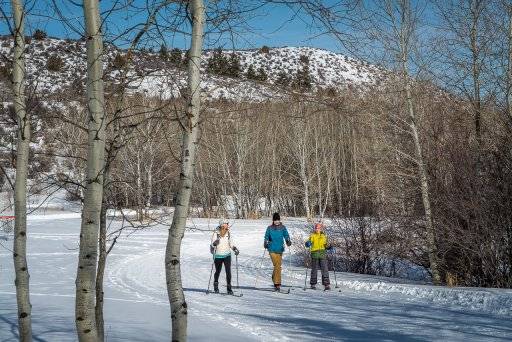 McCall Activity Barn and Ponderosa State Park
Whether you want to ski at McCall's Activity Barn, Ponderosa State Park, or Bear Basin Nordic Center, you can take a lesson with the Bear Basin Nordic School (they will meet you at any of those places plus a couple of others).
McCall's Activity Barn has flatter trails and some small hills. It's a fun place to learn or practice and you can go snow tubing afterwards.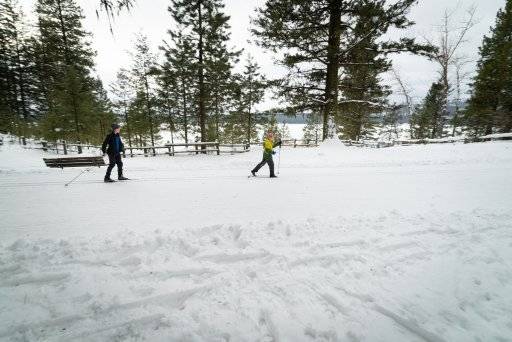 Ponderosa State Park has 22 kilometers of trails full of beautiful meadows and scenic wooded trails alongside Payette Lake. Most of the trails are pretty flat and well suited for beginners. There are several shops in McCall that rent Nordic gear.
Harriman State Park
Harriman State Park in Island Park is a great place to get the family out on skis. Whether it's a day trip or you're spending the night in one of the yurts or the Ranch House, you'll find more than 24 miles of trails to explore. Ski along the flats and watch the trumpeter swans on the river.
Rent skis at Henry's Fork Anglers in Idaho Falls — call ahead to make sure they have what you need. BYU Idaho Outdoor Resource Center in Rexburg rents Nordic skis as does Idaho Mountain Trading in Idaho Falls and Free Heel and Wheel in West Yellowstone.
Craters of the Moon National Monument and Preserve
A ski through Craters of the Moon isn't for first-timers, but once you have a few ski tours under your belt and are comfortable on hills, it's an experience you won't forget. To keep it easy, ski out the mostly flat trail to Devil's Orchard (3.6 miles out and back). If you want to take on the big hill, ski the full lollipop loop in 6 miles.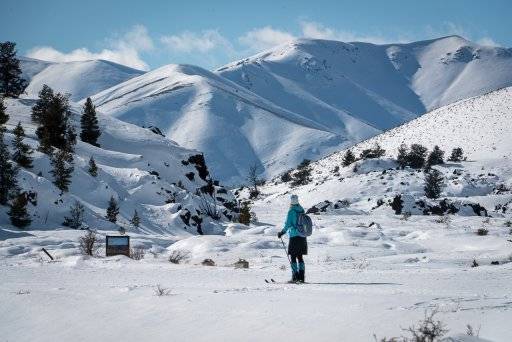 If moving over snow through cinder cones and lava bombs sounds interesting, but you aren't ready to ski, rent snowshoes at the Visitor Center and adventure on foot.
Ski rentals are available at Baldy Sports in Hailey or Idaho Mountain Trading in Idaho Falls.
Feature image credited to Melynda Harrison.​​​​​​​
Melynda Harrison writes about travel and outdoor family adventure at TravelingMel.com, YellowstoneTrips.com, and for many local and regional publications. When she's not behind a laptop, you can find her cross-country skiing, hiking, or floating a river.

Published on December 1, 2020