Kristen Pope worked in partnership with Visit Idaho to create this Travel Tip.
Lace up your hiking boots, ready your bear spray, and get ready for a fall hiking adventure in eastern Idaho. Hike through peaceful forests of quaking aspen, admire golden reflections in still lakes, and listen to the roar of rushing waterfalls—all while keeping an eye out for wildlife since you're in the Greater Yellowstone Ecosystem. ​​​​​​​​​​​​​
Here are a few of my favorite trails to whet your appetite for fall foliage and adventure.​​​​​​​
1. Henrys Lake State Park
While it's most famous for trout fishing, Henrys Lake State Park also boasts gorgeous hiking trails and views of Sawtell Peak. Located just 16 miles from West Yellowstone, it's easy to squeeze in a hike as part of a larger fall trip. The park's namesake lake covers 6,000 acres, and is fed by several streams and springs.
When I drove up to the park's gate, the state park worker asked if I had bear spray and knew how to use it. I assured her I was prepared, and when I reached the trail head, I noticed a "Warning: Bear frequenting area" sign. Since the park is in prime bear habitat, it only makes sense to be bear aware, follow good bear safety practices, and keep bear spray at the ready (it won't do any good inside your backpack).
While I didn't see any bears, hikers told me about three moose they saw—including a calf—so I made sure to be alert. Fresh moose prints were visible in the soft soil along several sections of the trail, but I did not see the animals themselves. The park is also a hot spot for birding and viewing other wildlife, including elk and deer. Mid-September through October is generally a good time to see autumn colors.
Outlet Overlook Trail
The Outlet Overlook Trail is the park's newest trail, and it showcases stunning views of the outlet. Begin at the Jack Fence Gate and hike up "The Shortcut"—an old road—for 0.3 miles, veering right at the intersection for gorgeous views of the water, sagebrush, aspens, and mountains. The trail rises in elevation slightly for great views overlooking the area. Hikers can either hike the trail as an out-and-back or combine it with part of the Aspen Loop Trail (both options are about 1.6 miles).
Aspen Loop Trail
Hike over rolling hills through quaking aspen, Douglas fir, and lodgepole pine on the Aspen Loop Trail. If you time it just right, a carpet of gorgeous golden fallen leaves will be underfoot as a canopy of autumn hues frames your walk overhead. This trail includes numbered interpretive signposts, so be sure to grab a trail brochure so you can learn about the area and ecosystem as you go. The full loop is around a mile (not including "The Shortcut" spur to reach it), though it can be combined with other trails for a longer hike.
2. Mesa Falls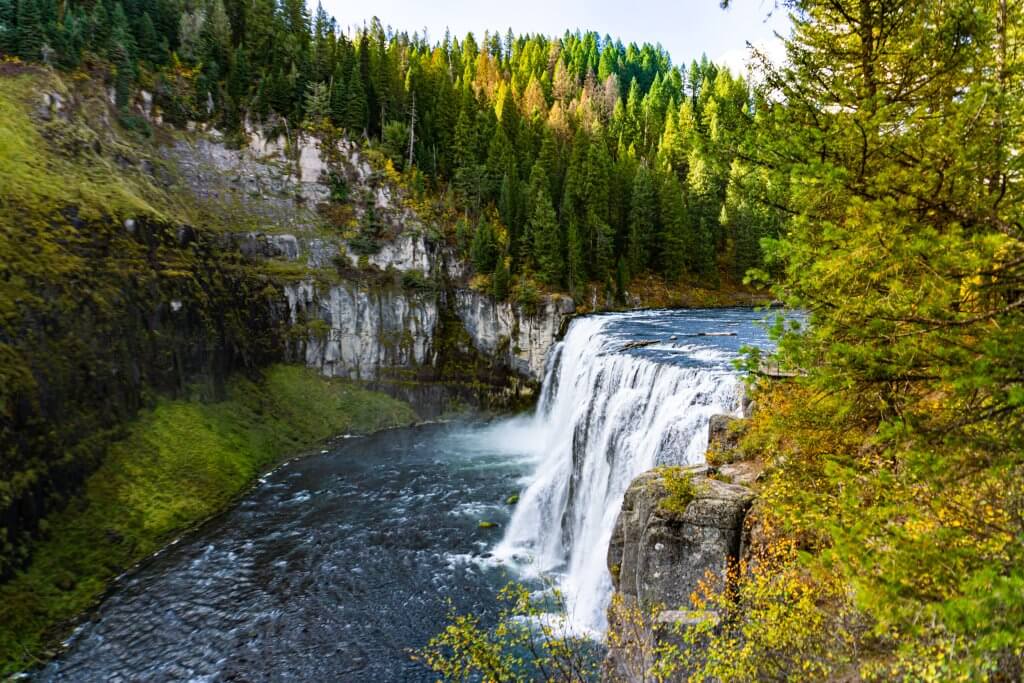 Watch and listen as the Snake River thunders over Upper and Lower Mesa Falls, which are some of the last free-flowing major waterfalls on the Snake River. A drive along the Mesa Falls Scenic Byway will also provide stunning views of fall foliage.
Upper Mesa Falls Trail
Parking for the Upper Mesa Falls Trail is located near the visitor center, which is a worthy stop when it's open in the summer. It is located in the historic Big Falls Inn, which was constructed around 1915 and once included a hotel, restaurant and dance hall.
To see the falls, follow the boardwalk trail and check out the many viewpoints—some involve climbing and descending stairs. Upper Mesa Falls is over 100 feet tall, providing stunning views. To see Lower Mesa Falls, drive about a mile south to the Grandview Overlook for a short walk and more incredible scener. For a longer hike, the Mesa Falls Nature Trail begins in the upper parking lot by the visitor center. It is part of the Idaho Birding Trail, so bring your binoculars.
3. Ashton to Tetonia Trail
The Ashton-Tetonia Trail was once a former Union Pacific Railroad grade used to transport livestock, potatoes, grains, and more. Rail use stopped in 1984, and in 2010 the Rails to Trails Conservancy program finished transforming it into a trail. The approximately 30-mile-long trail includes historic rail trestles and bridges, farmland, and Teton views. It can be accessed from several different points.
Judkins to Tetonia Trail ​​​​​​​​​​​​​​​​​​​​​​​​​​​​
Mid-to-late September is a good time to enjoy peak colors along this route. The Judkins to Tetonia route (Section 4) has parking available near Felt (look for the small lot near Lewis Street and McReynolds Ave.). Hike south along the trail to reach the Badger Creek Bridge, while enjoying gorgeous Teton views.
4. Harriman State Park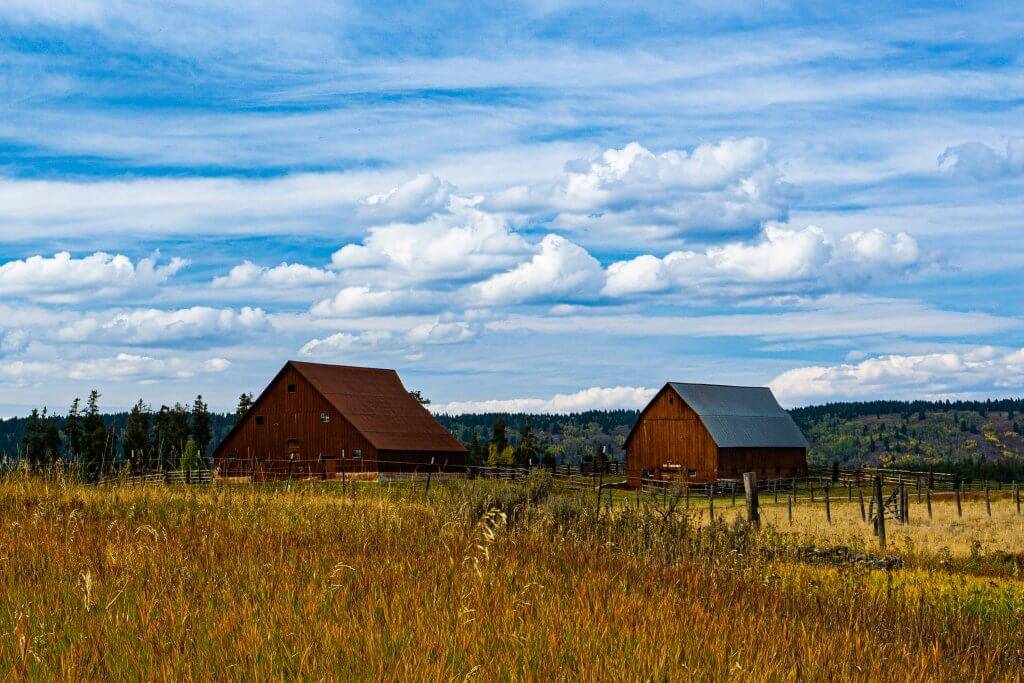 With over 20 miles of trails to choose from, you'll find plenty of options to scope out the fall leaves in Harriman State Park. It is located in a 16,000-acre wildlife refuge in the Greater Yellowstone Ecosystem, so be bear aware, follow good bear safety practices, and always hike with bear spray at the ready. Keep an eye out for other potentially dangerous wildlife, like moose and elk, while admiring the beauty.
River Trail and Railroad Ranch
From the Ranchview parking lot, you'll find a number of trail options. Head south along the River Trail to meander along the water and soak up scenic views. You'll likely see people fly fishing or maybe even painting stunning autumn scenes "en plein air" with easels. This trail can be an out and back of varying lengths, or you can connect with other trails to explore other parts of the park.
Another great option is to follow the river north to explore Railroad Ranch. Check out the historic buildings and learn about the area's past by reading the interpretive signage. You can proceed northeast along a trail by the river or follow the Ranch Loop to hike by Silver Lake before returning to the parking area.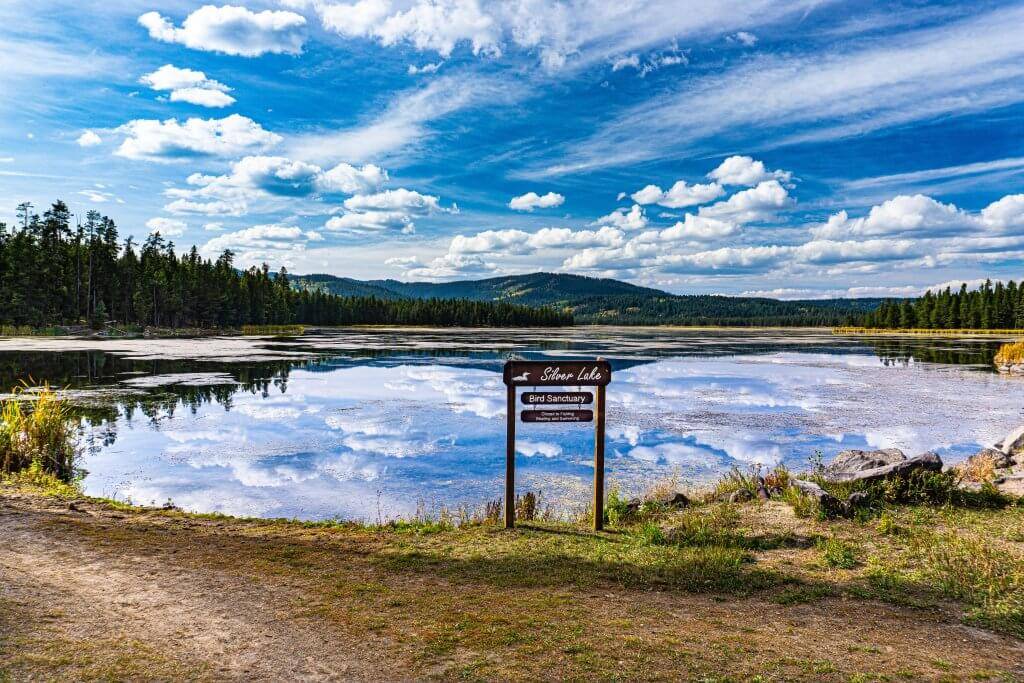 Silver Lake
​​​​​​​When the winds are calm, the reflective waters of Silver Lake showcase the sky. Go for a short stroll along the lake or opt to tackle the 2.4-mile (each way) Silver Lake Trail. Another option is to connect with other trails (such as a section of the Thurmon Creek Loop) to make a loop that encircles the lake.
Feature image credited to Kristen Pope.
Kristen Pope is a freelance writer and editor who writes about outdoor adventure, science, conservation, and travel for NationalGeographic.com, Backpacker, Audubon.com, Western Confluence, and Discover, just to name a few. Visit her at www.kepope.com.

Published on October 18, 2022