Lara Dunning worked in partnership with Visit Idaho to create this Travel Tip.
Boise's vibrant restaurant scene with its innovative menus and fresh and locally-sourced ingredients is in itself a reason to visit Idaho's State Capital. Add in a very walkable downtown with a vibrant artistic community, unique historical spots, a newly renovated museum, and you've got the makings of an itinerary that highlights the best of Boise.
The Basque Block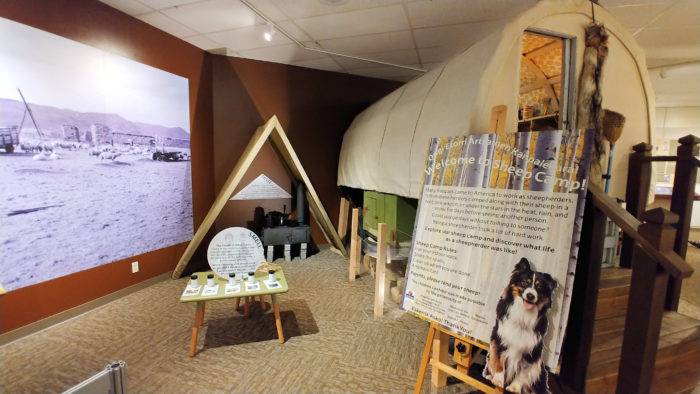 If you aren't from Idaho, you might be surprised to discover that Boise has the largest population of Basques outside of Spain. At only one block long, The Basque Block is the centerpiece of the Basque community is the best place to learn about their history and culture. Here you'll find The Basque Museum and Cultural Center, two Basque boarding houses; one with an indoor frontón court and another with a Gernikako Arbola oak tree whose seed came from their homelands. There's also The Basque Center, a restaurant, bar, and The Basque Market, a specialty store and eatery.
To dive right into discovering Basque culture tour the museum. Near the entrance, be sure to listen to the audio recordings of the Basque Radio Program. At the sheepherder (Artzainak) exhibit with its authentic wagon stocked with supplies and gear try to imagine months alone in the mountains (I think I could do it. Could you?). Next door, tour the Cyrus Jacobs/Uberuaga House, which served as a Basque boarding house from 1910 to 1969, and still has the original stove.
Afterward, dine on the Basque Block. My favorite stop is The Basque Market. At lunchtime on Wednesdays and Fridays, the market offers pintxos and paella with chicken, Basque chorizo, mussels, clams, and shrimp. On Thursday nights is a full paella dinner with a salad and a tapa or roll. No matter what day you choose, arrive early, as it always draws a crowd!
Old Idaho State Penitentiary
One of Boise's most fascinating historical sites is the Old Idaho Penitentiary. The prison opened in 1872, eighteen years before Idaho officially became a state. Over the next 100 years, it housed more than 13,000 convicts and had 500 escape attempts, 90 of which were successful.
The grounds hold a total of 15 buildings and once included the 50-acre gardens next door, which is now the Idaho Botanical Garden. Many of the original buildings, such as the chapel and dining hall, were severely damaged during riots in the 1970s. Others buildings, including House 2, House 3 (both cell blocks), and Maximum Security are reasonably intact.
If you are a history buff like me, join the hour-long prison tour, which is offered three times a day (10:30 a.m., 12: 30 p.m. and 2:30 p.m.). Our enthusiastic guide, Said, took us from building to building and along the way, shared interesting facts and information about the prisoners (men, women, and juveniles) and their lives.
As you might expect, the prisoners were there for a good reason. Lyda Southard, also known as "Lady Bluebeard" murdered all four of her husbands, Henry "Bob" Meeks robbed a bank, and one of its youngest inmates, James Whittaker (age 11), shot his mother after she asked him to help do the laundry. Amidst the grim details of prison life, like being thrown in "Siberia" for days on end with no blankets in the frigid winters, there were surprising discoveries like the prison baseball team, "The Outlaws", who competed with local teams and won.
The Idaho State Penitentiary is open seven days a week (except major holidays) from 12 p.m. to 5 p.m., and from Memorial Day through Labor Day it opens at 10 a.m. The last entrance is at 4:15 pm. Admission is $6 (adults), $4 (seniors), $3 (6-12 years old) and children 5 and under are free.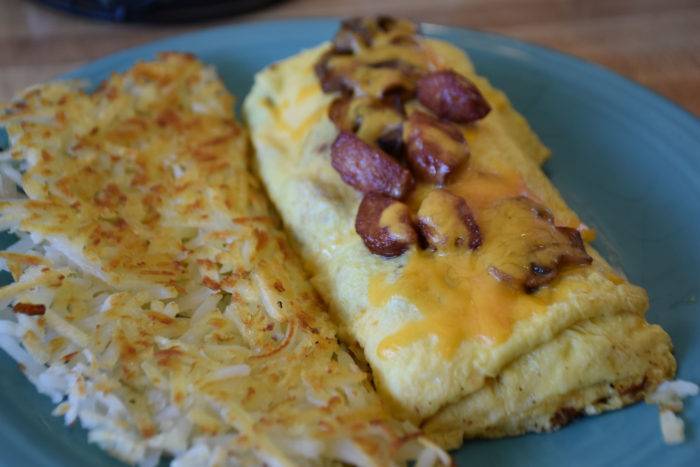 Afterward, stop at the Trolley House, a historic trolley dispatch station turned restaurant. Built in 1922, the restaurant serves breakfast and lunch with portions big enough to share. I suggest anything with Basque chorizo. While you soak up the atmosphere, check out the vintage photos and memorabilia on the walls.
Arts and More in Downtown Boise
Eye-catching public art beautifies downtown Boise. The first pieces you are most likely to notice are the wrapped traffic boxes with art that ranges from quirky to serene. Freak Alley, between 8th St. and 9th St. is one of the city's most imaginative and rousing public art displays. Established in 2002, the alley is lined from one end to the other with murals from more than 200 artists. Every few years, new creations replace previous paintings, giving visitors something new to appreciate each time they stroll the alleyway.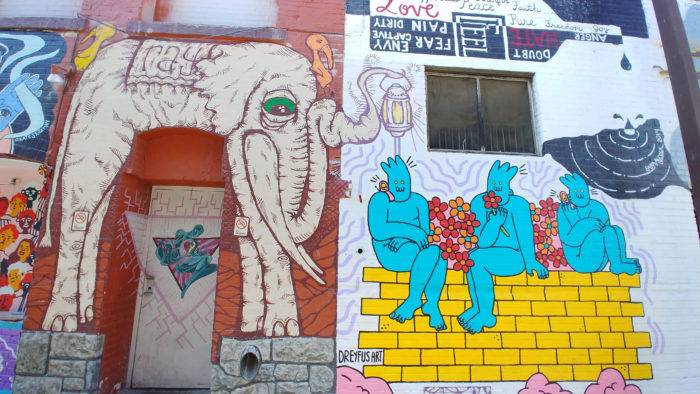 Museums are the lifeblood of a community's history. During my explorations, I was thrilled to discover the Idaho State Museum had unveiled its newly renovated space packed with engaging and interactive exhibits. Right from the beginning, the dramatic digital visuals showcasing Idaho's changing landscapes captured my attention and imagination. My top three picks —movies sharing the origin stories from the state's five federally recognized tribes, the "Tale of Two Nells," and a computer game where you travel across the country as a pioneer (I didn't fare so well).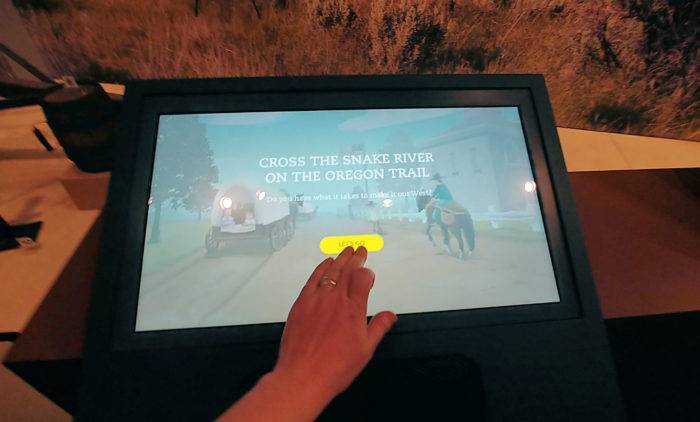 Start in the lower-level gallery and then move into the upper gallery to discover more about Idaho's history from pioneers to farming, the birth of ski culture, and much more. Kids will particularly like the downstairs children's area where they can be a train conductor and mine for ore. Don't rush the experience; give yourself at least two hours to immerse yourself in all things Idaho.
Museum hours are Monday through Saturdays from 10 a.m. to 5 p.m. and Sundays from 12 p.m. to 5 p.m. Admission is $10 (adults), $8 (active military/college students/seniors), $5 (6-17 years old) and children 5 and under are free.
For dinner, head to 8th Street and dine at one of Boise's downtown restaurants. What do I recommend? Fork. Their "Loyal to Local" pledge commits them to source main ingredients from Boise and the Northwest. Choose the Idaho Rainbow Trout with farro and a roasted red pepper puree. Follow it up with their signature Warm Butter Cake with Cloverleaf Creamery vanilla ice cream and an Oregon berry coulis. Every bite is pure Idaho heaven!
As night falls, another Boise experience awaits at Table Rock. A short 20-minute drive from downtown, the locals gather at this perch for its exceptional views of Treasure Valley and to watch as the sun sets on the 43rd parallel in the 43 U.S. State.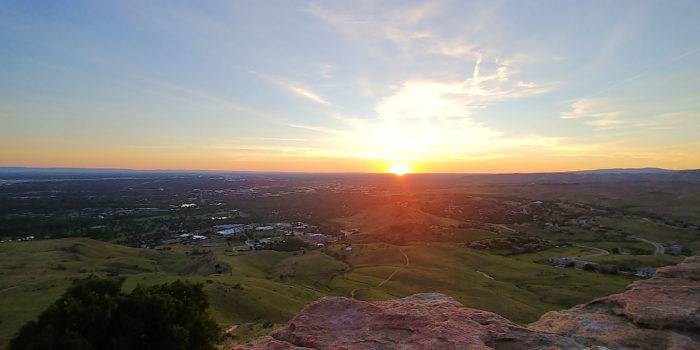 Based in the Pacific Northwest, freelance writer Lara Dunning travels for food, history, and unique adventures. Her travel tales can be found in Trivago magazine, ShermansTravel, and Family Vacation Critic, just to name a few, and her small town travel blog Small Town Washington & Beyond.

Published on August 22, 2019