Live A Wilder Life worked in partnership with Visit Idaho to create this Travel Tip.
Northern Idaho is bursting with lakes, rivers and creeks that beckon to the outdoor adventurer looking to spend time on or near the water. If you're ready to find waterfalls, it's time to lace up your hiking boots and check out these six incredible waterfalls in northern Idaho.
The best part about these waterfalls is you'll barely break a sweat. All of these hikes are relatively short, family-friendly and have minimal elevation gain. The hardest part is driving there. So, fill up your gas tank, bring some snacks and enjoy the country roads of northern Idaho.
Know Before You Go
Northern Idaho winters are notoriously long, followed by a wet spring. Most of these hikes will still have snow on the trail until May and potentially early June. To avoid snowy conditions on the trail or possible road closures, the best time to visit the waterfalls is late spring and early summer when the snow has cleared and the waterfalls are bursting at the seams with water from the snow melt.
While you can access all these waterfalls with a standard vehicle, a high-clearance vehicle is always a safer bet when driving in northern Idaho, particularly for backcountry gravel roads.
A few of the waterfall hikes have bathrooms, but most will not have any amenities. Keep Idaho sparkling clean by "leaving no trace" and packing out whatever trash you make.
Lastly, black bears and grizzly bears are a natural part of the environment. Always bring bear spray with you and remember to remain bear aware on the trail.
1. Myrtle Falls
A short and pleasant .9-mile out-and-back trail will take you to this impressive 100-foot waterfall shooting over a rocky gorge. You'll start the hike by crossing a bridge over Myrtle Creek and traversing a series of gentle switchbacks to a viewpoint with a bench. There is a guardrail over the steep drop-off, but extra care might be needed if traveling with younger children. You'll see steep trails that lead further uphill, but the view from the bench is the best one you'll get from above.
Myrtle Falls is near Bonners Ferry and neighbors the Kootenai National Wildlife Refuge. On the drive there, bring binoculars and a zoom lens and try your hand at spotting moose, bald eagles, elk and beaver.
Directions: Drive north on Highway 95, turn left onto Riverside Street and continue for about 5.5 miles until you reach the Myrtle Creek Falls parking lot and trailhead.
2. Snow Creek Falls
This stunning waterfall in the Selkirk Mountains is a two-for-one hike with both upper and lower falls. Admittedly, the upper falls are more spectacular, but an easy 1.7-mile trail, out and back, means there's no reason not to make time for both falls.
The hike will take you through an old-growth forest with towering western red cedar and ponderosa pine. A short walk on the trail will lead you to a fork where you can visit the lower or upper falls. Both have viewing platforms with the upper falls offering a rocky ledge and felled trees for picture-perfect views.
Snow Creek Falls and Myrtle Falls are a quick drive from each other and can easily be seen on the same day.
Directions: From Bonners Ferry, head north on Highway 95. Turn left onto Deep Creek Road/Old Highway US 95 and continue for six miles.
Turn left onto Lions Den Road/Old Highway US 95 and stay on Old Highway 95. Turn left onto Snow Creek Road (#402), and follow it for 1.2 miles to the pull-out parking and trailhead on the left.
3. Copper Falls
Tucked into the top of northern Idaho, about two miles from the border of Canada, is Copper Falls, the tallest waterfall of the bunch. The thin silvery falls drop from a staggering 225 feet and is a sight to behold. An easy 1.4-mile loop trail takes you through a lovely wooded forest to a lower view of the falls and an upper view from an observation deck. The waterfalls are powerful, so be prepared for a cooling waterfall mist the closer you get.
While Copper Falls is at its most powerful in the spring, it's also a popular spot for daring ice climbers who scale the frozen falls. For a true Idaho adventure, suit up for winter weather and hike the snowy trail to see a frozen waterfall and maybe even a few ice climbers.
You can tack Copper Falls onto your Snow Creek and Myrtle Falls itinerary if you want a full day of waterfall hikes.
Copper Falls is grizzly bear territory, so don't forget your bear spray.
Directions: Head north on Highway 95 from Bonners Ferry. After crossing the Moyie River, immediately turn right at Copper Falls Road onto road #2517. Follow the gravel road about 2.5 miles to the parking lot and trailhead.
4. Granite Falls
Located in Nordman, near Priest Lake, Granite Falls is a gem of a waterfall. The trailhead to the lower and upper falls is in the Roosevelt Grove of Ancient Cedars, a scenic area with towering old-growth cedar trees estimated to be 3,000 years old.
The trail to the waterfalls is an easy 1-mile loop trail with a short spur trail taking you to the lower falls. Lower Granite Falls can be viewed from a rocky outcrop where the waterfall seems to careen sideways down the mountain. Upper Granite Falls can be seen from a wooden walkway built into the canyon wall. If you want a longer hike, continue past the viewpoints to explore the upper cedar grove.
Directions: Head north on Idaho Highway 57. Highway 57 turns into Forest Service Road 302, about four miles past Nordman. Drive 12 miles on FS 302 and turn left into the Granite Falls/Roosevelt Grove picnic area.
Travel note: Forest Road 302 is a gravel road that may be rutted out in sections. The road can be driven on with a standard vehicle, but a high-clearance vehicle is best. Google Maps will get you in the direction of the trailhead, but you'll want to look for signage on the last half mile of the drive. Signage will direct you when to turn left to enter Roosevelt Grove.
​​​​​​​​​​​​​​5. Grouse Creek Falls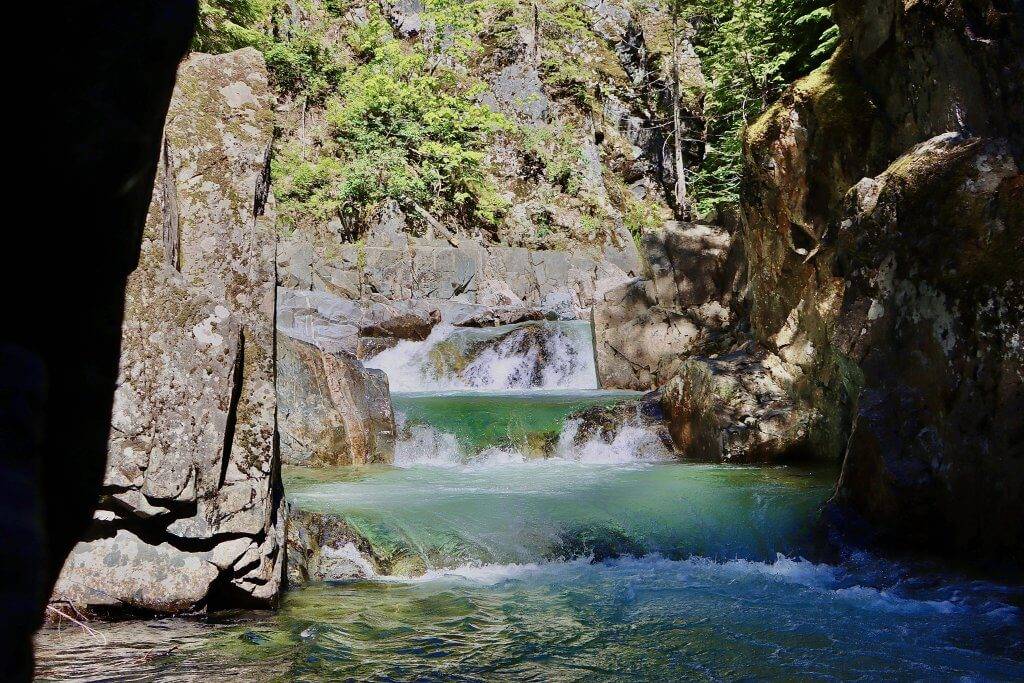 Located near the picturesque town of Sandpoint, Grouse Creek Falls is the smallest of these waterfalls. While some might argue it's a cascade rather than a waterfall, the serene surroundings make Grouse Creek Falls a wonderful addition to a northern Idaho waterfall tour. A roughly half-mile hike along a rocky trail will take you to a series of sea-green cascades. You'll have to wade through the water around a large boulder to see the waterfalls, so water shoes are a good idea for this hike.
While the trail is short, it can get steep, and there are sections where you'll have to walk through medium-sized rocks. Before the falls, the trail forks, and you can go uphill or towards the creek. The uphill route is steep, leading to a lookout point over the falls. The trail to the right stays along the water and is better suited for young kids.
Directions: Head east on Highway 200 from Sandpoint. Turn left on Colburn Culver Road. Drive 5.5 miles and turn right onto Grouse Creek Cut Off Road. After 1.5 miles, turn right onto Grouse Creek Road. Continue 4 miles till you see an unmarked road that veers to the right. Turn right onto the unmarked road, which leads right to the parking lot.
6. Char Falls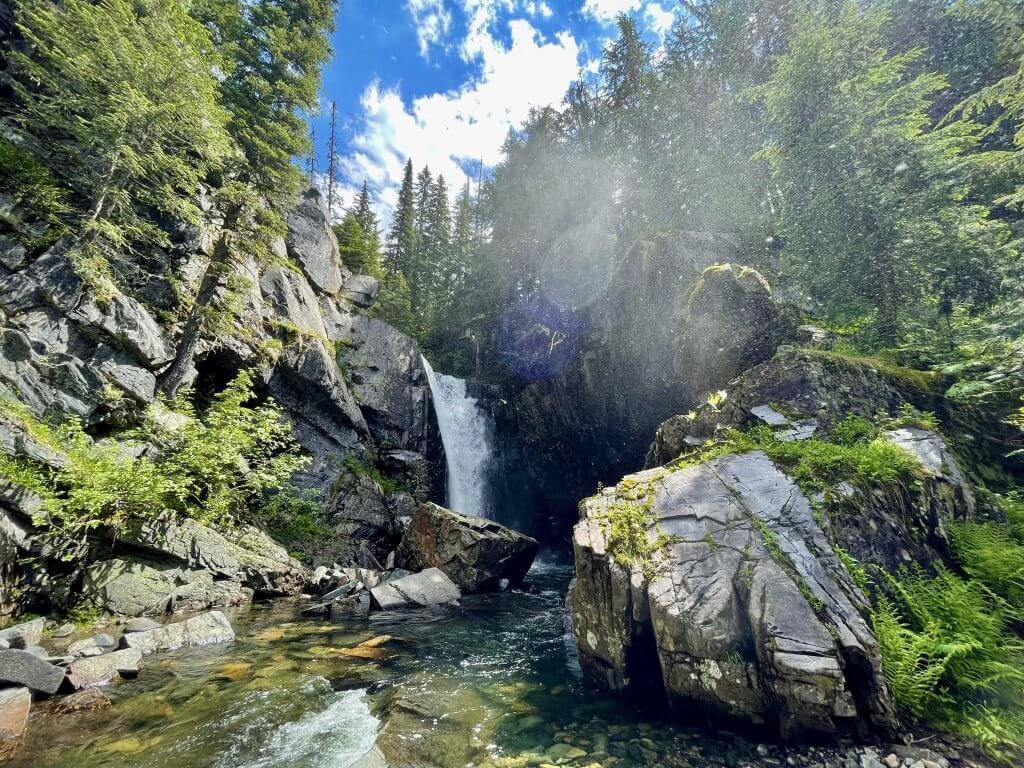 Located off the Pend Oreille Scenic Byway, Char Falls is a magnificent 50-foot waterfall in the Kaniksu National Forest. While the hike is no more than a casual 1.2-mile out-and-back stroll, the 16-mile graveled drive to an isolated trail in the Cabinet Mountains may deter many people from visiting the waterfall.
You'll start the hike on a logging road and continue until you reach a small campsite that leads to a small trail. The first stop is an upper viewing section of Lighting Creek with several small cascades that lead to Char Falls. Scattered benches make this an idyllic spot for lunch or a small snack. To see Char Falls in all its glory, you'll have to scramble down a moderately challenging rocky path along the ridge. From there, you can view the falls from large boulder slabs or wade through the water to view the pool at the bottom.
Directions: Head east on Highway 200 from Sandpoint. Turn left onto Trestle Creek Road and go 16 miles on the gravel road. Turn right on Lightning Creek Road and continue for .5 miles until you see a sign that says "The Falls" and a large pullout on the left. Note: GPS is not accurate for this trail, so at this time, you can not rely on Google Maps.
Which waterfall will you visit first? Tag #visitidaho on your Idaho waterfall adventures.
Feature imaged credited to Live a Wilder Life.
Christina Grance and Brad Benoit are the wife/husband duo behind the adventure travel blog, Live A Wilder Life. Former full-time travelers turned part-time nomads, they live with their wild son and an ornery cat in north Idaho where they spend every second they can dreaming up their next big trip. They specialize in outdoor travel for the everyday adventurer and love helping people to plan or discover their next trip. You can read their travel guides and tips at their travel website or follow along @liveawilderlife.

Published on July 19, 2022