Tiffany Burghart worked in partnership with Visit Idaho to create this Travel Tip.
When we travel, we love to find the balance between adventure and relaxation. Our goal is to come back from a trip fulfilled, but not so exhausted that we need a vacation from our vacation. Especially when we're traveling with our kids.
With that in mind, here's our recommended winter weekend itinerary in Twin Falls that combines just the right amount of adventure and downtime.
Twin Falls Day 1: Thousand Springs Scenic Byway
After a day of driving or flying, we suggest starting your trip with a couple of fun but mellow activities to stretch your legs and soothe tight muscles.
If you're coming from the west, instead of taking Interstate 84 to Twin Falls, consider taking the Thousand Springs Scenic Byway along Highway 30 instead. It will add a little extra time – approximately 30 minutes – to your drive, but we think it's worth it.
Along the drive, you'll have the opportunity to stop at one or more of the six park unit that make up Thousand Springs State Park. We highly recommend including the Box Canyon in your explorations. During winter, you'll need to park at the first parking lot. After a short 0.7 miles on a wide, paved trail through serene, quiet farmland (perfect for stretching those legs), you'll find a scenic overlook. From here, you can spot the beautiful blue pools of the Box Canyon below.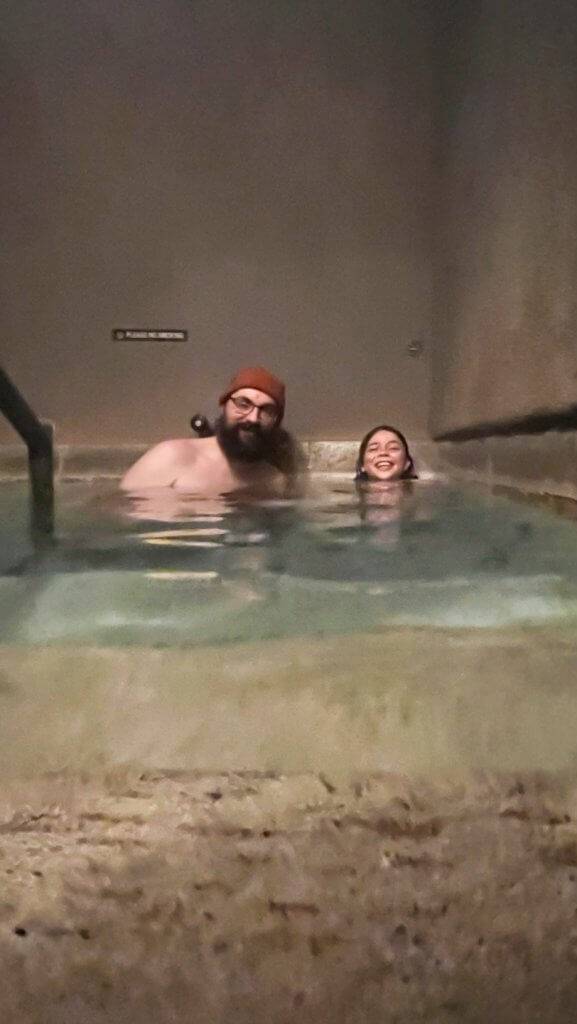 After exploring Thousand Springs State Park and the Box Canyon, we recommend making the short drive to Miracle Hot Springs in Buhl to soak in the heated pools. If you'd like to take advantage of a private pool, be sure to make reservations in advance. Otherwise, you can enjoy the varying temperatures of the outdoor pools with general admission.
For these winter adventures, we stayed at the Holiday Inn Twin Falls.
Twin Falls Day 2: Craters of the Moon and a Waterfall
After a good night's rest, day two starts with a lunar-like adventure followed by a waterfall and incredible views.
If traveling to the moon is on your bucket list, you won't want to miss a visit to Craters of the Moon National Monument and Preserve. Located approximately 2.5 hours from Twin Falls, the "weird and scenic" landscape is worth the drive.
Formed from lava eruptions from deep rifts, the lava field spans more than 600 square miles and boasts volcanic formations such as cinder cones. During the winter, this unique landscape is blanketed in snow and provides an incredible backdrop for cross-country skiing and snowshoeing.
We opted to borrow snowshoes from the visitors center for a small donation and set out along the one mile snowshoe loop. If you have more time, you can continue to explore the additional trails. For more information on renting snowshoes and guided snowshoe hikes at Craters of the Moon, check the website for up-to-date information.
When you return to Twin Falls for the evening, it's time to visit Perrine Coulee Falls. The waterfall is located along Canyon Springs Road that leads into Centennial Waterfront. Find a spot to pull safely off to the side of the road and hike up to the waterfall.
Although Perrine Coulee Falls has a more substantial flow in summer, it transforms into an icy wonder in winter. If you choose to explore the trail behind the falls, be mindful of the snow and ice. Things can get very slippery in winter!
For a completely different perspective, head to the Canyon Rim Trail to view the falls from above. Continue along the trail for stunning views of the Snake River Canyon, Perrine Bridge, and watch for BASE jumpers.
Twin Falls Day 3: Skiing at Pomerelle
We had one main adventure on the last day of our Twin Falls itinerary.
Located in Albion, Pomerelle Mountain Resort is approximately 90 minutes outside Twin Falls. But don't worry, you'll be rewarded with stunning views of the Sawtooth Mountains along the way. Pomerelle is an excellent choice for beginner and intermediate skiers and riders with ample snow, certified instructors, and family-friendly terrain.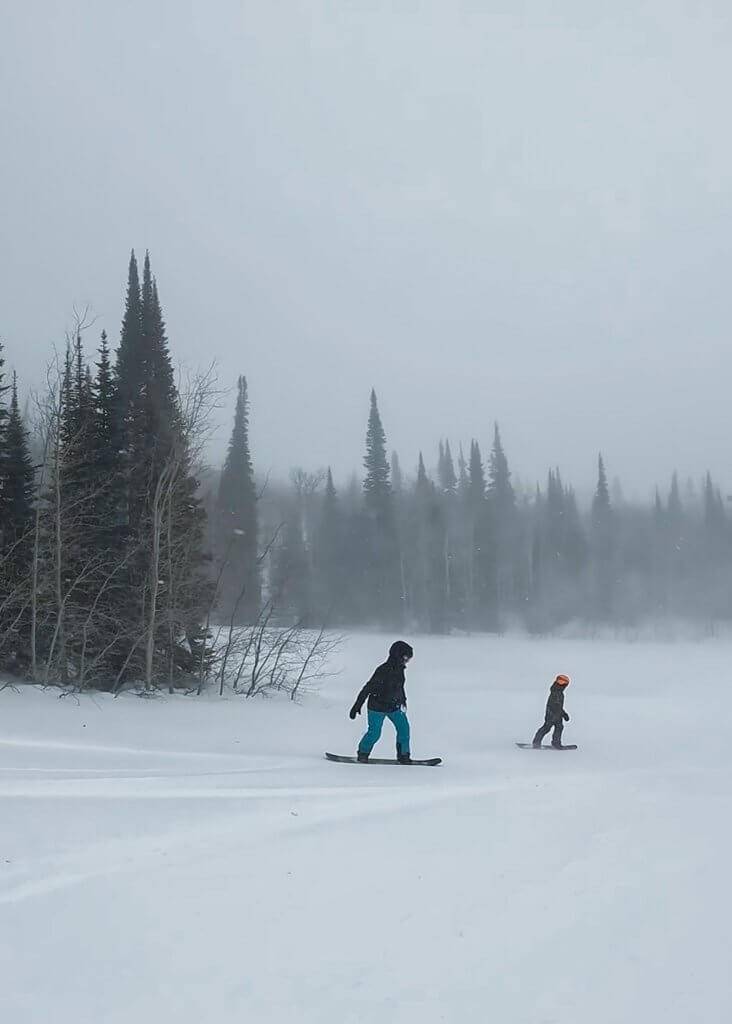 We have a soft spot for privately owned winter resorts, and Pomerelle Mountain Resort is no exception. It has been family-owned since 1972, and it is evident the moment you approach the ticket window. The atmosphere is incredibly family-friendly, and we immediately felt welcome and right at home.
Final Tips for Your Winter Weekend in Twin Falls
When planning a winter trip to Twin Falls, there are a few things you'll want to know ahead of time.
Winter road conditions can vary. Be prepared by carrying chains and an emergency kit in your vehicle, including additional warm layers, food, and water. Check 511.idaho.gov or download the Idaho 511 app for real time conditions.
Weather can change rapidly. Even if you head out with a forecast of sun, it's best to carry additional warm layers as well as a waterproof outer layer. We found that gloves and warm hats were a daily necessity.
We recommended having cash available for park entrance fees. For instance, when we visited Box Canyon, there was a drop box at the parking area for your entrance fee. If you wish, you can also purchase an annual Idaho State Parks Passport (for Idaho residents) or MVEF (Motor Vehicle Entry Fee) ahead of time.
Last but not least, have fun! As you see, there is much more to a winter adventure in Idaho than potatoes – though we enjoyed plenty of those too. It's a state filled with diverse beauty, adventure, and landscapes worth visiting in any season.
Feature image credited to Tiffany Burghart.
Tiffany Burghart is a blogger, photographer, and content creator at The Stoke Fam and on Instagram where she empowers families to get out and explore together while building stronger relationships with their growing children and tweens.

Published on December 13, 2022