Lara Dunning worked in partnership with Visit Idaho to create this Travel Tip.
When you picture Idaho's Panhandle, what recreation comes to mind; a hike in the mountains or fishing in a crystal clear lake? What about a jet boat tour through Hells Canyon, America's deepest river gorge? There is another activity creating quite a stir – touring Northern Idaho wine country.
On a recent trip, I followed the wine trail from Lewiston up to Sandpoint. If you are planning a wine lover's getaway, make sure to check out these award-winning wineries.
Stop 1: Lewiston
The Lewis-Clark Valley is the state's newest American Viticultural Area (AVA). However, its winemaking roots go back to the 1870s thanks to French immigrant Louis Delsol. Being the birthplace of Idaho wine makes Lewiston a great starting or ending point.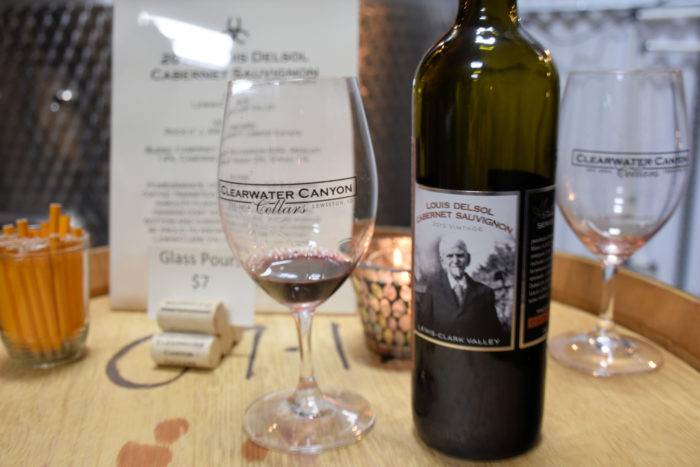 Surrounded by farmlands and rows of vineyards, Clearwater Canyon Cellars features an industrial-style tasting room with views into the production area. The winemakers focus heavily on wines produced with grapes grown in the Lewis-Clark Valley AVA. I suggest finding a wine you like and savoring it outside on the large patio. If that pour happens to be Syrah, you'll be looking directly at their Syrah grapes! I'm partial to the Lochsa Chardonnay made with estate-grown grapes and the Louis Delsol Cabernet Sauvignon. Don't leave without trying the Carmenère. Once you taste those natural hints of roasted jalapeno, you'll know why! The tasting room is open on Fridays and Saturdays from 12 p.m. to 5 p.m.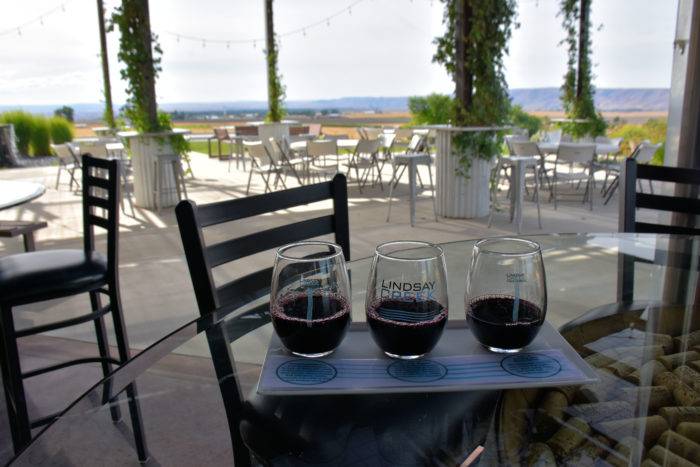 A short drive away is Lindsay Creek Vineyards. The grounds of the winery are expansive, and every angle takes full advantage of the view with sweeping vistas of wheat fields, vineyards and the mountains beyond. One could linger here all day, enjoying wine (In my case, their Cabernet Franc), tasty bites (Brazilian cheese puffs), a game of bocce ball, and wrapping up the experience next to the outdoor fire pit while watching the sunset. Tasting room hours are Thursday from 6 p.m. to 9 p.m., Friday and Saturday from 1 p.m. to 9 p.m. and Sunday from 1 p.m. to 5 p.m. There is also live music on Saturdays and trivia once a month.
Want to try more wines from the area? Visit Vine 46 or pre-arrange tastings with Two Bad Labs, Spiral Rock Vineyard, and Jovinea Cellars.
Stop 2: Moscow
To keep blazing along the wine trail, stop at the new Colter's Creek tasting room in the heart of downtown Moscow. The modern space is bright and airy with original brick walls and seating both inside and out. There is even an outdoor courtyard inside! Pick a favorite pour, find a spot and chill. My top choices are the Koos-Koos-Kia, Juliaetta Rosè, and the Cabernet Franc. Tasting room hours are Tuesday through Thursday from 12 p.m. to 7 p.m., and Saturday and Sunday from 12 p.m. to 8 p.m.
You'll also find Colter's Creek in the small town of Juliaetta, the tasting room features wines dominated by grapes grown in the Lewis-Clark AVA and a cozy restaurant with hyper-seasonal and locally-sourced ingredients. History buffs will particularly like its location along Potlatch Creek, formerly named Colter's Creek for the famous tracker and scout John Colter of the Lewis & Clark Expedition. Tasting room hours are Thursday from 4 p.m. to 5 p.m., and Friday through Sunday from 12 p.m. to 5 p.m. Restaurant hours are Thursday from 4 p.m. to 9 p.m., Friday and Saturday from 12:00 p.m. to 9:00 p.m., and Sunday from 12:00 p.m. to 5:00 p.m.
Stop 3: Coeur d'Alene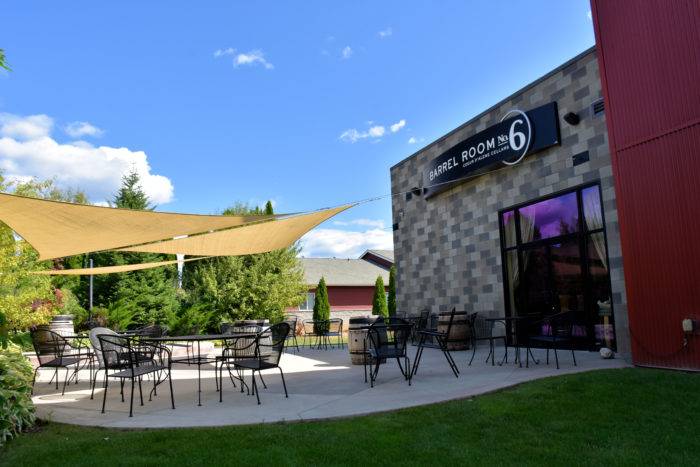 Coeur d'Alene Cellars is lovingly nick-named Barrel Room No. 6. An easy drive from downtown Coeur d'Alene, the tasting room is stylish with a shaded outdoor patio, and expansive green lawn. Pair their wines with savory menu items, like a meat and cheese board, and settle in for the afternoon. For reds, my top choice is Confetti, a Rhone blend with full body and dark fruit characters. The tasting room is open Sunday through Thursday from 12 p.m. to 5 p.m. and on Friday and Saturday from 12 p.m. to 7 p.m. Swing by for live music on Saturdays from 4 p.m. to 7 p.m. To paint and sip, sign up for a Paint Nite in the tank room, or pre-book a tour and sample wine right from the barrel!
Stop 4: Sandpoint
The winemakers at Pend d'Oreille Winery use traditional French wine-making methods to create well-balanced wines. In historic downtown, the tasting room is inside a beautifully restored historic building with original brick walls and warm wood tones. I sat happily with my glass of wine and cheese board for a couple of hours. Albarino is my new favorite white, along with their Cabernet Franc and the Syrah. For more eats, order a hand-tossed pizza or homemade dessert. The tasting room is open daily from 11 a.m. to 8 p.m. There is live music on the weekends, including Piano Sundays from 3 p.m. to 5 p.m.
To taste many of the area's wines all in one place, attend Chef Hop Vine. The two-day event (attend one day or both) happens every August and includes an evening of wine tasting with bites from local restaurants and a jet boat tour and wine tasting dinner.
Based in the Pacific Northwest, freelance writer Lara Dunning travels for food, history, and unique adventures. Her travel tales can be found in Trivago magazine, ShermansTravel, and Family Vacation Critic (just to name a few), and her blog Small Town Washington & Beyond.
Feature image credited to Lara Dunning.

Published on September 24, 2019