It's a winter rite of passage. Bundling up, breathing in the cool, crisp air as you glide hand in hand with someone special on the glassy perfection that is an Idaho ice rink. It's an adventure bound to feature lots of smiles, copious amounts of laughter and a new memory to cherish for years to come. Idaho has a diverse stash of outdoor and indoor ice rinks to test out. So lace up your skates and hit the ice!
Outdoor Ice Skating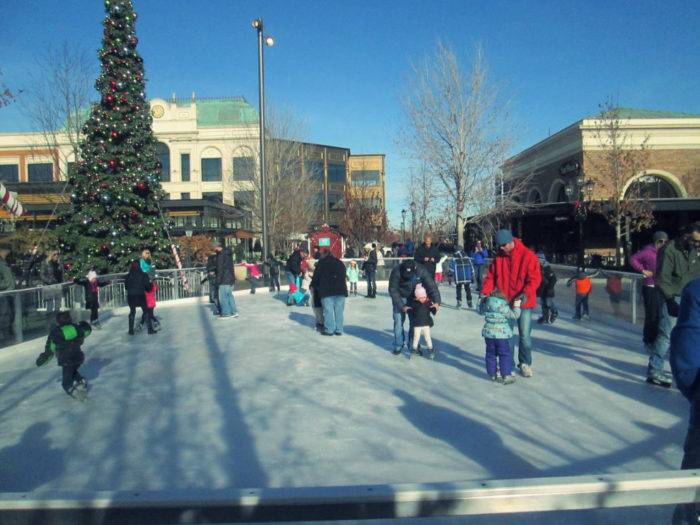 The Village at Meridian, Meridian – This outdoor rink is surrounded by shops and restaurants and decorated with sparkling lights. The rink is open daily November through late-February (conditions permitting) and skate rentals are available. Contact The Village at 208.888.1701 for more information.
Sun Valley Ice Rink, Sun Valley – The Sun Valley Outdoor Ice Rink has some of the best views in the valley. Olympian Tara Lipinski, who won the figure skating gold medal at the 1998 Winter Olympics, ranks it among her favorite rinks. They also have an indoor rink. Both are open daily and offers skate rentals. Call the ice center for more information at 208.622.2194.
Hailey Ice, Hailey – Located at the rodeo grounds, the main arena is transformed each winter into an outdoor ice rink that offers free skating for all. Loaner skates and gear are available daily as weather permits. Lights allow for night skating as well. An indoor ice rink, Campion Ice House, is slated to open in November of this year. Call 208.720.3086 for more information.
Round Lake State Park near Sandpoint – This forested state park sits at the edge of 58-acre Round Lake and it's a beautiful place to skate when conditions allow. Park staff maintain both regular and speed-skating rinks but make sure to bring your own skates. To get there, drive 10 miles south on Highway 95, then west two miles on Dufort Road. For more information contact the park at 208.263.3489.
Stanley Ice Rink, Stanley – You can't beat the spectacular views of the Sawtooth Mountains at this community rink! Located on a hilltop across from Pioneer Park and overlooking the town, this ice rink is open from dawn until 10:00 p.m. for skating under the lights. A popular spot for hockey and curling, skates are available to borrow, but remember to bring your own thermos of hot cocoa. Contact the Stanley Chamber of Commerce for more information at 208.774.3411 or 1.800.878.7950.
Kotler Ice Arena, Victor – At this beautiful outdoor, covered ice rink, skating while the sun sets over the Big Hole mountains is an experience you won't want to miss! Public open skating sessions are held on Fridays, Saturdays and Sundays. Skaters will enjoy the warming hut, skate rentals, pro-shop and concessions. The Kotler Ice Arena strives to open in mid-December each year but it depends on the weather. Call 208.399.2423 or check the arena schedule online.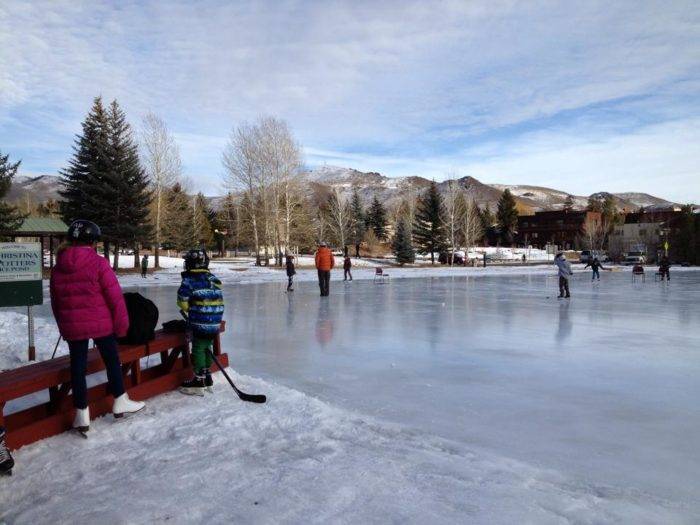 Christina Potters Outdoor Rink, Ketchum – This naturally frozen rink located in the shadow of Bald Mountain measuring almost two acres. The rink is located in Atkinson Park and is usually operational from December through mid-February, weather permitting. The park recreation center is open daily except on holidays, where skates, helmets, hockey sticks, pucks, goals, broom ball, and balance assists are all free for public use. Call 208.726.7820 for more information.
Sandpoint City Beach or Sand Creek below the Cedar Street Bridge, Sandpoint – Conditions permitting, these are great skating spots along the shore of Lake Pend Oreille. Contact the Sandpoint Chamber of Commerce for more information at 1.800.800.2106 or 208.263.2161.
Brush Lake Picnic Area and Smith Lake near Bonners Ferry and Robinson Lake Campground near Eastport are popular for ice skating. Bring your own skates, and contact the Panhandle National Forests Bonners Ferry Ranger District at 208.267.5561 to check road access and lake ice conditions.
Indoor Ice Skating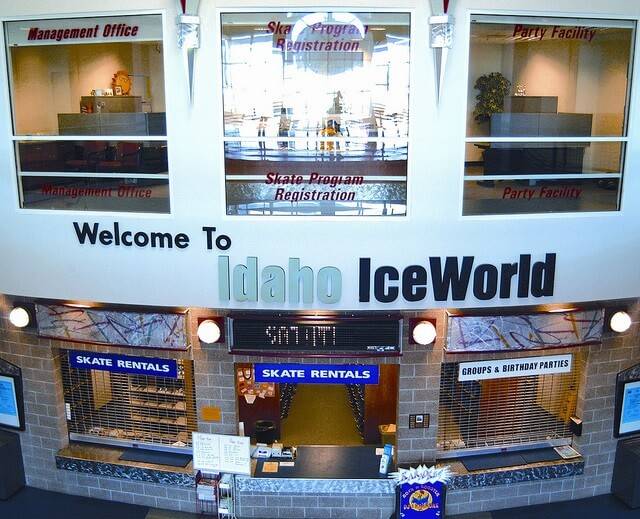 Idaho IceWorld, Boise – IceWorld has two regulation rinks, skate rentals, an arcade and sandwich and pizza restaurants. Large viewing windows let you keep an eye on the action while enjoying a snack (and keeping your toes warm). Public skate times are offered daily. Call 208.608.7716 for more information.
Manchester Ice & Events Centre, McCall – Located in the center of town, across the street from Payette Lake, the facility houses a regulation NHL sized hockey rink, grandstand seating and you can grab a snack at TJ's Cutting Edge Café. Manchester offers daily public skate times and rentals. Call 208.634.3570 for more information.
The Ice House, Hailey – Located in the beautiful Wood River Valley, The Ice House offers a great space for ice skating, ice hockey, and all around good times.
Joe Marmo/Wayne Lehto Ice Arena, Idaho Falls – Considered southeastern Idaho's premier ice facility, the arena has a regulation ice surface, rental shop, snack bar, and locker room facilities. Contact the rink 208.612.8367 or recreation center 208.612.8480 for more information.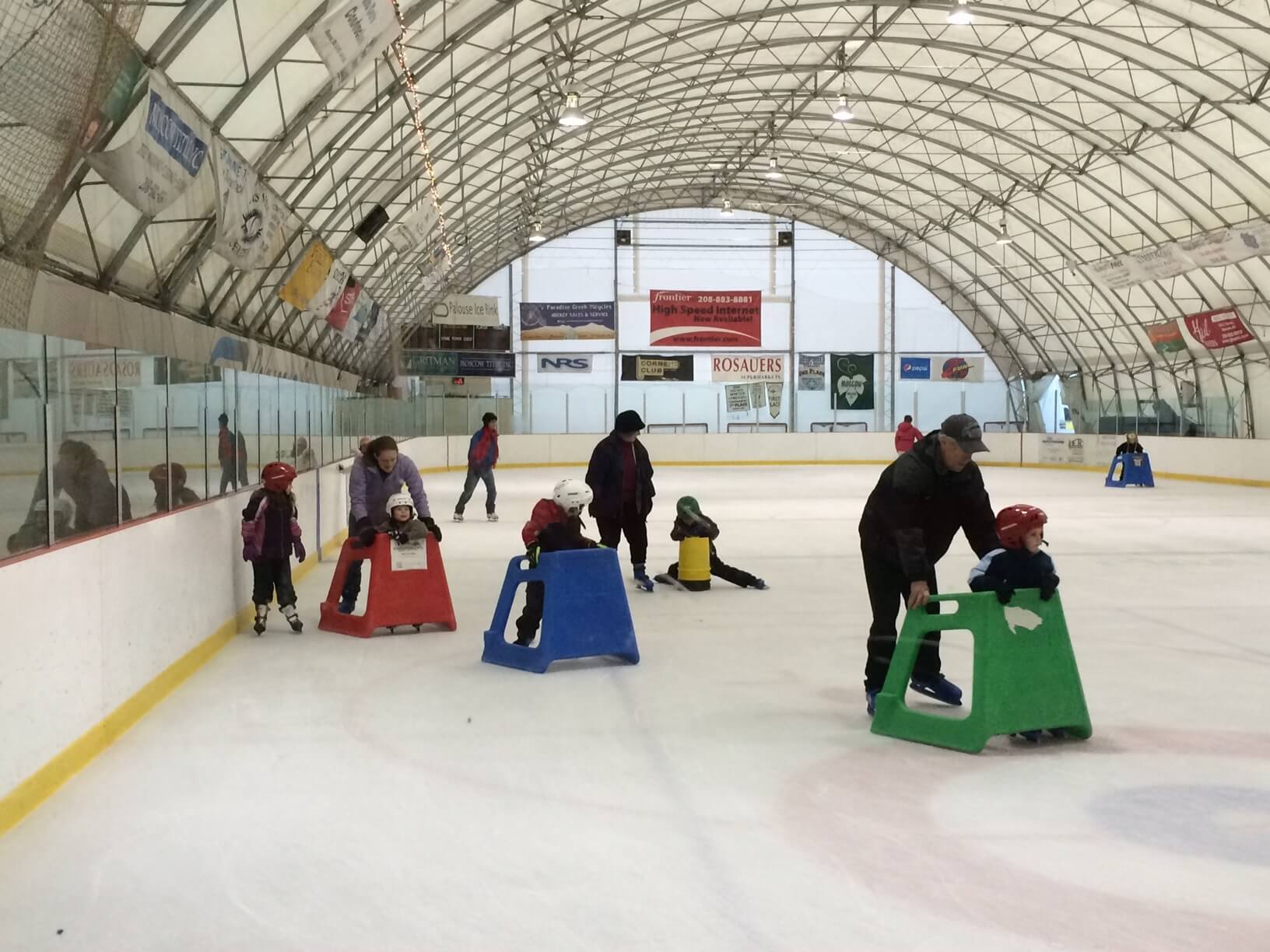 Palouse Ice Rink, Moscow – Home to hockey teams and figure skating clubs, the Palouse Ice Rink is open for ice skating October through early April. (The facility is used for roller skating from late April through mid September.) The three-quarter size ice sheet offers public skate times and rentals. Call the rink at 208.882.7188 for more information.
Frontier Ice Arena, Coeur d'Alene – This NHL sized rink is home to skating, hockey, curling, parties and hockey tournament play for people of all ages. Concessions are open during public skating and skate rentals are available. Call 208.765.4423 for more information.
LC Arena, Lewiston – The practice site for the Washington State University hockey team, the LC Arena offers public skating on most days with skate rental and concessions. Ice is open September through May. The space is used for roller skating June through August. Call 208.798.7845 for more information or check the online calendar.

Published on January 7, 2016