Melynda Harrison worked in partnership with Visit Idaho to create this Travel Tip.
Our family loves to downhill ski. We aren't those rippers you see on Instagram with the four-year-old zipping in and out of the trees. No, we are a family of so-so skiers who only get on the mountain 4-5 times a season, but we have a really great time when we do.
There are several smaller ski areas in Idaho that are perfect for families like mine, with both gentle and more challenging slopes, rental gear available, and lessons that help hone our skills and boost our confidence.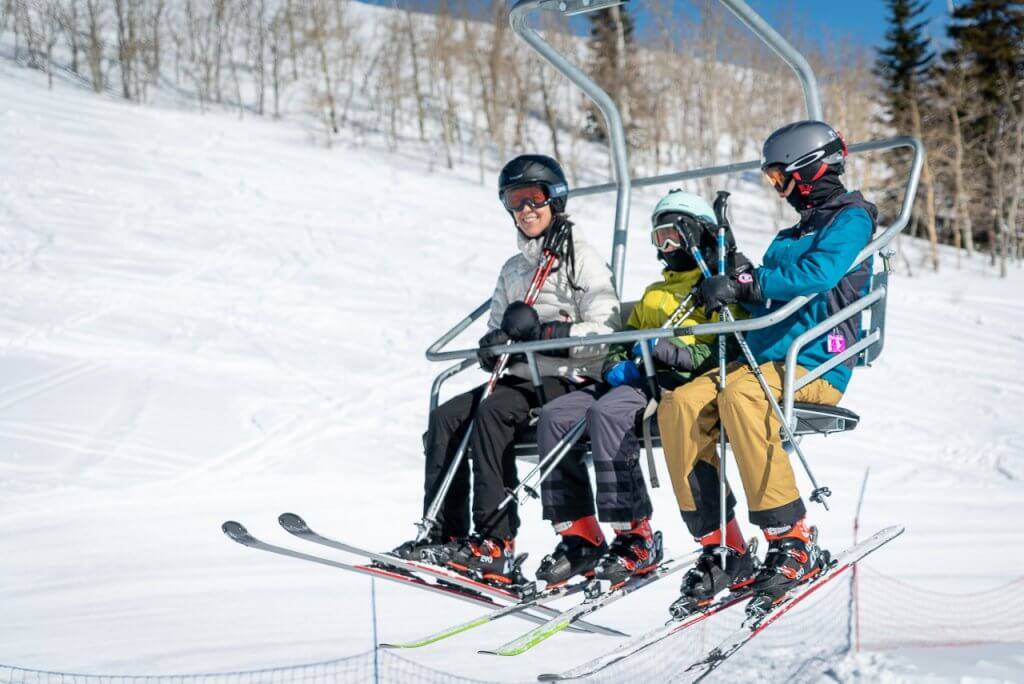 We look for alpine ski areas where we can not only enjoy the lodge, as Covid-19 restrictions allow, and hot chocolate, but other activities in addition to skiing. And we don't want to stand in long lift lines or have to fight crowds.
Below are a few of our favorite Idaho ski areas.
Pomerelle Mountain Resort
Tucked into the Albion Mountains in the Sawtooth National Forest, Pomerelle is a surprising delight. Just a few miles away the ground can be brown, but as you climb up Howell Canyon snow appears, and plenty of it.
Pomerelle receives some of the earliest snow of the season and often has more snow than other resorts in the area. But great snow is only one of the reasons we liked this area so much.
The slopes at Pomerelle are fairly gentle, wide, and well-groomed, which makes skiing easy for intermediate skiers like us. Even the black diamond (most difficult) runs weren't intimidating for our group and there are plenty of green slopes (easiest) for beginner skiers. As we zipped down the corduroy, we were surrounded by "ghost trees" – conifers covered in a thick layer of ice rime. They are gorgeous.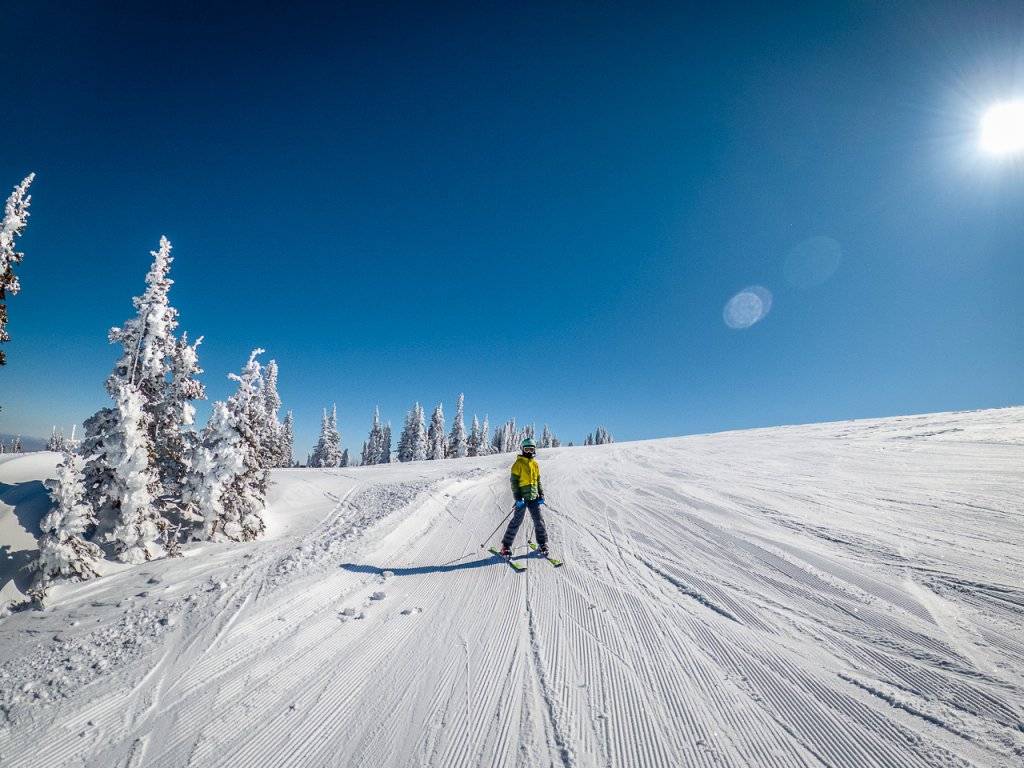 My 11- and 13-year-old boys took a lesson while I skied and my husband nursed an injury in the lodge. The kids came back with a few new skills and the confidence to try more challenging runs. Pomerelle hosts school groups most days and has ski lessons down to a science. While we can ski on our own, their lessons are a great opportunity to get better and get to know the mountain.
Beyond Skiing: We stayed in Twin Falls and hiked at Shoshone Falls State Park, soaked in Miracle Hot Springs, and sipped brews at two craft breweries.
Tip: Pomerelle sits at 8,000 feet and the road up there may be snow-covered. Be prepared for winter driving conditions with AWD or 4WD and snow tires.
Where to Stay: Pomerelle is about 75 miles from Twin Falls and 90 miles from Pocatello. We stayed in Twin Falls and took advantage of the amenities there. There are also several lodging options in Albion, 12 miles down the canyon.
Kelly Canyon Ski Resort
Another little ski resort we fell in love with is Kelly Canyon. Similar to Pomerelle, the day started with friendly people getting us geared up with skis, boots, poles, and helmets. Then we hopped on a lift and made our way down the hill.
The runs at Kelly Canyon are a nice mix of green, blue, and black. The runs are a little more challenging overall than Pomerelle, but there are enough options to keep any level skier interested.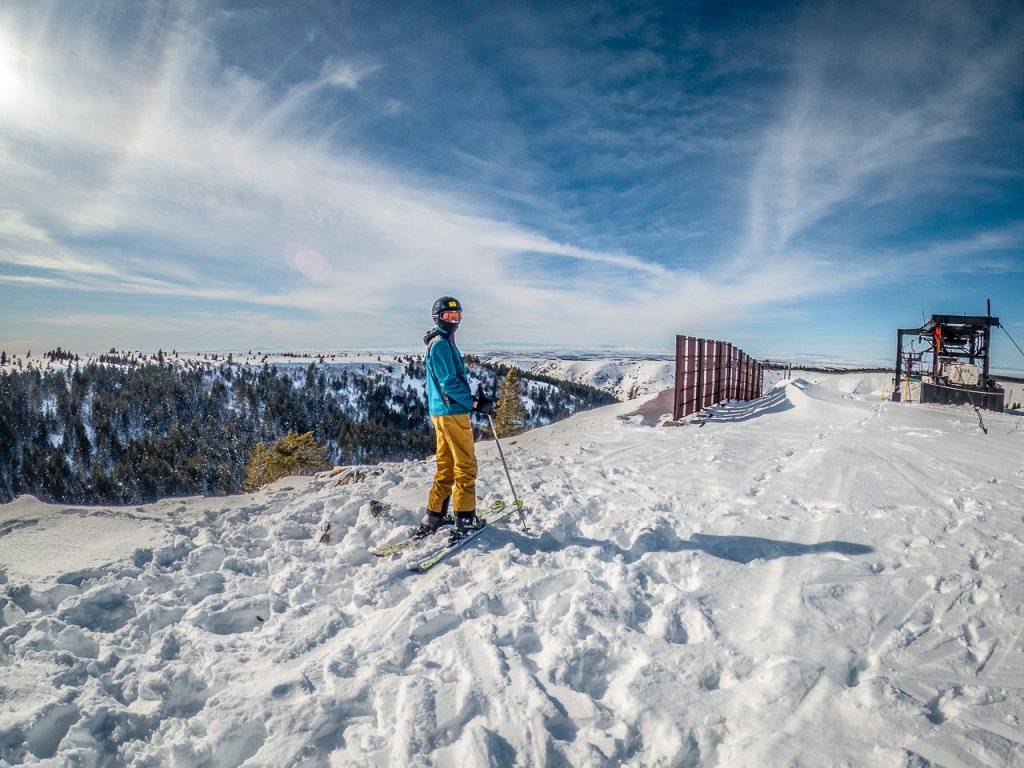 We saw several lessons taking place with enthusiastic ski instructors and would have joined in ourselves if the boys hadn't just taken a lesson.
Beyond Skiing: Kelly Canyon offers "Shred Trails" for Nordic skiing, snowshoeing, and fat biking. You can access the trails from the top of Lift 4 and ski, snowshoe, ride down, or start at the bottom and climb up. Fat bike rentals are available. Heise Hot Springs is nearby and open year-round for an aprés ski soak.
Tip: Check the opening hours before you go. Kelly Canyon doesn't open until 12:30 Monday-Thursday and is closed on Sundays.
Where to Stay: Kelly Canyon is close to Rexburg, Ririe, and Idaho Falls. All of those towns have multiple lodging options.
Brundage Mountain Resort
On the southwest side of the state, is Brundage Mountain, home of the "best snow in Idaho." With wide-open runs and powdery glades, we found a variety of skiing options…and the snow really is that good.
One of the things I love about smaller resorts is how friendly the people who work there are. Brundage is no exception. We skied blue and green runs, waving to lift operators and smiling widely.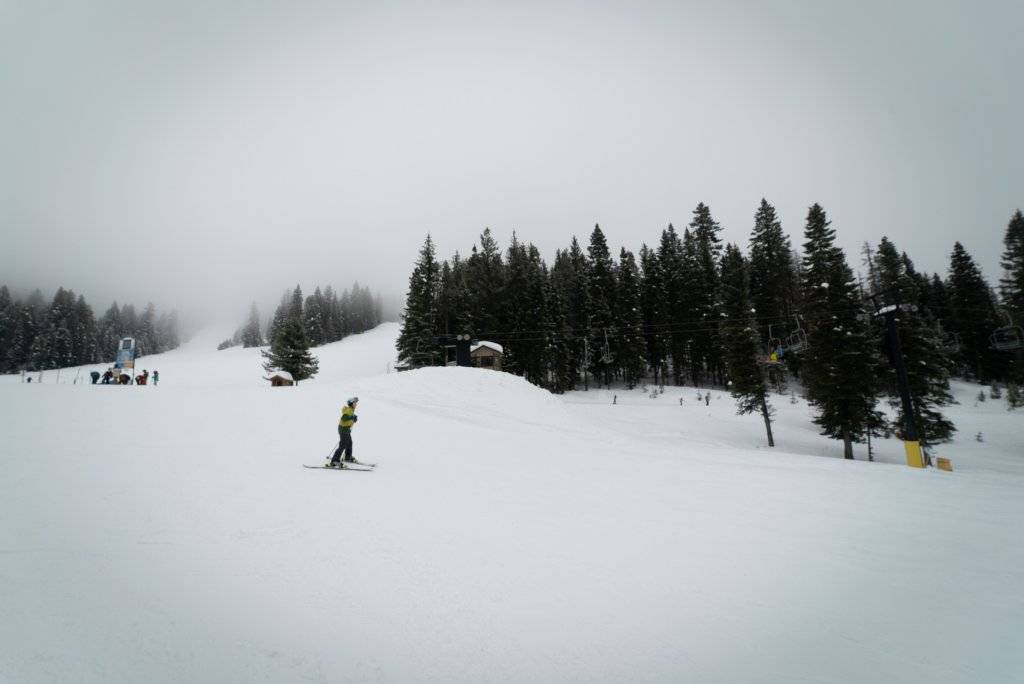 For brand new skiers and little kiddos, Brundage has the Easy Rider conveyor and Easy Street Triple chair. There are several programs and lesson options that make it affordable for families to learn to ski.
Beyond Skiing: There is so much to do in and around McCall. Choose from Nordic skiing and snowshoeing in Ponderosa State Park, Little Ski Hill's Bear Basin, and the McCall Activity Barn. If hot springs are your thing, soak at Trail Creek Hot Springs, Burgdorf Hot Springs, or Gold Fork Hot Springs. Tubing, fat biking, and a horse-drawn sleigh ride at the McCall Activity Barn round out some of the other adventure options. Downtown McCall has great restaurants and family-friendly breweries.
Tip: Plan to spend a few days in McCall to take advantage of the many available winter activities.
Where to Stay: The city of McCall has many lodging options and is a proper ski town.
---
Feature image credited to Melynda Harrison.
Melynda Harrison writes about travel and outdoor family adventure at TravelingMel.com, YellowstoneTrips.com, and for many local and regional publications. When she's not behind a laptop, you can find her cross-country skiing, hiking, or floating a river.

Published on January 26, 2021