Tara Morgan worked in partnership with Visit Idaho to create this Travel Tip.
In the midst of September harvest season—when Idaho farmers markets are overflowing with ripe heirloom tomatoes, swollen peppers and perfectly sweet, drip-down-your-arm peaches—it's difficult for restaurants not to source locally. But once winter settles in and local products dwindle down to the reliable trio of potatoes, onions and meat, it's more of a challenge for restaurants to keep their menus creative and local. But that's a challenge these five Idaho restaurants have gladly accepted. Here are five spots scattered across the state where you can feast on inventive farm-to-table fare throughout the year.
CK's Real Food, Hailey
Opened by Chef Chris Kastner in 2003, CK's Real Food serves up seasonal fare seven days a week in a homey restaurant on Hailey's Main Street. Though Kastner's menu rotates depending on what's fresh and local, recent dishes have included a local asparagus and backyard egg salad or a Waterwheel Gardens romano bean salad with Purple Sage arugula. CK's on-site garden supplies winter squash puree for CK's popular Lava Lake rack of lamb with local gaufrette potato.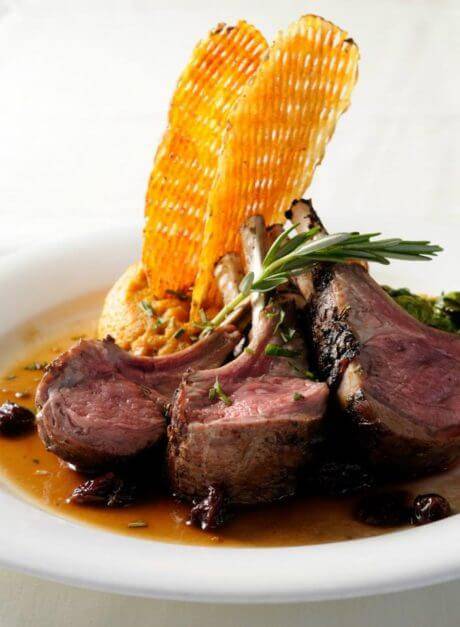 "The fresher things are, they taste way better," Kastner said. "Also, I like to keep our dollars in-state as much as possible, even in-county if I can, just because I think if you spend local it comes back to you."
And CK's takes sustainability a few steps further. The restaurant composts its veggie scraps, has a worm bin to fertilize its garden, puts up hundreds of quarts of pickles, utilizes rooftop solar panels and even donates its used cooking oil to the local science teacher for his bio-fuel car!
Nectar Restaurant and Wine Bar, Moscow
If Nectar's exposed brick walls, chalkboard signs and mismatched wood chairs don't properly communicate its farm-to-table focus, the menu certainly does. In addition to offering Idaho ruby red trout and local beef burgers, Chef and Co-owner Nikki Woodland also reserves a spot for a rotating seasonal salad made with "whatever we decide to put together from the market." A recent iteration included heirloom tomatoes, nectarines, feta, toasted almonds, fresh dill and mint. An early summer version came with asparagus, kale, bacon, green onions, marcona almonds, cured egg yolk and a seven-minute egg.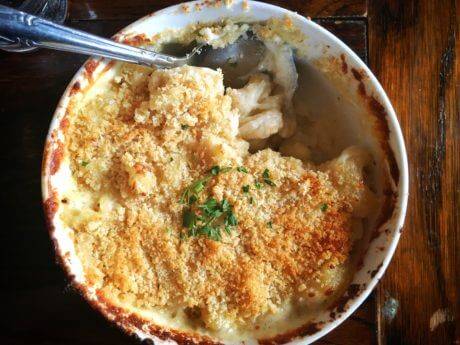 Another of Nectar's awesome local specialties: Cheese. From their bubbly macaroni and cheese made with Cougar Gold cheddar to their artisan cheese plate topped with fresh honeycomb, marinated labneh and blue cheese from Brush Creek Creamery in Deary, Nectar knows how to keep it creamy. Case in point? The insanely decadent ice cream Nectar sources from Ferdinand's Ice Cream Shoppe at Washington State University.
The Modern Hotel and Bar, Boise
The Modern—a former Travelodge turned boutique hotel with mid-century modern flourishes—serves some of Boise's best seasonally focused small plates. James Beard Award-nominated Chef Nate Whitley uses the hotel's tiny kitchen to churn out everything from smoked local brisket with grilled local stone fruit salad to Bolas Picantes, crispy tempura-fried balls stuffed with Purple Sage Farms lamb and Fiddler's Green Farm spicy tomato sauce, served with a swoop of Purple Sage tarragon aioli.
"I like sourcing local food, one, because it's good for the local economy and the products tend to be better," Whitley said. "Also, I think you subscribe to less of an industrial, agricultural mindset. I feel like local producers have better practices."
Another of Whitley's recent hyper-local creations is the Boudin Blanc, a buttery housemade sausage stuffed with Malheur River Meats pork and Vogel Farms chicken, served with confit Peaceful Belly potatoes and a Waterwheel Gardens cucumber and pear salad tossed in crème fraiche.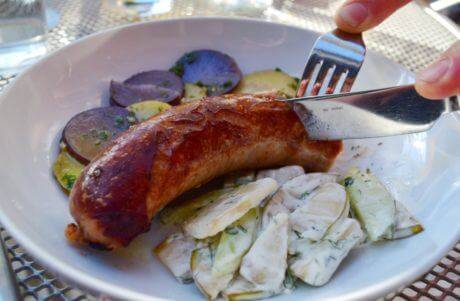 "It actually goes really well with beer, especially some of these wild beers that are on the menu," Whitley said.
Cheers to that!
Rupert's at Hotel McCall, McCall
Though it can be difficult to source locally in a mountain town that averages 11 feet of snowfall a year, Chef Gary Kucy of Rupert's at Hotel McCall is committed to the quest. In addition to offering local venison, honey from Jug Mountain Apiary and cheese from Ballard Family Dairy & Cheese, Rupert's also works with local food distributor Idaho's Bounty to source fresh produce in the summer months.
"It's kind of been a struggle, but this year they made it happen pretty regularly," Kucy said. "I'd say 50 to 60 percent of my produce is coming through them and some other local people."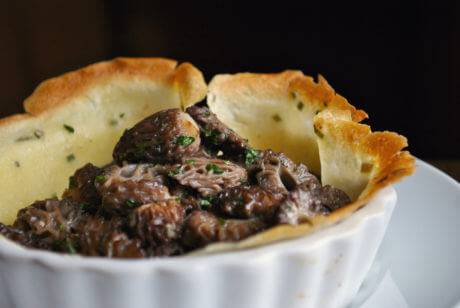 The mountains around McCall also provide ample foraging opportunities. Kucy regularly incorporates fresh huckleberries into dishes like pan-roasted duck breast with huckleberry sauce or local peach and huckleberry upside-down cake. He also utilizes locally foraged morel mushrooms in dishes like fresh morel crepes or oven-roasted Northwest ling cod with a sweet corn morel hash and a morel cream sauce.
"Sourcing local is important for our community and showcasing some of the things that these smaller producers do," Kucy said.
Colter's Creek Tasting Room and Restaurant, Juliaetta
Housed in a former pharmacy in the tiny, tree-lined town of Juliaetta, the Colter's Creek Tasting Room and Restaurant serves up locally sourced dishes to complement their locally made wines—everything from Riesling to Cab Franc. Early summer brings dishes like Marsanne grape leaves plucked fresh from the vineyard stuffed with locally raised Berkshire pork and Brush Creek Creamery feta, while late summer brings chevre-stuffed pumpkin flowers from the winery's nearby garden.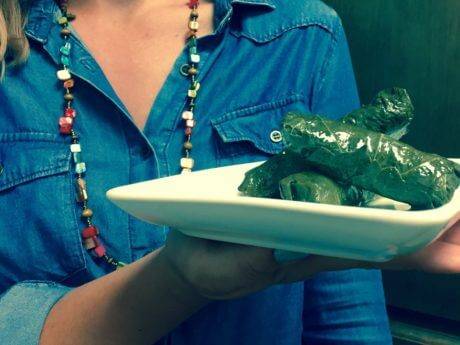 "We have a garden at our vineyard that we grow quite a bit of stuff from," Co-owner Melissa Sanborn said. "We're able to create a pretty hefty chunk of our menu in the summer months and early fall with that stuff."
In addition to growing their own herbs, tomatoes, squash, beets and potatoes, Colter's Creek also raises free-range chickens for eggs. And one of the winery's employees tends pigs, which are butchered at the University of Idaho in Moscow and used to make house-cured bacon for their juicy BLTs.
"We're a small business that really relies on local support so we understand the importance of it," Sanborn said. "That's one of the main reasons [to source locally], to support our local economy and our neighbor. The second is quality: The fresher the product the better."
Tara Morgan is a freelance food and booze writer. She's an editor at Edible Idaho Magazine, writes for publications like VIA Magazine and SIP Northwest and runs the website Boise Feed. She loves an epic dinner party, good design, bad puns and pretty much every French rosé ever made.

Published on September 29, 2016