Megan Zink worked in partnership with Visit Idaho to create this Travel Tip.
In this series, I sit down with three Idaho women winemakers and learn how they're making it work. We'll explore how they fell in love with wine, the obstacles they've overcome and lessons winemaking has taught them about life. Oh – and of course, their favorite wine, so you can try it too!
The Winemaker: Melanie Krause
The Winery: Cinder Wines | 107 East 44th Street, Garden City, ID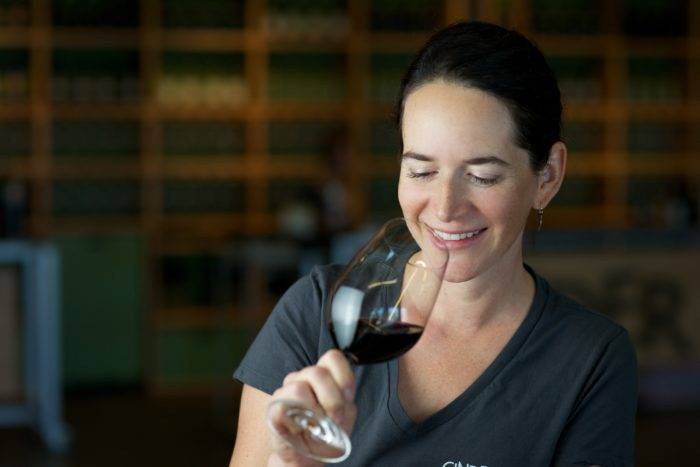 Melanie Krause grew up in Boise, Idaho, tending to her hobby gardener parents' backyard sanctuary (and making her first wine at eight years old!). She worked in a greenhouse in high school and the love of science led her to dabble in genetics and medicine. She realized medicine wasn't quite the path for her due to the fact that she didn't like being around hospitals or doctor's offices. Toward the end of school, she returned to the agriculture side once again, through a wheat genetics and breeding program at Washington State. By then, she'd been able to rule out a number of careers that weren't necessarily for her, but still wasn't sure what she wanted to do.
I had the opportunity to speak with Melanie to learn about her fascinating and trailblazing journey, the unique challenges she's had to overcome as a winemaker in Idaho (and how they actually help create much better wine) and her love of wine 'myth busting'.
Megan: So can you tell us a little bit about how you got to into wine?
Melanie: By then I'd worked 10 different miscellaneous jobs and eliminated other things as well, like being a maid in a hotel, or a worker in the grocery store. My boyfriend at the time, Joe, who's now my husband and business partner, followed a job to Umatilla, Oregon – which is just kind of a dusty farm town. I realized, 'oh wait a second, he's only living 30 minutes south of the Washington wine industry.'
And when he moved to that area, it was just an instant understanding – a light bulb going off in my head, a complete epiphany – that here was a way I could use agriculture, my love of grapes and my parents' backyard, my science degree, my Spanish degree – that they would sort of all fit together. I didn't have a job yet, but from that moment, that realization, I knew that that's what I would do.
I worked on the vineyard side for two years for Chateau St. Michelle's parent company, St. Michelle Wine Estates, doing quality control-type jobs gathering data like cluster counts, bug counts and soil moisture. I got to learn lots of different things in different situations, which has been critical in helping me work with my growers here in Idaho. I've worked with a really wide range – from very professional growers to total startup vineyards and everything in between. That was the key to our success here at Cinder, those two years I spent on the viticulture side of the business. I worked for the next almost four years in winemaking for Chateau St. Michelle, learning all the winemaking skills on the job. Of course, Chateau St. Michelle is a huge company and they hire really great staff, so I was able to work with people who were just totally experienced and professional and awesome at their jobs in every level of the organization.
At that point Joe and I were thinking about getting married and considering where to live; we were eyeballing Boise because it was my hometown. In 2006 we actually made the move – he worked as a chemist and was able to keep a roof over our heads for the first couple years while I wrote a business plan, got loans and started making our first couple vintages. By the third year it was just too much wine to both make and sell, so Joe left his job and we were 100% in. He's the inspired one – he just kept pushing me when I was still working for St. Michelle – I never would have done that if he hadn't been the one saying, 'let's write a business plan.' It's a partnership.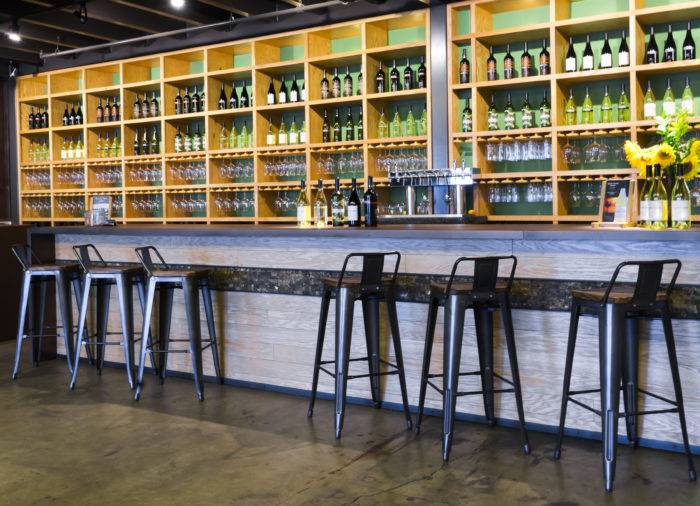 Megan: What was or has been one of the biggest challenges or obstacles you feel you've overcome through the process?
Melanie: The smallness – not in a bad way – but the immaturity of the Idaho wine industry, because it was so small when I got here. There is still virtually no support in terms of the supply chain. If you wanted to start a small winery in Walla Walla or down in the big growing regions of California, you wouldn't dream of buying your own bottling line; you could just hire a bottling truck and bottle all the wines you could possibly make in a year, in one week. We have to be really self-reliant in terms of all the technical aspects of winemaking, like owning our own bottling line, knowing how to do all of our own filtration – all of these services you can just hire out in other places, you can't hire out here. You literally have to be an expert in all aspects of winemaking to be successful.
Megan: Do you have any tips for balancing this particular profession with having a family? Or have you learned any lessons from it, or vice versa?
Melanie: It's very seasonal. We have some flexibility because we own the company and we can bring our kids into the workplace. But the work, during certain times of year (specifically September and October), everybody works. The whole winemaking team, we all work 6 days a week with one day off for two months. So it's really, really hard to have a family in those circumstances. But then the rest of the year, things chill out a little bit, we definitely have more flexibility.
I'm sure you're really time-efficient now!
Melanie: The funny thing about being old and wise is that you just have so many more questions and so many less answers than you did when you were young.
That's very interesting – can you expand on that?
I always laugh about this with my growers – 15 years ago I thought I had so many answers about winemaking and styles. One of the things we do at Cinder is to take a variety and really explore it for a few years in a row with experimentation and checking all of these winemaker myths. We'll take a variety like Chardonnay and test every different winemaking method that we know is used on them. And then we'll taste them blind to see whether or not we really like the style. And so through all the years of doing this and being curious in my career, if someone asks me a question, my answer is so much more a hem and a haw than it would have been 15 years ago.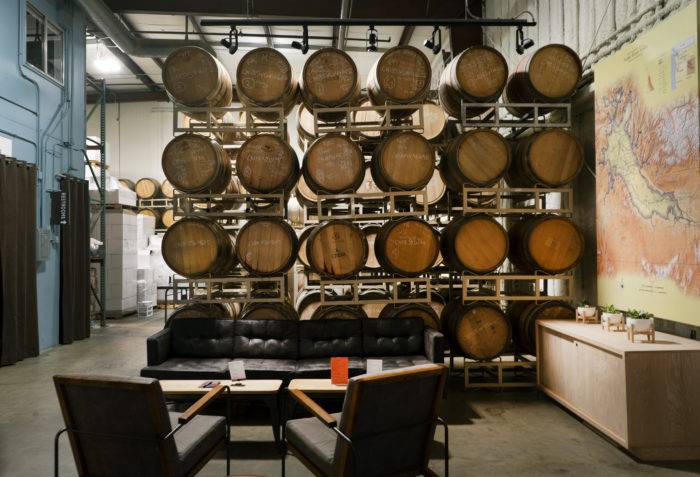 Megan: Regarding wines from Cinder – what's your favorite wine? Anything people should look for specifically?
Melanie: If people were going to order our wine and have it shipped to them, for a quintessential Cinder experience, I would recommend ordering my Viognier and my Syrah. Chill the Viognier and start drinking it as you start your cooking – it's such a great wine to appreciate all on its own; it's really a complete wine in and of itself. So sip that as you're cooking your meal, and then at some point into your meal or afterward, switch over to the Syrah – almost an after-dinner dessert course. The Syrah is just packed with fruit – it's so rich, but also so silky. You don't have to have steak with it – it will certainly hold up to one – and it will be an amazing pairing with meat. But you can just drink it all on its own. It's like a meal in a glass.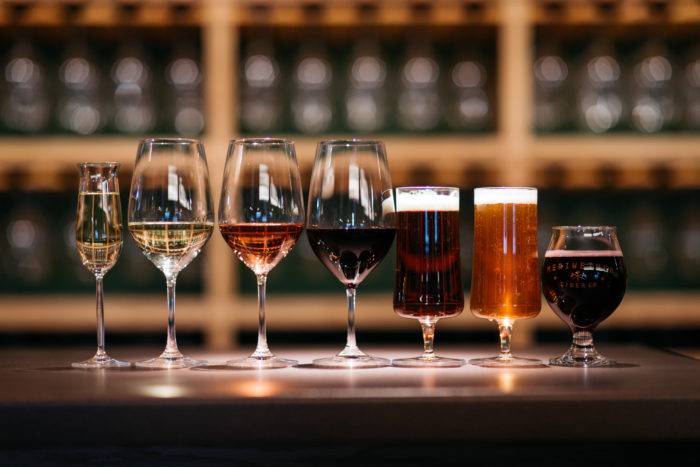 More About Cinder Wines
Cinder Wines was founded in 2006 by Melanie Krause along with her husband Joe and focuses on the Snake River Valley AVA. The name Cinder was born out of a few parameters – they wanted it to be easy to pronounce and have something to do with the project they were starting (especially with 85% of their grapes coming from the Snake River Valley AVA). Boise and the surrounding area 1) are situated over an area that was once active with volcanic eruptions and 2) used to be covered by the massive ancient Lake Idaho – so when the eruptions would come up and hit the water, the lava would shatter, cool and fall down into cinder clumps – a poignant characteristic of the area's soil today.
Their tasting room is located in Garden City (currently offering a drive-through window and typically daily tastings, events and other types of gatherings). For more information, you can visit their website at www.cinderwines.com, or follow them on Instagram and Facebook. Depending on where you live, you can also sign up for their wine club/delivery or purchase wine or gifts here!
Learn more about Idaho's women winemakers by reading up on Lesile Preston of Coiled Wines and Carrie Sullivan of Telaya Wine Co.
*This interview has been edited for clarity and brevity.
Feature image credited to Cinder Wines.
Megan Zink is a photographer, writer and strategist passionate about storytelling, visual communication and exploration. In addition to developing guides for her travel journalism website, Moderately Excited, she works as a content marketing manager for a software company in Chicago. Megan recently also founded a media platform called Color & Curiosity, focusing on interviews and stories of women in tech and creative fields in support of ongoing education and discovery. Occasionally she teaches photography workshops for charity and educational programming and speaks at marketing and travel events to put that Second City training to good use.

Published on June 18, 2020