Local Freshies worked in partnership with Visit Idaho to create this Travel Tip.
The thirst for fresh snow is like the modern equivalent of a gold rush. People are flocking into the backcountry at the fastest pace in history. It's exciting to see all the new enthusiasts wanting to try the sport, but there are a few things you need to be aware of before stepping past the ski resort boundaries to try backcountry skiing.
There is Always Risk Involved
Before we jump into the first timer's basics for backcountry skiing, here's a bit of information about ourselves. We've been adventuring into the backcountry for over five seasons and don't consider ourselves experts. Rather we're lifelong students continuing to learn. We've earned our AIARE 1, Avalanche Rescue, and AIARE 2 course certifications and spend about a quarter of our days backcountry skiing or splitboarding. Avalanches are an obvious concern, but there are other inherent risks when in the wilderness you need to be prepared for. We had a rude wake-up call on our 1st backcountry tour when someone broke their leg. We learned from that experience and made sure we were better prepared moving forward.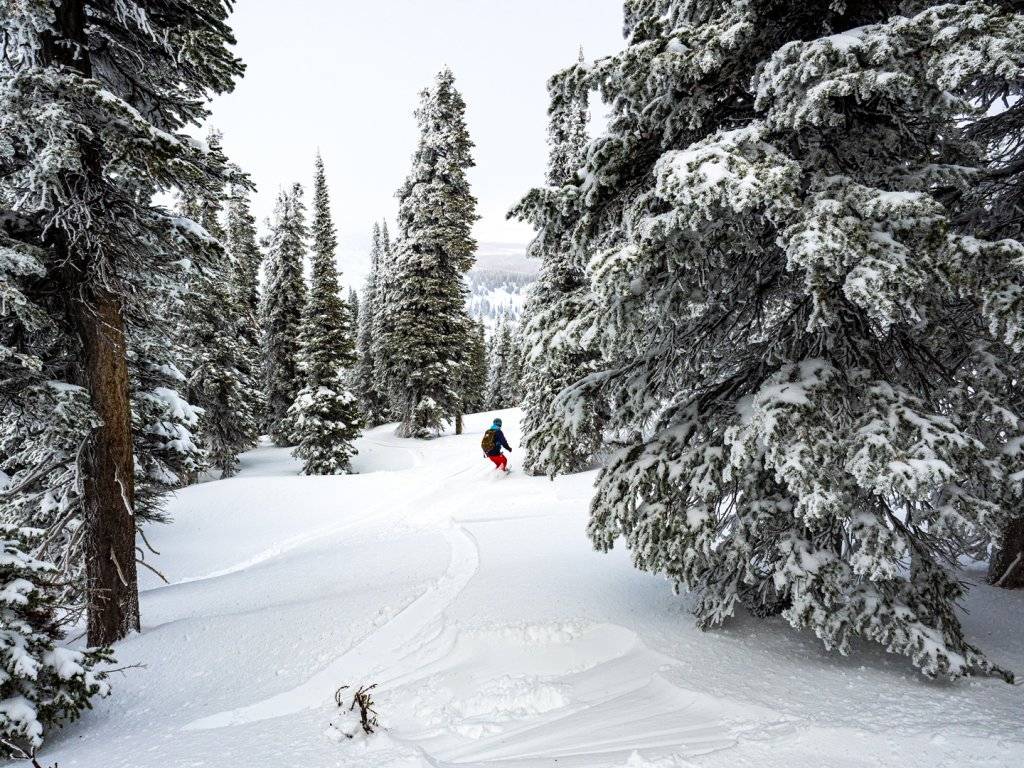 Have The Gear
Once you understand that you and only you are responsible for your safety, the next big step is getting the required gear. To do it the right way, be prepared for some substantial costs.
The basics include:
Avalanche Beacon / Transceiver
This is what sends out a signal that can be received by other transceivers if you got caught in an avalanche. There are A LOT of transceivers on the market, some with bells and whistles such as finding multiple burials and tagging them. We personally use a BCA Tracker 2 since our friends and backcountry mentors use these as well. If a device is too complex to work effectively during times of crisis, it isn't the right choice. Choose wisely.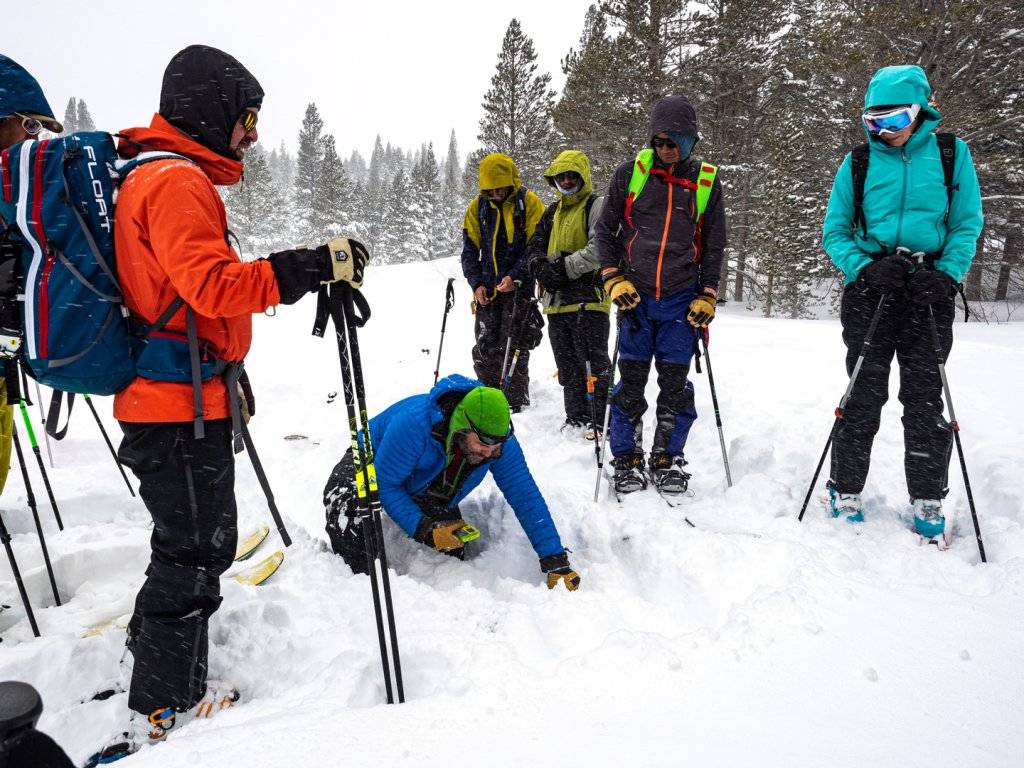 Shovel
DO NOT GO WITH PLASTIC. Make sure you have a real backcountry shovel. In the average avalanche burial, you'll have to move over a ton of snow, and it's as hard as concrete.
Probe
A probe is a collapsible pole you push down through the snow to pinpoint the location of the buried party. This is another piece of equipment that should be metal, durable, and long enough for the Idaho snowpack.
Backpack
After the beacon, shovel, and probe, the avalanche backpack is considered by many the next piece of equipment backcountry travelers should have. Along with the normal storage space, it may also contain a balloon (or airbag) that inflates at the pull of a cord. Even if you don't get an avalanche airbag backpack, get a backcountry specific pack that has special compartments designed to hold your shovel, probe, and keep all your other gear organized.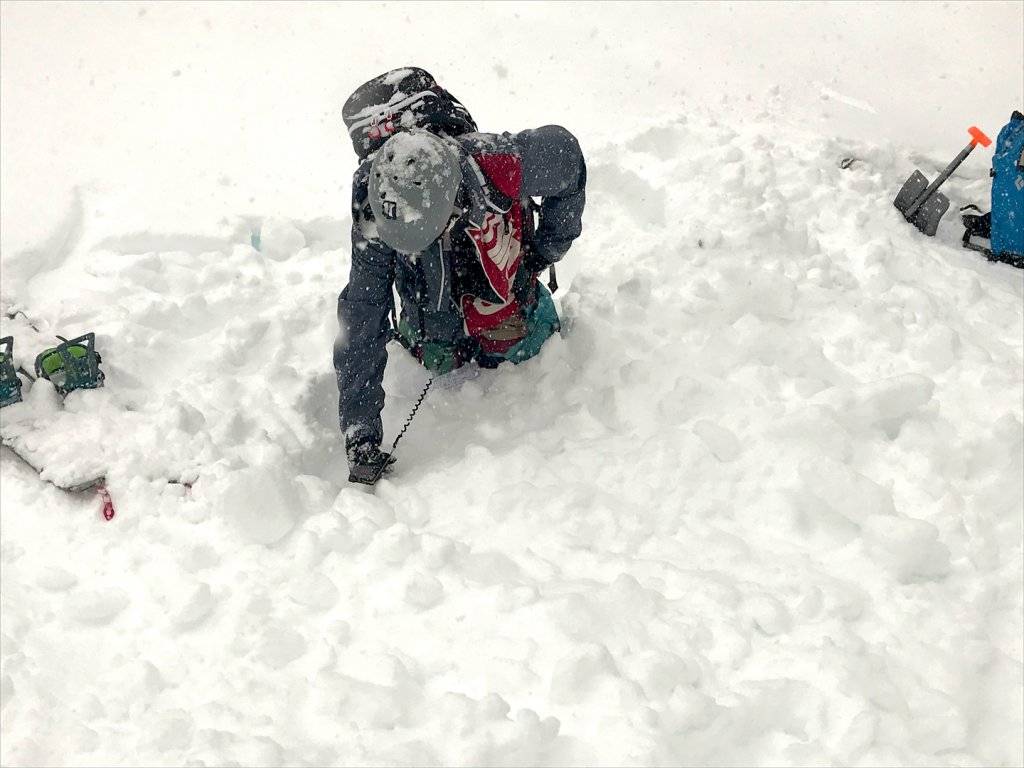 Once you do get the gear, your first crisis should NOT be when you learn how to use your tools: transceiver, probe, and shovel. Practice is important. In addition to these specific items, all backcountry enthusiasts from snowshoers to snowmobilers and everyone in between should also carry a First Aid Kit and tools to fix any gear malfunctions.
Skiers / Snowboarders
Climbing Skins
If you're going human powered to climb mountains, climbing skins are the way to go. They attach to the bottom of a splitboard or skis so you can climb up slopes as steep as thirty degrees or more and not slide down.
Bindings
Splitboarders and downhill skiers need a specific pair of bindings that switch between climb mode and ski mode. For skiers, the heel will detach so you can shuffle your way up the mountain. For Splitboarders, the snowboard converts into skis and the bindings reattach like they would for a skier.
Poles
Splitboarders specifically will need a pair of collapsible poles that can be used for the climb and then put in (or on) your backpack when snowboarding down.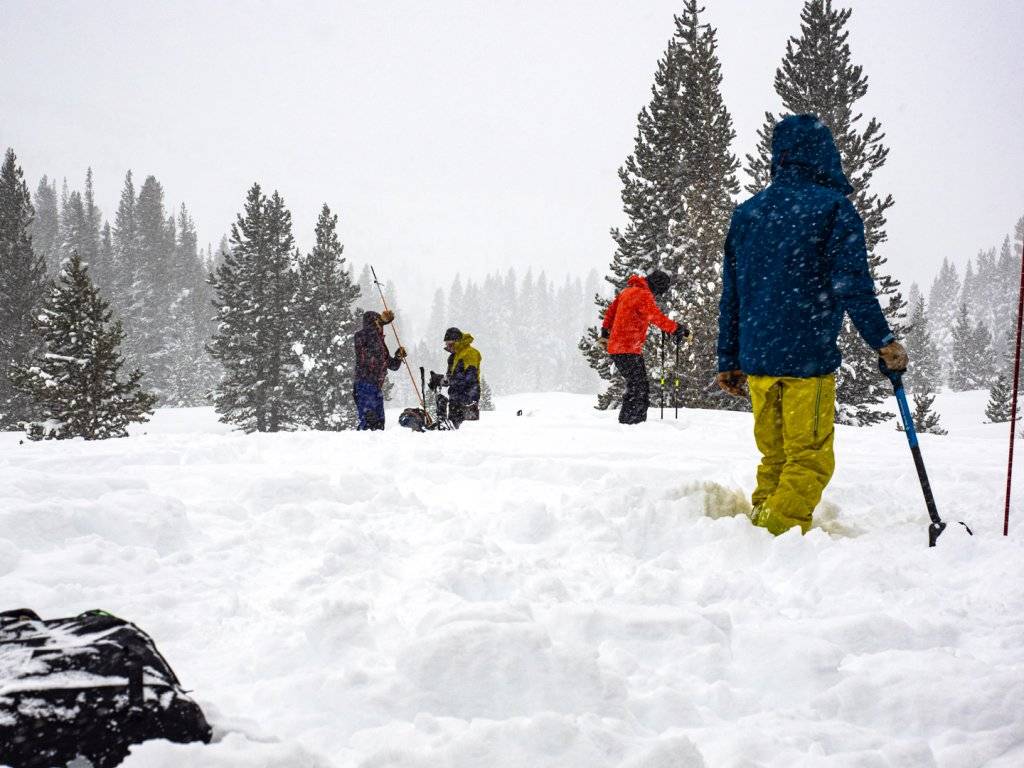 Avalanche Education Is Key
While you should know how to use these tools, it's even more important to make sure you know where it is safe to venture and that the snow you plan to ride is safe. Avalanche Education is key in learning to read the mountain and the snowpack.
AIARE Is The Gold Standard
When it comes to backcountry education, the gold standard in the United States is A.I.A.R.E. Short and sweet, it stands for American Institute for Avalanche Research and Education. Think of them as the equivalent of the American Medical Association but focused on avalanche safety. There are many locations that provide certifications, from ski resorts to community colleges to private outfits, and each and every one of them provides something special or unique. To find one close to you, visit the AIARE public course list.
Get The Forecast
Now that you're focused on backcountry education and have the gear, the next most important task is to read and understand the avalanche forecast before stepping outside. Throughout the ski season, once the first snow falls, most local avalanche centers put out a daily report on the risk and what avalanche problems you'll find. This will help you determine a location to ski or wisely call it a day and wait for conditions to improve. In Idaho, there are three major avalanche centers: Idaho Panhandle Avalanche Center, Payette Avalanche Center, and Sawtooth Avalanche Center.
For a full view of all the avalanche centers across the nation, visit Avalanche.org.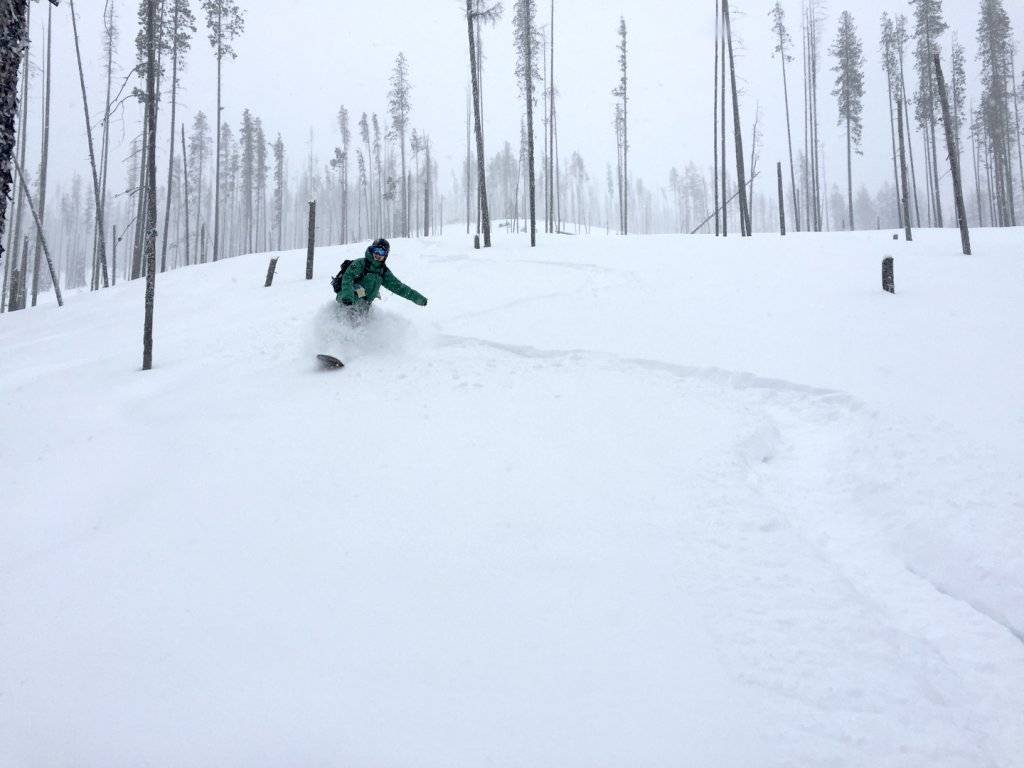 Where To Go For Your First Backcountry Tour
Benjamin Franklin once said, "It is easier to prevent bad habits than to break them," and this is VERY true with backcountry skiing. A good idea for your first adventure is to go on a backcountry tour with professional guides such as Sawtooth Mountain Guides in central Idaho or Selkirk Powder in northern Idaho. A guided trip will give you an opportunity to get a taste of what backcountry skiing is like, ask questions, learn from experts, and create good habits for future adventures.
A Gentle Introduction
When you're ready to begin exploring the backcountry on your own we've found the slopes across the road from Lookout Pass Ski and Recreation Area are a wonderful starting point. Instead of attempting to engineer a zigzag skin track up the mountain, you can use the defunct rail grade to slowly ascend to the summit. Is it steep 'n deep? No, but that's not the point. It's about getting yourself acquainted with the sport and terrain, and lowering the risk.
Note: This area is also accessible by snowmobilers. Be sure to stay on the side of the trail if you're there on a busy day.
Directions: From Wallace, take I-90 east to Exit 0 Lookout Pass. Instead of turning right to the ski resort, make a left and cross the expressway. You'll find plowed parking on the other side where you'll start skinning.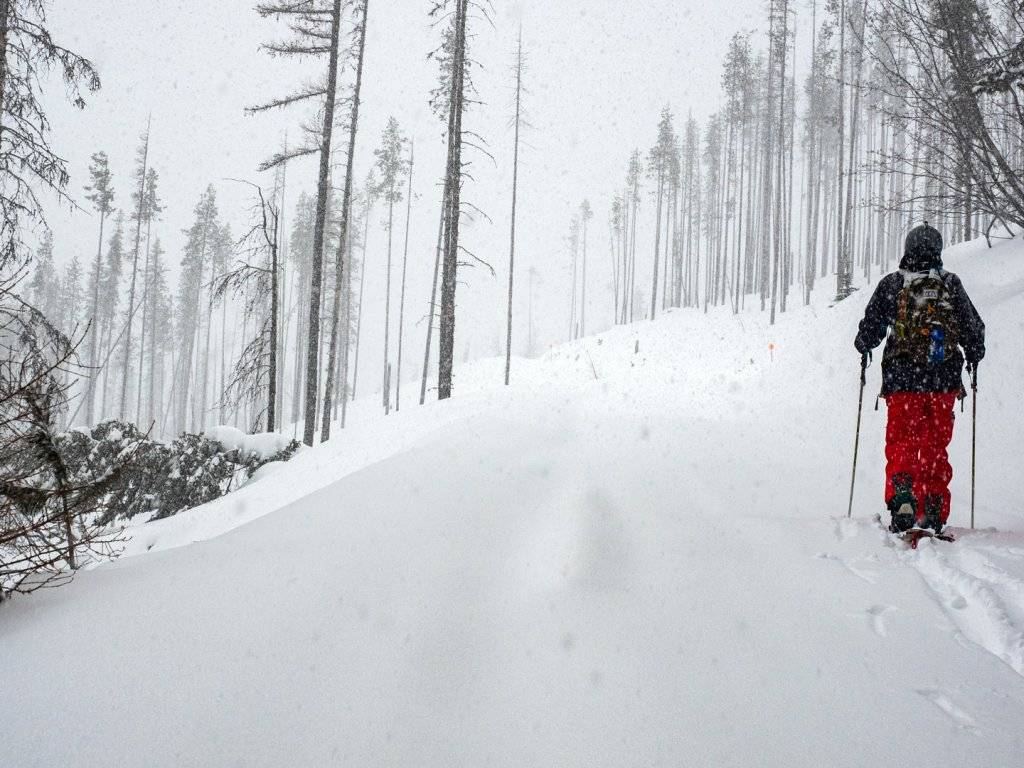 Making the decision to try backcountry skiing for the first time shouldn't be taken lightly. If you truly want to try it, be sure you do it properly. This article NOT a replacement for an avalanche course, but a first timer's guide on making sure you understand what's involved and what steps to take BEFORE you head into the backcountry.
Feature image credited to Local Freshies.​​​​​​​ ​​​​​​​​​​​​​​​​​​​​​
Local Freshies® is a mountain-based crew that loves snow, the outdoors, and the funky local communities that thrive around every ski area. We focus on local eats, drinks, and activities to help give you a taste of what each of these mountain town gems has to offer. Our mission is for everyone who visits the mountains and their communities to experience the true local vibe that makes each one so unique.​​​​​​​

Published on January 14, 2021