This is a sponsored post.
As we sipped tea and ate oatmeal, my friend Heather and I looked through the round skylight in the yurt we rented for three nights in Harriman State Park. Snow fell lightly through the trees and onto the Plexiglas before sliding down the sides and onto the ground. The wood stove crackled in the background and we discussed where we wanted to cross-country ski in the coming days.
The night before, the round window was filled with stars in an inky sky. From our cozy beds, we could see the Pleiades or Seven Sisters. The yurt, named Cygnet, was serving as winter getaway with many of the comforts of home.
If you've never visited a yurt, it's a circular tent with a collapsible framework, used by nomads in Mongolia, Siberia, and Turkey. Since they shed snow and warm up quickly with a wood stove, yurts are ideal for winter camping. Harriman State Park has two rental yurts and a third one used as a warming hut. While traditional yurts are made of skins or felt, these yurts are canvas with an insulation layer.
Staying in a yurt is really more glamping than camping. Both of Harriman's yurts sleep six on two bunk beds (a double bed on the bottom and single on top). A picnic table with benches and a couple extra chairs provides a place for meals or games, and a propane stove is supplied for cooking. Between the two yurts there is an outhouse and a woodshed to chop logs for the stove.
While the yurt is an adventure in itself, the real reason Heather and I wanted to meet in Harriman was to ski. From the front door, we had access to more than 25 miles of groomed trails. Various trails are groomed for classic cross-country skiing, skate skiing, snowshoeing, and fat biking.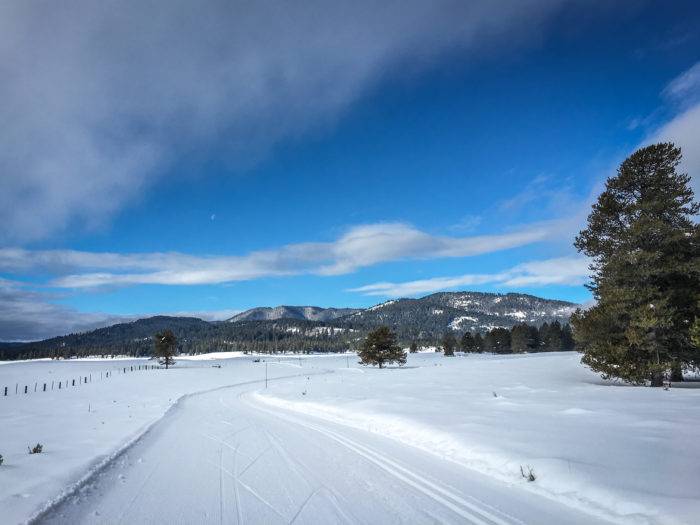 I woke up early the first morning for a pre-breakfast ski around the Big Bend Loop. Following the Henry's Fork part of the way, I watched Trumpeter Swans paddle around the river and occasionally take flight, honking loudly. A coyote trotted across the crust of the snow, pausing occasionally to keep an eye on me. As I climbed a hill and gained a view, I saw another coyote join the first and they scampered off together. On clear days, the Teton Mountain Range rises from the plains and provides a stunning backdrop, but on this day, clouds obscured the view and created a mysterious feeling.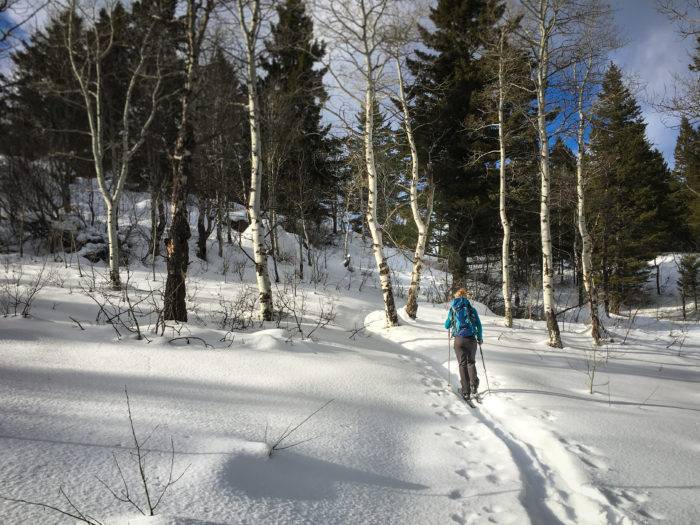 I skied back to our yurt passing by a grouping of ranch houses. The Union Pacific Railroad owned what is now Harriman State Park from 1902 to 1977. Then it became a cattle ranch and private retreat for the Harriman and Guggenheim families. Now it's open to everyone. You can even stay in some of the ranch houses and the larger dorm-style buildings. Last fall, my family joined 34 friends in the Railroad Ranch Dormitory and Dining Hall. Instead of skiing the trail system, we rode mountain bikes and hiked.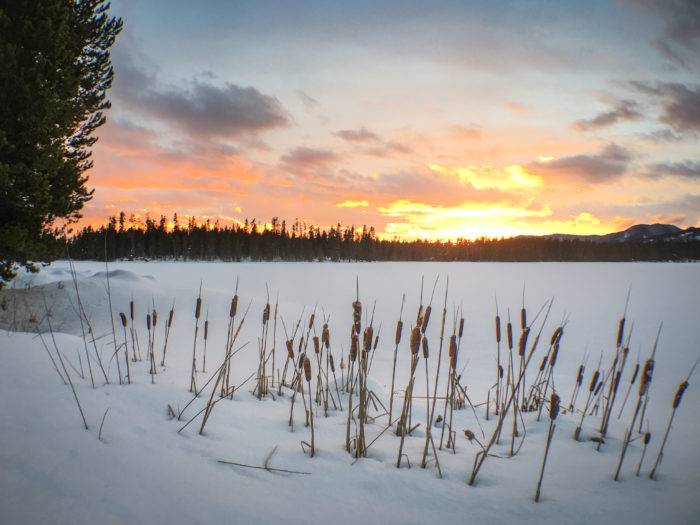 The Harriman yurt also served as an Island Park basecamp. One day, we drove north to Ponds Lodge and skied the Buffalo-Brimstone trails, which connect with the Harriman trails. Another day, we drove through Ashton to the Bear Gulch trailhead and skied to Mesa Falls. The ski trail winds along the dramatic canyon and provide views of both Lower Mesa Falls and Upper Mesa Falls. In summer, the falls are easily accessed via cars along the Mesa Falls Scenic Byway, but in winter you have to ski, snowshoe or snowmobile to see them. And if you go midweek, you're likely to see them alone.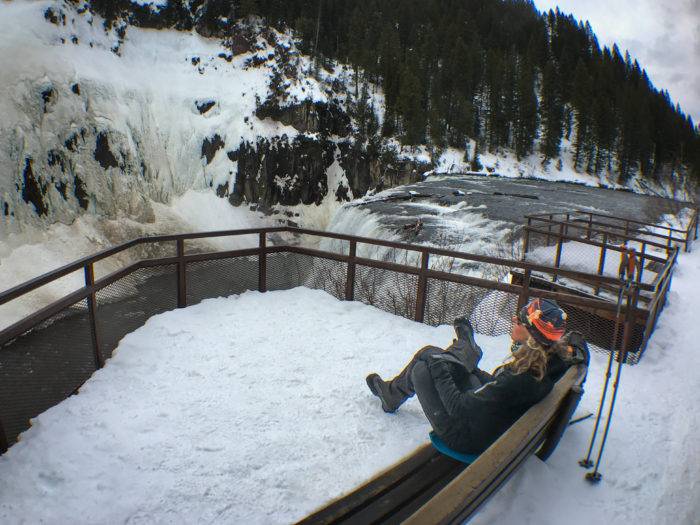 On the way back to Harriman State Park we stopped at Frostop Drive-in beneath the rotating root beer mug for fried delights, even though we had the ingredients for a healthy dinner back at the yurt.
Each night at the yurt, Heather and I pulled our chairs next to the wood stove and read while intermittently chatting with each other. The snow fell outside and the wind blew, but we were safe and warm. We poured ourselves hot beverages and toasted to friendship and winter outings.
For the Harriman State Park yurts, I recommend bringing the following.
Kitchenware and eating utensils
Water container for hauling water from pump into yurt
Dish soap, sponge, dish towel
Food and (non-water) drinks
Propane for the stove and lantern
Bed sheet and comforter or sleeping bag, pillow
Hatchet (a big ax is available, but we wanted something smaller to cut kindling)
Wipes or hand sanitizer
Headlamp
Extra battery for phone
Books
Nordic skis, snowshoes, fat bike
Ski clothes, sleepwear, slippers or "yurt shoes"
Toiletries
Sled (We were able to park right next to the yurt, but when there is more snow you will have to park farther away and tow your gear to the yurt)
Melynda Harrison writes about travel and outdoor family adventure at TravelingMel.com, YellowstoneTrips.com, and for many local and regional publications. When she's not behind a laptop, you can find her cross-country skiing, hiking, or floating a river.

Published on March 1, 2018