This is a sponsored post.
I hooked up with two locals from Pocatello in May, and we pedaled up a narrow singletrack trail from the Gibson Jack parking lot into a lush landscape — beautiful tall grass waving in the stiff breeze, a variety of yellow, red and purple wildflowers, tall shrubs and an occasional pine tree.
Our goal was to ride our mountain bikes from Gibson Jack over to the ever-popular City Creek Trails via the newly built Sterling Justice Trail, a 12-mile ride with about 1,500 feet of vertical gain.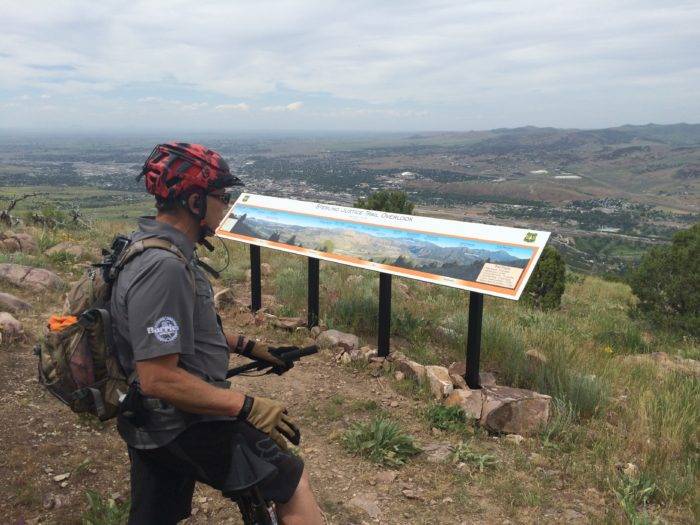 Sterling Justice — what a cool name for a skyline trail that cuts like a ribbon across the mountains above the city, climbing steadily to an overlook, and then plunging into Kusick Creek, which was brimming with plant life and birds as well. Sterling Justice was Pocatello's first forest ranger in the early 1900s.
The trail was built over five years by local bikers, hikers and horseback riders, all of whom contributed 5,000+ hours of labor. Corey Wight, owner of the Sand Trap Restaurant and Bar, and Ed Gigli, a retired state policeman, were among the volunteers. They used a Facebook page to recruit volunteers, and people came out of the woodwork to help.
"The trail was built with 95% volunteer labor," Wight says. "It's a great gem here in our backyard."
At the summit of the ride, we came to a beautifully designed color photo panorama interpretive panel of the City of Pocatello and the surrounding mountains. "From the overlook you can see the Sawtooths, Pebble Creek (ski area), and on clear days, you can see all the way to Sun Valley," Wight says.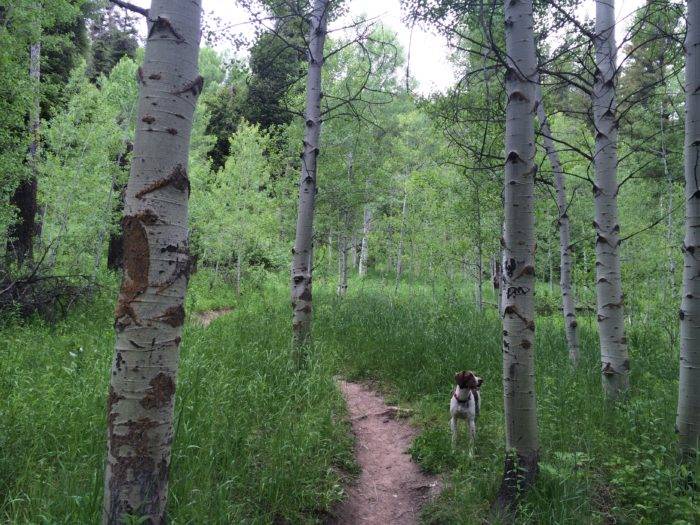 I've known for many years that Pocatello has a great network of mountain biking trails. I included five of them in Mountain Biking Idaho (Falcon Press), first published in 1997.
But the locals are making things even better! The Pocatello trails attract people in the know from the Eastern Idaho region, but many folks from the nearby Wasatch Front, the Wood River Valley and Boise — much less the Rocky Mountain West and Pacific Northwest — have no idea how deep and wonderful the riding is around Pocatello. It's all super convenient and easily accessible from the edge of the city.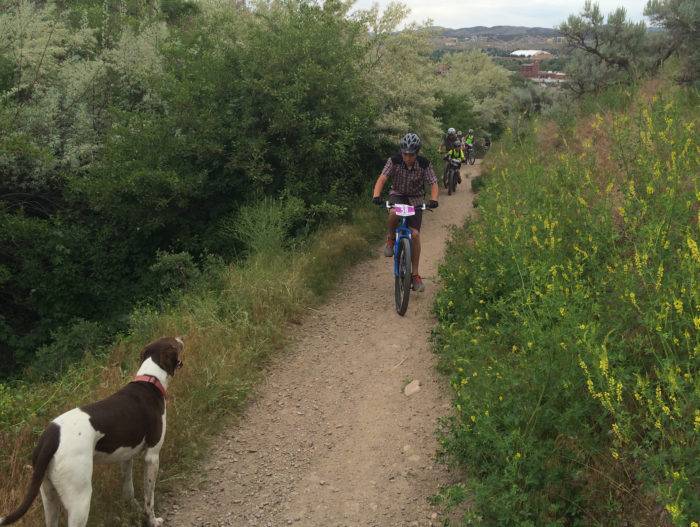 I compare the instant access to trails in Pocatello to Ketchum-Sun Valley, Boise, Coeur d'Alene, McCall and Sandpoint. You can be riding on the trail within minutes of downtown or Idaho State University.
But I will also be clear that the Pocatello trails will test your strength and agility. I fell off my bike three times on the Sterling Justice ride, losing my balance on the narrow singletrack in places where rocks or roots can push your front tire off the trail. My legs got sandpapered by a few rocks on tight corners. Be aware that the trails are best suited for intermediate and advanced singletrack riders, but that's OK, because there are thousands of them out there, all looking for adventure.
Now that you know the context, I'm going to recommend five rides in the Pocatello area for a wide range of ability levels: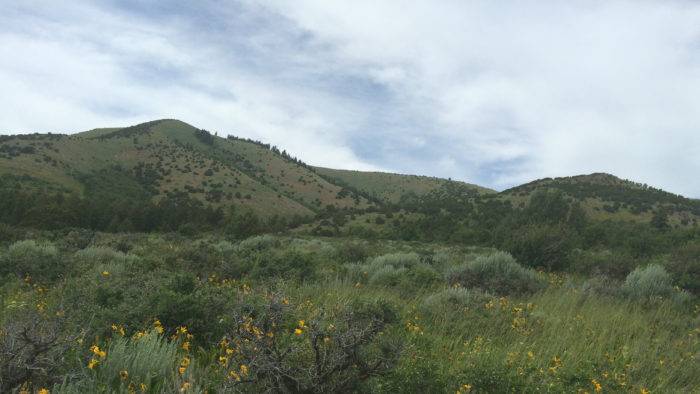 Gibson Jack- Sterling Justice -Kusick Creek Cross Mountain Ride
12 miles. 1,500 feet of gain. 3+ hours. Strong intermediate and up.
Narrow singletrack the whole way. Here's a YouTube clip of Sterling Justice. See nifty interactive map from IMBA. Start at Gibson Jack and ride northwest to Kusick Creek and City Creek.
City Creek Loop
6 miles. Less than 500 feet of gain. Rated easy.
All singletrack. Start at the City Creek Trailhead across from Centennial Park on Grant Street. Ride uphill on Bench Trail, go left on Prison and climb to Bump Trail, keep climbing to Serengeti, go right and take Serengeti over to City Creek. At the junction of Serengeti and Upper City Creek trails, take a right and head up Cross Cut. Follow Cross Cut until reaching Burrito on the left. Descend Burrito to the Prison Trail. Return to the parking lot following the Prison Trail and Bench Trail that were used to ride up earlier. Check out this map and website for more information.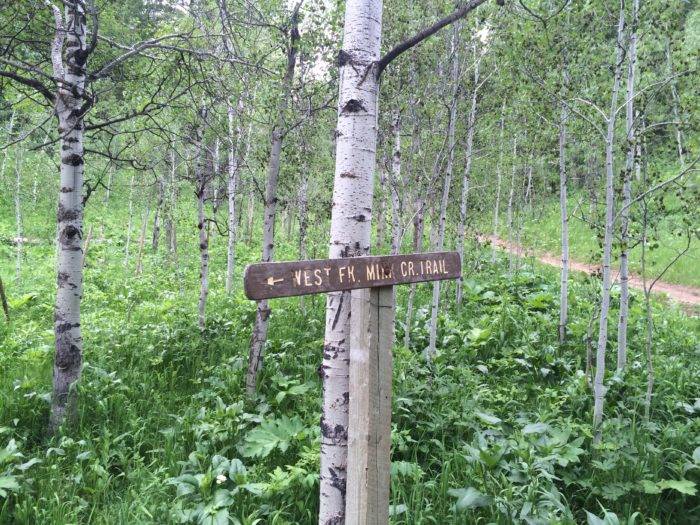 West Fork Mink – Elk Meadows Loop
12 miles. 1,500 feet of gain. 3 hours. Intermediate and up.
Narrow singletrack or double track tread. Beautiful ride along the creek, climbing 1,000 feet over 4 miles to a junction with Elk Meadows Trail. It's a Lollipop loop. Go left and climb a steep hill and then keep turning right at junctions to do the Elk Meadows Lollipop, and return on a fun and fast descent on West Fork Mink. Be sure to yield to other trail users on the trail, uphill traffic in particular.
Over the Top Loop
10 miles. Strong intermediate and up.
Recommended by the locals. 1,600 feet of climbing on singletrack and jeep trail surface. Follow directions on the description by IMBA. Starts and finishes at City Creek trailhead.
South Fork Mink-Valve House Loop
9.5 miles. 1,600 feet of gain. Strong intermediate and up.
Take I-15 to exit for Mink Creek Recreation Area. Go up Mink Creek Road to the Valve House Parking area on the left. You'll leave your car here. Ride up the paved road to the South Fork Mink Creek Road #163. Go left and climb the South Fork road. After several miles, go left on the Box Canyon Trail, where the climbing gets steeper. Bear left on the Valve House Trail and descend the Valve House trail back to your vehicle.
Steve Stuebner is a widely published outdoor writer based in Boise. Read more at http://stuebysoutdoorjournal.blogspot.com.

Published on July 26, 2016