Nestled at the toe of the Selkirk Range between northern Idaho's Priest Lake and Lake Pend Oreille sits Schweitzer—a hidden gem of a ski mountain and home base to Selkirk Powder's snowmobile and cat-skiing operations. We joined them for a long weekend in late February to discover all the mountain had to offer and were met with top-notch powder conditions, fantastic tree skiing and genuine hospitality.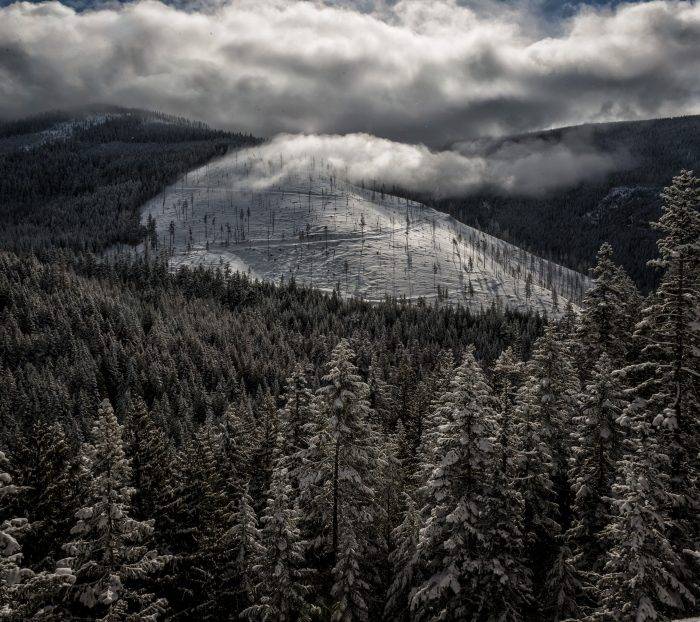 We arrived to mostly cloudy skies on a Friday afternoon expecting to ski a few laps in-bounds at Schweitzer, mostly on soft groomers; but generally, we weren't expecting much as it hadn't snowed in a few days. We took the main lift to the summit and did a quick traverse, dropped into Outback Bowl and beelined for a patch of scrubby spruce where we found a couple feet of untracked champagne powder. The trees were tight but the snow was perfect, so we raced to the bottom to sneak in a few more laps before the back bowl closed down for the day. Feeling invigorated by the deep turns we were able to harvest, we decided our legs could use a little more warming up and we took advantage of Schweitzer's night skiing for a few more hours (and a few thousand more feet of vertical).
Snow began to fall and the temperature dipped into single digits as we made our way to Pucci's Pub at the base. As we dug into some of the pub's highly-recommended pulled pork nachos and a couple pints of beer, the snow began to pile up outside.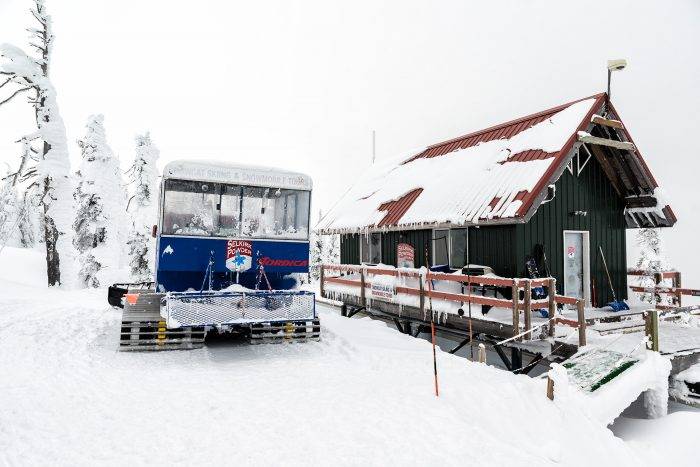 We awoke to half a foot of freshies and wasted no time getting on the slopes to take advantage of the goods before our 11 a.m. snowmobile tour with Selkirk Powder. To our surprise, we waited less than five minutes in the lift line and quickly racked up half a dozen laps on almost entirely untouched powder runs. We couldn't believe there weren't masses of people vying for every square inch of pow. Legs burning from our morning ski session, we were ready for a much-deserved break by the time our snowmobile tour rolled around.
At the top of the main lift, if you keep your eyes peeled, you'll see a set of ski tracks dipping under the rope line down to a rustic hut a few hundred feet out of bounds. This is Selkirk Powder's base of operations and we arrived to a line of shiny, new Polaris snowmobiles. Our guide, Matt (one of the most stoked individuals you'll ever meet), was enthusiastically going over our route for the day, pertinent safety information and a general how-to for riding a snow machine. In a matter of minutes, we were blasting through snow ghosts (trees encrusted in snow and ice from gusty storms), powder flying up from the treads of the sled in front of us.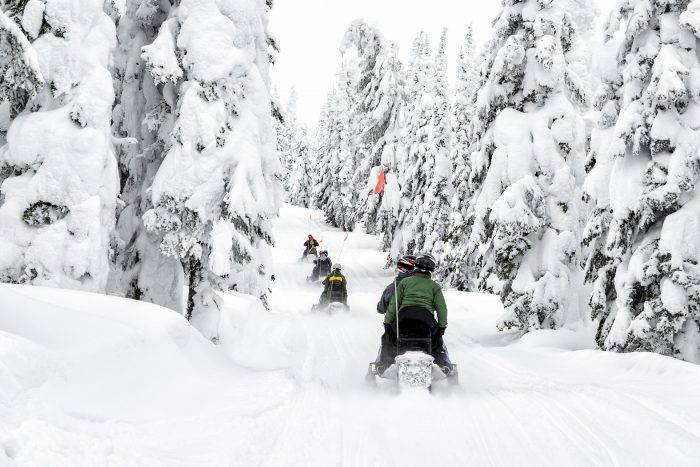 We meandered along a series of snowed-over access roads through the dense boreal forest down towards the lower basin on the backside of the resort, along the Middle Fork of the East River. After a series of stops to check out open vistas and to grab a snack, we began our ascent back to the lodge, riding through some recent burns. We began to drool a little, knowing we would return the next day to ski many of these very lines with Selkirk Powder's cat skiing operation. The clouds parted as we made our way back up the bowl, giving us a true taste of an "Idaho Mostly Cloudy" forecast as blue skies sparkled and snowflakes drifted gently in a light breeze.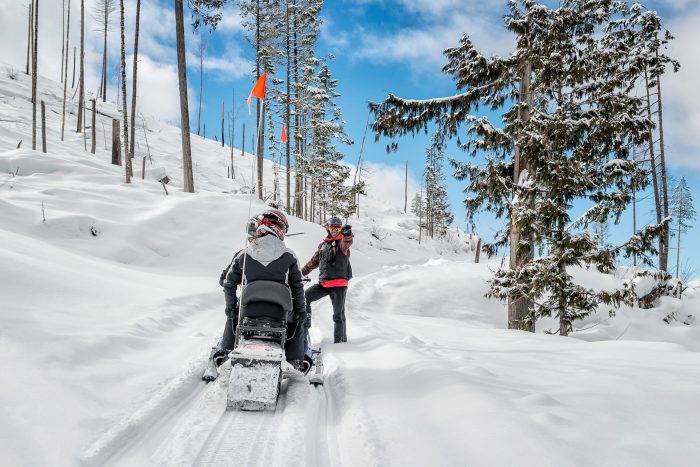 Sunday morning arrived with winds and snow, and as we headed up the lift to meet the snow cat, our teeth chattered with the gusts. At the top, we had to hold on to our skis to make sure they didn't blow off the mountain, and we quickly shuffled into the lodge at the summit for a quick safety and avalanche awareness briefing. Matt was back as our guide for the day along with Sean, our tail guide and before we knew it, we were barreling along a windswept glade looking for patches of deep, untracked powder. It didn't take long, and just after we dropped off the ridgeline, the snow softened and got really deep, really fast. Stopping only a couple of times to check in, we made short work of a 1,500-vertical-foot slope, arriving at the cat and heading back up for round two.
Now for those who aren't familiar with cat skiing, it's a glorious invention that combines the ease of resort skiing with the solitude and epic conditions typically reserved for those willing to spend hours skinning uphill to earn their turns. A snowcat (the same machine that grooms runs at most ski resorts) is fitted with a cabin area and meets you at pre-designated pick-up areas, driving you back to the top after each run. Most cat operations, including Selkirk Powder, have exclusive licenses to operate on huge swaths of land and only admit a handful of skiers on a given day. Combine that with top-notch guides and you've got yourself an all-time experience.
We were relentless on the slopes, maximizing our time and finding what seemed like every available square inch of deep, fresh, blower pow in the area, racking up face shots on every turn, hooting and hollering down every run. Matt and Sean kept us all safe and never failed to deliver the best runs we could imagine. And the blizzard that raged all day on the ridge above was nothing but a whisper down in the glades below where we made turn after turn after magnificent turn.​​​​​​​
Discover your next winter adventure in Idaho.
Feature image credited to Nick Lake.
Nick Lake is a freelance photographer, writer and videographer living in Seattle, Washington. He loves to tell stories about adventures in the outdoors and you can usually find him in the mountains hiking or skiing with his wife and puppy. Follow his adventures on his Website, Instagram, and Facebook.
Original article published December 2018 and updated November 2020.

Published on November 24, 2020