This is a sponsored post.
Whether you're looking for an adventure in the backcountry or a place to relax for the day, Idaho is a hidden gem for outdoor recreation. Head out for the day, camp overnight, pack a picnic, and enjoy the plethora of hot springs Idaho has to offer.
Goldbug Hot Springs is definitely one of my favorites and once you visit, you'll likely feel the same.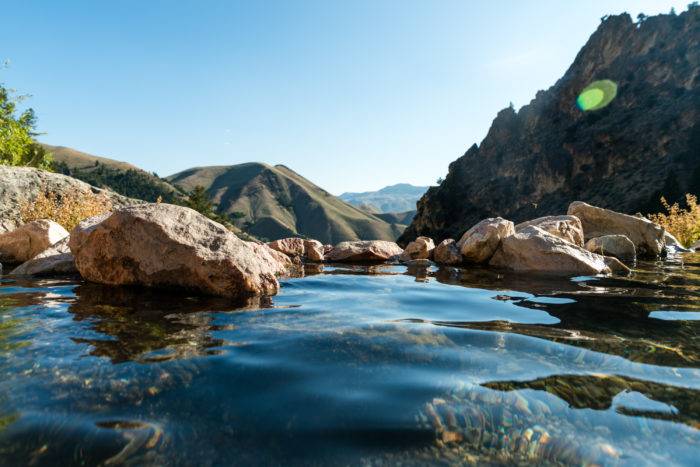 How to Get There
Goldbug Hot Springs is located just south of Salmon, Idaho near mile marker 282 on Highway 93. The trailhead is accessed by a dirt road.
The two-mile trail (four miles round trip) is well traveled and easy to navigate. The hike in can be difficult, climbing a total of 1,350 feet. When you start hiking, look for a V shape cut in the mountain ridge, that's where you're headed. You'll know you're close when you hit the steep stair section. The stair section starts with large rocks that are meticulously placed to make the hike a little easier. Once you navigate your way through that section, you'll come to actual stairs for your final climb. They're steep and appear endless, but the reward is worth the Stairmaster climb.
The Pools
When you arrive at the hot pools, you'll be glad you made the hike. Your muscles will relax immediately as you sink into the steamy pool, and the views aren't half bad, either.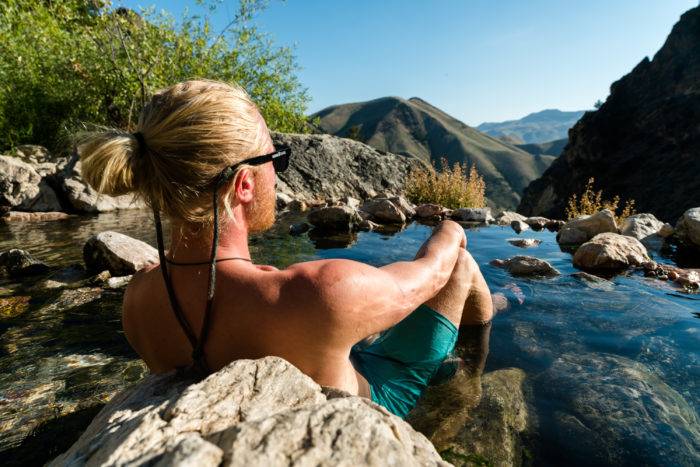 Best Time of Year
Fall is going to be the best time of year to visit, as the trail will be dry and temperatures should be moderate. Summer is sometimes uncomfortably hot and dry, and while spring has great temperatures, the trail can be muddy from the thaw. Winter offers a one-of-a-kind experience with deep snow but be prepared for a tough hike in.
Camping
For a different hot springs experience, try camping overnight. Below Goldbug as you're hiking in, just before you reach the second bridge, you'll find flat ground to pitch a tent and a plethora of trees to set up a hammock. Keep in mind that campsites must be at least 500 feet from the hot spring (or any body of water) in order to preserve and protect this unique adventure.
Camping here also gives you a unique opportunity to see the stars with nearly zero light pollution. In order to keep these springs open for everyone's enjoyment, please tread lightly and respectfully, and practice the primitive camping principle of "pack it in, pack it out".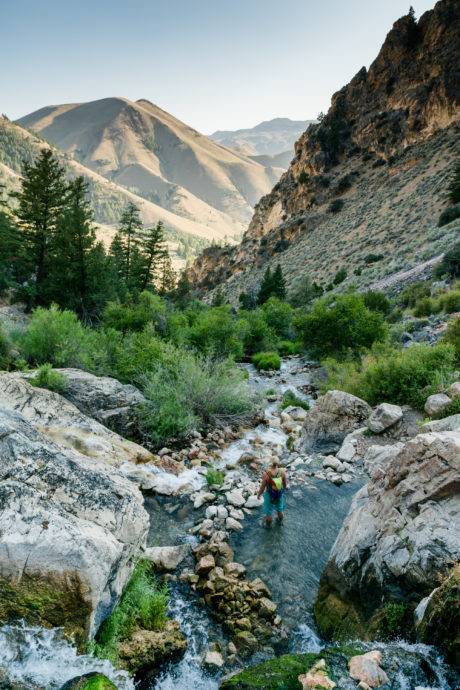 What to Bring
Day Hike:
Camera
Backpack
Water
Snacks
Hiking shoes
Swimwear
Appropriate weather clothing
Camping:
Camera
Water
Backpacking pack
Tent, sleeping mat, or hammock
Sleeping bag
Meals and snacks
Fire starting equipment
Hiking shoes
Swimwear
Appropriate weather clothing
Trash bags to pack out any trash or waste
Gold Bug Hot Springs is the perfect place to venture for a solo soak or with a group of friends. Chances are, you're probably going to make some new friends here as well. Pack your gear and be ready for an incredible experience!
Justin Fricke is a part-time vanlifer, full-time freelance content creator, daily(ish) vlogger, and all-around travel junky. He loves visiting different states and countries and encourages others to expand their comfort zone through travel. Follow his travels and adventures on the road and around his home of Nashville, TN on YouTube, Instagram, Facebook, and Twitter.

Published on September 14, 2017