Nick Lake worked in partnership with Visit Idaho to create this Travel Tip.
The Snake River has a special place in Western lore, running like a belt across Idaho's southern half, its main course entering the state by Grand Teton National Park and departing only after carving North America's deepest canyon along the borders with Oregon and Washington roughly 600 miles later. But a lesser-known tributary to the main Snake is Henry's Fork: a truly diverse waterway traditionally known for its world-class trout fishing. This summer, a group of five friends joined me there on Henry's Fork for a decidedly lazy journey to discover this quiet corner of Idaho from West Yellowstone to St. Anthony.
Equipped with the finest lazy tubes the internet can provide, we set off into the Targhee-Caribou National Forest for the first leg of our float, setting up base camp at the Box Canyon Campground. Box Canyon is a quiet, moderately used National Forest campground in dense timber with excellent access to a somewhat wilder portion of Henry's Fork as it passes quickly through—you guessed it—a box canyon. We decided our put-in would be just below this quicker section of the river, maximizing the laziness of our float.
While Henry's Fork flows swiftly past Box Canyon, it slows dramatically to a crawl a few miles downstream as it enters a broad floodplain and Harriman State Park. Along this stretch of the river, we were joined by a half dozen friendly osprey gliding above the smooth waters in search of a fish dinner, as well as a few flocks of American White Pelicans–a peculiar sight so far from the sea.
While our first day on the river was exactly as relaxing as we'd hoped, we decided later that running the swifter section of the Henry's Fork through the Box Canyon would have been more fun and logistically easier. Harriman State Park is stunningly beautiful and serene but could have been enjoyed just as easily from the myriad footpaths lining the Henry's Fork through the park.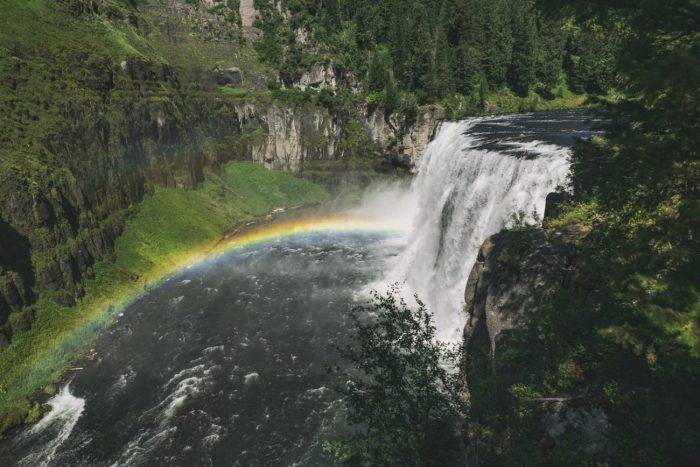 For our second day on the river, we set our sights farther downstream. Driving south along Henry's Fork through the Caribou-Targhee National Forest, we were amazed by a sensational transformation in the river as it tumbled violently down the steppe to the plains below. A quick stop at Upper Mesa Falls was evidence of how quickly a waterway can change as foaming white water plunged 114 feet down into a verdant, steep-walled basin, casting a brilliant rainbow in its spray.
We found our day-two put-in at the end of a long, winding section of road where a canyon began to open up into a broad, hot plain—perfect for floating. This second-day float would take us from the southern edge of the national forest in Idaho's smallest city, Warm River (population 3), to the Ashton Reservoir some eight miles to the west and nearer to our next attraction: the St. Anthony Dunes. This section of river took us about three hours to float down and was unanimously more exciting than the upper portion from the day before. Overall, Henry's Fork moves more quickly here and the scenery is more attractive with sandstone and columnar basalt cliffs rising along the river banks. We saw plenty of osprey again with a few bald eagles thrown into the mix as well.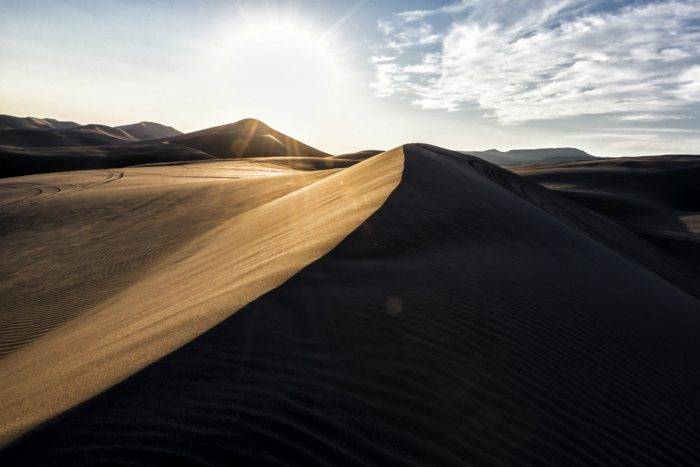 After two days on the water, we were ready for a bit of a change, and while a beach may be hard to find in eastern Idaho, there was plenty of sand to be found at the St. Anthony Dunes nearby. We loaded up and set course for the BLM campground adjacent to the dunes in the tiny farming town of Egan. The campground mostly hosts off-road vehicle enthusiasts who flock to the dunes each summer to max out their adrenaline on these behemoth mountains of sand. We made sure to keep our wits about us as we hiked out to enjoy a sunny, warm sunset atop one of the tallest dunes, keeping an eye out for OHV users who may not be expecting us out there.
The sand was warm as we skirted an oasis adjacent to our campsite, a glassy lake ringed by cottonwood trees swaying gently in the evening breeze. Beyond the lake rose dozens of dunes, successively higher as they stretched in a neat ridgeline towards the horizon. Aiming for a tall, steep dune, we trudged through the deep sand until we stood atop the knife-edged ridge and watched the sun dip into a fiery red ball. What else could we do besides holler at the sunset, run like wild people down the dunes, and cheer on the off-roaders who were all too eager to show off for us with wheelies and high-pointing tricks?
Returning to our campsite after dark, we gathered around a fire and watched the stars poke out one by one until the hazy line of the Milky Way reached up across the sky from south to north along the horizon. Gazing up at the night sky, it was impossible not to feel satisfied with an abundance of hot sun, cool river water, and gorgeous vistas as far as the eye can see.
Feature image credited to Nick Lake.
Nick Lake is a freelance photographer, writer, and videographer living in Seattle, Washington. He loves to tell stories about adventures in the outdoors and you can usually find him in the mountains hiking or skiing with his wife and puppy. Follow his adventures on his Website, Instagram, and Facebook.

Published on September 18, 2018