At the northern trailhead for the Weiser River Trail, near New Meadows (elev. 3,868 feet), the meadows next to the trail are deep green and brimming with insect and bird life. I hear sandhill cranes sounding off in the tall grass. That's always a huge treat in my book. It's a staccato-like, prehistoric-sounding call that just gives me shivers.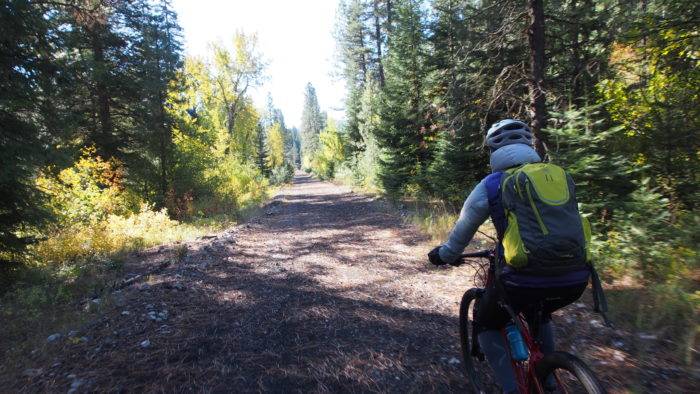 What a nice entre into the Weiser River Trail! I'm looking forward to seeing more wildlife along the way. The Weiser River Trail is a true gem in Southwestern Idaho. The trail opened in 1998 after the Union Pacific Railroad retired the freight line and conveyed ownership of the rail-bed to a non-profit, Friends of the Weiser River Trail. It's Idaho's longest rail-trail, traveling 84 miles downhill from the northern trailhead to Weiser.
I've ridden the trail multiple times on my bike, but it's also open to horseback riding, hiking, and trail-running. I'd recommend it for kids over 8 years old. Great ride for families or adults. You can ride the trail in sections — distances of 5, 10, 15 and 20 miles are available — or you can tackle longer reaches.
On this trip, I'm riding the 84-mile trail in two parts. My destination is Cambridge today, 42 miles from here. I'm expecting that to take me about 3-4 hours. I've been averaging about 12-15 mph on my full-suspension mountain bike. The beginning of the trail (packed gravel surface) is mostly on the level as it cruises through a series of meadows and then the Evergreen Sawmill. Continuing south, the trail descends through a misty, forested canyon along the upper Weiser River. Time to pick up the pace and enjoy a gravity ride across multiple trestles on the pine needle-covered trail. Woo-hoo! This my single-most favorite part of the whole Weiser River Trail because of the fun and fast descent, the nicely planked trestles, mountain scenery and the distinct, lovely aroma of an Idaho forest.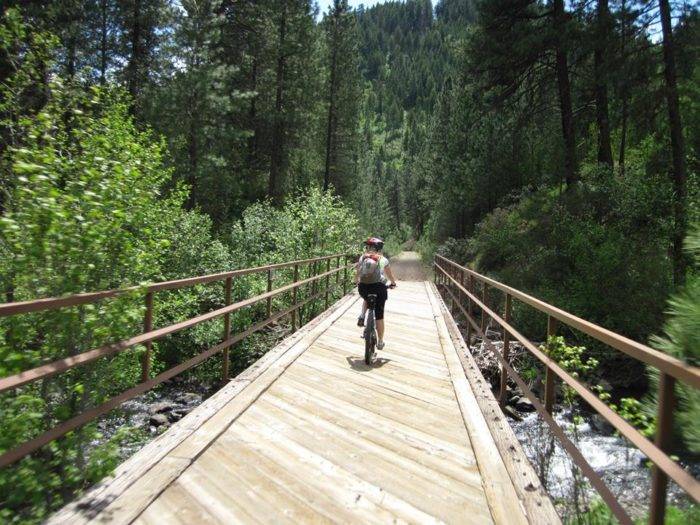 Over the whole route, I calculated that I'll drop 1,855 vertical feet. But the trail gradient is never that steep because of the engineering specs for freight trains. So you actually have to "work" as you pedal along on a slightly downhill grade on the dirt/gravel surface. The steepest section is the Rubicon-Fruitvale section (my favorite), a distance of 18 miles.
After passing Fruitvale, the trail bursts out of the forest environment into an open valley. It beelines to Council, five miles away, next to paved roads. Council is a good place for a rest stop or to stock up on snacks or supplies. It's 19 miles to Cambridge, where I'm looking forward to soaking in Mundo Hot Springs and staying overnight. The Weiser River Trail enters a second, remote canyon, away from the highway, and it's a delight to cruise along next to the river, watching great blue herons wading in the shallows, and kingfishers sounding off as they fly from one cottonwood tree to another.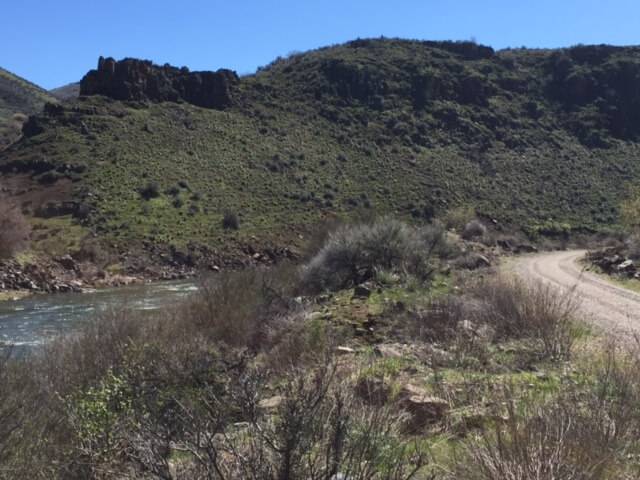 I'm starting to think about a cold beer and the hot springs as I spin into the outskirts of Cambridge. I've got some friends meeting me here, and then we're going to ride the second half of the trail together tomorrow.
Mundo Hot Springs is a low-key establishment next to an RV Park. It has a spacious swimming pool, changing rooms, overnight accommodations and a snack bar. It costs $7 for adults, $6 for seniors or kids to soak; and $3 for small children aged 6-13. Great place to hang out for an evening.
In Cambridge, my favorite restaurant is Bucky's Cafe, on Main Street. It's a classic greasy spoon-type of place, but the food is excellent and they have gigantic, scrumptious pies. We eat a hearty breakfast at Bucky's and saddle up for the day's big ride.
Today we're going to knock off the second half of the trail, from Cambridge to Weiser. We'll wind along the Weiser River for 10 miles to Midvale, enjoy a short section of paved trail in the small farming community, and then head into a third, remote canyon away from the highway all the way to Galloway Diversion, 10 miles from Weiser. Arrowleaf balsamroot is blooming like gangbusters on the walls of the Weiser River canyon amid the sagebrush as we pedal along next to the river.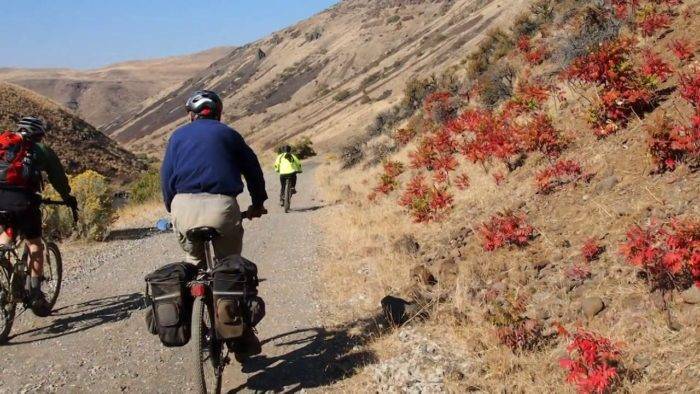 The final approach to Weiser cruises along a bench overlooking hundreds of acres of farmland to the south, all irrigated by water from the Weiser River. It's a patchwork quilt of green alfalfa fields, yellow canola and sweet onions. We can smell the crops! We see the buildings of the city approach and we pedal back onto a paved trail to the southern-most trailhead in the city of Weiser.
We're heading for the Copper Lounge in downtown Weiser to celebrate a great ride!
Details about the Trail
Distance: Up to 84 miles (full distance) from Rubicon to Weiser; shorter sections of 5, 10, 15 and 20 miles are available.
Riding Time: Varies with distance. The entire trail can be ridden in a day by strong, experienced riders on cross bikes. This is a good ride for bike-packers, too. A two-day ride is probably ideal, even for advanced cyclists, allowing for a stop at Mundo Hot Springs.
Vertical gain/loss: 1,855 feet net loss (north to south)
Season: North end: May—October. South end: March—November.
Trailheads: Rubicon (mile 84, north trailhead); Strawberry Road; Fruitvale (mile 66), Council (mile 61), Mesa Siding (mile 57), Cambridge (mile 42), Midvale (mile 32.5), Galloway and Presley Bridge (mile 10 and 12), City of Weiser (mile 0).
Events: Friends of the Weiser River Trail sponsors several special events during the year, including a 50K ultra-running event in April, a Wagon Train event in late May, and an annual 25-mile bike ride (north to south) in June. See weiserrivertrail.org for more information.
Trip Tips
Run slime in your bike tires to avoid flats that can result from puncture vine (goat heads), which you may encounter in the Council area or points south, depending on the time of year.
Carry plenty of water and snacks on the ride. There are no services in between the towns or trailheads noted above.
Bring a wildflower guide if you ride the trail in the spring. Many flowers will be blooming along the way.
Steve Stuebner is an avid cyclist of all kinds and a widely published outdoor writer in Boise.
Read more at http://stuebysoutdoorjournal.blogspot.com.
This is a sponsored post.

Published on April 14, 2016