Home to hundreds of hot springs, Idaho is the perfect place to take a dip in one of these naturally heated pools, any time of year.
To get you started on your hot springs expedition, check out the locations below.
The Springs | Idaho City
Season: Year-round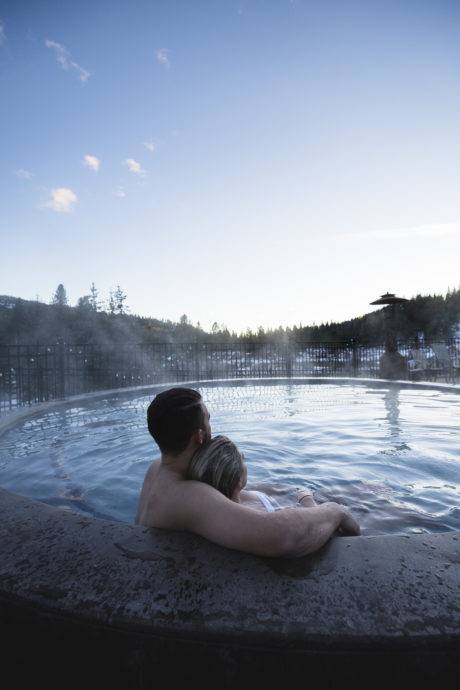 The Springs features a large geothermal hot pool, a hot tub, a steam sauna and private pools. Enjoy food and drinks from the cafe, or schedule a massage. Towels and lockers are provided. Reservations are required.
Zims Hot Springs| New MeadowsSeason: Year-round
Choose between an outdoor soaking pool or an outdoor swimming pool at Zims Hot Springs. Guests will find restrooms, picnic areas and RV spots on-site.
Gold Fork Hot Springs | Donnelly
Season: Year-round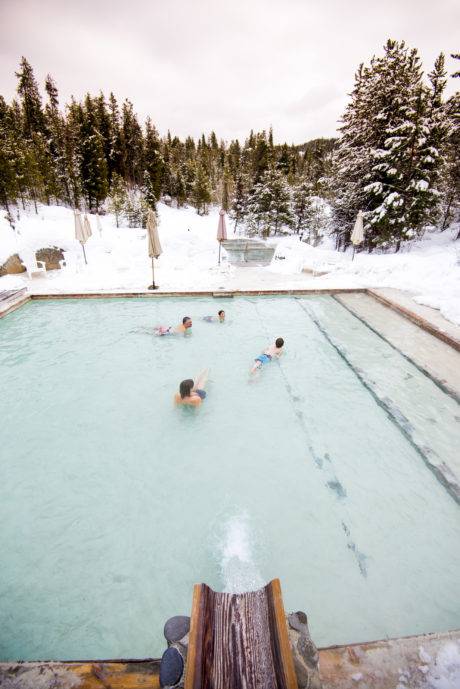 Six mineral-rich hot pools are the stars of the show at Gold Fork Hot Springs. Tucked away in the forest, the natural setting of these pools makes it easy to relax. Heated changing rooms, free lockers and heated sidewalks add to the experience.
Kirkham Hot Springs | Near Lowman
Season: Year-round
These hot springs are located along the banks of the South Fork of the Payette River next to the campground (of the same name). A trail with a staircase leads to the soaking pools and steaming waterfalls. Camping is available from May to September.
Pine Flats Hot Springs | Near Lowman
Season: Year-round
Named for the forest service campground it's part of, Pine Flats Hot Springs sits along the South Fork of the Payette River. A geothermal waterfall adds to the allure of this location. Camping is available May through September at the adjoining campground.
Burgdorf Hot Springs | McCall
Season: Year-round. Winter months are snow dependent.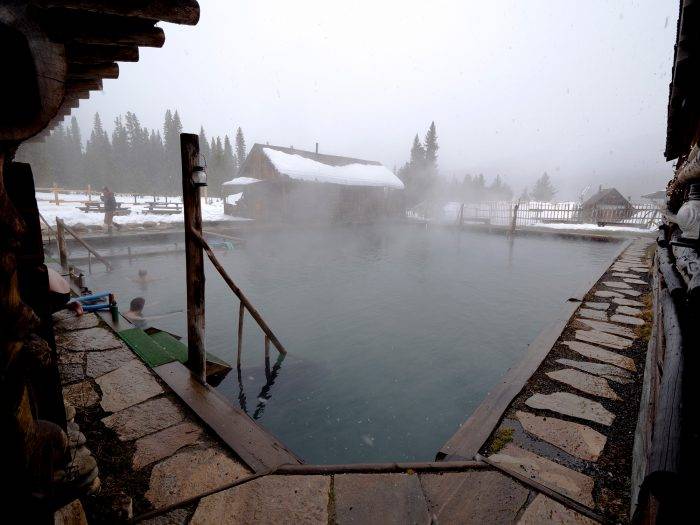 Burgdorf Hot Springs offers a rustic soak in Idaho's wilderness. The large pool and two smaller pools are fed by natural hot spring waters. Fifteen rustic cabins are available for rent. In the winter, Burgdorf is accessible only by snowmobile.
Mundo Hot Springs | Cambridge
Season: Year-round
Located along the Weiser River and near the Weiser River Trail, Mundo Hot Springs features a large hot pool and a spa. Check out a variety of overnight options for an extended soak.
Miracle & Banbury Hot Springs | Buhl
Season: Year-round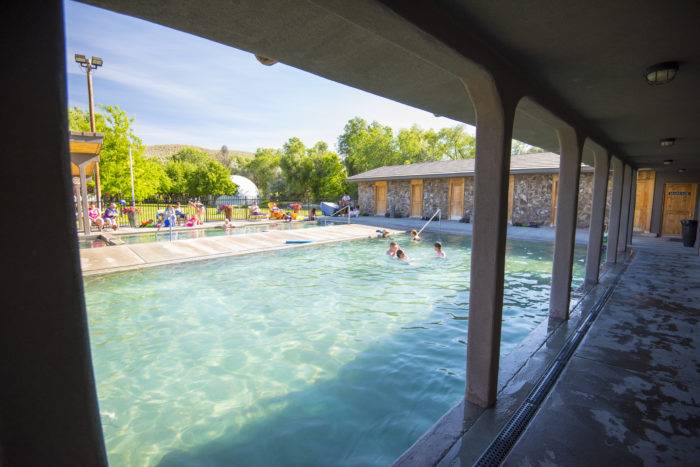 Enjoy a double dose of relaxation along the Thousand Springs Scenic Byway. Less than 2 miles apart, Miracle offers a variety of hot pools, including VIP and private pools, while Banbury features a large geothermal pool and private hot tubs. Camping and lodging accommodations are available.
Downata Hot Springs | Downey
Season: Year-round
Unwind in a naturally heated pool and hot tub. During the summer months, take a ride down the waterslide. Cabins and yurts are available for rent. The campground is open during the summer months.
Lava Hot Springs Hot Pools |Lava Hot Springs
Season: Year-round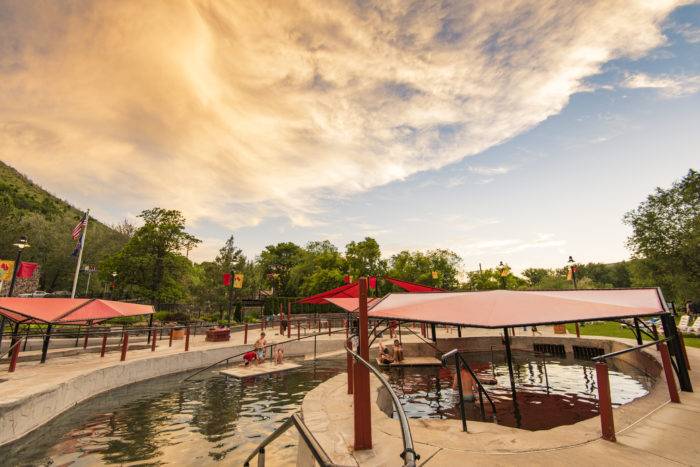 Five outdoor gravel-bottom hot pools make the city of Lava Hot Springs a soaking destination. Each pool is a different temperature, all lacking the sulfur smell commonly associated with hot springs. Guests also have access to dressing rooms, restrooms and lockers. Soaking bonus: Many of the lodging properties in Lava Hot Springs also feature private hot pools for extra soaking.
Heise Hot Springs| Ririe
Season: Year-round, hot pools may close in November
Relax winter-weary minds and bodies in these mineral-rich waters. Take a dip in one of two pools to find the perfect temperature. During the summer months, cool off in a separate pool or take a ride down the giant waterslide.
Mountain Village Resort | Stanley
Season: Year-round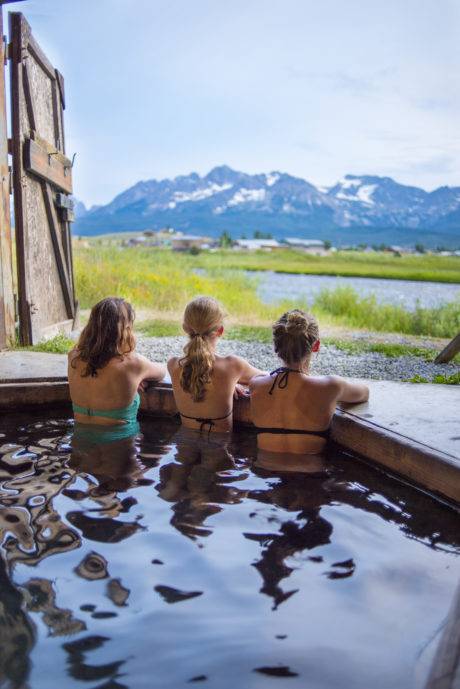 As a guest of Mountain Village Resort, you'll have access to the private hot pool with stunning views of the Sawtooth Mountains. The pool can seat up to eight people. Those not staying at Mountain Village Resort can call to inquire about openings for the public.
Easley Hot Springs | Ketchum
Season: Memorial Day through Labor Day
This family-friendly swimming complex features a large pool, two smaller hot tubs, a patio and changing rooms.
Sharkey Hot Springs | Near Tendoy
Season: Year-round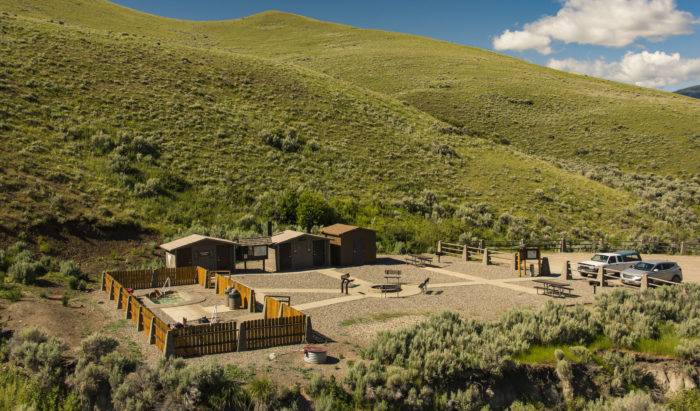 Take a drive along the Lewis and Clark Backcountry Byway to access this soaking spot about 5 miles from Tendoy. This Bureau of Land Management site has two soaking pools, restrooms and picnic tables. The site is named for B.F. Sharkey, an early settler of Lemhi county. There is a $3 use fee.
Other natural hot pools can be found across the state, but to get those details, you'll have to ask a local. You can also find a few extra hot spring hideaways here.

Published on October 29, 2019