Small but mighty. That's likely how I would describe my 48 hours in Lava Hot Springs. The town is located in southeastern Idaho and is well-known for its amazing hot pools. But you might be surprised to find out that once you arrive at this mountain oasis, the relaxation and adventure options are endless.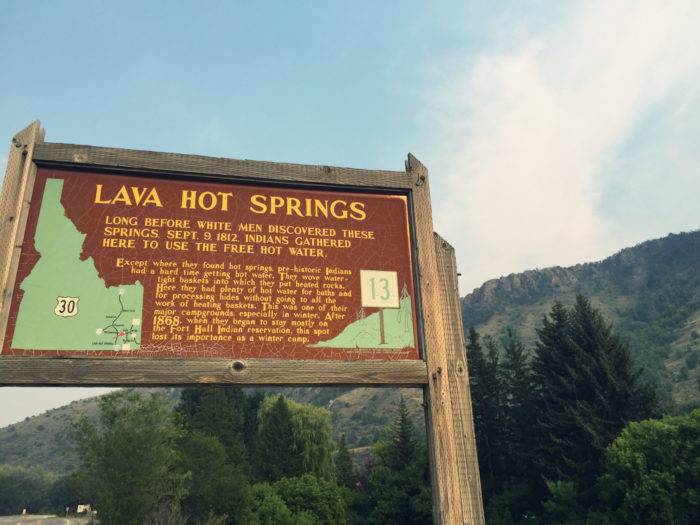 The life blood of Lava Hot Springs is the amazing geothermal waters. For anyone who's visited hot springs in other areas you can almost taste the sulfur odor, but the waters in Lava don't come with this smell – an added bonus! When it comes to choosing how you want to enjoy the water, you have several options. On one end of town you'll find the hot pools, with water temperatures ranging from 102°F -112°F, where you can slip in for a soak just about any time of day.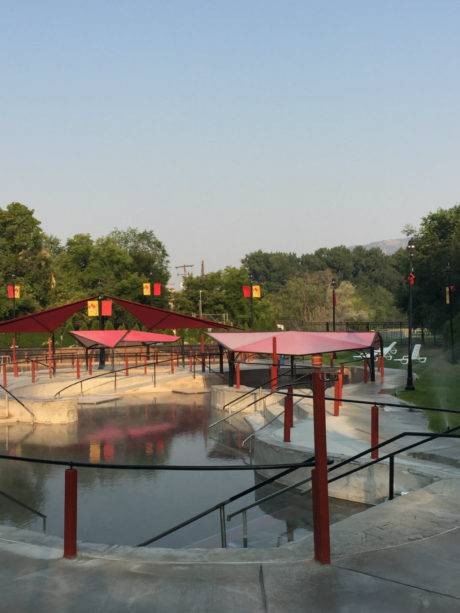 On the other end of town, you'll find the Olympic Swimming Complex with curvy slides, six-story high speed slides, indoor and outdoor pools, and a kids' cove. The indoor portion of this complex with a heated pool remains open during the winter months. The Natural Hot Springs are accessible all year.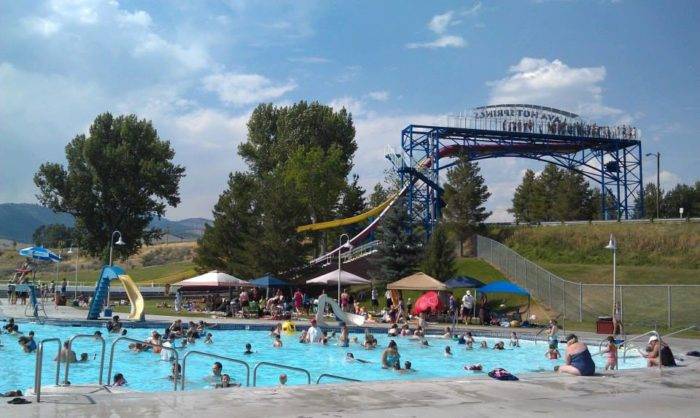 Trip Tip: Aerosol sunscreen is not allowed at either swimming or soaking location. The mist can collect on the surfaces around the pools making it incredibly slick. Plan to bring an alternative form of sun protection.
Trip Tip: Pack some change. You'll find lockers at both pool locations which is great to store valuables like phones and purses. You'll need quarters to operate the lockers, so plan ahead so you don't find yourself digging for change in the car at the last minute.
Trip Tip: Plan a picnic. The Olympic Swimming Complex offers a ton of amenities to keep the family busy all day. You can bring in shade canopies, blankets and even coolers to help make your day as fun and relaxing as possible.
For those looking for a bit of adventure, I would highly recommend floating the Portneuf River on an inner tube (single, double and even four-person options are available). Rental sites line the main drag, so it's pretty easy to grab a tube and get going. The ride will take you about 25 minutes give or take, and is filled with fun dips and drops. Once you make it to the end (which is clearly marked) you can hop out and take seven-minute walk to the top and do it all over again. If you don't feel like walking or are floating with some little guys, a shuttle is available but you'll need to pack some cash for the ride. I would suggest wearing an old pair of sneakers or water shoes when floating the river. You may run into a pointy rock or two, so wearing shoes will likely make your life much easier when trying to maneuver.
Trip Tip: Take a dip in "Chicken Soup".
This natural hot springs, a favorite hangout of the locals, is nestled along the Portneuf River just a short distance from where you start the river float. Paddle on over to the pools and soak in the hot water as it gushes down the side of the hill and bubbles up from below the rocks. Depending on how the rocks are arranged (which can change daily), the water can range from really hot to bath water warm, so make sure you check it out before slipping in.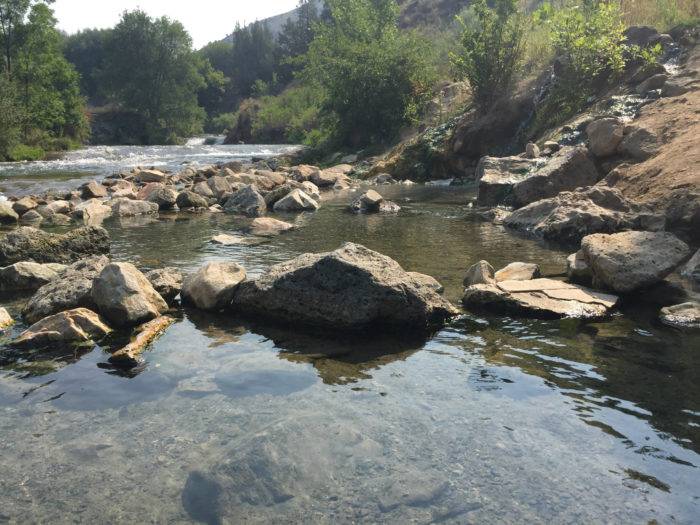 After playing in the water, you'll likely find your belly growling for some delicious food and there's no shortage of it in Lava Hot Springs. You'll find casual offerings for the whole family at The Royal Hotel & Pizzeria where you can grab a slice, 78 Main for a burger and fries, the Chuckwagon Café (a hot spot for breakfast), and Riverwalk Thai Restaurant. If you're looking for an evening with more of an adult twist, you should check out the Riverside Portneuf Grille and Lounge. Head Chef Alonzo Thomas masterfully crafts rich and regional flavors with a fun flare that is sure to delight and excite your pallet. You'll also find a more grown up dining experience at Greystone Manor.
Trip Tip: Walk your way to something sweet. A popular treat stop in Lava Hot Springs is Sweet Stuff. The local ice cream shop dishes up delicious ice cream, fresh fudge and mouthwatering candy.
Trip Tip: Pack your walking shoes. The town of Lava Hot Springs is very walkable. It's easy to park your car and only drive it a few times during your stay. This walkability also offers kids a great chance to be independent without wandering too far from a watchful eye.
Adventure abounds in and around Lava, so don't be shy about exploring! Baker Ranch offers scenic wagon rides for the whole family in Dempsey Creek, just a five minute drive from the center of town.
Denver and Gump (or Chester and Duke) will lead you on a 40 minute ride to a picnic pavilion where you'll feast on BBQ beef, Idaho baked potatoes, salad, ranch beans and corn. Enjoy live music alongside a crackling campfire before the return ride to the ranch. Baker Ranch offers snowshoeing and cross-country skiing with access to a warming hut in the winter.
Head up to the Dempsey Ridge Golf Couse to play the nine-hole course with gorgeous views of the surrounding area or lace up your hiking boots and check out the Idaho Centennial Trail. The start lies just across from the Home Hotel in town. The beginning of the trail is a bit steep, so bring water, but the sweeping views across this valley are awesome. Eventually, you'll come to fork in the road where you can turn right and hike to the "L" (rocks placed on the mountain face in the shape of a letter L) or go left and follow a series of switchbacks up the hill. Give yourself about 2.5 hours for this adventure.
If you're more of a sportsman at heart, there's a multitude of options. Numerous sportsman's access points are just minutes outside of town. Great fly fishing spots can be found off of Blaser Highway along the Portneuf River. These crystal clear waters are home to Rainbow Trout, Brown Trout and Yellowstone Cutthroat Trout. These waters never freeze, so you can fish 'til your heart's content.
Trip Tip: Locals say when it comes to casting a line in these waters the Renegade and Bead Head Pheasant Tail flies are your best bets to start. Don't forget to purchase an Idaho fishing license before hitting the water.
Biking , ATV trail rides and ziplining are also an option if you're looking for a little more adrenaline. For rental details and tour options, check out Mountain Mayhem Adventure Rental Center or race through a canyon on steel cables while shouting with glee at Lava Zipline Adventures. If part of your travel group is looking for something a little more laid back, visit the South Bannock County Historical Museum or take a stroll through the Sunken Gardens located right next to the natural hot springs.
The revitalizing and relaxing waters of Lava Hot Springs provide a great pre-massage soak. Almost every lodging spot in town offers massage services, some even offer aqua therapy if you're looking for a different experience. The hot waters are a must for soothing sore muscles!
After visiting Lava Hot Springs, you'll realize you get way more than you bargain for in this Idaho town and don't be surprised if you're already looking to plan your next trip before you leave the hot pools.

Published on August 12, 2015