Elisabeth Brentano worked in partnership with Visit Idaho to create this Travel Tip.
After spending several weeks camping and backpacking in central Idaho last summer, a friend suggested that I return in January. I love snowshoeing and I can handle cold weather, but I had never been skiing, so Sun Valley wasn't even on my radar. Of course, the same friend encouraged me to take lessons, and not only did I have a blast on Dollar Mountain, but I completely wore myself out. By the third day, I was ready to return my rental gear, relax and explore the surrounding area, which had turned into a winter wonderland since my last visit. And rest assured, there is plenty to do once you take off your ski boots…
For the Food Lovers…
When I travel, I prioritize my adventures around dreamy landscapes, outdoor activities and the best places to eat. I'm a die-hard foodie, but I also enjoy unique dining experiences, so taking a horse-drawn sleigh ride to dinner at the Trail Creek Cabin seemed like something I had to try. After about 30 minutes of jingling bells and passing by snow-dusted trees, we arrived at Trail Creek and warmed up by the fire. From the menu to the intimate atmosphere, this was hands down my favorite meal of the trip, and it's easy to see why reservations get booked up fast. Sun Valley boasts such an impressive range of both fancy and casual restaurants, it would honestly take a week to try them all. As far as other food highlights, the elk burger at Averell's hit the spot after a morning of skiing, and the lasagna at Village Station rivaled my mom's. Dinner at The Ram was another hit, but if you order fondue as a starter, pace yourself! You'll want to save room for dessert at this iconic eatery, which has been around since 1937.
Craving Solitude?
After grabbing breakfast at Konditorei, my friend and I rented snowshoes at Elephant's Perch before departing for Stanley, about an hour drive from Sun Valley. The road to Stanley was in great shape, and not only did we see a handful of elk on the way up, but there are a number of vistas where you can pull off to enjoy the scenery. We briefly hit a few trails in the area, but the best part of the adventure was the peace and quiet we found at Little Redfish Lake. Aside from the satisfying crunch of soft snow under our feet and the occasional squirrel chirping, we didn't hear a sound — or see another soul. The stillness around us was indescribably soothing, and having the whole place to ourselves was a real treat.
Soak Up Stunning Mountain Views
The jagged peaks of the Sawtooth Mountains will stop you dead in your tracks any time of year, but they're especially mesmerizing when they're covered in snow. Of course, getting to experience this view while warming up in a natural hot spring is even more rewarding, so my girlfriend and I stopped by two of the most well-known soaking pools before heading back to Sun Valley. After doing some of our own temperature control at Boat Box (trust me, mixing icy cold river water with scalding hot geothermal water when it's 20 degrees out isn't easy), we grabbed lunch at the Mountain Village Resort in Stanley and took advantage of their private, on-site hot springs. If you're not staying at the resort, you can reserve a block of time (it's $27 per hour for groups of four or less, and it's $5 for each additional person), and it's MUCH easier than trying to get the perfect temp at Boat Box.
Ski, Relax and Repeat
As much as I love natural hot springs, I'm a big fan of hot tubs, but an entire pool heated to 97 degrees? Was I dreaming? I took advantage of the pool every single night I was at the Sun Valley Lodge, and I was able to work in a massage at the spa during my stay as well. From the warm, inviting space to the endless amount of treatment options, booking an appointment here is a must-do. And if you're taking a crack at skiing for the first time (and using muscles you didn't even know existed), it's one of the best things you can do for your body.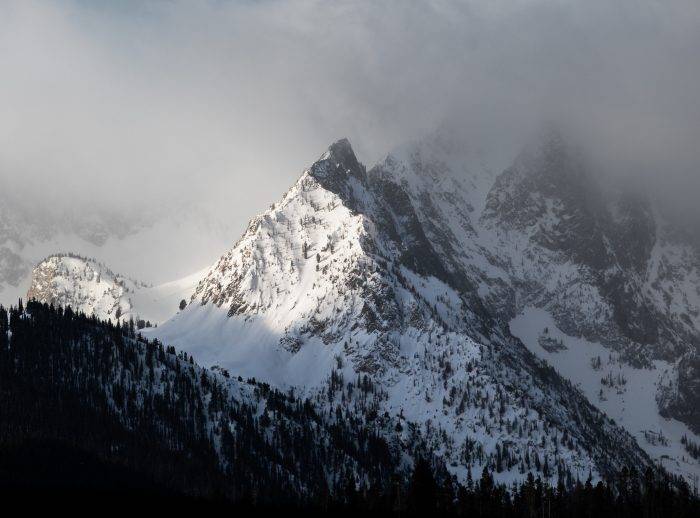 There is an unparalleled level of excitement when it comes to exploring new places, but there is also something to be said for repeat experiences that offer the same thrill as your first visit. Not only do I plan on coming back to Idaho this summer for more backpacking, but I now know exactly where I want to be when it starts dumping snow. This truly is the gem state, no matter what kind of adventure you're seeking.
Elisabeth Brentano is a blogger/photographer based in California, but her wanderlust takes her all over the world to capture nature and travel content. After working in a Los Angeles newsroom for nearly a decade, she traded her high heels in for hiking boots and has been living on the road since 2016.
Feature image credited to Elisabeth Brentano.

Published on November 8, 2018