Christina McEvoy worked in partnership with Visit Idaho to create this Travel Tip.
Looking to get away for an unforgettable winter adventure trip that won't break the bank and the whole family will enjoy? Located on the west side of the Teton Mountain range and just across the border from West Yellowstone is the spectacular area of eastern Idaho. This area is more popular in the warmer months, but shouldn't be skipped in the winter months.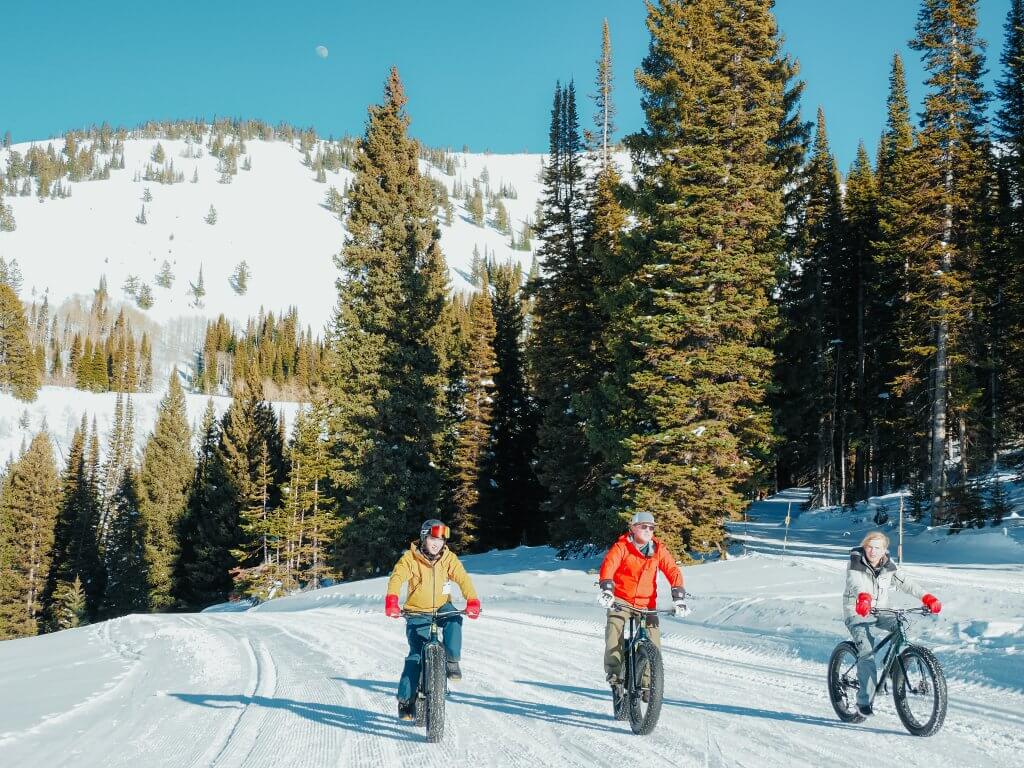 Most people venture to the Wyoming side of the Tetons to ski at Jackson Hole or visit Yellowstone, however they are missing an unspoiled, less crowded, and equally as beautiful area found in eastern Idaho.
Use this itinerary if you have a three-day weekend to get away and explore this winter wonderland. And if you're visiting this area with older kids, make sure to check out the 7 Best Winter Activities in Eastern Idaho with Teens which includes a comprehensive list of outdoor recreational activities.
How to Get to Eastern Idaho
Getting to eastern Idaho involves a little strategy. With no major international airport nearby, you have two main options if you're flying. You can go directly to Idaho Falls or fly to Salt Lake City, Utah. With either of these options, you will need to rent a car and drive one to three hours to reach your destination.
You can also fly into the Boise airport and then make the five hour drive to the eastern portion of the state.
Where to Stay in Eastern Idaho
Setting up base in Driggs is a good bet if you want easy access to skiing, as well as other nearby winter activities. Driggs is a charming, small town just 30 minutes outside of Grand Targhee Resort which is only accessible by traveling through Driggs. With views of the Tetons and a variety of lodging options and restaurants too, Driggs is the perfect place to stay for a winter trip in eastern Idaho.
Another stay option is Island Park, if you want to be "out of town" and surrounded by forests, rivers, and wildlife. It's a bit farther from skiing (about 1.5 hours), but you have access to abundant outdoor recreation here too, such as snowmobiling, ice fishing, nordic skiing and snowshoeing.
If you have at least four nights for your trip, you could split your time between Driggs and Island Park to get the best of both worlds. Both Driggs and Island Park have a variety of lodging experiences to fit your budget and stay style.
Assuming you have at least a few days in eastern Idaho, this is my recommended itinerary for an unforgettable winter trip. This itinerary can be adjusted to your budget and interests.
Day 1: Snowmobile to Mesa Falls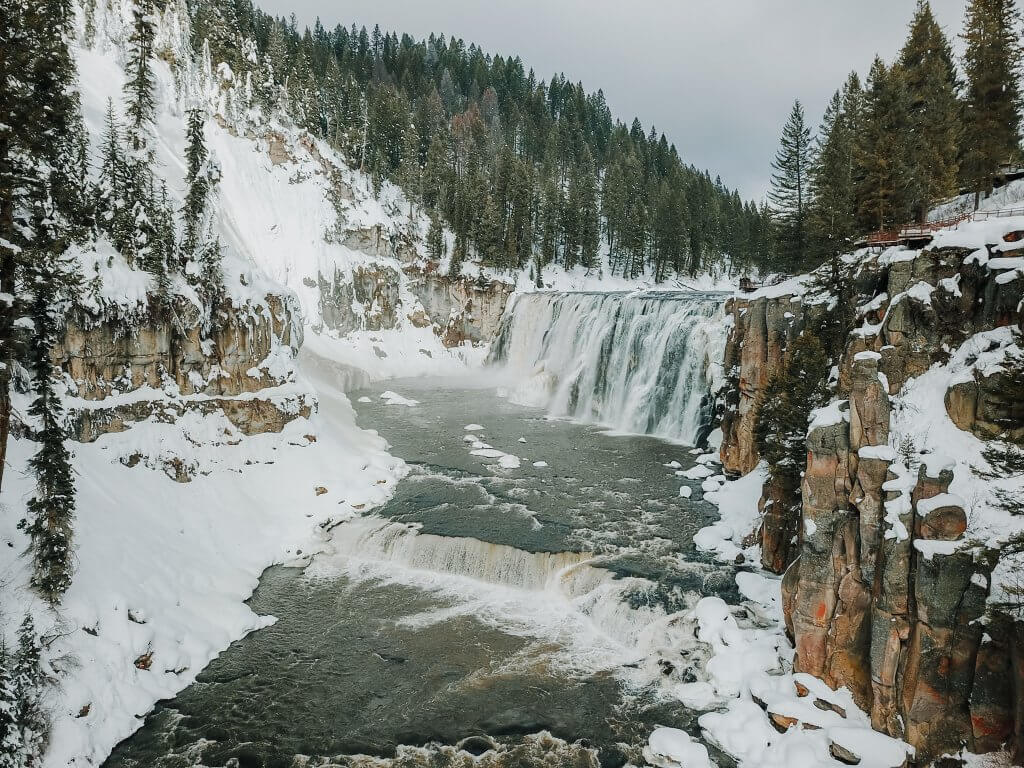 On the first day of your trip, get ready for a full day of FUN! If you've never tried snowmobiling before, you are in for a treat. The Caribou-Targhee National Forest has one of the best snowmobile trail systems in all of the states. With over 950 miles of groomed trails, powdery snow, straightaways, and thick backwoods you'll have no trouble finding your ideal terrain. This is one adventure you have to experience!
We recommend taking a snowmobile tour with a guide that knows the area well and can work with a variety of skill levels. Teton Valley Adventures located in Driggs offers full or half day tours. We enjoyed a full day snowmobile tour to Mesa Falls with the team from Teton Valley Adventures.
This particular tour will take you approximately 60 miles through Island Park to the breathtaking Upper Mesa Falls and is located only 15 miles from West Yellowstone. The dazzling Upper Mesa Falls stands at 114 feet tall, while Lower Mesa Falls is about 65 feet tall.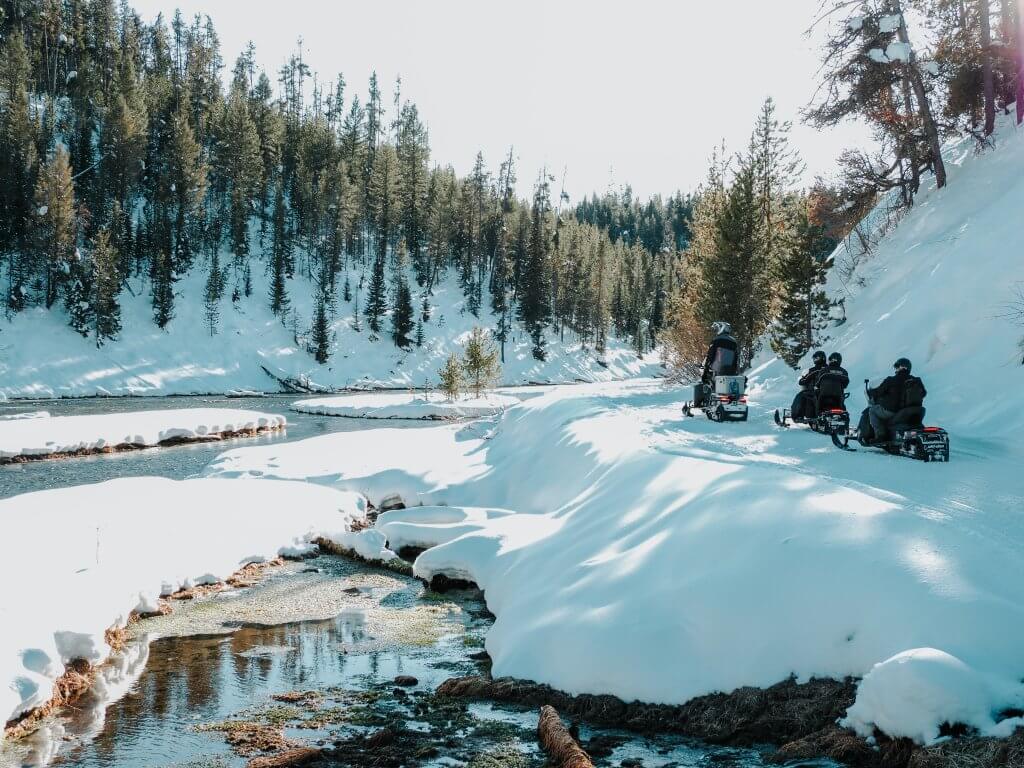 Visiting these waterfalls is especially magical in the winter, not only for the scenery, but because you will likely witness these falls with little to no crowds around. The only way to access Mesa Falls is by foot or snow machine during the winter months and into early spring.
Along the Mesa Falls tour, enjoy stops like Big Springs, Warm Springs, and lunch along the river at Pond's Inn. Some other important things to note about all snowmobile tours with Teton Valley Adventures: you will be provided gear to include a jumpsuit, boots, helmet and gloves. This outerwear is designed to keep you warm in cold temps.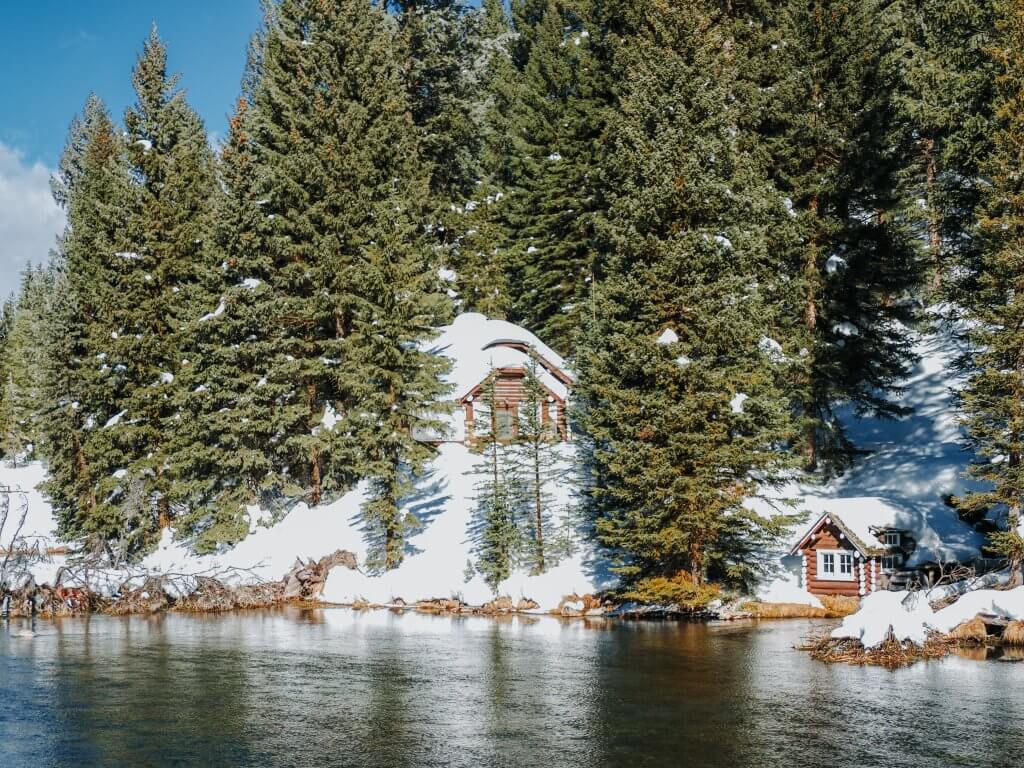 The guide will also provide instructions on how to safely and properly operate and drive the snowmobiles (riders must have a valid driver's license in order to operate the snow machines, otherwise they will ride with a driver).
Day 2: Ski at Grand Targhee
Grand Targhee Resort is one of the best kept secrets in the ski world. If you love dry and fluffy (not to mention, deep) powder, amazing terrain, and incredible views without the steep prices on the other side of the mountains, you will LOVE Targhee. The bonus? Grand Targhee typically gets more than 500 inches of snow per season, so you are almost guaranteed to have good snow here.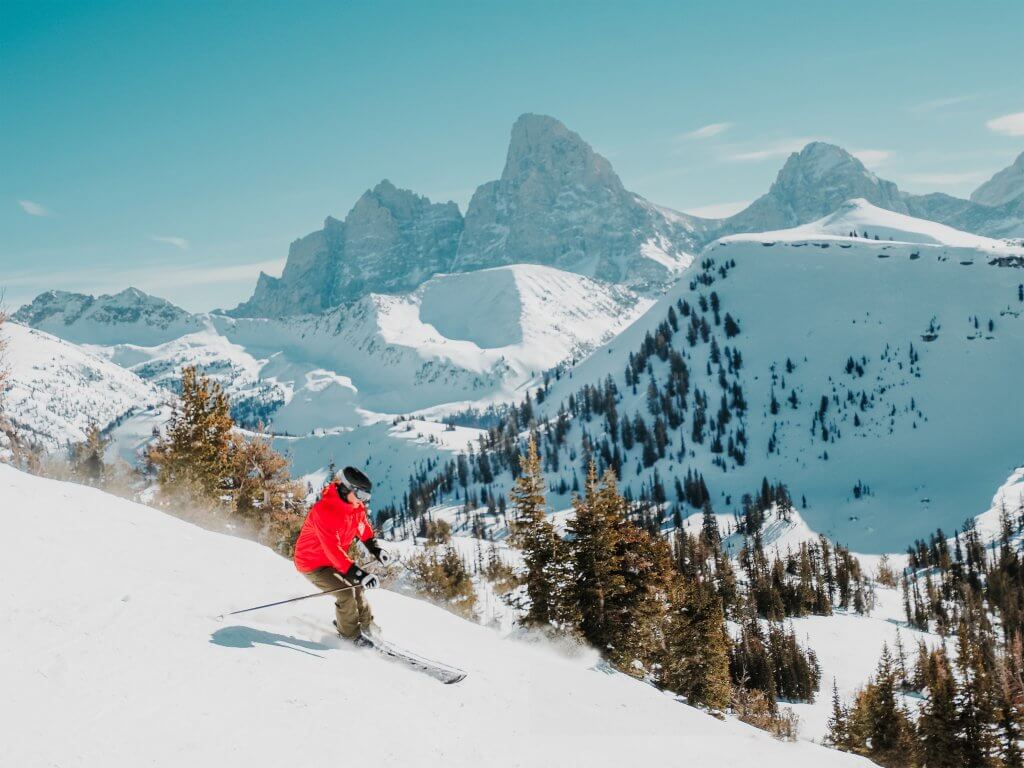 If you are a beginner skier, no fear because Grand Targhee offers a world-class ski school for all ages. Join a group lesson or opt for a private lesson if you want 1-on-1 instruction. Targhee also boasts terrain parks and awesome off-piste skiing if you aren't into the "groomers". Looking for more adrenaline? Give cat skiing a try at Targhee.
If you aren't into downhill skiing, Grand Targhee also offers other activities such as snowshoeing, nordic skiing, and fat biking. Rentals are available at the shops in the village.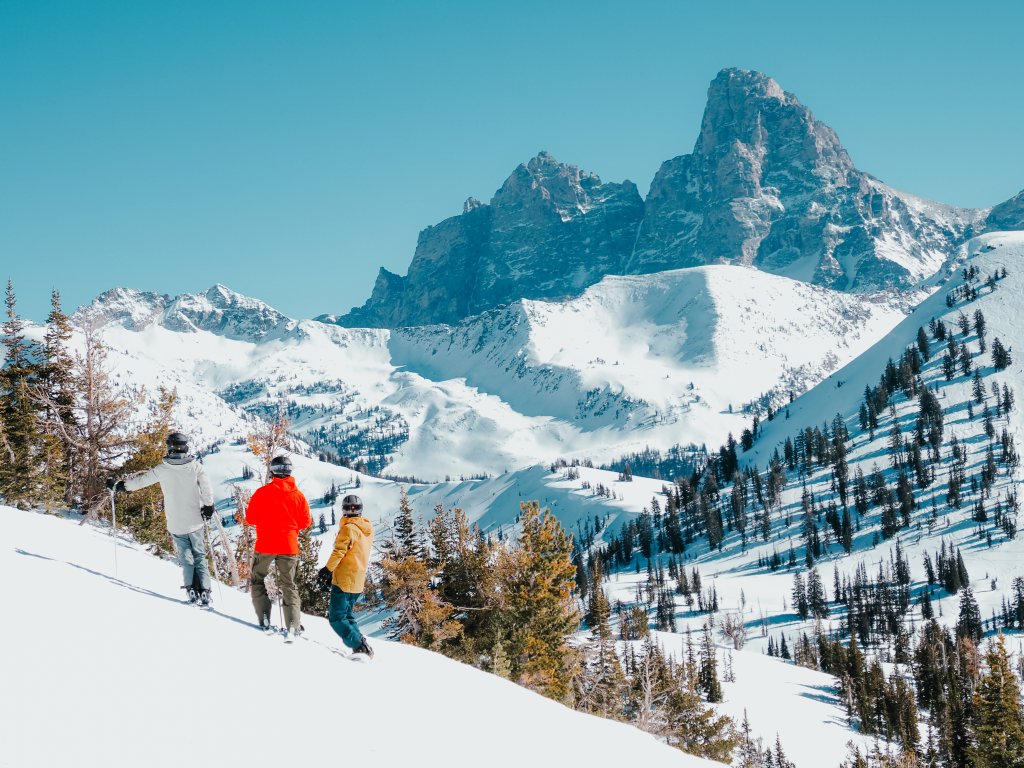 Don't forget to dine in one of the apres ski restaurants like The Trap Bar (get the burger with bacon and bleu cheese!) and Provisions Kitchen. With healthy portions, a variety of food options and affordable prices, eating at Grand Targhee doesn't have to break the bank. If you want a fine dining experience, try The Branding Iron which is well known for amazing steaks and vegetarian options such as cauliflower steak.
Day 3: Snowshoeing at Harriman State Park
The final day of the ultimate winter trip in eastern Idaho wraps up in Harriman State Park, about an hour north of Driggs. Harriman State Park lies within an 11,000-acre wildlife refuge in the greater Yellowstone Ecosystem. Elk, moose, trumpeter swans, coyotes and eagles are just a few of the animals that are often seen. Grizzly and black bears are also frequent visitors of the refuge and it's important to be bear aware and plan appropriately.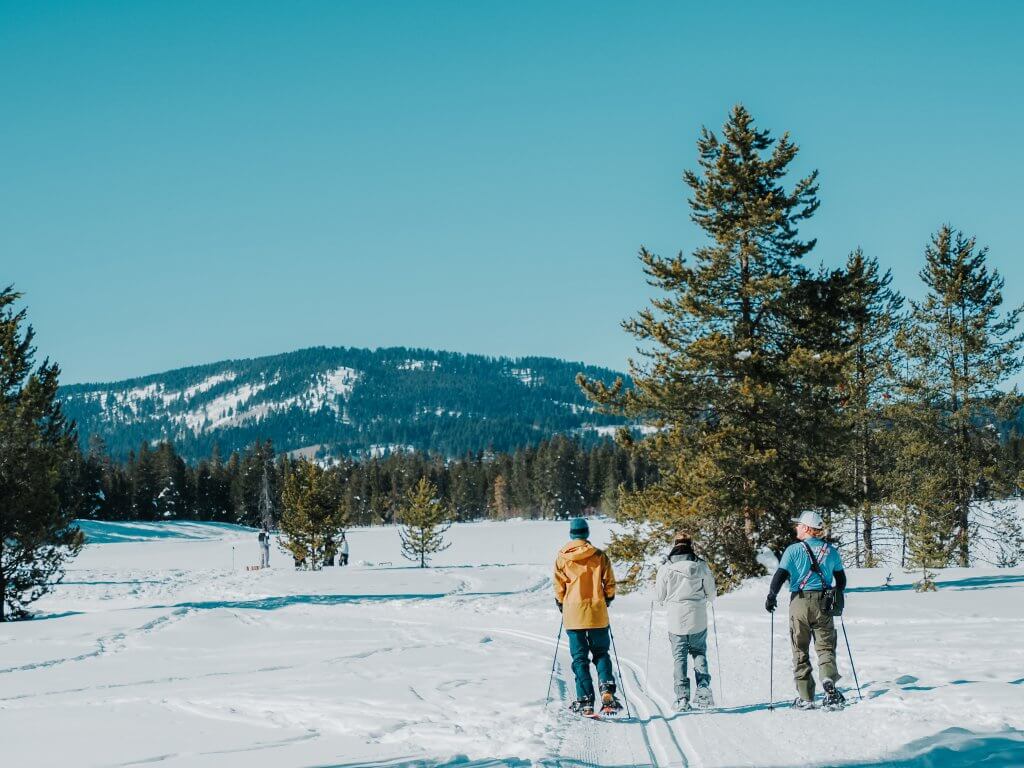 Known as one of the best fly-fishing streams in the nation, the Henry's Fork of the Snake River meanders for eight miles through this park. Over 20 miles of trails are available for snowshoeing, fat biking, and nordic skiing in the winter. The six major features in the park are: forests; lakes and ponds; marshes and wetlands; meadows; the river; and the Railroad Ranch historic area.
For an easy, short hike that you can do in two hours or less, check out the John Muir Trail. This is a great trail with young kids and meanders through a beautiful forest.
Other shorter trails include: Ranch Loop, River Trail, and the Thurman Creek Inner Loop. These trails are less than three miles round trip, making it perfect for families or if you're short on time. If you want a slightly longer trail, Harriman Ridge Trail Loop and Golden Lake Loop are good options with stunning vistas.
Note: You'll pay a $7 vehicle entrance fee and a $5 per person fee when you arrive at Harriman State Park (the per person fee covers the grooming and upkeep of the trail system) at the ranger station. If you have an Idaho State Parks Passport your entrance fee is waived. As a bonus, the fee or passport also covers a day trip to the nearby Upper Mesa Falls and Henrys Lake.
Snowshoe rentals are available in Henry's Fork Anglers in Island Park, which is the closest rental shop to Harriman State Park.
Additional Winter Activities in Eastern Idaho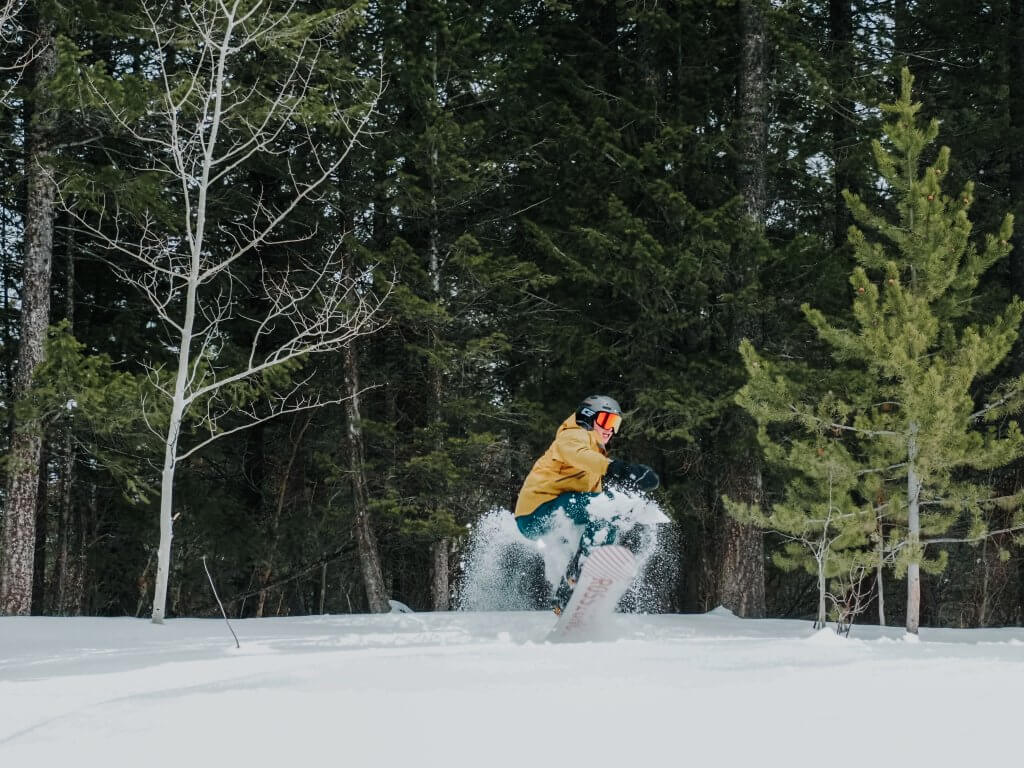 Skiing at Kelly Canyon
If you want an extra ski day or too, hop over to Kelly Canyon Ski Resort, located only 30 minutes from Rexburg, in Ririe. Known for their impeccable grooming, uncrowded trails and lifts, and homestyle cooked food, Kelly Canyon is a win. It is also a great place to learn how to ski or snowboard, and boasts a terrain park.
Fat tire biking
Eastern Idaho is known for some of the best mountain and fat biking trails. It is a great winter activity that almost anyone can enjoy! Grand Targhee, Harriman State Park, Horseshoe Canyon, Packsaddle Road, Teton Canyon, and Darby Canyon all have fat biking trails. Grand Targhee, Kelly Canyon, BYU-Idaho Outdoor Resource Center and Fitzgerald's Bicycles in Victor, all rent fat bikes.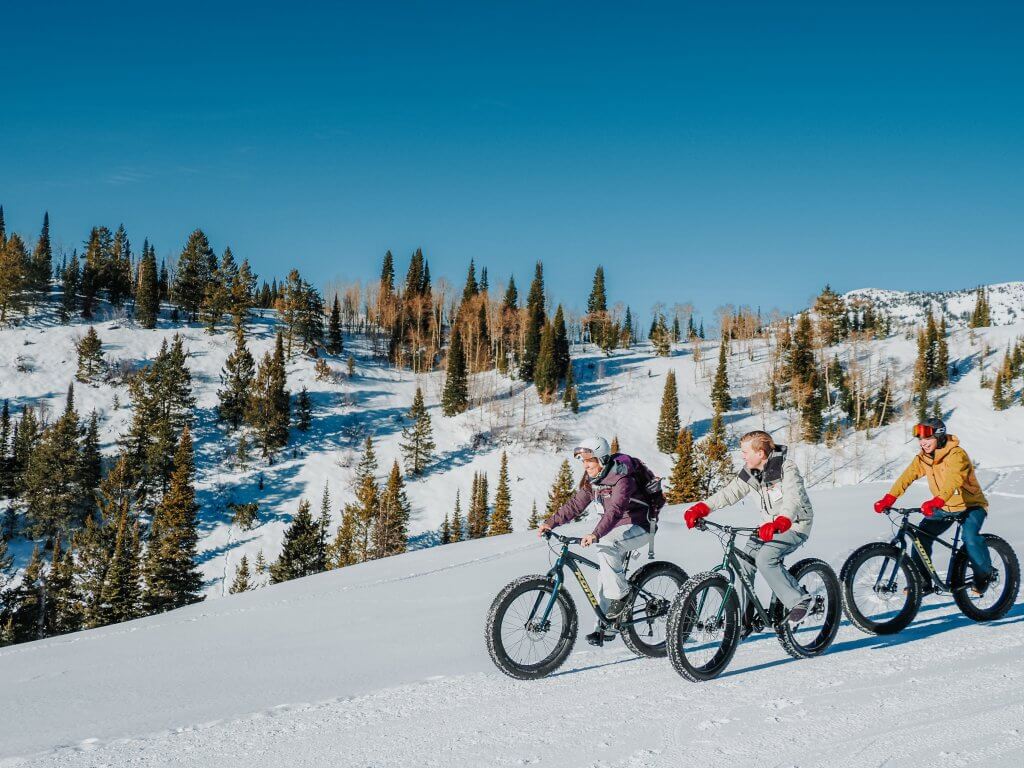 Ice fishing at Henrys Lake
Island Park has some of the best fishing lakes and streams in the entire country. Henrys Lake, located 15 miles from West Yellowstone, is a great ice-fishing spot brimming with big cutthroats, rainbow-cutthroat hybrids and trophy brook trout. Anglers can fish with minimal equipment and can access the lake easily by foot or snow machine from various public access points around the lake. At Henry's Fork Anglers, you can hire an experienced fishing guide to take you. Don't forget to grab your Idaho fishing license before heading to the lake.
One thing is for certain.
The ultimate weekend winter getaway in eastern Idaho will have you yearning for more. There's something about this area that makes it feel more untouched, pristine, and not overpopulated with tourists. It's a great place to take families with kids of all ages and offers something for everyone in the winter time.
Feature image credited to Christina McEvoy.
Christina McEvoy is an adventure travel photographer and blogger at Adventure Together. She shares epic destination guides and tips for traveling with teens in off-the-beaten-path places and loves to inspire families to get outdoors. Christina and her family spent a few years slow traveling in Central and South America and now reside in Salt Lake City, Utah. For more adventure travel inspiration, follow Macs Explore on Instagram.

Published on January 26, 2023