With less than a week left before July 4th, there's just enough time to put together a celebration plan. To help you figure out what to do, here are some of the activities happening in communities around the state. Have a wonderful and safe 4th of July celebration!
Boise
Get started early with the Gem State Kiwanis Annual 4th of July Pancake Breakfast at Julia Davis Park at 7 a.m. The fun wraps up at 11 a.m. or when the pancakes are gone. Then head downtown for the We The People 4th of July Parade at 11 a.m. near 10th and Jefferson . Round out the day with Boise's 4th of July Fireworks Celebration at Expo Idaho. Gates open for this free event at 6 p.m., fireworks start around 10:15 p.m.
Meridian
Celebrate the Fourth of July at the Independence Day Festival at Storey Park. Starting at 3:00 p.m., enjoy bounce houses, slides and an obstacle course, kids games, live music, and not just food trucks but a food truck rally. Stay for the fireworks show, which starts at 10:15 p.m. or just after dusk.
Caldwell
Caldwell puts on a heck of a 4th of July celebration. Start the day at 9 a.m. with a parade, then check out the classic car show. The Patriotic Bike contest starts at 12:30 p.m., followed by a Pie Eating Contest. Brothers Park is the place to be for the fireworks which start around 10 p.m.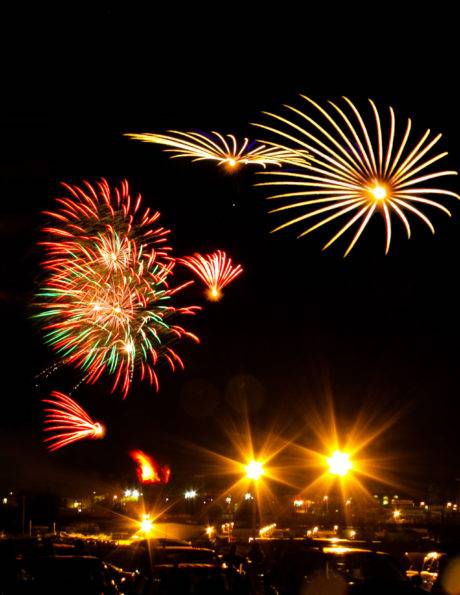 Melba
Melba is a small town with a huge 4th of July celebration. The Melba "Olde Tyme" 4th of July celebration begins at 7 a.m. with a Fun Run, then a parade, arts and crafts fair, car show, antique tractor pull, games, and tasty eats. Fireworks start at dusk with stadium seating available.
Hailey
If horses, cattle, and cowboys are more your style, check out the famous Hailey "Days of the Old West Celebration," which runs the 1st through the 4th. On the 4th, start with the famous Days of the Old West Parade on Main Street at noon. Follow that up with the 3rd Annual Draper Preserve RiverFest which kicks off at 1:30 p.m. with live music, food, craft vendors, and a Children's Carnival. Check out the rodeo in the evening and then grab a seat for the fireworks show at dusk.
Stanley
In Stanley, the party starts when you get there. Seriously, the starting time is listed as: "When you get in town." Spend the day fishing, boating, swimming and enjoying the beauty of the Sawtooths. In the evening, head into Pioneer Park by 5:30 p.m. for the parade, followed by live music and a street dance. When darkness falls, sit back and relax while you enjoy the fireworks show.
McCall
A single day or weekend 4th of July celebration isn't good enough for McCall. Instead, McCall is offering the "10 Days of Fourth of July Fun" celebration beginning June 30th. There's too much to list, but on the 4th, among other things, check out the Thunder Mountain Days Parade, OR the 4th of July Kick-off Bubble Parade, a volleyball tournament, craft fairs, a street dance, and end the day with majestic fireworks show over Payette Lake. Head up to Brundage Mountain Resort for mountain biking, hiking, disc golf, and an uphill 10K race to the summit. If you prefer being pampered, sign up for a 4th of July Fireworks Cruise with McCall Lake Cruises, or make reservations for a Lakeside Fireworks Dinner at The Anchor Restaurant. Cap off your celebration at the DJ Dance party at the Yacht Club.
Rupert
Not to be outdone, Rupert is hosting a multi-day "United We Stand Festival". Enjoy five days of festivities with Wild West shootout performances, a parade, a fun run, lawnmower races, live music, and of course, fireworks. Take note, a fireworks display kicks off this festival on June 30th.
Coeur d'Alene
Just the excuse you needed to spend some time in beautiful north Idaho, Coeur d'Alene has the largest 4th of July Festival in the region. Start the day with the American Heroes Parade on Sherman Avenue. After, head to Coeur d'Alene City Park for live music and fantastic food. Close out the day watching north Idaho's largest fireworks display over Lake Coeur d'Alene at dusk.
Idaho Falls
The 4th of July fireworks display in Idaho Falls has a earned a reputation for being the largest of its kind in the state and has been described as the "3rd-largest fireworks show west of the Mississippi." But that's not all there is to do at the new Riverfest Celebration, which replaces the "Liberty Festival" of previous years. Enjoy food booths, live music, horseback and wagon rides, motorsports exhibitions, and a tons of kids games and activities. When night comes, the Melaleuca Freedom Celebration fireworks show starts at Snake River Landing, and this year they are claiming it will be THE biggest fireworks show in the West. You don't want to miss this!

Published on June 29, 2017