Tiffany Burghart worked in partnership with Visit Idaho to create this Travel Tip.
As someone who loves visiting national parks and monuments, Craters of the Moon National Monument and Preserve has been on my radar for a while. Initially, I envisioned us visiting during summer – hiking, exploring the lava caves, and maybe even backpacking.
But as someone who also loves off-peak travel, I was intrigued when I learned you can snowshoe and cross-country ski at Craters of the Moon during winter. Instantly I knew we had to try it, but I also wondered if I would feel like we were missing out by visiting during winter. Regardless, we couldn't think of a better place for our first family snowshoe outing.
Getting to Craters of the Moon
On the day of our visit, as we drove the road from Twin Falls to Craters of the Moon on the Peaks to Craters Scenic Byway and I knew we were in for something special. Towering above the highway, we could see the Sawtooth and Pioneer Mountains in the distance.
Travel Note: On occasion, GPS can be unreliable in this area. Check these directions on how to accurately reach Craters of the Moon. You will not have to traverse any unpaved roads to reach the visitors center.
Winter Activities at Craters of the Moon
As you approach the park, the change in the terrain becomes apparent. You start to notice large cinder cones rising above the horizon in the distance. We pulled into the parking lot at the visitor center and headed inside to learn a bit more about the history and landscape of the park.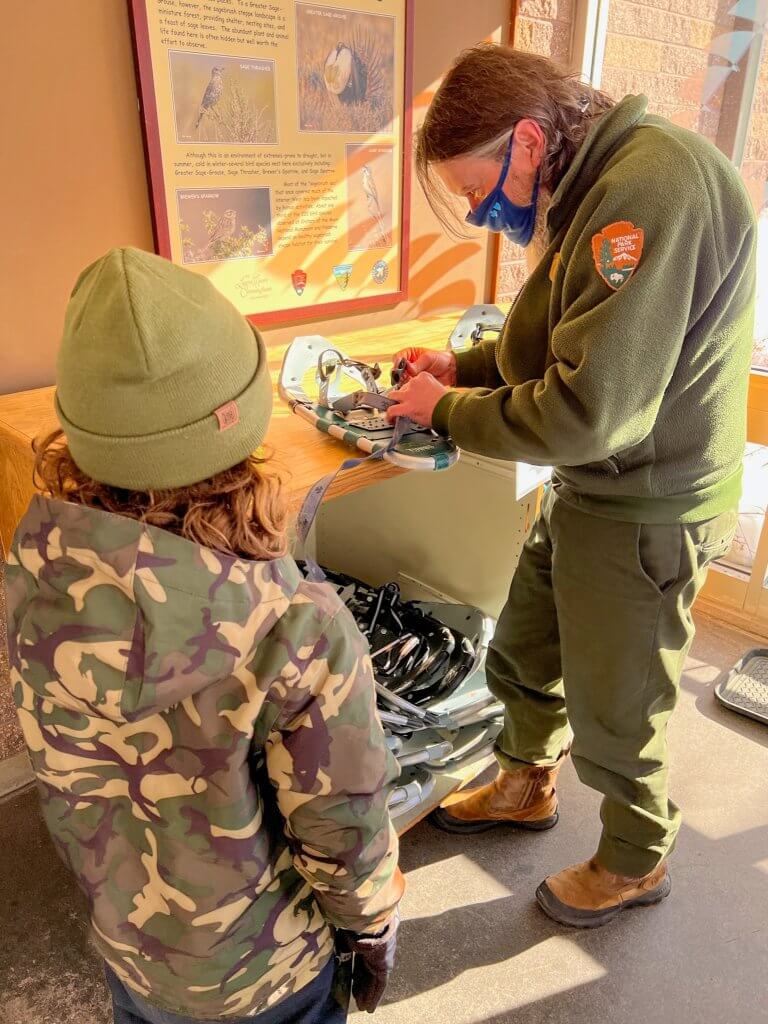 After a brief orientation and snowshoe pickup, we snagged a map and headed straight to the one-mile snowshoe loop on Loop Road that starts steps from the parking lot. Attaching the snowshoes to our shoes was simple, and even the kids needed minimal help. Moments later, we were on our way.
The one-mile snowshoe loop is relatively easy for beginners. Our snowshoeing pace on this trail was roughly the same as our average hiking pace, though keep in mind that it can vary slightly depending on fresh snowfall and weather conditions. We would estimate 30-60 minutes to complete this loop with kids.
One word to describe our experience? Wow. Simply wow.
I know that can sound cliche, but it was literally the word that all of us kept uttering every time the landscape changed. Yes, even the kids.
There was something incredibly magical about the juxtaposition of the volcanic rock and cinder cones against bright blue skies and a blanket of white that had us all in awe.
What to Bring to Craters of the Moon
The location of Craters of the Moon puts the closest gas station and restaurant miles away, so you'll want to plan accordingly. Here are a few things we suggest having with you:
A full tank of fuel
Plenty of snacks and water
Chains in case of challenging winter road conditions
A basic winter emergency kit including extra layers, food, water, and blankets just in case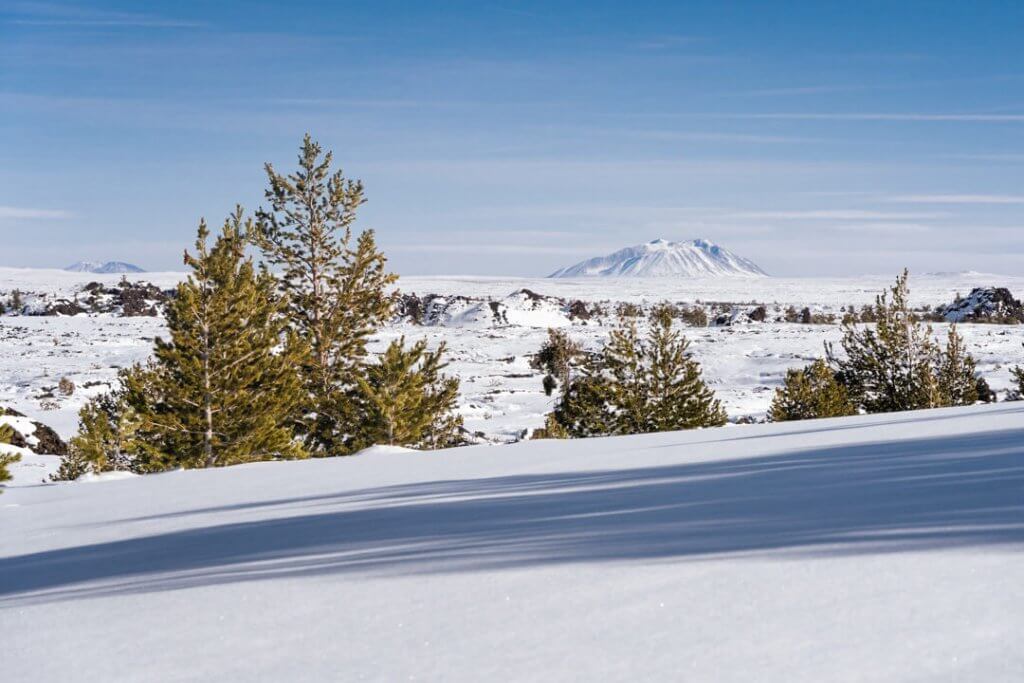 Planning Tips for Craters of the Moon
Here are a few of our top tips for a visit to Craters of the Moon during the winter.
Before heading out, check the current conditions on the park website for weather, road conditions, and closure info.
Stop at the visitors center first, even if you have your own snowshoes or cross-country skis. Before venturing outdoors, you can pick up a map, use the restroom, and learn more about the park.
Dogs are not allowed on the groomed ski track.
If you don't have your own snowshoes, you can borrow them from the visitor center Wednesday thru Sunday from 9 a.m. to 2 p.m. A $5 donation is suggested for snowshoe rentals.
During the winter, the Loop Road closes to vehicles but becomes the main snowshoe route.
Free, ranger-led snowshoe hikes happen on Saturdays and Sundays in late January through February.
Layers are key as temperatures and wind can very greatly throughout the day.
My only regret? Not planning to spend more time in this park.
Because of our schedule, we only had an hour or so to explore with our snowshoes. We could easily have spent half a day trekking through the snow and climbing cinder cones.
Is Craters of the Moon better in winter than summer? I'd venture to say yes, but as there's only one way to know, it sounds like we'll have to start planning our return trip.
Feature image credited to Tiffany Burghart.
Tiffany Burghart is a blogger, photographer, and content creator at The Stoke Fam and on Instagram where she empowers families to get out and explore together while building stronger relationships with their growing children and tweens.

Published on January 31, 2023