Every March when spring first hints of its return, Treefort Music Fest makes its annual appearance in downtown Boise. Suddenly, the city streets and buildings are filled with lively art, vibrant cuisine, invigorating storytelling, spirited movement, and of course, the merry sounds of music.
Treefort will return for its eighth year March 20-24, 2019 and is set to be five days of pure magic. Whether you're a die-hard Treeforter or festival newbie, there's something new and exciting for everyone to experience.
Here's what you need to know for Treefort 2019 so you don't miss a beat.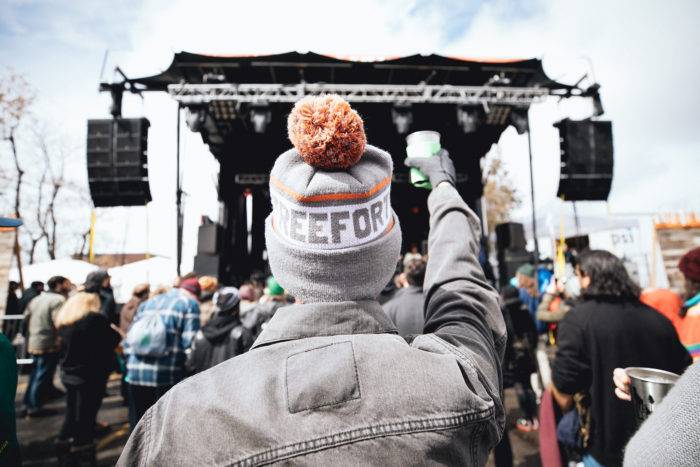 More Main Stage, Less Plastic
There's nothing like seeing a stellar show at Treefort Main Stage. For the first time, the Main Stage will start rockin' on Thursday! The party at the Main Stage won't stop until the end of the fest on Sunday, March 24. Get ready to see the likes of Toro Y Moi, Angelique Kidjo's Remain In Light, Liz Phair, American Football and many more.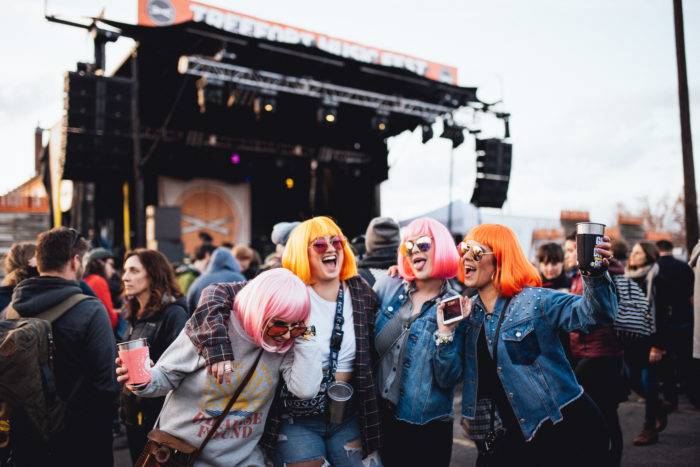 In addition to keeping the festivities fun, Treefort is focused on keeping all things clean and green. To further the sustainability of the festival, Treefort is no longer using plastic cups for beverages at the Treefort Main Stage. Treefort has used and sold stainless steel cups in the past and has encouraged their use, but this year it'll be the new standard. Make sure to bring your own reusable cup this year or buy one at the fest.
Taste the Best of Festival Fare at Foodfort
Foodfort is a three-day celebration of the food and food systems local to the greater Boise region. In years past, Foodfort has been located next to Alefort while hosting mouth-watering dinners at the Basque Center. This year, Foodfort's main dining hall will be at the Basque Center with a handful of amazing food-focused events and special dinners happening on Wednesday and Thursday nights. In addition to the Basque Center, Foodfort will have a daily menu of locally-curated food available in Alefort.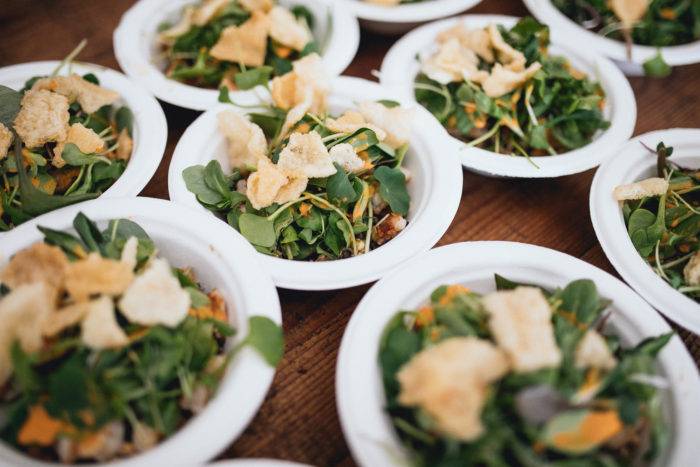 This year's chef-farmer-food community dinner, A Night at Kachka, will take place on Wednesday, March 20, and features Chef Bonnie Morales. Chef Morales is co-owner and head chef of Kachka in Portland and a James Beard finalist. The following evening on Thursday, March 21, local chefs from Madre, Lime & a Coconut, Petite 4, Camel's Crossing, and Wild Root will present Street Eats, a market-style shindig inspired by the night markets of Asia and South America. Both events are open to the public (age 21+) with a valid ticket.
Cheers to a Fresh Layout & Menu at Alefort
Alefort is the beer, cider, and food tasting component of Treefort Music Fest. Alefort has changed up a few things for its eighth year, including a new layout, a creatively-curated Foodfort menu, a one-day Basque presentation, and a new brewer, Barley Brown's Beer to create Alefort's specialty beer, Fresh AF 2019. Some of the old Alefort favorites will remain, like the Alefort Nail Pull and fresh pours to taste from local and regional breweries.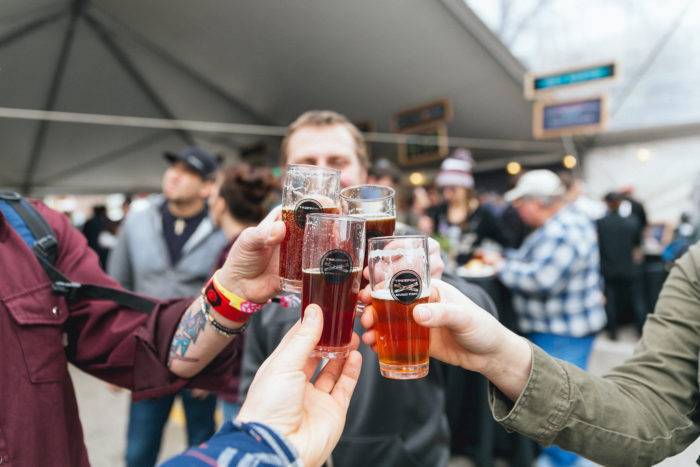 New this year in Alefort, attendees will find beers organized in bars rather than by brewery. There will be the Alefort Bar, a Process & Ingredient Bar, and four additional bars organized by beer type. Each brewery will be paired with a bar that gives them the opportunity to showcase their best, most unique beer in that category.
Alefort, in collaboration with Foodfort, is also serving up a brand new, locally-curated menu of grub that'll go perfectly with any brew. Friday is an exploration of Boise's taco phenomenon, featuring freshly prepared tortillas filled with taco offerings from a diverse group of local restaurants. Saturday features a Basque experience with traditional food, dancing and a stream of cider. Sunday features brunch foods paired with crisp coffee beers at the Alefort Bar.
As always, those drinking at Alefort will need to bring or purchase a reusable cup. Alefort is located near the Treefort Main Stage in the Owyhee parking lot and is free and open to the public (age 21+) Friday through Sunday of Treefort Music Fest.
How to Get Around: Hop on the Treeline, Explore by Bike or Wander on Two Feet
Treefort Music Fest streches over dozens of downtown Boise venues, making it simple to get from venue to venue by any mode of transportation. Whether you travel by bike, bus, scooter, skateboard or your own two feet, there are plenty of ways to travel through Treefort and experience the City of Trees.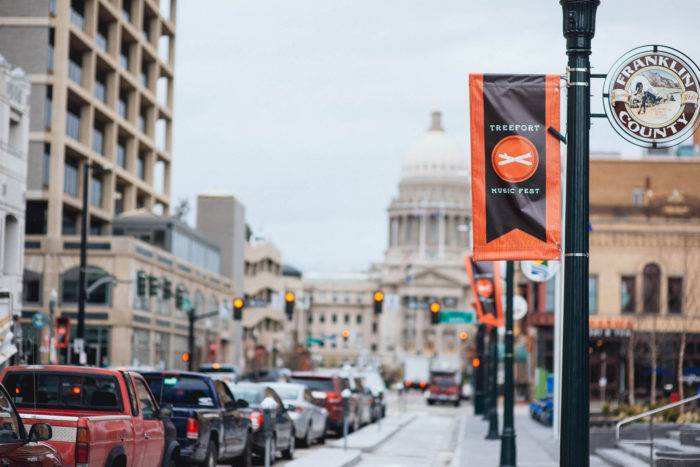 Thanks to Boise's bus system, Valley Regional Transit, venue-hopping is easier than ever with the Treeline Circulator. Treeline is a special festival route that begins Wednesday, March 20 and runs through Saturday, March 23, from 6:00 pm to 12:00 am. The route runs from 14th to 4th on Main Street and Idaho Street with six Treeline stops that are beautifully decorated with Treefort flare. Treeline is free for anyone with no festival wristband required. There'll be bands performing on the Treeline bus as well!
Cruisin' by bike is one of the best ways to get around Boise. Ride your own or hop on a Boise GreenBike, Boise's local bike-share program. For the entire Treefort Music Fest, Boise GreenBikes will be free for everyone and all of downtown Boise will be a GreenBike superhub, meaning you can park your bike anywhere at no cost.
New Beer for a New Year
Every year, Treefort partners with local breweries to create a tasty beer with a bit of festival flavor. This year, the official Treefort beer is Timber Giant Pale Ale, created in Nampa, Idaho by Mother Earth Brewing Company.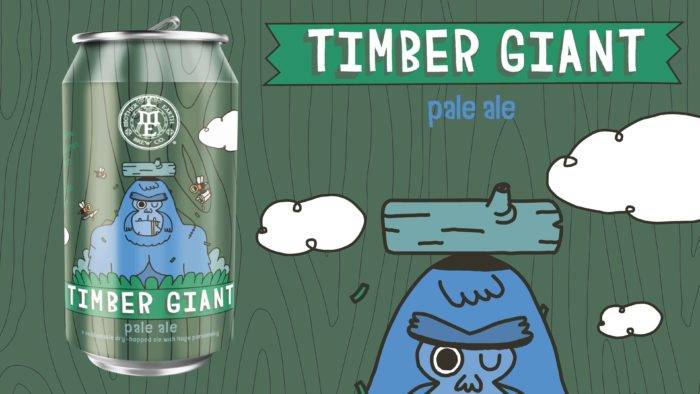 Timber Giant is a beer inspired by Idaho and Treefort Music Fest. This new, specialty beer will be offered all over Treefort, from Alefort to Main Stage and bars in between. It is also available for purchase at many locations throughout the Treasure Valley prior to and during Treefort.
This sessionable, refreshing, double-dry-hopped pale ale has a big personality and will be the perfect pal for trotting around Treefort. Timber Giant features New Zealand Nelson Sauvin, Mosaic, Amarillo, and Citra hops, creating a huge tropical fruit and citrus aroma that explodes out of the glass. Oats and wheat contribute to its soft body, keeping it hop-focused.
In comparison to larger music festivals, you can get more for less at Treefort. Passes are affordable, and not only is Treefort a music festival, but also a film fest, a yoga retreat, a tech marathon, a food fair — the list goes on! To put it simply, Treefort is an eclectic wonderland for all the senses. For more information, go to www.treefortmusicfest.com.
Angel Abaya is a content creator and public relations assistant on the Treefort Music Fest Communications Team. She also works as an administrative assistant and musical artist for local arts organization, LED, and teaches music classes at Boise Rock School. You can find her playing in various bands such as Electric Coconut, Purring Mantis and Angel Food.
Visit Idaho is a proud sponsor of the Treefort Music Fest.

Published on February 19, 2019