Lindy Callahan worked in partnership with Visit Idaho to create this Travel Tip.
The Riverside Hot Springs Inn in Lava Hot Springs, Idaho has been a top destination in the state for over one hundred years. With distinguished guests frequenting its halls over the years, including former President of the United States, Teddy Roosevelt, its beauty and reputation have been a staple in the community since it was built in 1914.
Aside from the unique history, private soaking tubs and architecture, there is now another reason to visit — the restaurant housed inside the inn, the Portneuf Grille & Lounge. Here, diners can enjoy regional gourmet cuisine in what was once the hotel's sandwich shop and carriage house.
My husband, Mike, and I had the opportunity to sit down for a tasting of the menu and to talk with the staff about this unique dining experience. Not long into my visit, it was clear to see that the Portneuf Grille & Lounge is reason enough to visit the town of Lava Hot Springs.
First Things First
The flowers were in bloom in the courtyard as my husband and I approached the entrance to Portneuf Grille. The Riverside Hot Springs Inn name was painted in bold, turn-of-the-century-style lettering. The not overdone, yet charming atmosphere made me feel welcome right away.
Executive Chef Alonzo Thomas joined us to talk about his culinary background and the restaurant's unique approach to regional cuisine.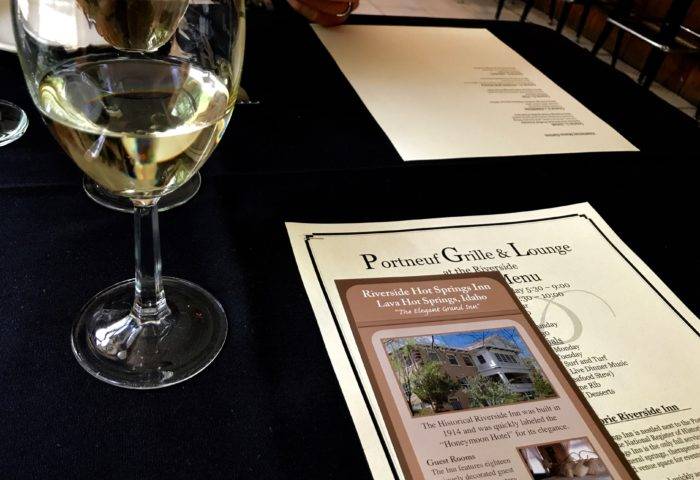 Chef Alonzo explained the restaurant aims to provide a comfortable environment where guests can enjoy fine dining. The Portneuf Grille serves a variety of dishes to appeal to a wide range of preferences, including vegetarians and gluten intolerant diners. Familiar dishes are found on the menu, along with a selection of unique, yet very easy to fall in love with, high-end courses.
Salad and an Appetizer
For our tasting experience, we were seated next to a window, in a portion of the restaurant that was once the inn's carriage house.
Chef Thomas first brought out a Cashew and Almond Stuffed Avocado with a tomato filling, romaine hearts, and hemp seeds; a smaller portion of one of the main dishes on the menu. The wine pairing was a light and acidic Pend d'Oreille Pinot Gris, an ideal match considering that avocado can be hard to pair perfectly. My immediate reaction was simply that I had no idea avocado could get better.
Next, we tried giant seared scallops that were sweet and tender, topped with crunchy bacon and salted macadamia nuts in lieu of plain salt. The Koenig Viognier that Chef Alonzo paired with the scallops was dry and crisp, offering the perfect refresher between bites. We also tried Turkish-style hummus and pita chips, made in-house just hours earlier with a Huston Chicken Dinner White wine, that the kitchen staff chose as a tongue in cheek nod to the meatless dish.
Main Dishes
Our third course was a beautiful filet of salmon, topped with a lemon honey cream sauce on top of quinoa tabbouleh, and a glass of Cold Springs pinot noir on the side. I savored every flaky bite of the perfectly cooked salmon even more after Chef Alonzo told us that their fish is never frozen. It is flown in fresh which is a treat. If I hadn't been sold on the place before, that tidbit of info sealed the deal.
For our fourth course, we were able to try different dishes. Chef Alonzo brought out my plate of duck confit with a side of cherry gastrique, on top of sauteed oyster mushrooms, fried kale, and sunflower seeds. The chef gave special appreciation to Julia Child for making these French culinary techniques like confit mainstream in American cuisine as he set the plate down in front of me. The Snake River Sangiovese cut perfectly through the bold flavors on my plate, without leaving a dense taste of its own behind. It was easily my favorite dish of the night.
For this course, Mike enjoyed a plate of warm brie cheese with the same cherry gastrique I had, pine nuts and fresh raspberries. To savor between bites, he had a glass of Koenig Chardonnay that we both decided was a contender for favorite wine of the evening.
As a budding food writer, I greatly appreciated Chef Alonzo's in-depth knowledge of the wines he chose to pair with our meals, and the time he spent explaining each choice to us. His passion for food and technique was clear from the beginning of the experience.
Dessert
Winding down the evening, we shared a large plate with three of Portneuf Grille's most popular dessert dishes — a honey and lavender creme brulee, a blueberry lemon New York-style cheesecake (the flavor changes seasonally) and a rich chocolate hazelnut cake with cherry filling and pastry cream. To finish it all off, Chef Alonzo paired a Koenig Ice dessert wine alongside.
Before calling it a night, we had already decided that we would be back in Lava Hot Springs in the near future. Not only for the hot pools or to float the river, but to get another taste of the duck confit and creme brulee.
Lindy Callahan is a Utah native who also spends a lot of time in the Pacific Northwest, writing content for Zillow and working on an MFA at Oregon State. Having deep roots in two beautiful regions of the United States, she has a passion for environmental protection and appreciation. When she isn't out hiking with her husband, Mike and her dog, Phil Collins, she is usually found curled up with a book or working in her garden.

Published on August 20, 2019