​​​​​​​This Travel Tip is written in partnership with Ski Idaho.​​​​​​​
Winter in Idaho is presents a whole new world of adventure opportunities. With 19 ski areas and more than 28,000 vertical feet of skiable terrain there's not shortage of ways to get out and play in the powder for a day or a weekend.
If you're looking for a modified way to experience some of Idaho's storied ski areas, check out the list below. From rentals and lessons to shuttles and even a few additional accessible experiences, these Idaho ski destinations are here to help.
Bogus Basin Mountain Recreation Area | Boise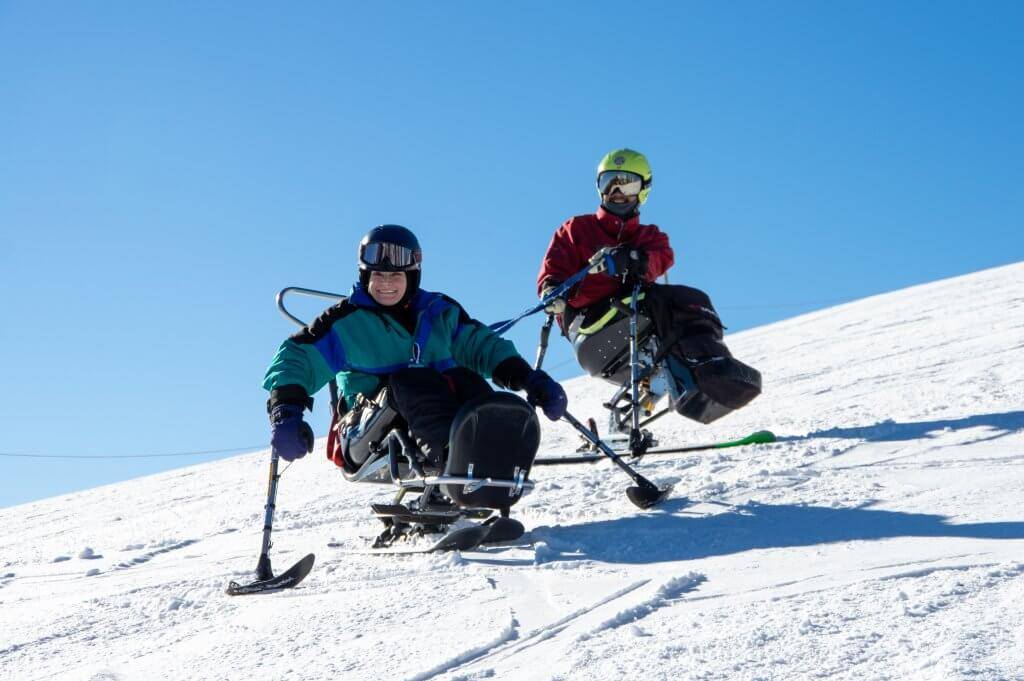 Adaptive equipment rentals: Adaptive equipment is included with all lessons scheduled through Bogus Basin's adaptive ski school, B.A.S.E. (Boise Adaptive Snowsport Education). Sessions are by reservation only, and the cost of the lesson includes both the instructors and equipment. Adaptive equipment is not available to rent for use outside of the lessons.
Adaptive lessons and ski programs: Alpine lessons are available through B.A.S.E. Most are private, two-hour sessions. The cost for a two-hour session for the 2022-23 season is $40, and the lesson includes at least two instructors.
Weekly adaptive Nordic skiing programs are available at the Frontier Point Nordic Center. These lessons are offered by the Challenged Athletes Foundation.
Other accessible winter experiences: Bogus Basin's winter tubing hill is flexible and can adapt to people of varying abilities. Reach out for more information.
Additionally, the Glade Runner Mountain Coaster offers some options for adventurers with limited mobility.
Accessible parking: ADA parking spots are available at several key sites in the area, including the Rental Shop, Patrol Building, J.R. Simplot Lodge, tubing hill, Frontier Point Nordic Lodge, and Pioneer Lodge.
The major access point to Bogus Basin is the J.R. Simplot Lodge Base Area. Access to the lodge's lower level, ticket office, rental shop, and retail shop is available via a paved ramp. Food and Beverage are accessible from the ADA parking spots adjacent to the 2nd floor of the Simplot Lodge, or from the Double R Ranch BBQ Smokehouse, located on the ICCU Plaza.
The Frontier Point Nordic Center has an elevator and ramped entrance to the snow and lodge.
Accessible shuttle options: Bogus Basin's parking lot shuttle has wheelchair access and seating.
Brundage Mountain Resort | McCall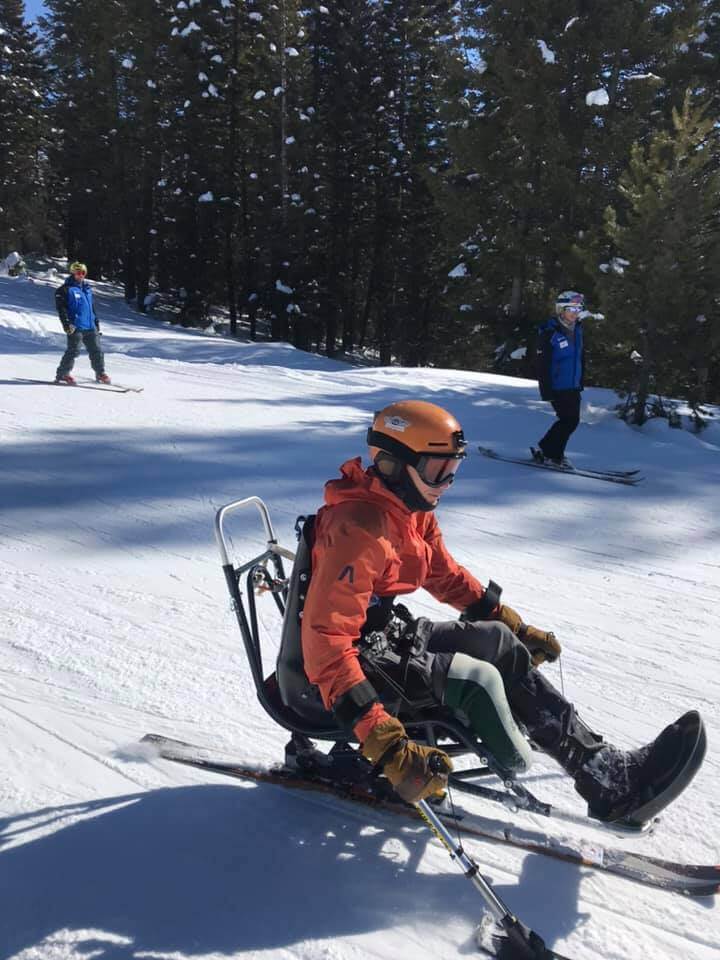 Adaptive equipment rentals: Adaptive equipment is provided for those booking adaptive lessons. Brundage's adaptive program is called AWeSOMe!(Adaptive Wilderness Sports of McCall). This non-profit, volunteer-led organization partners with Brundage to offer adaptive lessons.
Adaptive lessons and ski programs: Provided by the AWeSOMe! Program.
Accessible parking: Brundage Mountain has several ADA parking spaces in the main parking lot (close to the lodge) and ramps to access the ticket windows and Guest Services. Those who participate in the AWeSOMe! Program can drive right up to the lesson facility for easy drop off and pick up.
Accessible shuttle options: The Bluebird Express shuttle, which runs from McCall to Brundage and back several times a day during the winter, has wheelchair lifts and drivers are trained on how to assist those riders.
Sun Valley (Bald and Dollar Mountain) | Sun Valley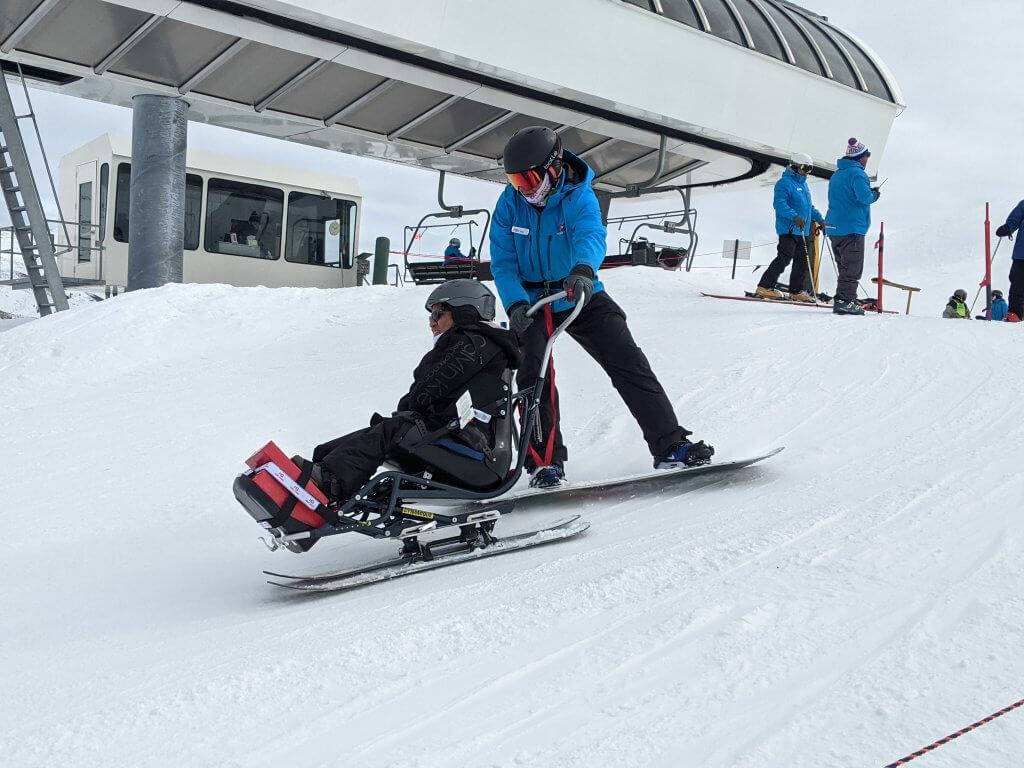 Adaptive equipment rentals: Higher Ground is the sole adaptive concierge to Sun Valley Company for all winter snow sports activities, including alpine skiing, snowboarding and Nordic skiing.
Higher Ground offers adaptive equipment to all participants. To register for a lesson or inquire about equipment rental please visit the Higher Ground website, contact us at the Higher Ground Snowsports line at 208.720.7578, or email snowsports@highergroundusa.org.
Adaptive lessons and ski programs: Adaptive lessons are offered every day the mountain is open.
Other accessible winter experiences: Higher Ground partners to provide Nordic skiing, snowshoeing, and sled hockey for participants.
Accessible parking: Dollar Mountain has several ADA parking spaces in the lower parking lot. From there enter the building through sliding glass doors and take the elevator upstairs. Continue outside on a paver patio to the ticketing window. Higher Ground's ski school office is located inside Dollar Lodge conveniently across from Pete Lane's Rental Shop.
River Run Lodge has accessible parking across the bridge. Drive across the bridge to access ticketing, the lodge, and the rental area. Overall flat area to get to the lift or access the gondola.
Warm Springs Lodge has accessible parking on the street in front of the lodge. The terrain to the lodge, ticketing and rentals is flat and paved. Access to the lift is a bit of a push uphill before you get to flat terrain.
Accessible shuttle options: Both the Higher Ground and local Mountain Rides transportation services offer accessible seating options.
Grand Targhee Resort | Idaho/Wyoming Border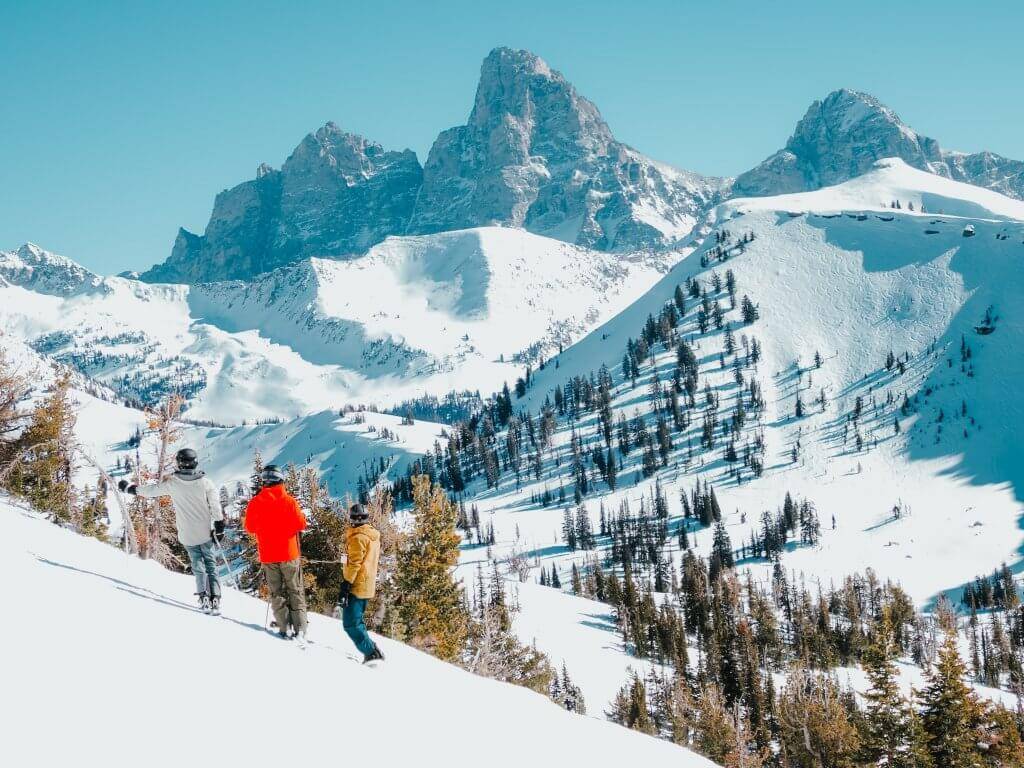 Adaptive equipment rentals: Sit skis are available through adaptive lessons only.
Adaptive lessons and ski programs: Full or half-day lessons are available for people with cognitive, intellectual, and physical disabilities.
Other accessible winter experiences: Nordic skiing is also available.
Accessible parking: Grand Targhee has 22 handicapped parking spaces available, six of which are van accessible. The base area of the resort does have an elevator that can access both levels of the resort.
Accessible shuttle options: Not at this time.​​​​​​​​​​​​​​
Feature image credited to Higher Ground.

Published on November 22, 2022