Kristen Pope worked in partnership with Visit Idaho to create this Travel Tip.
Take in picturesque views of the Tetons while biking the trails of Teton Valley. This scenic valley in Eastern Idaho includes mountain biking terrain for everyone, with beginner/intermediate trails to advanced technical terrain, epic backcountry rides, and even a lift-accessed bike park experience.
Getting Started
Be prepared for not only a wild experience but also the local wildlife. All of the Teton Valley is located in bear country. "We are nestled right in the heart of the Greater Yellowstone Ecosystem, so wildlife abounds," says Tony Ferlisi, executive director of Mountain Bike the Tetons. "Riders should carry and know how to use bear spray on any ride."
When recreating, it's important to follow Idaho state guidelines for responsible recreation amid the COVID-19 pandemic. Best practices include keeping at least six feet of distance from others, avoiding groups of people you don't live with, and wearing a mask when close contact is unavoidable. In addition to being bear aware and taking health precautions, local biking organizations also emphasize the importance of good trail etiquette.
"Please be respectful of other trail users," says Dan Verbeten, executive director of Teton Valley Trails and Pathways."All trails are multi-use. It is the responsibility of mountain bikers to yield to other users on the trail. Keep the trails happy places and be nice to people, please."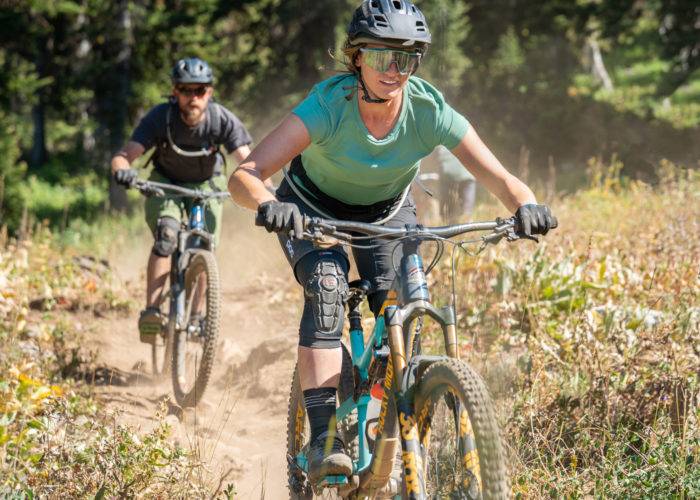 Local Bike Shops
Teton Valley offers several bike shops where you can get your bike tuned up, buy necessary gear, or check on the latest trail conditions. The valley is home to several bike shops, including:
Fitzgerald's Bicycles
(208) 787-2453
176 N. Main Street, Victor
Habitat
(208) 354-7669
Main Shop: 18 N. Main Street, Driggs
Summer Bike Shop: 3300 Ski Hill Road, Alta, WY
Peaked Sports
(208) 354-2354
70 East Little Avenue, Driggs
*This shop offers rental services
Mountain Bike the Tetons offers a Visitor Guide which includes more information on regional bike shop offerings, as well as restaurants to try and even places to camp. Be sure to check with businesses to see if their hours or procedures have changed due to COVID-19.
Where To Go
To get an idea of the wide variety of trails in the Teton Valley, be sure to check out Mountain Bike the Tetons' handy Trail Guide. It sorts trails by geographical area and includes maps, elevation, difficulty ratings, photos, and even popularity rankings for many trails.
The guide features trails in Horseshoe Canyon, the Southern Valley, the Big ​​​​​​​Holes, and Teton Pass, among other regional locations.
Teton Valley Trails and Pathways also offers a variety of resources and routes for two-wheel enthusiasts, including mountain bikers and cyclists who prefer gravel and pavement-based excursions. Check out the nonprofit's maps and resources, including maps of local pathways and the Ashton to Tetonia Rail Trail. Be sure to click on the "summer trails" tab for an assortment of cycling routes, gravel routes, and mountain bike trails in the area.
Grand Targhee Resort's mountain bike park features 70 miles of multi-use trails for mountain bikers, with both cross-country and downhill options. Hop on a chairlift to access over 2,000 vertical feet of downhill fun. Pedal through meadows of summer flowers or opt for technical, hard-charging, downhill action. Review a trail map to scope out trail conditions and lift status before heading out.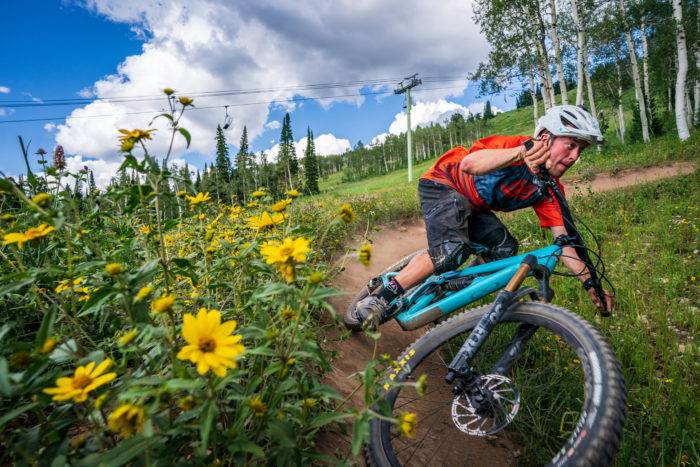 Trails to Try
Teton Valley offers a variety of different trails for users with different levels of experience — from beginners to advanced-level experts. These are all multi-use trails with a variety of user types, so be a considerate trail user and yield to other users, and always check trail conditions before heading out.
Beginners
Grand Targhee Resort offers a number of beginner cross-country mountain biking and hiking trails, and many people find it a good place for beginners to get started. The resort also offers mountain biking lessons for people new to the sport or those who want to brush up on their skills before heading out on their own.
Intermediate Riders
Over half the trails in the Horseshoe Canyon area are listed as "blue square" intermediate routes, offering a dozen choices for intermediate-level bikers looking for an outing. Trail Forks includes stats about the routes, from Bovine Bliss (a 1-mile route with 523 feet of descent) to Sodbuster (2 miles long with 400 feet of descent). Grand Targhee Resort also features an array of "blue square" options for intermediate riders.
Experts
Over a dozen of the routes in the Big Holes are for expert riders, and Trail Forks provides some details on these expert routes. Drake Creek has 1,181 feet of descent and only 32 feet of climbing along a 1-mile route, and TrailForks describes it as a "super fun, steep, technical trail with good flow and natural features." Spencer Mountain is noted as a 3-mile route with 263 feet of climbing and 1,472 feet of descent, and Rocky Peak is marked as a single track with 253 feet of climbing and 1,552 feet of descent. Be sure to check out conditions and follow all safety practices when heading out for a ride.
Kristen Pope is a freelance writer and editor who writes about outdoor adventure, science, conservation, and travel for NationalGeographic.com, Backpacker, Audubon.com, Western Confluence, and Discover, just to name a few. Visit her at www.kepope.com.

Published on July 21, 2020