This is a sponsored post.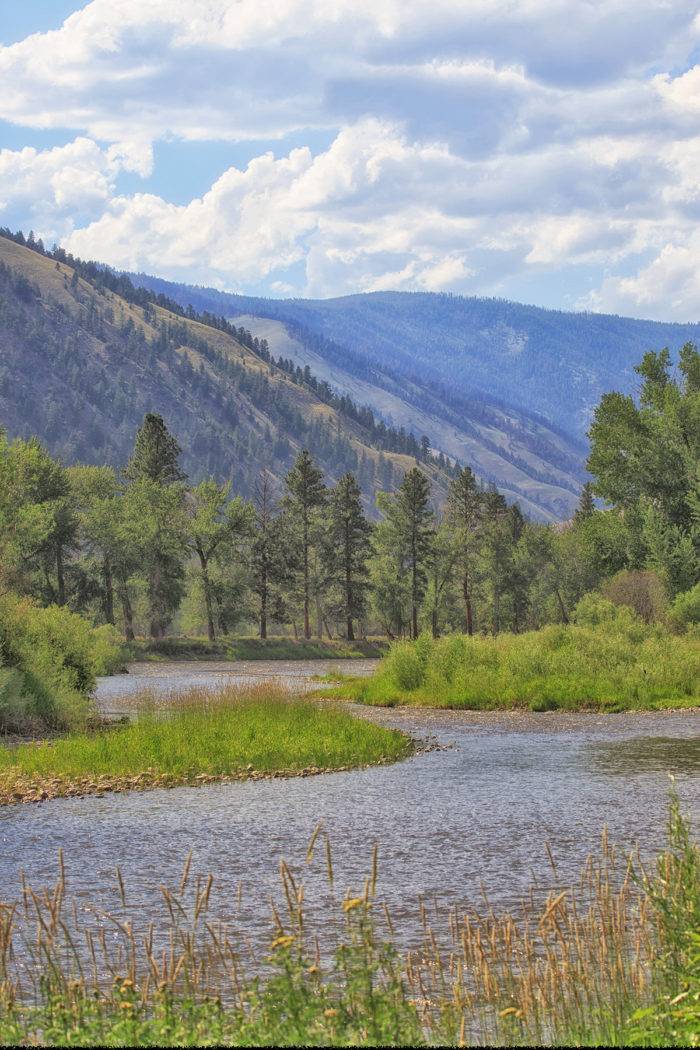 Nestled along the Salmon River in North Fork, Idaho is where we find the Wagonhammer Campground. This luxury RV campground is an ideal spot for those who are seeking exciting Idaho outdoor adventures or for those who just want to get away from it all in a relaxing location. This beautiful campground is located on the banks of the Salmon River, adjacent to Highway 93 and in the heart of the Central Idaho Rocky Mountains. We had the option to choose from a pull thru, full hookup site or an electric and water only site right on the river.
Upon checking in we were immediately greeted by the camp host. We mentioned to him that we had a site along the river and he helped us back-up into our site. He then offered us a tour of the park in his golf cart and he showed us where all the amenities were to be found. As we were driving around, we were pleasantly surprised with how the property was meticulously maintained. Lush green lawns and beautiful blooming flowers were everywhere.
After our camp host returned us to our site, we spent the latter half of the afternoon and early evening exploring our surroundings and just taking it easy. You see, we wanted to reserve our energy for the following day's adventure which was a full day of whitewater rafting on the Salmon River.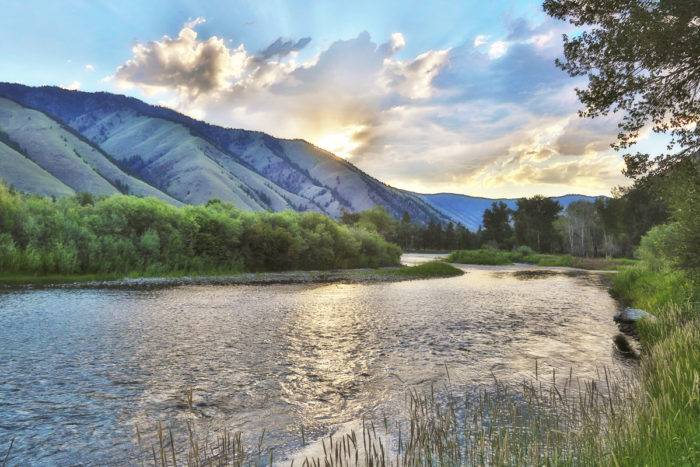 Early the following morning we were picked up by Rawhide Outfitters via shuttle bus right in front of the Wagonhammer Campground. As we were driving to the put in, our guide gave us a summary of what we could expect of our day ahead. He told us that we would be floating 13 miles through a beautiful canyon that has some great rapids! Everyone onboard the shuttle bus was excited and I was pleasantly surprised to see fellow guests ranged in age from 5 to late 70′s which put me at ease as I was admittedly a bit nervous.
At the put-in, we were given our choice between a paddle boat or an oar boat where the guide sits in the center of the raft and you just need to sit and hang on. Hubby, B and I decided to go with the oar boat while other guests chose the paddle rafts as they are more pro-active and the possibility of getting wetter is higher than in the oar boat.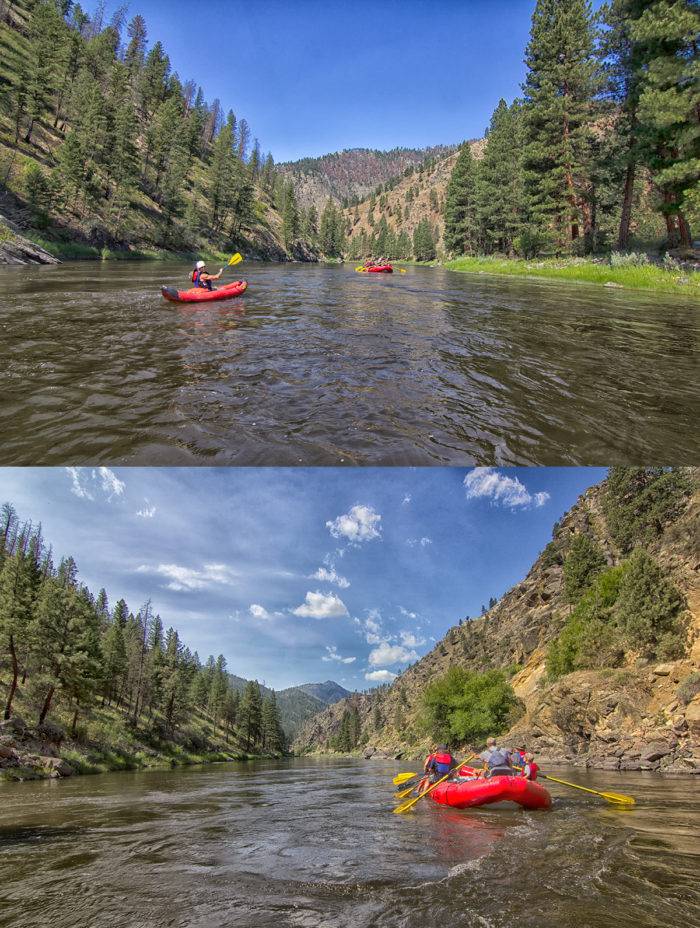 After suiting up with our life vests we were on our way and before I knew it, my nerves were calmed and I was able to sit back and enjoy the ride. We hit the rapids square on which resulted in a thrilling ride and refreshing splashes of cool water. The raft had plenty of room to accommodate everyone and there were plenty of places to hang on. I will say this experience was a complete blast!
Floating down the river was not all that was in store for us. When mid-morning came around, the guides pulled our rafts over to the river's edge and we were greeted with a stunning spread of homemade baked goods such as granola bars and muffins.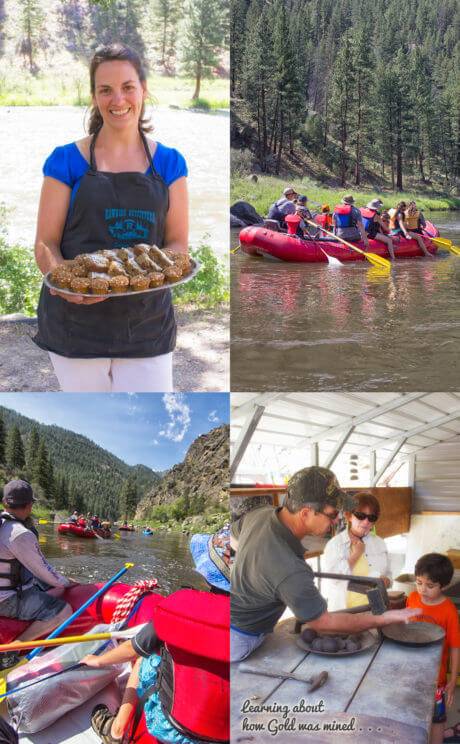 In addition to the mid-morning snack, we also had a tour of a local gold mine and learned how to pan for gold. This was a huge hit with the kids that were in our group.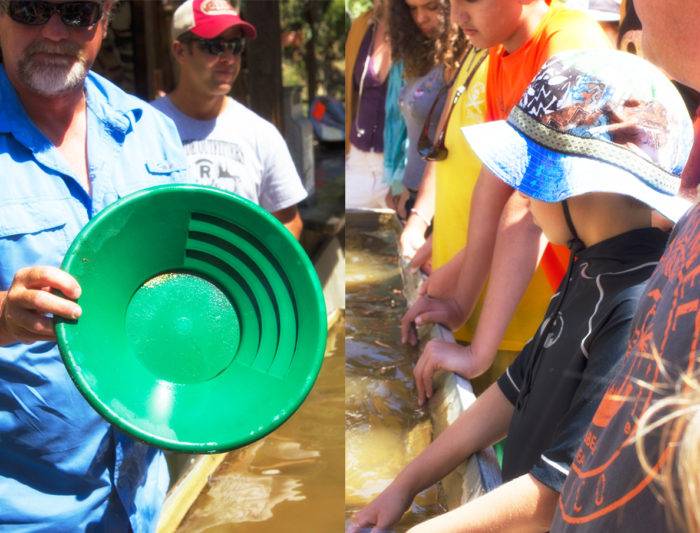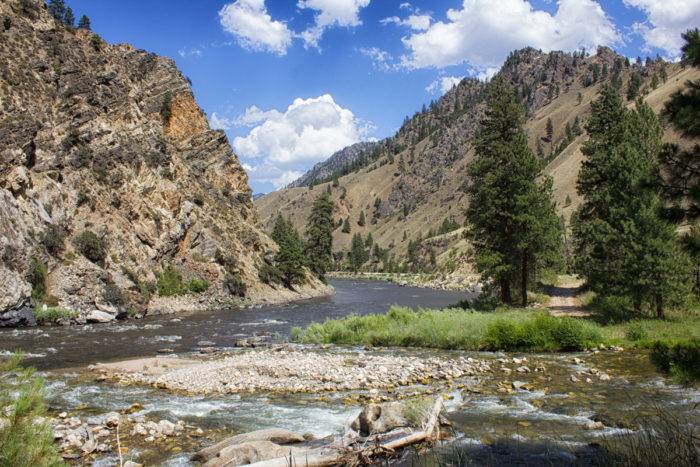 We continued down some more rapids, enjoying the warm sun and company of others in the raft and before we knew it, it was time for lunch!
Just check out how Rawhide Outfitters takes care of their rafters….what a spread! I could not take enough pictures of how beautiful everything was. We enjoyed a delicious BBQ lunch that included appetizers, fresh salads, and fruits as well as home baked desserts.
Fellow guests took their seats at picnic tables or on the lush lawn all while enjoying their gourmet lunch surrounded by stunning scenery.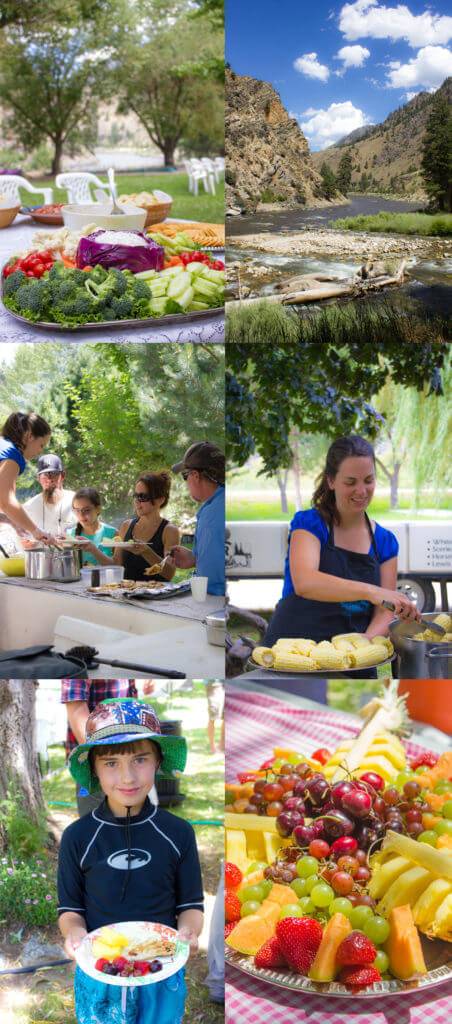 We spent the remainder of the afternoon floating down the river and soaking up the warm sun. It was uncanny how perfectly timed the rapids were because as soon as we started to get hot, a rapid was upon us and the cool waters were a refreshing welcome.
We were shuttled back to our camp at the Wagonhammer Campground late afternoon. We said goodbye to our new friends and wished everyone well. We felt so refreshed and happy to have had such a great day on the water.
If you haven't experienced a whitewater rafting adventure, I can't recommend Rawhide Outfitters enough. Their experience and knowledge of the river made for a very exciting and relaxing day all rolled into one. This is a definite bucket list adventure and one that I hope you too, can experience.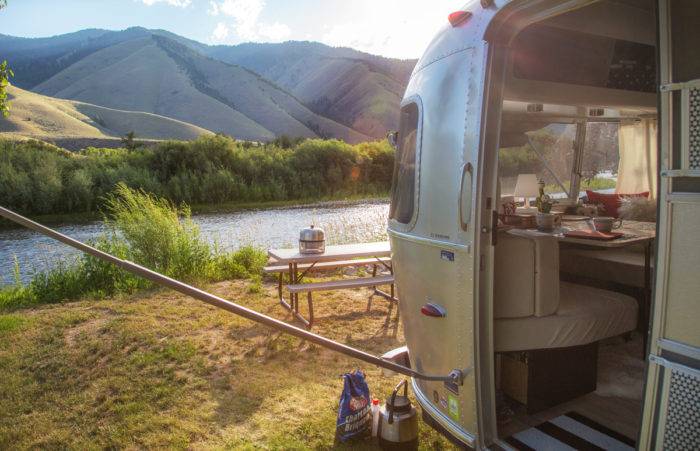 Together with her husband and young son, Monica Bennett seeks out non-stop RVing adventures and culinary discoveries in the Pacific Northwest. Her travels on the road inspire her work as a photographer and writer for her blog, "Just 5 More Minutes," where she shares her passion for cooking in her RV, demonstrates creative DIY crafting projects and writes about mastering the art of RVing domesticity. The RVing lifestyle is Monica's escape from her 9-5 as a graphic designer in busy corporate America. Travel with Monica and her family to their blog: J5MM.com. All photos, including feature image, provided by J5MM.com.

Published on August 5, 2016