This is sponsored post.
Looking at our little adventure sedan, you'd think we were running a small sporting goods store. We had running shoes, bike gear, and wading boots precariously balanced like adventure Jenga on the back seat and two hardtail mountain bikes on the rear rack. Our destination was Central Idaho. The plan was to ride, run, and fish until the sun went down. Summers always feel way too short and we like to pack it all in when we go on vacation.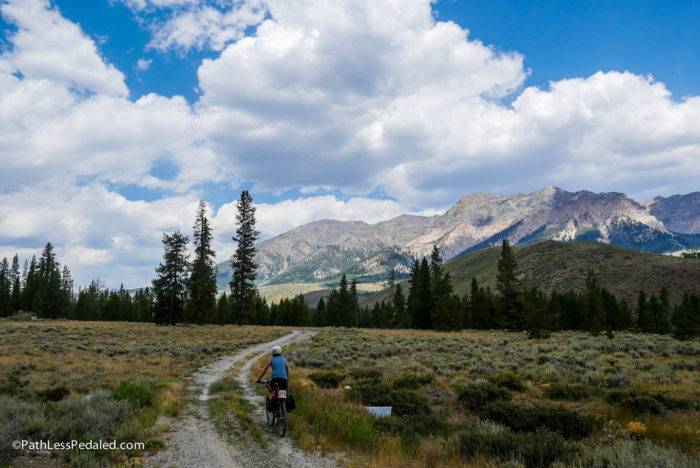 We made a quick stop in Ketchum to fill up our fly boxes and grab a map of the Harriman Trail, then we headed to Wood River Campground just outside of town. The campground is situated right on the banks of the Big Wood River, one of Idaho's most well-known trout streams. The Big Wood is textbook small water fishing. The wading and fishing is accessible for beginning anglers but provides enough of a technical fishing challenge to keep seasoned anglers busy. A small 3wt or 4wt rod is all you need, and you can even fish most of the water effectively with a Tenkara rod (a simple Japanese form of fly fishing with a fixed line and no reel). The folks at Silver Creek Outfitters in Ketchum carry both and can walk you through what you'll need.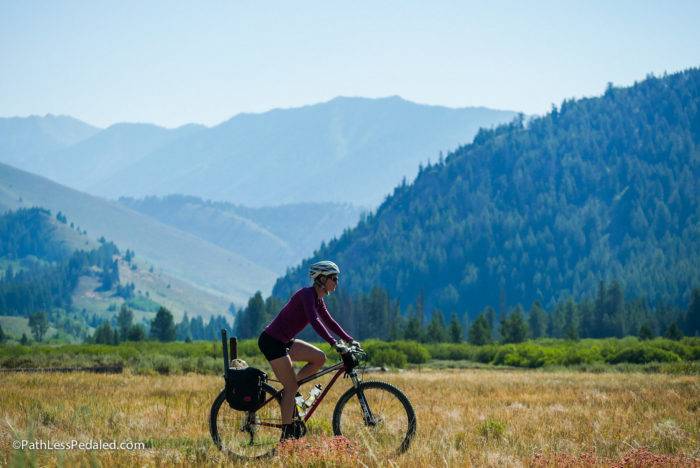 Right along the Big Wood River is another of the area's outdoor gems, the Harriman Trail. The Harriman trail is an 18-mile trail that begins just outside Ketchum and slowly ascends up to Galena Lodge, where ice cream and lunch awaits. The surface is gravel double-track and, although it follows the highway corridor and passes through many campsites, it feels remarkably remote. We loaded up our hardtail mountain bikes with fishing gear and a picnic lunch and hit the trail. Jeff Archer, a bike mechanic at Sturtevant's and fishing guide for a local outfitter, told us his favorite way to fish the area is by bicycle. A bike allows you to travel just a bit farther than most people would be willing to hike and gets you to some less-pressured water.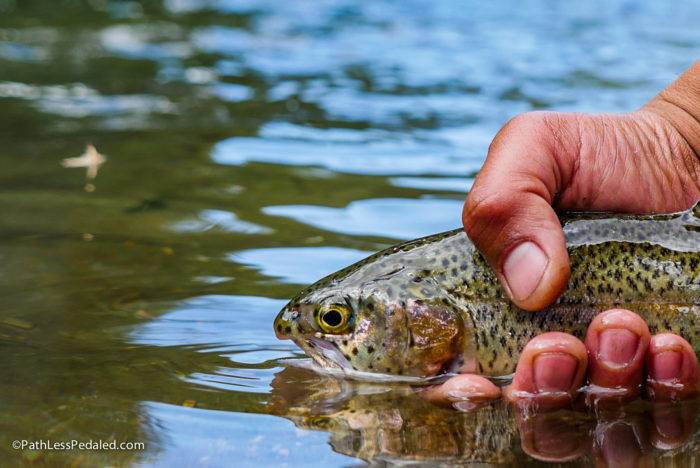 We found fish in riffles, deep bends in the river, under bridges and log jams, and when we weren't catching fish, we were thoroughly enjoying the blissful car-free and carefree riding on the Harriman. The trail provides an amazing view of the surrounding ranges. Plenty of visual stimuli when you are waiting for the next hatch to come off.
After a few blissful days camping on the Big Wood River, we drove over Galena pass to basecamp out of Smiley Creek Lodge, which has campsites, cabins and cozy lodge rooms, and a surprisingly good restaurant with craft beer. It is situated between Galena Lodge and the adventure outpost of Stanley, and was the perfect location to explore both.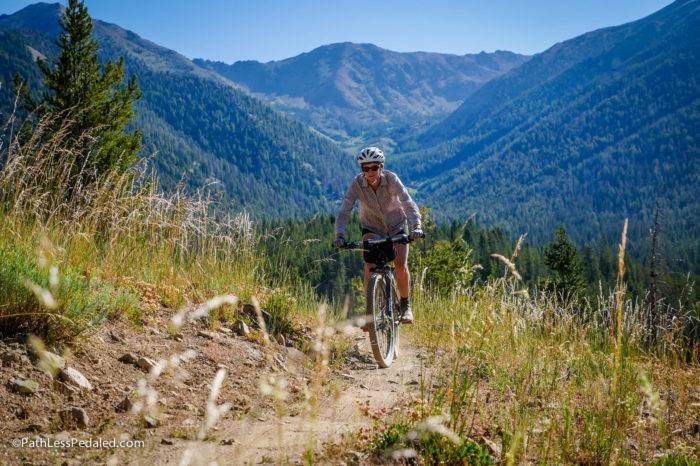 We started one morning by getting up early and driving up to Galena Lodge to do some mountain biking. They have a good network of trails ranging from beginner-friendly flow trails to more advanced trails with steep, sweeping berms and opportunities to catch some air. After riding for about two hours we got some ice-cream from the on-site bike shop. Refueled, we swapped the bike shoes for trail-running shoes. The trails at Galena are multi-use and offer something for riders, runners, hikers, and equestrians alike. After a 3-mile trail run on some undulating terrain at altitude, we were more than ready for lunch and siesta.
When the heat of the day passed, we drove out to Stanley for early dinner and evening fly fishing on the Salmon River. In Stanley, we ate at Bridge Street Grill , a family-owned restaurant. In a perfect small town moment, the owner was eating at the table behind us. His ancestors helped homestead some of the surrounding area and their family home is right next to the restaurant. He started the restaurant almost 15 years ago, because he wanted to share the amazing views with others. On a clear day, you have a picture-perfect view of the Sawtooth Mountains in one direction and the circuitous Salmon River in the other. Since it was July, we were constantly peering at the water below, hoping to catch a glimpse of migrating Salmon.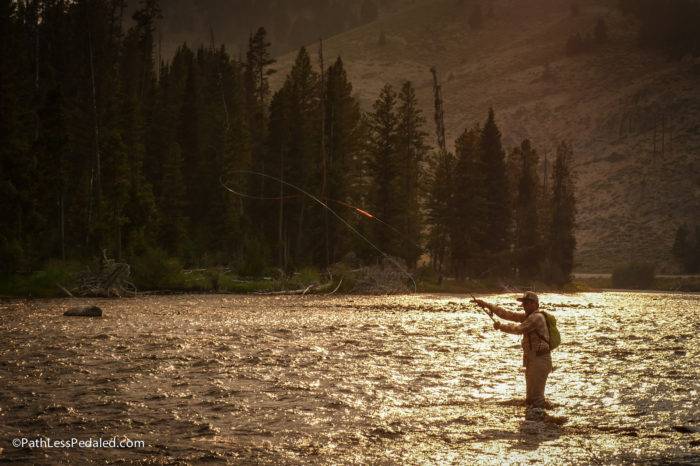 After a dinner of exquisitely cooked steaks, we drove a few miles downstream to a gravel pull-off to try our luck on the Salmon River. If the Big Wood is a sweet and small, technical little creek, the Salmon is its counterpoint. It is wider, with deeper holes and even a few rapids. Bank fishing access along Highway 75 is plentiful, making it easy to explore multiple holes, and every campground and gravel pullout was near some fishy-looking water. Whether or not we could entice a fish to take a fly, however, was a different story. We put on waders and probed a particularly seductive-looking piece of water that transitioned from riffles to a slow and mysterious bend in the river. We made our way down a run as the sun began to set. Although the fishing was a little slow, the dramatic silhouette of the Sawtooths against the deep orange sky more than made up for it.
Before it got too dark, we packed up the fishing gear and made our way back to Smiley Creek Lodge. It was a remarkable day that started with mountain biking and trail running in the morning and ended with a hearty meal and lazy fishing in the evening. We were exhausted but fulfilled from the day's adventures. On the drive back, we talked about how there are few places where you can truly do it all, and that this special corner of Idaho is one of those places.
Things to Know:
Arriving in Ketchum without a bike? No problem. There are several outdoor gear shops in town that will rent you everything, from a road bike to a gravel bike, fat bike to a full-suspension mountain bike. Some shops will even shuttle you to Galena Lodge so you can ride the trail back to Ketchum in the downhill direction.
The best fishing access along the trail is between the southernmost trailhead up to the Prairie Creek trailhead. Further North and the water becomes very small and surrounded by brush.
The best time to view or try your hand at catching migrating salmon in the Salmon River is in mid to late July. If you plan to fish for salmon, be sure to check the current regulations about open season.
All images, including feature image, are credited to The Path Less Pedaled.
For three years, Russ Roca and Laura Crawford traveled the US by bicycle. Now, based out of Portland, Oregon, they travel in search of great cycling and fly-fishing destinations, sharing their passion for multi-sport adventures through words, photos, and video. Find them online at: www.pathlesspedaled.com, and on Facebook/Instagram: @pathlesspedaled.

Published on September 20, 2016