Idaho is one of the largest states in the U.S., situated in the Rockies to the west of the continental divide. Take a trek up north and you'll find rolling green hills, hundreds of blue lakes, and staggering mountaintops, or venture through the central part of the state and weave through thick wilderness areas, sweeping farmland, and natural attractions. No matter the direction, there's something for everyone.
Yet, a common misconception among visitors is that you have to venture off the beaten path to experience something amazing. That is simply not the case in Idaho. Some of the grandest features of Idaho lie within state parks that are easily accessible to all visitors. And while many people visit these parks during the warm summer months, there is just as much to do in the winter season as there is to do during June, July, and August. Check out our list of winter activities in three of Idaho's state parks and get planning your next winter adventure!
Lake Cascade State Park
Park Snapshot
Amenities – Showers at Poison Creek and Ridgeview, toilets at Van Wyck, Ridgeview, Boulder Creek, West Mountain and Poison Creek
Overnight Lodging: 170 standard, 76 serviced (7 ADA), 2 group (1 with 3 yurts)
Acreage: 4,450
Elevation: 4,828′
Things to Do
During the winter months at Lake Cascade State Park visitors go Nordic skiing, ice fishing, and fat biking. Lake Cascade is a hotspot for tiger musky, smallmouth bass, crappie, and the lake also contains Rainbow and Mackinaw trout. You'll need an Idaho fishing license to fish in the lake, and you can pick up a standard fishing license at any sporting goods store in the surrounding area including McCall, Cascade, and Donnelly.
Dust off your snowshoes and explore the shores of the lake. Lake Cascade State Park makes for an excellent spot for bird-watching. You can walk the shoreline in the winter when the water is low and spot migrating shorebirds and waterfowl.
Winter camping is available in Blue Heron, Van Wyck, and Poison Creek boat ramp parking areas. However, no campfires are allowed on the pavement. There are some fire rings and picnic tables available in the day use areas.
Lake Cascade is open year-round to the public and offers a wide array of activities during the spring and summer as well such as camping, picnic areas, hiking, cycling, mountain biking, swimming, horseshoes, boating, sailing, windsurfing, and fishing.
Getting There
From Boise, take ID-55 S for roughly 80 miles. Once you pull into Cascade, follow Dam Road to the shores of the lake.
Bear Lake State Park
Park Snapshot
Amenities – Vault toilets, dump station, electricity
Overnight Lodging – 20 serviced, 27 standard, 2 ADA campsites, 3 group shelters
Acreage – 966
Elevation – 5,900′
Things to Do
Bear Lake State Park sits in the Southeast corner of Idaho and boasts over 900 acres of pristine wilderness. Many venture to Bear Lake during the winter to snowmobile through the legendary powder. Bear Lake State Park and the surrounding mountain ranges feature over 350 miles of groomed snowmobile trails with vast open spaces – most importantly, no fences and no crowds. Be on the lookout while exploring because many who frequent the area catch a glimpse of elk and moose that roam the countryside.
The park is open year-round and also offers fishing, boating, water sports, swimming, picnics, volleyball, hiking, biking, ice fishing, snowshoeing, snowmobiling, and bird watching.
Getting There
The park can be accessed from US 89 at St.Charles, Idaho via the North and East Beach roads. The park is two hours south of Pocatello, Idaho and three hours north of Salt Lake City, Utah.
Harriman State Park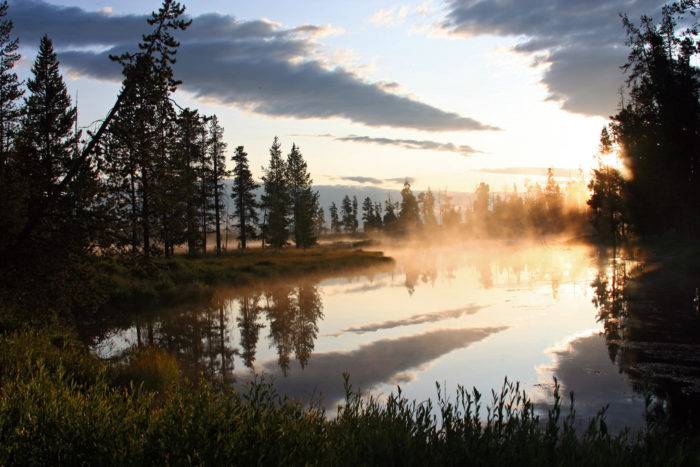 Park Snapshot
Amenities – Toilets, picnic areas, meetings and overnight rental facilities
Overnight Lodging – Dorms, bunkhouse, Scovel Center, cabins, yurts
Acreage – 11,000
Elevation – 6,210′
Things to Do
When snow begins to fall in Harriman State Park, visitors come from all over the Northwest to experience Harriman's unique history. The area was formerly owned by Union Pacific Railroad investors from 1902 to 1977, and the acreage served as a private retreat and cattle ranch. Today, the park gives visitors an ideal location to soak in Idaho's natural beauty and get some exercise in the great outdoors.
Try your hand at Nordic skiing on over 24-miles of groomed trails or rent a pair of snowshoes and explore the backwoods at your own pace. Fat biking is also a great way to scout out Harriman's 11,000 acres of wilderness.
Harriman State Park is open to the public throughout the year and offers additional activities such as fly fishing, horseback riding, hiking, and historic Railroad Ranch tours.
Getting There
From Boise, take I-84 280 miles to Idaho Falls. From Idaho Falls, get on US-20 and travel 70 miles until you reach Harriman State Park.
There are more than two dozen state parks that span Idaho. To find your favorite park, click here.
Trip Tips
Even during the winter, the sun can burn. Be sure to bring sunscreen for high elevation, outdoor trips in Idaho state parks.
Make sure you have the right permits and passes for snowmobiling. Visit Idaho Parks and Recreation online for more information on getting your vehicle registered.
Plan ahead if you want to rent a yurt during your trip. Spots fill up quick! Visit Idaho Parks and Recreation to reserve your spot ahead of time.

Published on February 25, 2016