Kristin Addis worked in partnership with Visit Idaho to create this Travel Tip.
I recently had the pleasure of adventuring around Idaho for five beautiful days. I brought my best friend from home, which is the greater LA area, to enjoy some of the charm of Boise and the majesty of the Sawtooth Mountains.
Each day revealed something unique and breathtakingly beautiful that has me convinced that Idaho is one of the biggest hidden gems in the American West.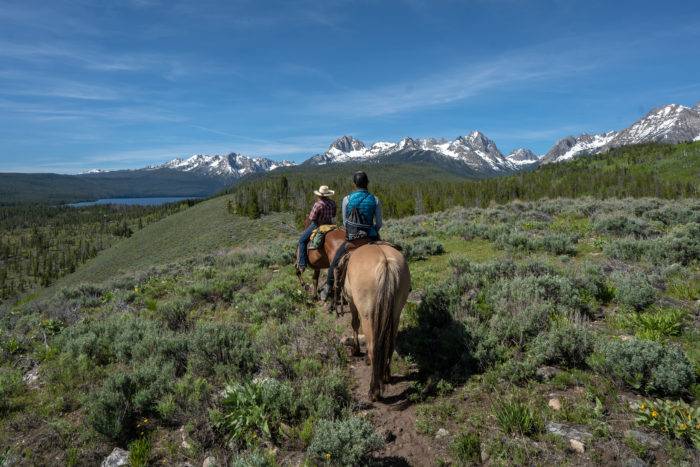 This is something I've known for a while, having visited Idaho for the first time back when I was 18. However, it was my friend's first foray into the wilderness and I was so excited to be able to show it to her in a place as stunning as Idaho.
The following are five highlights from our trip that you can experience when you take a five day trip to Idaho:
Day 1: Exploring Boise's Alternative Side
Boise has grown up quite a bit since the first time I visited in 2004. It's always been a lovely capital city and university town with a great vibe, but the alternative side downtown has grown like crazy and I am here for it!
Some highlights include Freak Alley, with street art from some seriously talented artists, as well as delicious restaurants like the Lemon Tree Co. and Guru Donuts, both of which have vegan options.
Some other favorites of mine are floating down the Boise River from Barber Park, picnicking in Ann Morrison Park, and finishing off the day with sunset at Camel's Back Park.
Day 2: Soaking it in at Kirkham Hot Springs
In my humble opinion, one of the best things about Idaho is the multitude of hot springs. There are so many that I did a hot springs road trip back in February with the sole purpose of soaking in as many springs as possible.
Kirkham Hot Springs is one of the best and most beautiful, with springs that are the perfect temperature for us goldilocks types – not too hot and not too cold — complete with a hot spring waterfall. The springs are connected to a campground, but you can use them during the day even if you're not camping there. It's a primitive spring in the Boise National Forest and the parks fee is five dollars.
I've only soaked in them during the day, but I can just imagine how magical they would be at night for campers!
Otherwise, on day two, sit back and enjoy the drive along the Payette River, which is absolutely stunning. Once you get to Stanley there are even more hot springs to discover. One of my favorites is at the Mountain View Lodge in a makeshift barn.
*Note: Be sure to watch out for deer. As city girls, this isn't something we're used to, so I was always hyper-vigilant, which was good because we saw two deer and a fox crossing the road at different points during the drive!
Day 3: Paddle Boarding and Horseback Riding at Redfish Lake in Stanley
For those who love horses, horseback riding along Redfish Lake just outside of Stanley is positively magical. You get a gorgeous view of the lake from several angles and the Sawtooth Mountains that frame it.
I did a two-hour horseback ride in the morning with Mystic Saddle Ranch and thought it was the perfect overview of the area. But once you're done, don't head back to the hotel just yet! You can spend the entire day playing at Redfish Lake.
You have several options for enjoying it, including taking a ferry to the other end and hiking back, or if you would prefer to paddle, you can rent kayaks and standup paddleboards near the lodge by the hour. I found this to be a peaceful and even meditative experience. The lake is huge, so give yourself plenty of time to explore it!
Day 4: Finding Wild Flowers in Ketchum
The next day, make the short drive out to the Ketchum and Sun Valley area for another quaint town with delicious food and friendly residents.
Depending on the time of year, Ketchum/Sun Valley is perfect for skiing and snowshoeing or in my case, marveling at the dozens of varieties of wildflowers in June.
Almost every trail in the area will have wildflowers, but these are some of the best ones. I enjoyed Chocolate Gulch Trail myself.
Day 5: Explore Ancient Lava Tubes at Craters of the Moon
Finally, on the last day, which will probably be bittersweet because Idaho is hard to leave, take a trip away from planet Earth for a few hours and head to the Craters of the Moon National Monument and Preserve.
This lava field seemingly in the middle of nowhere truly does look like it could be the surface of the moon. There are several lava tubes that you can hike down into, some of which are narrower than others, as well as a few short hiking trails. It's not always completely open in the winter months, and keep in mind that in the highest heat of summer it can get blazing hot. That said, the caves are nice and cool. My favorite was the Indian Tunnel.
You will have to backtrack by about an hour to reach Craters of the Moon from Ketchum if your end destination is Boise, but for something truly unique and different to everything else on this trip, I would say it's worth it.
I hope you love Idaho as much as I did. When enjoying these beautiful places, please always make it a point to leave no trace. Stay on trails, leave nature where it's growing and take only pictures, pack out all trash and even food crumbs with you, and let wildlife be wild.
Idaho keeps delighting and surprising me each time I visit. Five days, a week, and even five years never really seems like enough, but that's a good problem to have because I'm happy to keep going back.
Feature image credited to Kristin Addis.
Kristin Addis is a solo female travel expert who inspires women to travel the world. She is an award-winning author and photographer, and an authority on the topics of solo female and adventure travel. A former investment banker who sold all of her belongings and left California in 2012, Kristin has solo traveled the world for over six years, covering every continent (except for Antarctica, but it's on her list). You can learn more on Be My Travel Muse as well as her Instagram and YouTube.

Published on July 9, 2019