Part Time Tourists worked in partnership with Visit Idaho to create this Travel Tip.
A leaf-peeping road trip through eastern and southeastern Idaho is an adventure that you won't soon forget. Beautiful maples, aspens, and oaks add pops of color to the already stunning landscape. One thing is for sure, Idaho knows how to show off this season. Here are some of the top spots to see the changing leaves.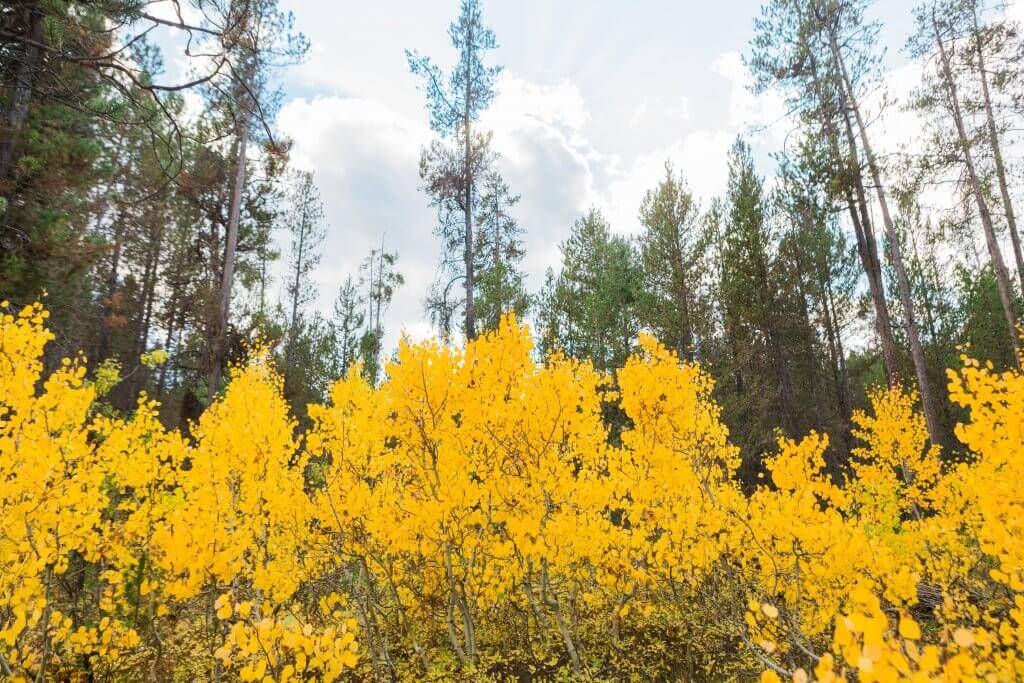 Eastern Idaho
Eastern Idaho has multiple locations where you can find beautiful fall colors.
The Mesa Falls Scenic Byway shows off one of Idaho's most spectacular waterfalls and is a great opportunity to see the changing leaves during the fall. This scenic drive starts in Ashton and travels north toward Upper and Lower Mesa Falls. The area features maples and aspens that turn to beautiful yellows and fiery reds.
Driving Highway 20 towards Island Park is a gorgeous drive all year round but especially during the fall. Perhaps some of the most spectacular colors you'll find are right alongside the road just outside of Ashton. Once you get to Island Park, head to Henrys Lake. This alpine lake can be found sporting vibrant yellow trees alongside the water during the autumn season.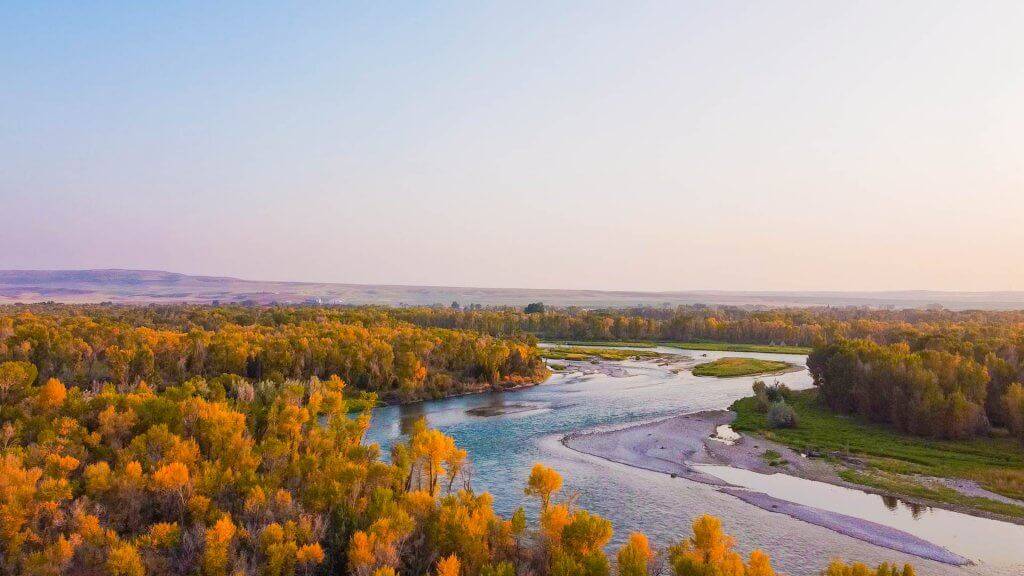 Highway 26 from Idaho Falls to Palisades Reservoir will offer you plenty of opportunities to see the changing trees. The first spot on this drive for colors is the Heise Area. Heise is known for its incredible hot spring pools, Heise Hot Springs, but during autumn, this destination turns into a leaf-peeping paradise!​​​​​​​​​​​​​​
If you're looking for a great nature hike in this area, then you've got to check out the Cress Creek Nature Trail. This hike is family-friendly and has an incredible view of the Snake River and the cottonwood trees below.
After completing this hike, jump back into your car and drive past Heise Hot Springs on E. Heise Hot Springs Road. After a couple of miles, you'll come to a fork in the road. If you keep right on E. Heise Hot Springs Road, it'll lead you to Wolf Flats.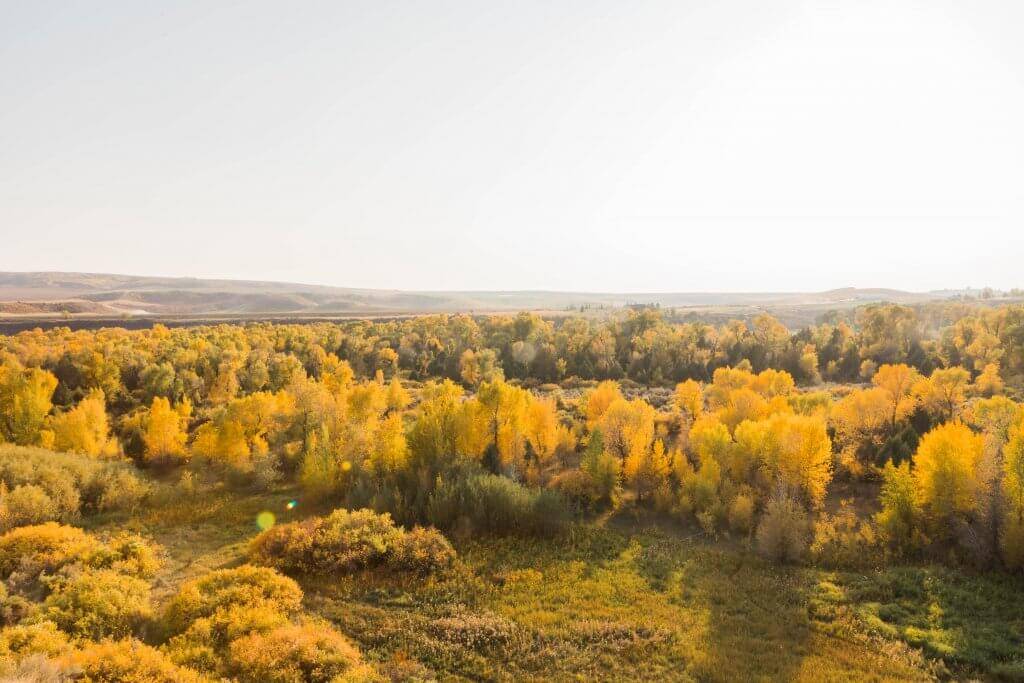 Wolf Flats Recreation Area is a dispersed, undeveloped camping area with about 25 camping spots, most of them right next to the Snake River. This whole area is where you can find fantastic opportunities to spot the changing leaves.
However, if you take a left at the fork and get onto Kelly Canyon Road, you'll be rewarded with spectacular views in the Kelly Canyon area.
Kelly Canyon will take you into Caribou-Targhee National Forest where you'll find yellow aspens surrounded by pine trees. When you're driving back from Kelly Canyon, you can choose to continue onward or camp for the evening.
If fall camping sounds like a great overnight trip, then the Twin Bridges Campground in Rexburg is the ideal location to enjoy the fall weather and colorful leaves. Twin Bridges Park is open to the public seven days a week, but camping is on a first-come-first-served basis. There is a small fee per night.
If you're going to push forward on this fall adventure, then you'll want to get back onto Highway 26 toward Fall Creek Falls in Swan Valley. Fall Creek Falls is one of the best waterfalls in Eastern Idaho and during this season, transforms into a stunning viewpoint to admire the Snake river with fall trees lining either side.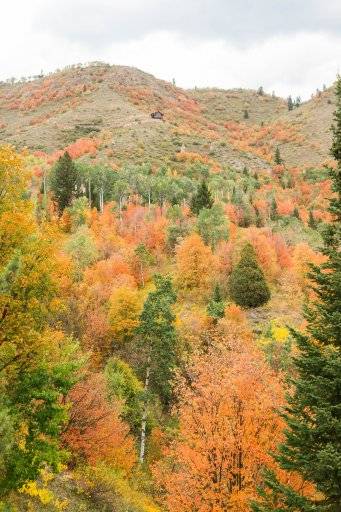 After taking time to see the incredible waterfall and Snake River, jump back into your car and drive to Palisades Reservoir. This is one of the most scenic drives in Idaho during this season. When you get to the reservoir, you'll find fall colors lighting up the mountainsides on all sides. Take your time to drive the windy road and admire the incredible mountainside with the fall leaves. There are multiple pull-offs where you can get out of the car to soak it all in.
Southeastern Idaho
Southeastern Idaho is filled with many opportunities to see the fall leaves but here are two amazing spots that are both close to Pocatello!​​​​​​​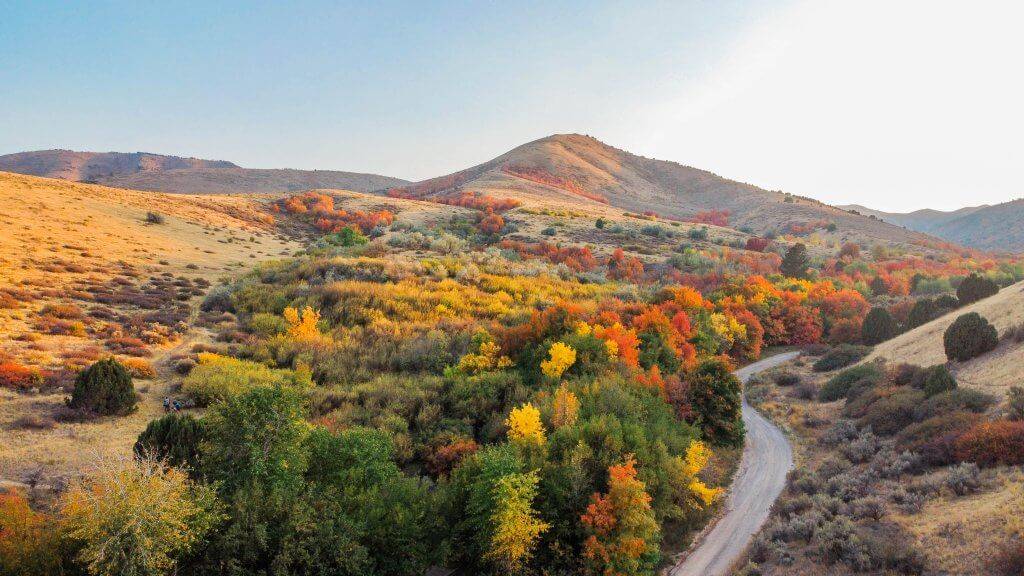 The City Creek Trail area is a great place for hikers or bikers looking for prime fall scenery near Pocatello. Take City Creek Road towards the mountains, but instead of parking at the Upper Citycreek Trailhead, take a left onto the dirt road and park at the City Creek Loop Trailhead. You'll find fall colors immediately at the start of this trailhead and all along the West Bench!
For road trippers driving down Mink Creek Road south of Pocatello, the fall foliage is endless! The road winds through a beautiful forested valley with many cottonwood trees that are bright yellow each fall. Find one of the best hiking spots by turning off at the East Fork of Mink Creek.
As the leaves stop producing chlorophyll, which gives them that green color during the spring and summer months and start allowing the beautiful orange, red, and yellow colors to come out, we hope you take the time to go leaf-peeping in eastern and southeastern Idaho!
Feature imaged credited to Part Time Tourists.
Jess Darrington is the founder of Part Time Tourists, a travel and adventure blog that was created in 2018. Part Time Tourists aim to help people travel more by offering detailed travel guides and practical tips. With a large focus on US travel, Jess shares adventurous and luxurious destinations throughout the country. You can follow her on Instagram and PartTimeTourists.com.

Published on October 5, 2021